Disclaimer: This post is sponsored by Pacific Foods. I was compensated, all opinions are my own.
Ah the casserole. I kid you not, here in Minnesota restaurants have these on the menu…they are everywhere! There is even a place called Haute Dish (aka Casserole) in Minneapolis.
So today, I present you a healthier spin on Cheesy Broccoli Casserole fully equipped with quinoa!
Whenever Blake approves a recipe (by getting a second helping) I feel like it is necessary for me to share with you guys. Being that this is gluten free and meat free, I say Blake's approval gives this a #winning status.
I topped my portion with some sriracha. It really did give it the perfect kick!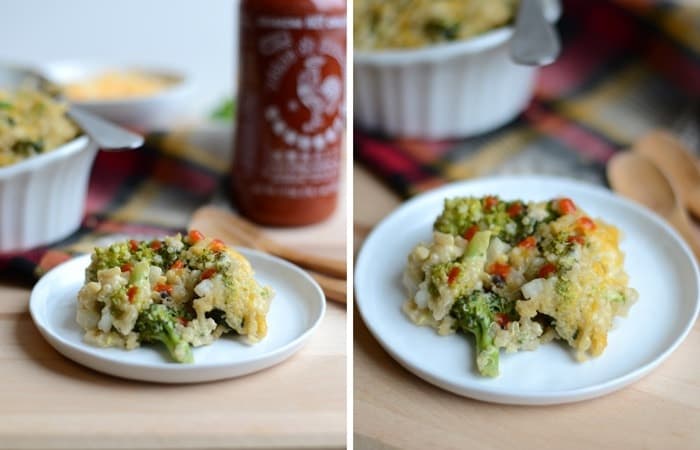 I'd get this on your Thanksgiving menu ASAP. And then save the recipe because you'll want to make it next year too!
The ingredient that I am featuring in this recipe is Pacific Organic Mushroom Gravy. 1/3 cup of this gave this recipe the flavor that it needed! I'm not even the biggest fan of the texture of mushrooms, so having that great mushroom flavor in a gravy was PERFECT.
Other modifications or ad ins include: using non-dairy milk, less cheese, low-fat cheese, and adding beans!
You can pretty much find the brand Pacific Foods anywhere and everywhere….even Target!
Broccoli, Cheese, n' Quinoa Casserole
Ingredients
-1/2 medium size yellow onion, finely diced
-1.5 cups cooked quinoa
-2 heads of broccoli or about 1 pound
-1 tablespoon butter (or sub 1 tablespoon olive oil)
-salt, to taste
-pepper, to taste
-1/3 cup Pacific Organic Mushroom Gravy
-1 cup milk (I used almond, but any kind will work)
~1 cup sharp cheddar shredded cheese
Instructions
First, preheat oven to 350F and grease a medium size baking dish with butter or olive oil.
Next, in a large sauce pan, heat 1 tablespoon of butter or olive oil. Then, add in chopped onion and sauté for about a minute. Next, add in chopped broccoli and sauté. Season with salt and pepper (about 1/2 teaspoon of each) and cook for about 3 more minutes. (Do not cook broccoli all the only, this is simply to infuse it with the flavors from the onion and to cook it about half way.)
Next, add in 1/3 cup of Pacific Organic Mushroom Gravy and 1 cup of milk and stir. Slowly add in sharp cheddar cheese and stir until combined. Finally add in quinoa and stir again.
Transfer mixture into baking dish and sprinkle on more cheese.
Bake at 350 for about 10-12 minutes or until the top begins to brown.
Nutrition
Calories:

308

Sugar:

6

Fat:

16

Carbohydrates:

31

Fiber:

8

Protein:

16

What is your all time favorite casserole?