Er Mer Gerd. I think I've fallen in love with sweet potatoes all over again. I am usually a cinnamon baked sweet potato fry kind of girl…but had the urge to step out of my comfort zone. Maybe because I was craving both corn bread and fries at the same time?
Why yes I was. I refrained from going to Famous Daves and decided to make something at home that would satisfy my cravings and was a little bit healhier. Hence my use of corn meal.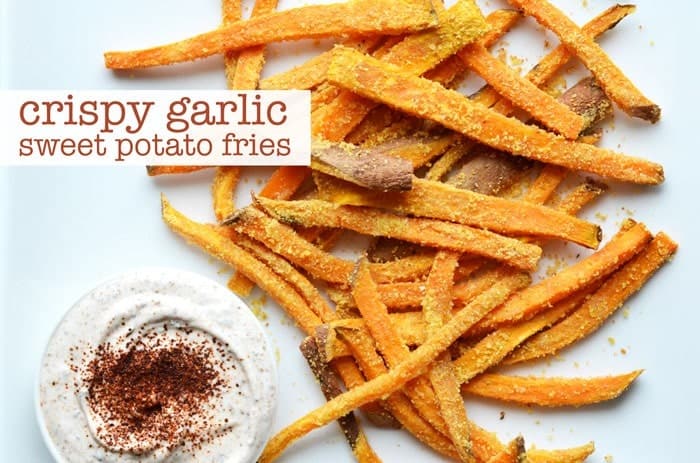 I was hoping to make a yogurt dipping sauce with fresh herbs, but I didn't have any. No fear, you can still get GREAT flavor with every day spices like chili powder and cumin, which was the main focus in today's recipe!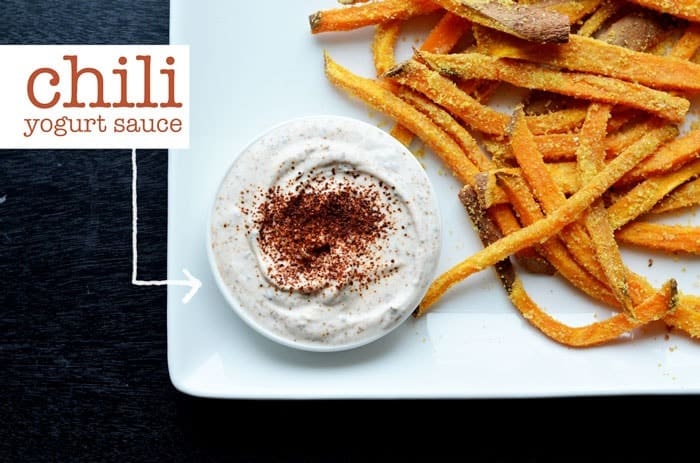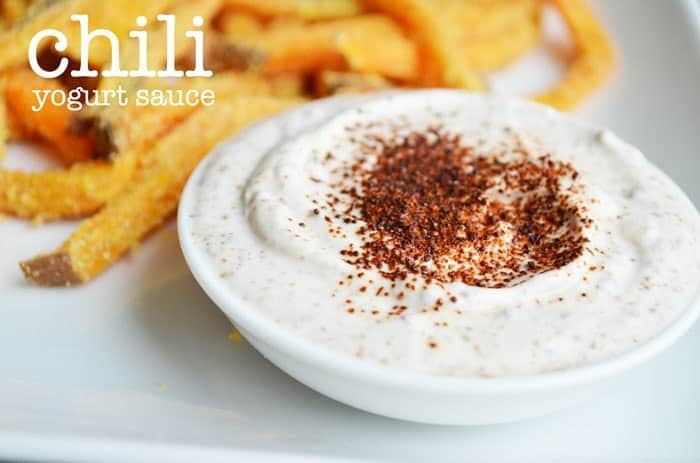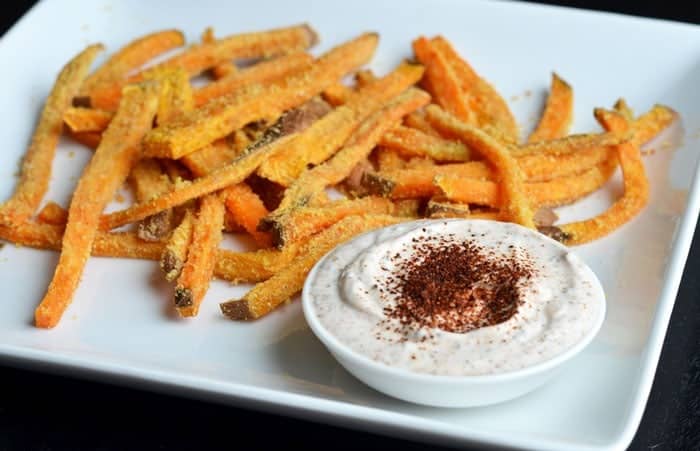 Recipe
Crispy Garlic Sweet Potato Fries
Ingredients
– 2 large sweet potatoes
– 4T cornmeal
– 1T garlic powder
– 2T Extra Virgen Olive Oil
– 1t coarse salt
Instructions
First, preheat oven to 400F and line a baking sheet with tin foil. Then, begin by thoroughly washing the sweet potatoes. Dry off and cut sweet potatoes into fries. I like mine thinner. Just make sure each fry is roughly the same thickness.
Next, transfer sweet potato fries into a large plastic bag. Pour in 2T olive oil and shake, thoroughly coating each fry with oil. Then, add in seasonings and shake again.
Next, transfer fries onto baking sheet and spread evenly. Bake fries for 25-30 minutes.
Similar
Recipe
Chili Yogurt Sauce
Ingredients
– 1/2 cup Greek yogurt
– 1/2t cumin powder
– 1/2T chili powder
– 1t lemon juice (optional)
Instructions
Mix all ingredients together in a small bowl.
Similar

I served my fries with some baked chicken. Couldn't be a better dinner!
I'm curious- what is your favorite dip for fries?