Holy hell…this weekend went by extremely fast. Does anyone else agree that Friday should be part of the weekend?
Saturday was spent entirely at Lifetime for my group fitness certification class. As part of the prep class, we are suppose to try different Group X formats and fill out an instructor evaluation of what they did good and could have done better. It's actually a really good idea because you can walk out of a class thinking to yourself, I would NEVER do that or, wow, I would absolutely do that. I ended up taking Katie's class called Step Interval. Katie is actually one of the LTF instructors for the course I am taking so I knew her class would be good. This was actually my first step class and Ohhhhhh do my calves hurt this morning. When I get my GFI, I don't plan on ever teaching Step, or anything that requires a lot of coordination for that matter 🙂 After that class it was on to 3 hours of lab at Lifetime.
After class I had a few hours of break time and then was off to a fun running event! I met up with a friend (Hey Molly!) and went to the Women's Running Series' Ladies Night Out at the Running Room in Uptown. It was a really low key event with coffee/gelato, a variety of speakers, and lots of women! I ran into Hyedi, again a fellow Minneapolis and #VZWVoices blogger!
I walked away with lots of goodies including a new WRS headband, bright yellow Brooks shoelaces, a Brooks Candle, and some Nuun Samples.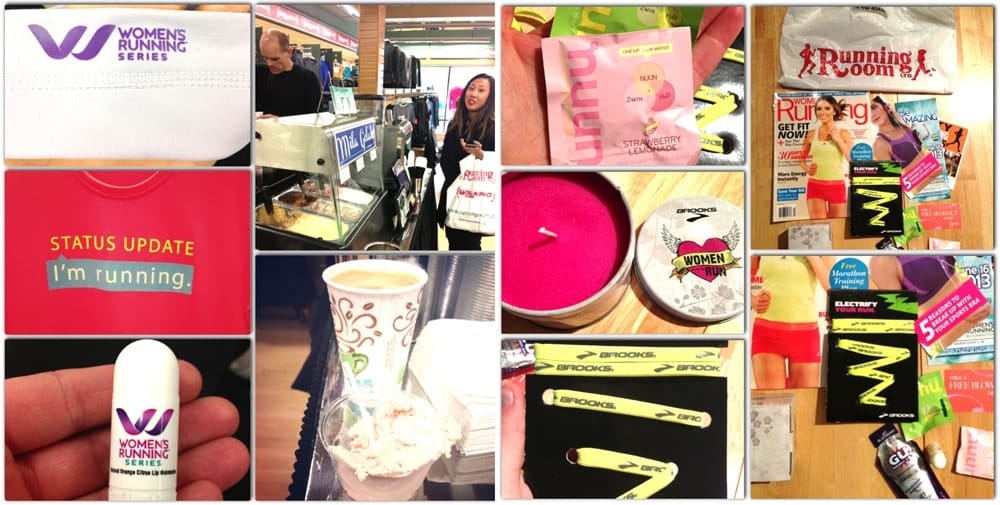 Sunday was just as busy as Saturday. For some reason I was up at 6:00 (yay), and I was able to start the reorganization process of my recipes. At 9:30 I took a little break because Blake and I went for a quick workout at the gym. He did yoga and I lifted my upper body. The rest of the day was pretty much spent organizing my recipes and doing blog stuff. Blake and I actually ended up going downtown to Blake's Office so he could work and I could blog/work. Check out my new recipe drop down menu (at the top in the menu bar) along with some adorable photo collages…Here's my favorite one: Bars, Balls, and Granola. Of course.
---
---

I do have to give a shout out to Amanda (friend and co-worker) for helping me with the coding. It's always nice to have a nerdy, talented friend on hand. I am so relieved that this project is over. I have been wanting to make my recipes more organized and more searchable for some time. The WordPress Migration was a very good thing 🙂
Last but not least before I go….a new FFF Designer Whey Recipe is up. I have been waiting for this to get posted. I just want to say- YOU CAN NOT TASTE THE PROTEIN POWDER AT ALL IN THIS RECIPE. There is 3 whole scoops and you would never know! Enjoy 🙂