You ready to get your Crock-Pot on again?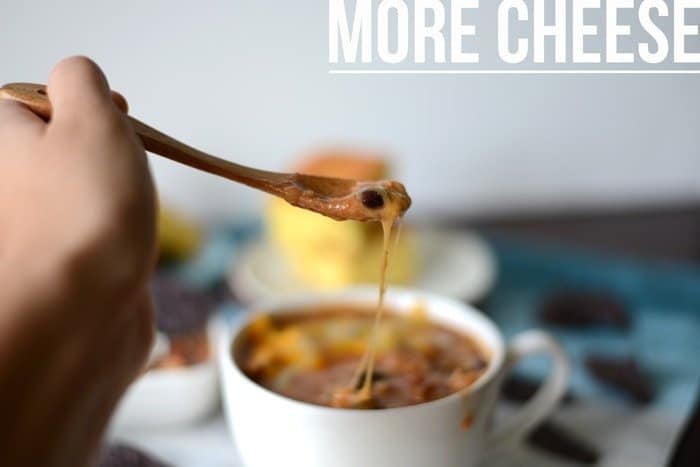 Seriously people, that is how I've been feeling about cheese lately. I CAN NOT get enough of it! I love all kinds of cheese: goat, feta, bleu, Colby jack, mozzarella, you name it! I made a giant batch of chicken chili and realized i didn't have any shredded cheese.
No fear.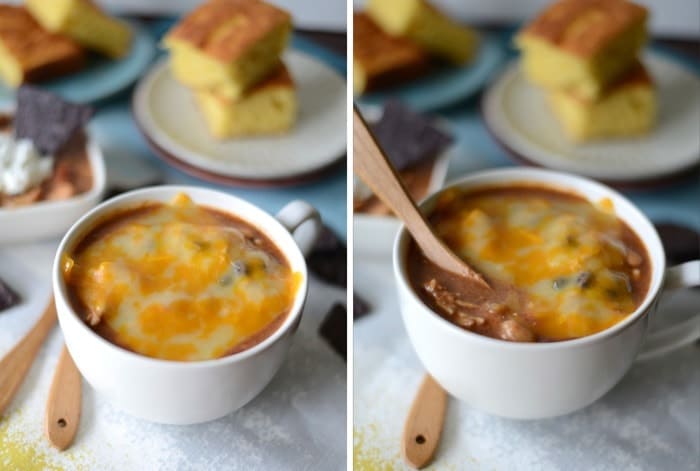 ---
---
I slapped on an entire square! Just one though 🙂
I have a feeling that the crock-pot (CP) is going to be making a weekly appearance in my kitchen and on the blog for the next few months. I haven't ever been an avid user, but ever since I made the sesame chicken crock–pot dish, my CP pretty much hasn't left the counter!
Easy preparation and easy cleaning. Plus- there are gajillions of recipes around the blogosphere. Just search crock-pot recipes on Pinterest and you will be set for life.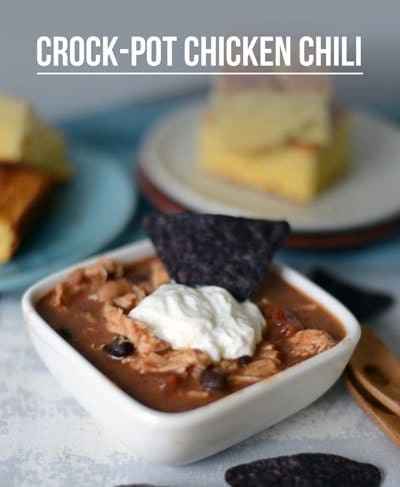 Today's recipe is in my opinion, an All American Classic. My mom made chili all the time growing up in the crock-pot and it never gets old. This is THE perfect recipe to make for game day or eat on a crisp Fall night. Speaking of Fall…
Highs are only in the upper 60's for the next few days. My bittersweet summer, don't leave me.
Along with my chicken chili, I made a pan of Bob's Red Mill Gluten-Free Cornbread. I didn't have any already made quinoa or that would have been thrown in there to make my Quinoa Cornbread. Instead, I followed the package and added a scoop of Designer Whey Plain Protein Powder for some extra protein. Why not right? I couldn't taste it at all and I got me some protein!
Crock-Pot Chicken Chili
Prep Time:

15 mins

Cook Time:

4 hours

Total Time:

4 hours 15 minutes
Ingredients
2 large chicken breasts, thawed
1 cup salsa, mild
1 cup water
1 15 oz. can black beans
1 15 oz. can white northern beans
1 15 oz. can diced tomatoes
2 tablespoons canned/fresh jalapeños, diced (or more if you like it spicy!)
2 tablespoons chili powder
1/2 tablespoon cumin powder
1/2 tablespoon garlic powder
1/2 tablespoon onion powder
1/2 tablespoon smoked paprika
1/2 tablespoon lemon or ground black pepper
1 cup milk
1/4 cup flour, any kind
Instructions
Place all ingredients up to the black pepper into a crock pot. Make sure that the chicken breasts are the first to go in, laying flat on the surface. Place everything else on top.
Turn crock-pot on high and cook for 3 hours, stirring periodically. Then, remove the chicken from the crock pot and shred using two forks (the chicken should be fully cooked by now). Place chicken back in crock-pot.
Next, in a small bowl, mix 1 cup milk with 1/4 cup of flour. This will act as a thickening agent. Once most of the flour is dissolved, pour mixture into chili and stir.
Let simmer on high for an additional 30 minutes to an hour.
Serve warm with corn tortilla chips, Greek yogurt, sour cream, salsa, or avocado!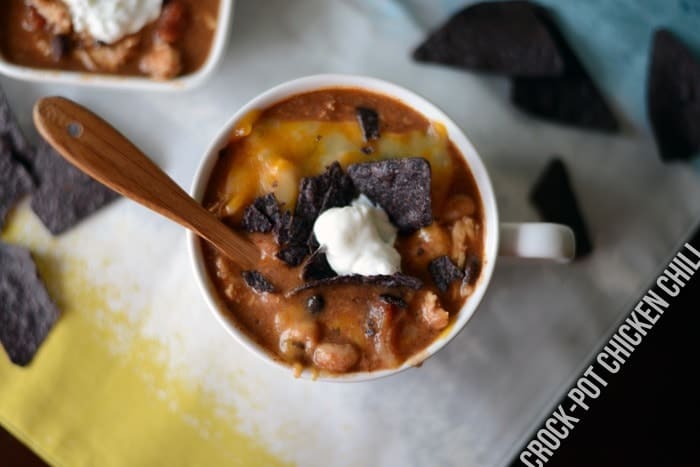 If you could choose any meal to be made in a crock-pot, what would it be?