It's time to break out the crock-pot. Throw some stuff in the pot. Flip the switch. And walk away.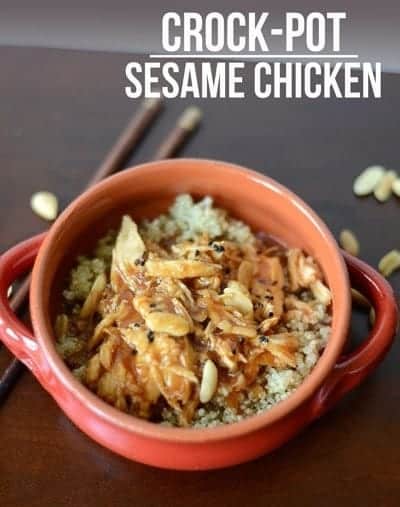 This beautiful recipe actually comes from my girlfriend Linley. One day last week she came over and we both worked. She had to make a crock-pot dish to bring to a pot-luck function at her church and this is the recipe she chose. I asked if I could feature it on FFF and she of course said yes 🙂
She even let me have a bowl. And oh em gee. DELISH. I never knew what was in sesame chicken sauce and I honestly don't want to know how they make it at restaurants. This recipe is super simple and uses ingredients you probably already have in your kitchen!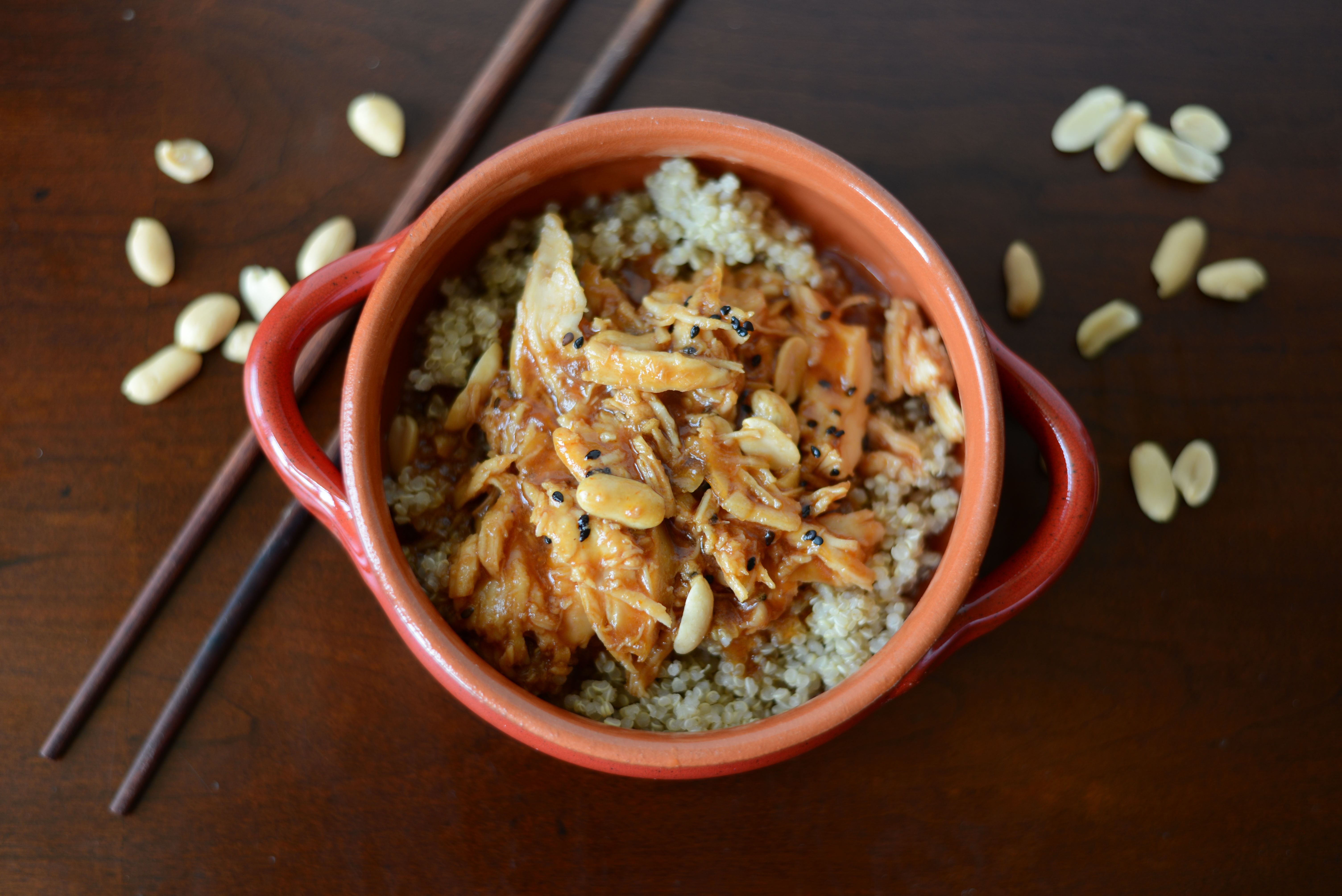 I had mine over a bed of quinoa because that is what I had in my fridge, but white or brown rice will of course work as well!
---
---
Crock-Pot Sesame Chicken
Prep Time:

10 minutes

Cook Time:

3 hours 30 minutes

Total Time:

3 hours 40 minutes
Ingredients
-4-6 boneless, skinless chicken breasts (thighs would be fine too)
-Salt and pepper (to taste)
-1 cup honey
-1/2 cup soy sauce, low sodium
-1/2 cup diced onion
-1/4 cup ketchup, low sugar
-2 tablespoons vegetable oil (could also use olive oil or canola oil)
-2 cloves garlic, minced
-1/4 teaspoon red pepper flakes, optional
-2 tablespoons sesame seeds
-4 teaspoons cornstarch dissolved in 6 Tablespoons water
Instructions
Place all ingredients, but the cornstarch in a crock-pot and turn on high for ~3-4 hours.
At 3 hours, check the chicken breasts to see if they are fully cook (not pink in the middle). Once they are cooked, take chicken breast out and shred them using a fork. Place shredded chicken back in pot and let cook for an additional 30 minutes.
Next, over medium high heat, dissolve 4 teaspoons of cornstarch in 6 tablespoons of water. Then, add to the crock-pot and mix. This will help thicken your sauce.
Eat over a bed of brown rice or quinoa and garnish with sesame seeds.
**Adapted from Six Sister's Stuff
I promise this recipe is the easiest thing you will ever make for your family! Here is an awesome step by step image!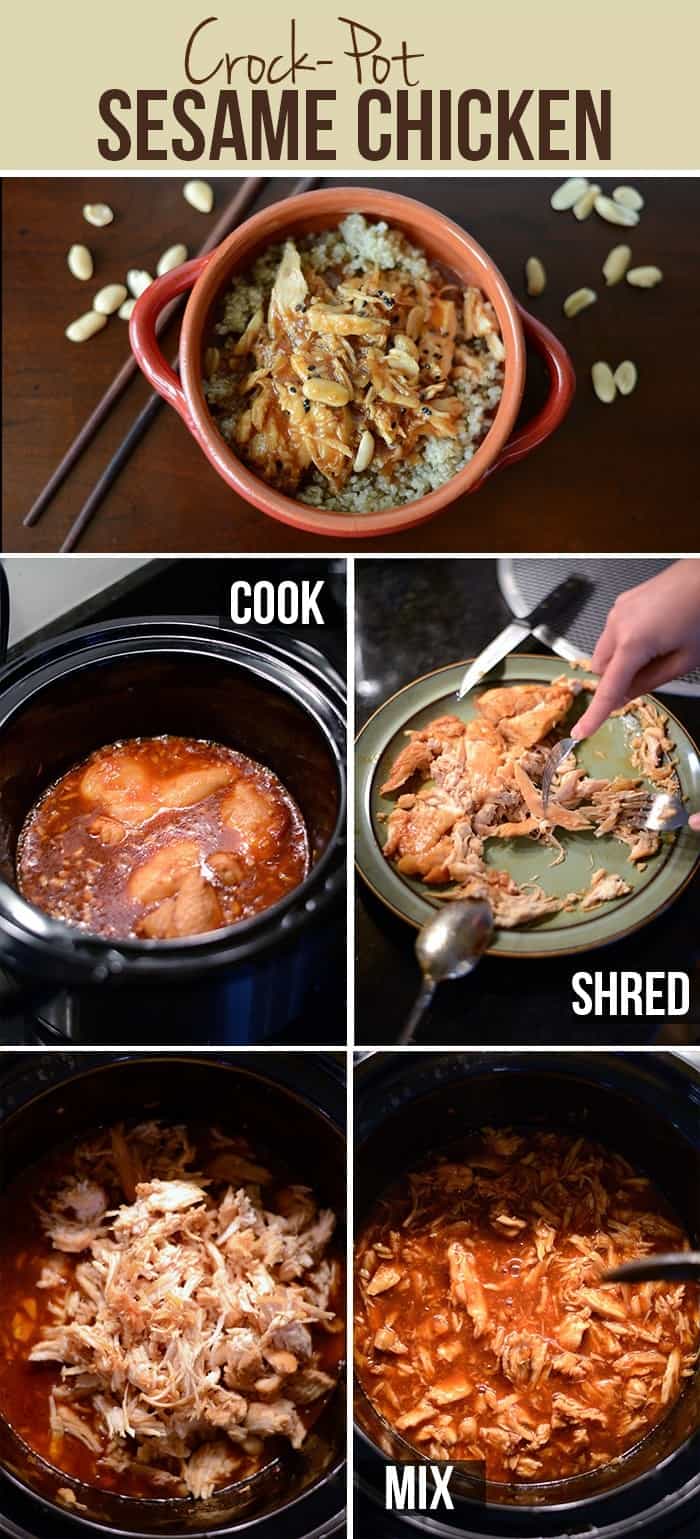 I never ever thought to shred the chicken, but Linley is a genius. Because the chicken bakes in the juices for a good 4 hours, it is incredibly tender and easy to shred. #thatswhatimtalkingabout
Happy Monday!
What is your favorite crock-pot recipe?