I would like to introduce you to….. ONE POT SUNDAYS on FIT FOODIE FINDS!
A one pot meal is made in a single pot; this can be on the stove, in the oven, in a crock-pot, a rice cooker..you name it. To kick off this series, I've made a DELICIOUS over night, slow-cooker steel cut oats recipe made with full-fat coconut milk.
To. Die. For.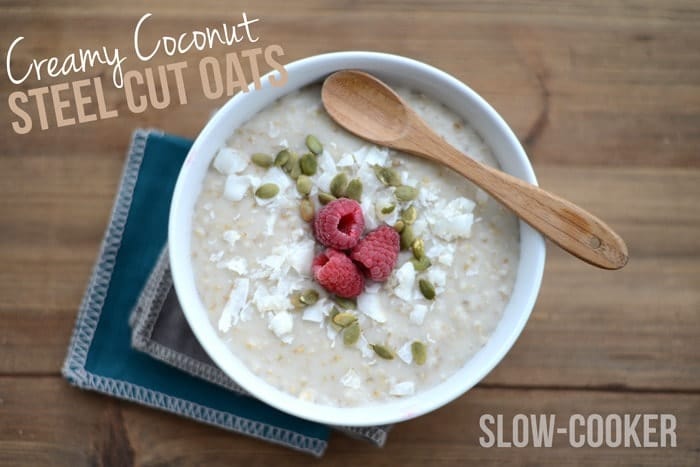 I can't tell you how creamy this oatmeal turned out. It beats microwaving it any day!
---
---
What I love about this recipe is that you pretty much throw all of the ingredients in a pot, flip the switch, go to bed, and in the morning everything is ready to go!
If you've made steel cut oats before, you know that they take almost an hour to cook on the stove. So- this method trumps all 🙂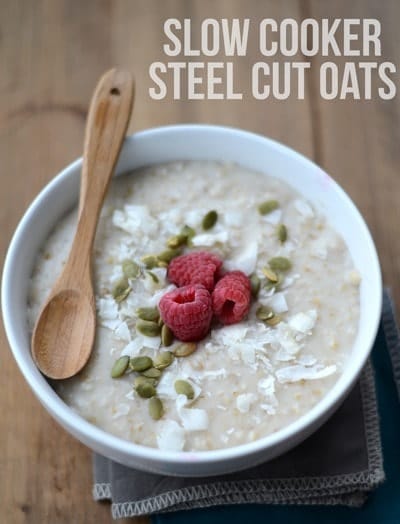 All you need to do is throw some toppings on and you've got a beautiful breakfast.
Slow Cooker Creamy Coconut Steel Cut Oats
Prep Time:

10 minutes

Cook Time:

8 hours

Total Time:

8 hours 10 minutes

Yield:

~6-8 servings
Instructions
Place all ingredients in a crock pot. Turn to low and let sit over night for about 8 hours or until creamy. Serve with: nut butter, coconut flakes, pumpkin seeds, raisins, dried fruit, chia seeds, etc.
8 cups may seem/look like a lot of water, but it sure does soak it all up! 1 cup of uncooked steel cut oatmeal will serve 4, so this recipe serves 8. I threw my leftovers in a tupperware and put it in the fridge to eat for the rest of the week.
Secret: its even delicious cold 🙂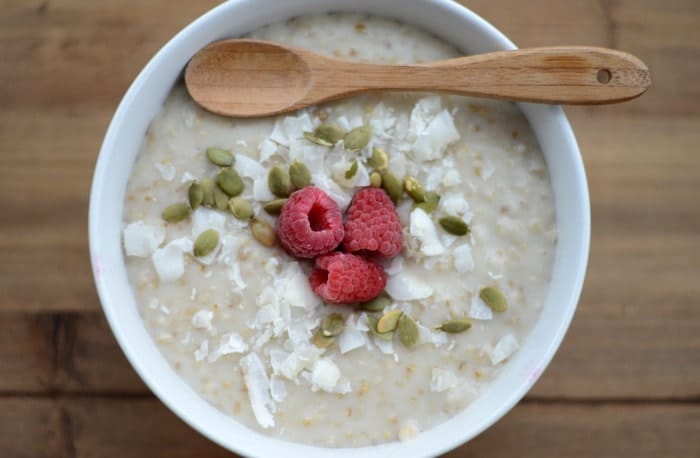 Here's some fall favorite toppings that I've been digging lately. Nut Butter never gets old 🙂 …especially Maranatha' Maple Almond Butter.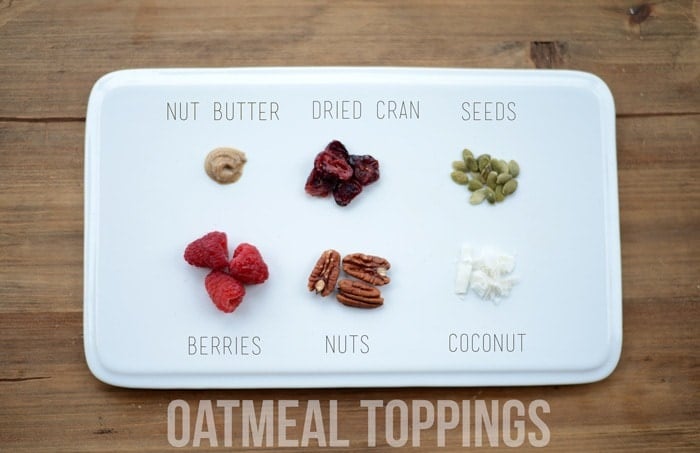 Want more one pot meal ideas? Here's my archives!