If someone gave me the reigns to plan an entire Thanksgiving meal, I have no doubt that at least half of the recipes would have quinoa in it. It's not my fault. It goes so well with everything. It adds such great texture and color too!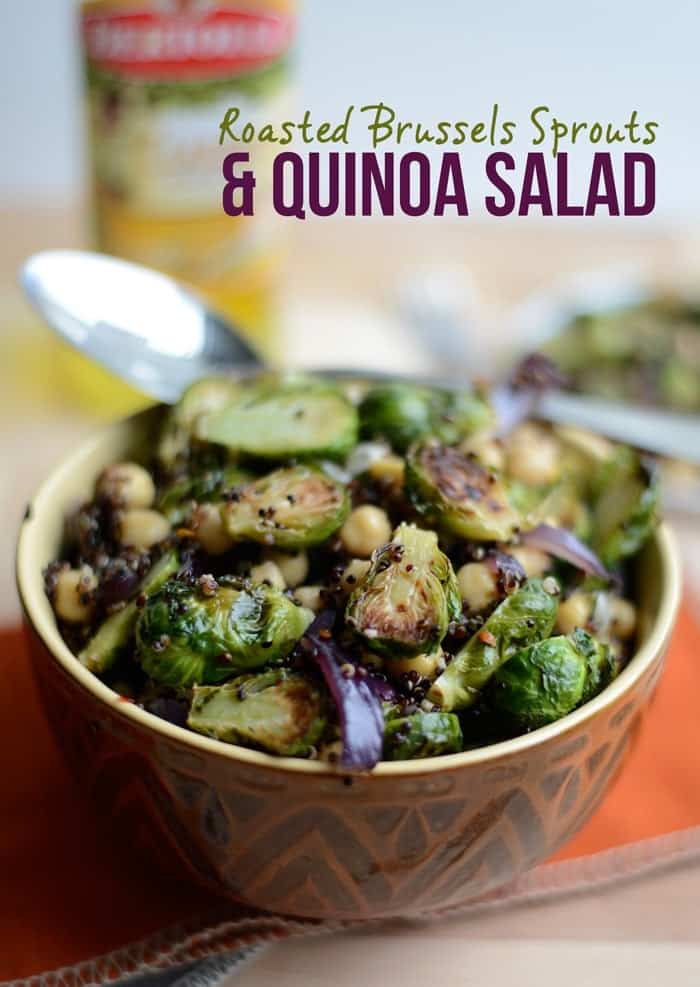 I IGed this photo a few weeks ago and it got a lot of interest. Ya either love or hate brussels sprouts and I have a feeling that a lot of FFF readers LOVE EM. I actually did this recipe as part of the 2nd annual Anytime Fitness e-book. Last year the Anytime Fitness writers did a holiday cookie book, and this year it's theme is Thanksgiving.
I am very excited with how the ebook turned out. Props to my friend and- co-worker Amanda for doing the design and layout of it! It looks fab.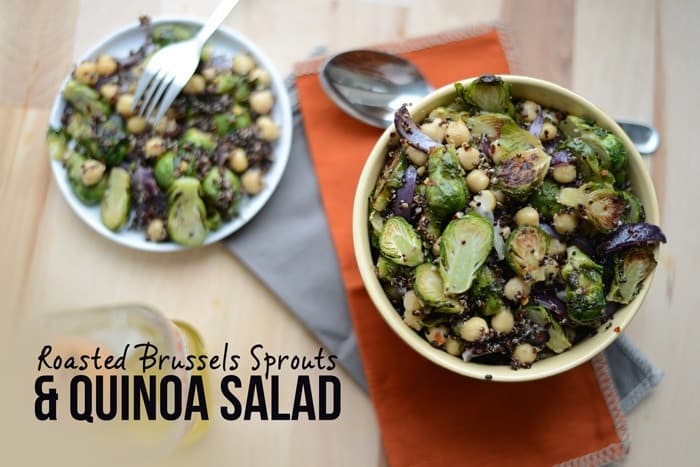 Back to the quinoa. I am such a nerd when it comes to grocery stores. I could wander and wander and never get bored. One thing that I always do is seek out the quinoa in both the bulk section and prepackaged section to compare prices. This may sound contradicting, but the cheapest quinoa I can find is at Whole Foods. Plus- they have an array of different kinds: normal, tri, black, and red.
---
---
That's where I got the black quinoa for this recipe….from the Whole Foods Bulk Section. Black quinoa is more expensive than regular, so I only got what I need. Great way to save money!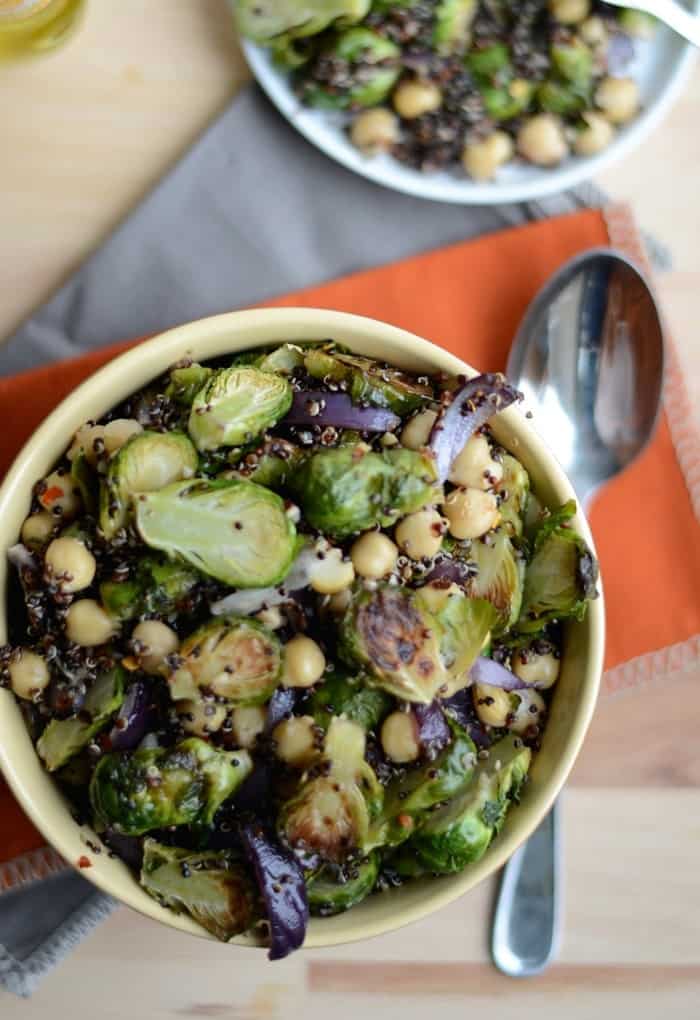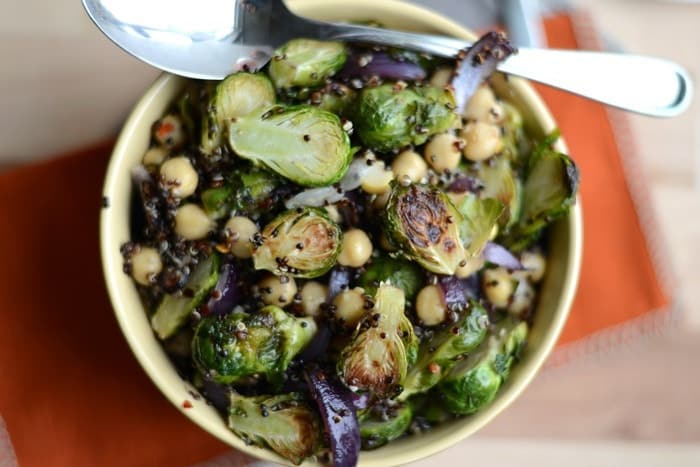 To download the e-book click HERE.
Roasted Brussels Sprouts and Quinoa Salad
Prep Time:

15 minutes

Cook Time:

30 minutes

Total Time:

45 minutes
Ingredients
1 lb brussels sprouts
½ large red onion
1 tablespoon minced garlic
2 tablespoons extra virgin
olive oil (EVOO) + 1
tablespoon
1 teaspoon salt
1 teaspoon pepper
½ cup garbanzo beans,
canned and rinsed
¼ cup quinoa, dry
½ cup chicken broth or
water
½ teaspoon red pepper
flakes (optional)
Instructions
First, preheat oven to 400°F and line a baking sheet with foil.
Next, prepare vegetables. Wash Brussels sprouts and pat dry. Then, cut them in half hot dog style and place on baking sheet. Thinly slice half of a red onion and spread evenly on the baking sheet. Drizzle on 2 tablespoons of EVOO and toss with fingers.
Season veggies with 1 tablespoon of minced garlic (or more if you're a garlic lover), salt, and pepper.
Place veggies into oven at 400°F for 20-25 minutes or until the Brussels sprouts begin to brown.
While the vegetables are cooking, prepare quinoa. Bring 1/4 cup of quinoa and 1/2 cup of liquid (such as chicken broth) to a rolling boil. Turn heat down to low, cover, and let simmer until all water is absorbed (about 20 minutes).
Once the veggies are done, let cool for a few minutes, then transfer into a large bowl. Add in about 1/2 cup of garbanzo beans and mix. Then, add in cooked quinoa and toss again. Finally season with one more tablespoon of EVOO and 1/2 teaspoon of red pepper flakes for some heat.