My kind of lazy is me crocheting while simultaneously watching TV or editing a photo while I should be taking a nap. It's hard for me to just sit on the couch and do absolutely nothing. BUT I know that lazy days are absolutely necessary when you are a work-a-holic.
On days when I try to be lazy (which is hopefully once a week) I always try and stay lazy in the kitchen too. This is why I ALWAYS have a plenty of canned beans and frozen meat on hand…so that at any moment I can throw it all in the crock pot and let it simma. Without me doin a thang.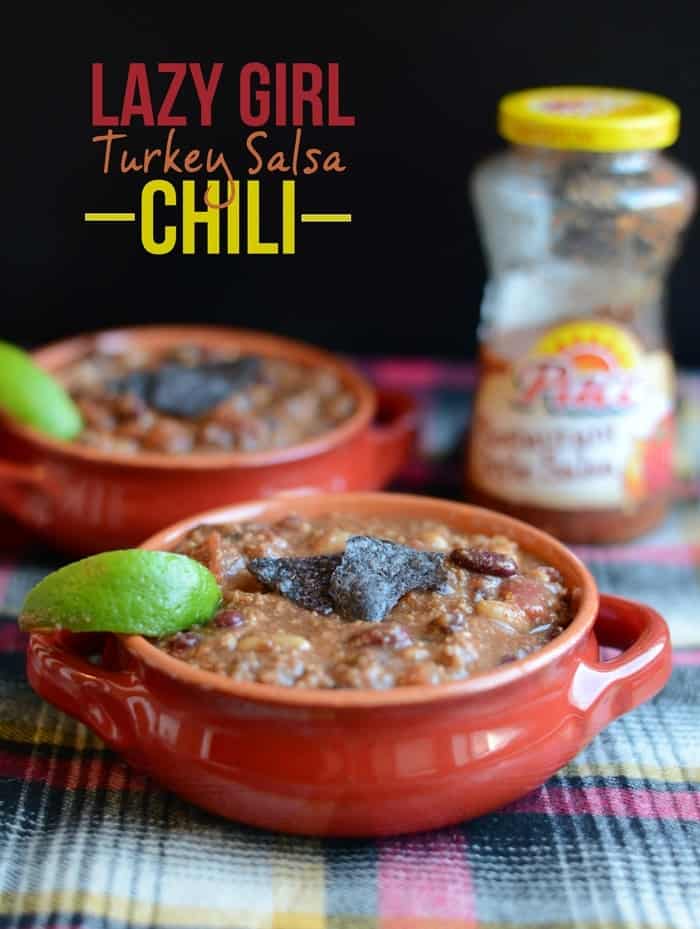 I call this batch of chili, my Lazy Girl Turkey Salsa Chili. Because it's just that!
There is no definite recipe- so you can mix and match your favorite beans and meats. In this recipe I used what I had on hand: frozen ground turkey, black beans, kidney beans, white northern beans, diced tomatoes, and salsa. There is no chopping involved.
---
---
Lazy Girl Turkey Salsa Chili & Scenes from the Weekend
Prep Time:

5 mins

Cook Time:

4 hours 30 mins

Total Time:

4 hours 35 minutes

Yield:

6-8 servings
Ingredients
1 lb. lean ground turkey
2 tablespoons coconut oil
1 tablespoon minced garlic
1 15 oz. can black beans, drained and rinsed
1 15 oz. can kidney beans, drained and rinsed
1 15 oz. can white northern beans, drained and rinsed
1 28 oz. can diced tomatoes
1 12 oz. jar salsa (mild, medium, or spicy), about 1.25 cups
2 tablespoons chili powder
1/2 teaspoon paprika
1/2 cup chicken broth or water
Instructions
Place all ingredients in a slow cooker, and turn to high. Let cook for 4-5 hours. Or turn to low and let cook for at least 8 hours.
I could seriously make that stuff every single week. SO GOOD and SO EASY! If you have it on hand, feel free to throw in some garlic or diced onion!
<<<<WEEKEND>>>>
This past weekend (Thanksgiving) was spent in Kansas with Blake's family…who I adore. This year we decided to do Thanksgiving in Kansas with Blake's family and Christmas in Chicago with my family. It was my first Thanksgiving away from the Hershes. It felt weird and not weird at the same time. Thanksgiving is a time of thanks and family and I am truly thankful for Blake and the support he brings to my life. The man is my backbone, my listener, my partner, and best friend. His family- I love them just as much as I love him! Here are a few photos from my long weekend in Kansas!

Check out some of my other favorite chili recipes…