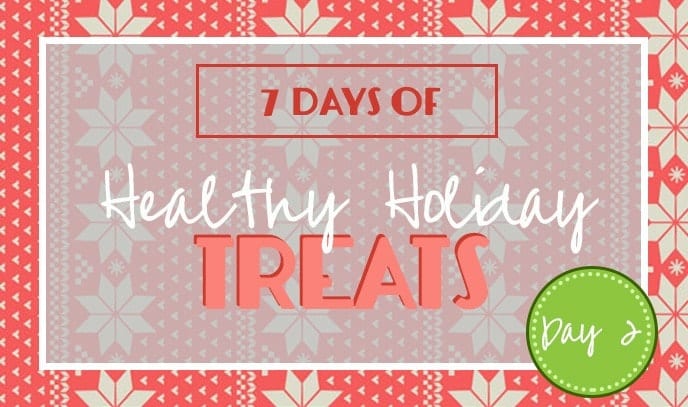 OH MY HEAVENS.
I am a HUGE Peppermint Patty fan- always have been, but these are just over the top and SO easy to make!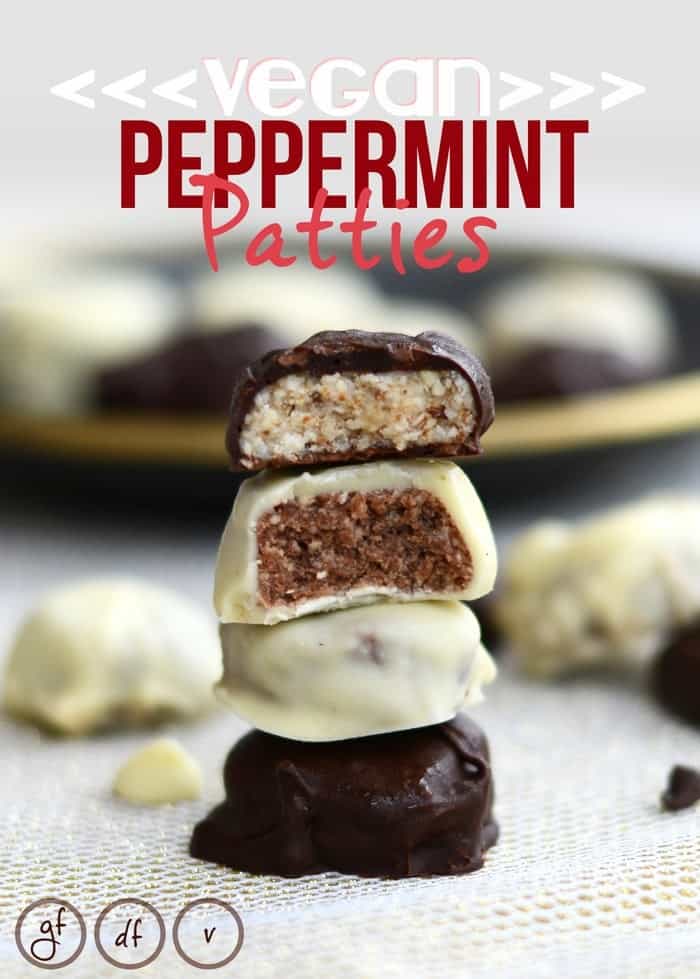 These guys are gluten free, grain free, dairy free and vegan (if you use vegan dark/white chocolate). They are made with mainly coconut products, which gives them a slightly coconutty flavor.
I don't mind that at all…I actually like the combination of peppermint and coconut!
---
---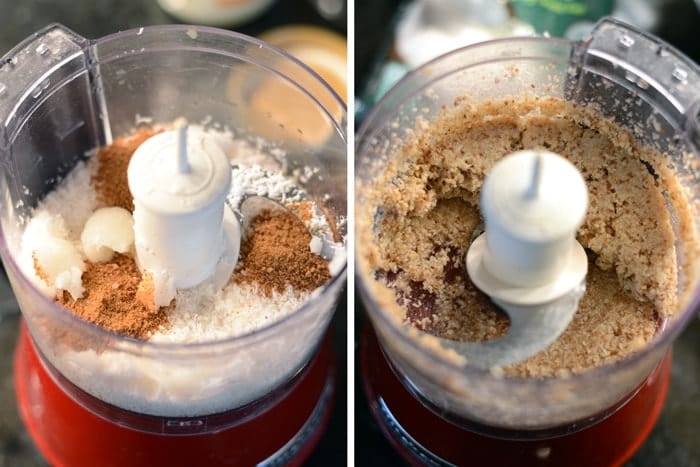 What I love about this recipe is that they don't have to be perfect. That is the joy of making DIY holiday treats at home… no one will expect them to look store-bought 🙂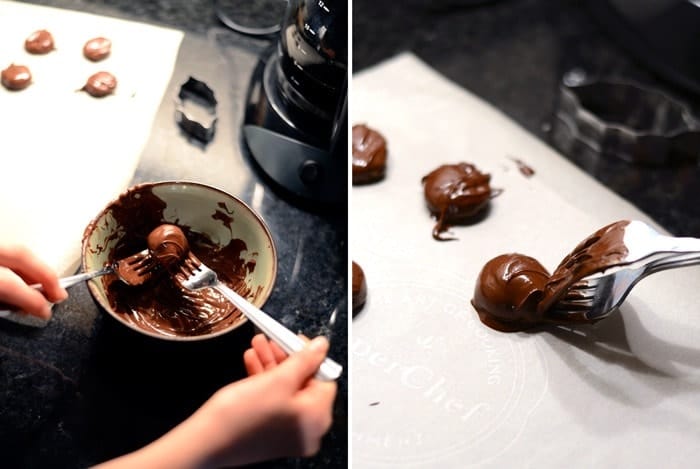 I've kept these in my freezer now for about 2 weeks and they are still good…I like to pop one to get my chocolate fix 🙂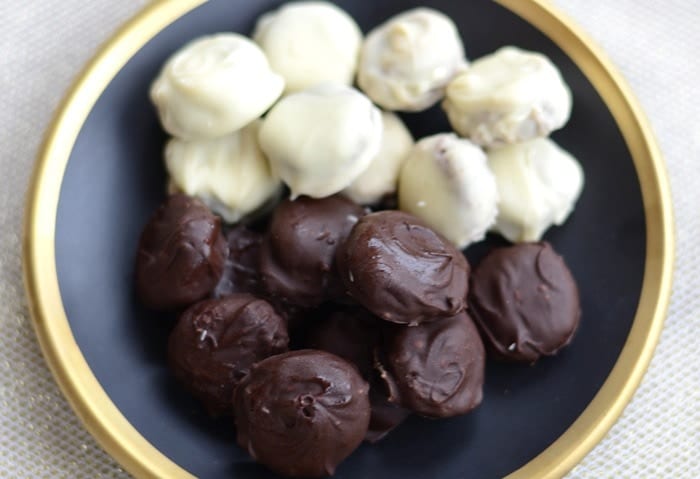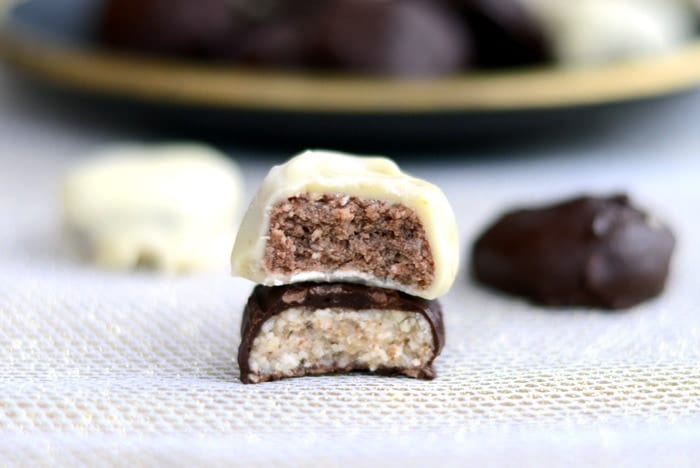 I couldn't find any vegan white chocolate, so I guess you couldn't necessarily consider the inside-out ones vegan, unless you found vegan white chocolate somewhere. For the classic kind, I use the brand Enjoy Life. I can't even taste a difference between those and semi-sweet or regular dark chocolate chips. #winning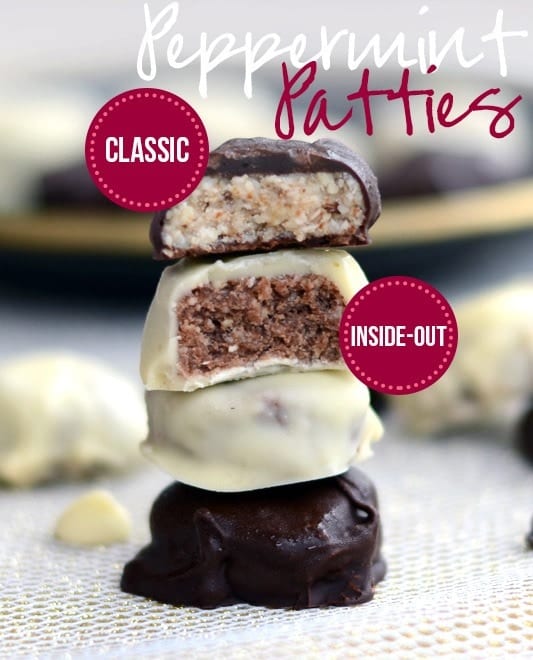 One last thing, the nutrition profile on these guys are stellar: 71 calories | 6g carbs | 6g fat | 1g protein | 4g sugar
Vegan Peppermint Patties
Prep Time:

20 minutes

Total Time:

20 minutes

Yield:

10
Ingredients
1/2 cup super-fine almond flour
1/2 cup shaved coconut, unsweetened
1 tablespoon maple syrup
2 tablespoons coconut oil, room temperature
1 Medjool date, pitted
2 teaspoons peppermint extract
1/2 cup chocolate chips, dairy free
Himalayan sea salt, to taste
Instructions
1. First, line a baking sheet with a piece of parchment paper. Next place all ingredients in a small food processor and process until combined. It should be similar to cookie dough consistency.
2. Next, scoop out nickel sized pieces of dough and roll in your palm. Place on cookie sheet and flatten with your fingers.
3. Place sheet into freezer for about 30 minutes.
4. Once the patties have frozen, melt about 1/2 cup of vegan dark chocolate (*for inside out patties, melt 1/2 cup of vegan white chocolate or normal white chocolate) in the microwave. Using two forks, dip each patty into the chocolate, fully covering it. Place on parchment paper. Repeat.
5. Place the cookie sheet back in the freezer for about 10 minutes.
Notes
*gluten free, dairy free, vegan, grain free
Peppermint Patties…thumbs up or thumbs down?