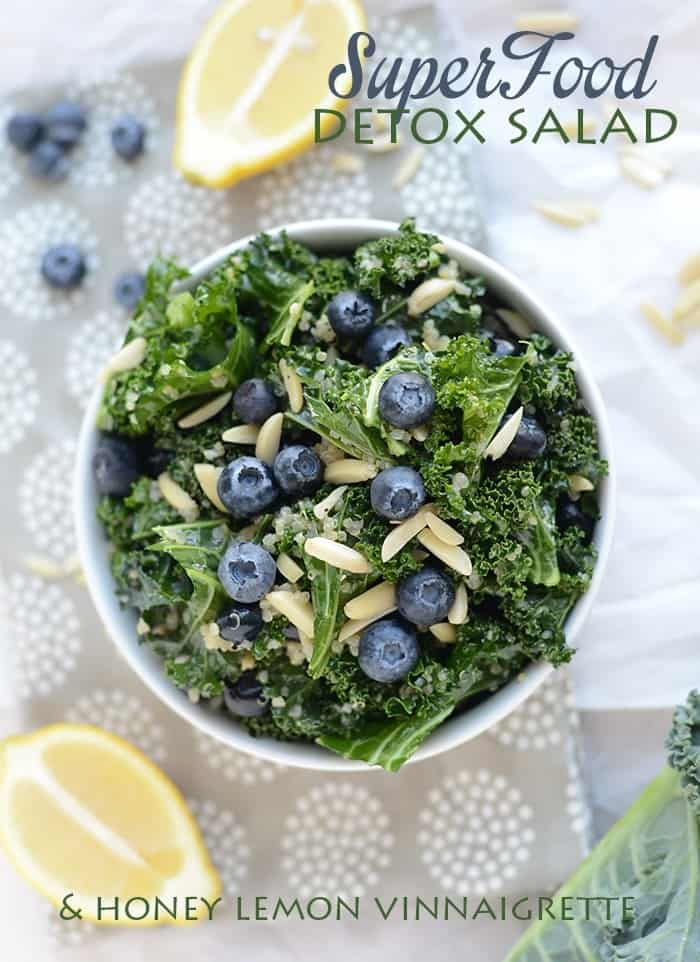 These photos have reminded me that the more pretty colors in a meal, THE BETTER. I have been majorly slacking in the fruits and vegetable department lately. Why? Because I haven't been putting enough time and energy into prepping food in order to have easy access.
That is about to change!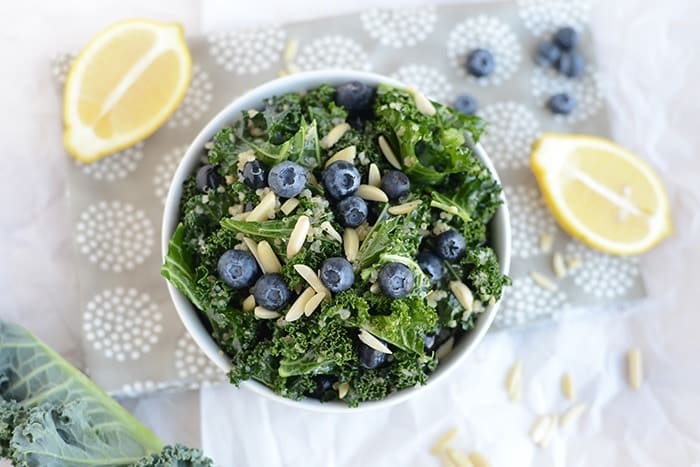 I bought kale for the second time ever in my life. The first time I put it in a smoothie and this time…I'm eatin' it raw. The day I'm content eating cooked greens is the day I stop eating peanut butter. NEVER!
Really though. I can't do cooked greens…especially spinach. I don't know what it is, but spinach is suppose to be eaten raw now wilted!
---
---
I made a nummy homemade, simple dressing for this salad:
Extra Virgen Olive Oil
Lemon Juice
Honey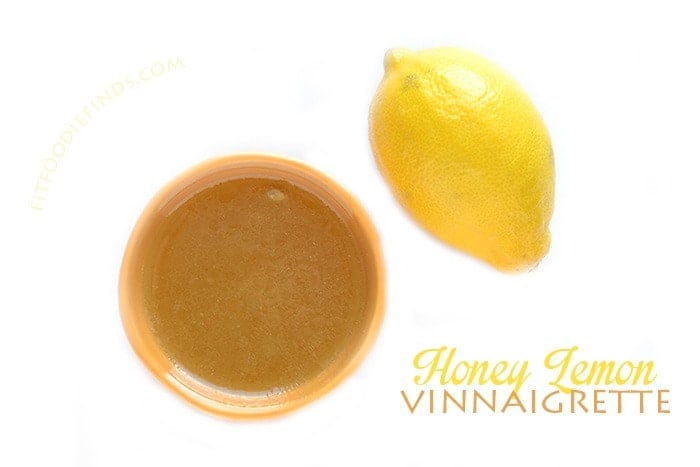 Just superb.
Inside the salad is:
Raw Kale
Cooked Quinoa
Fresh Blueberries
Slivered Almonds
Poppy Seeds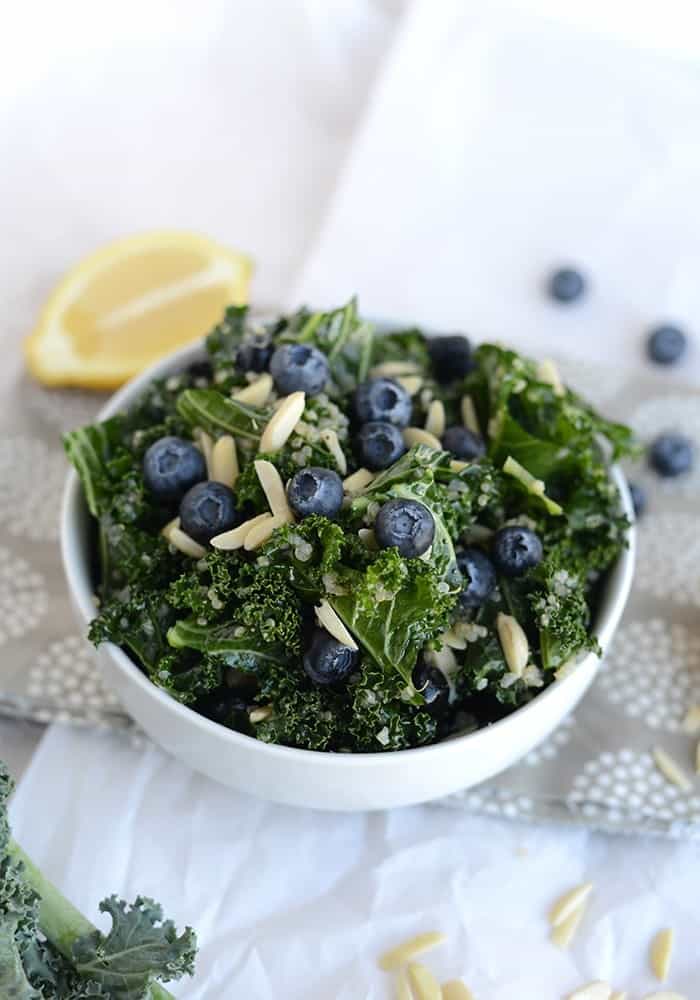 Easy, peasy, lemon squeezy.
And in this case. Literally.
Since this was the first time I handled kale in a recipe, I kept things simply. I washed it thoroughly, patted dry, and then cut the stalks off, leaving the crunchy leaves, which I then chopped into bite sized pieces.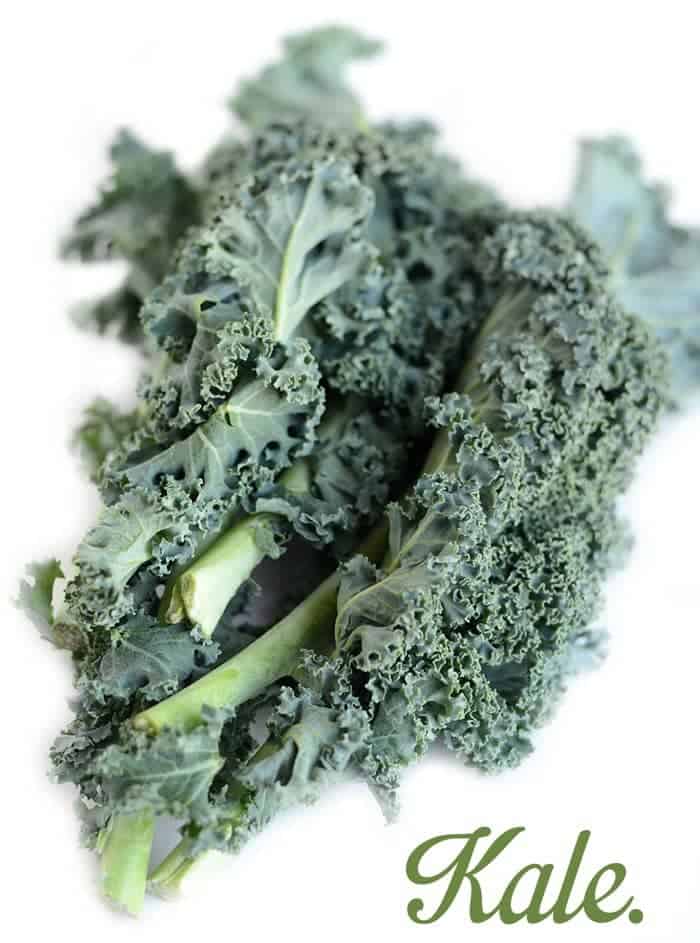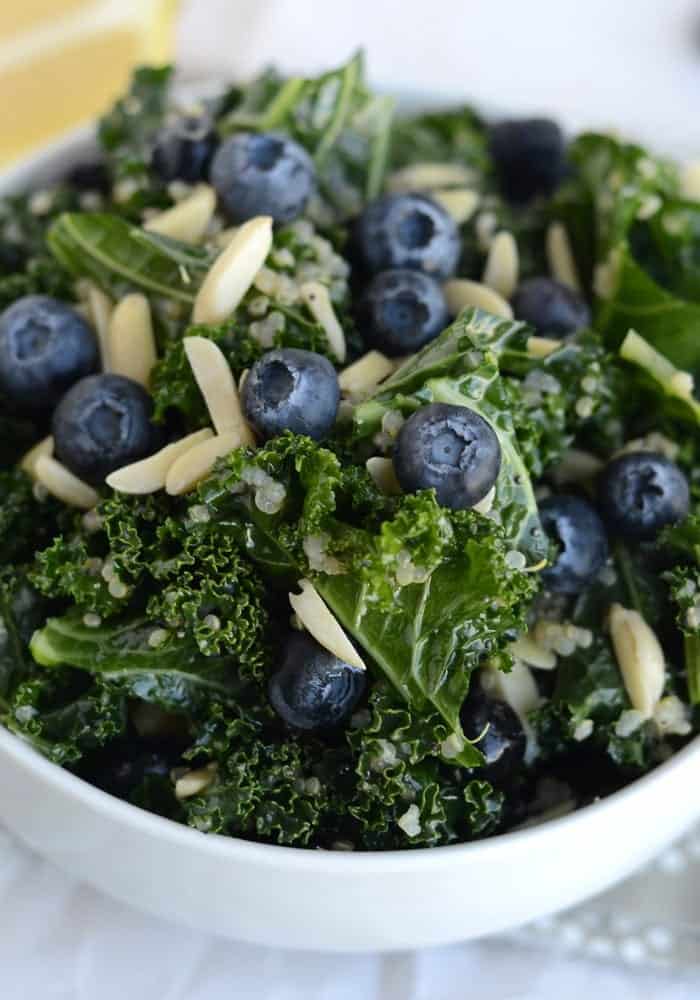 I want this salad at every meal from now on. I actually thought about throwing half of it in a blender and making a Super Food Detox Smoothie. I bet it wouldn't be half bad! Just add a frozen banana and a little almond milk. Pure bliss.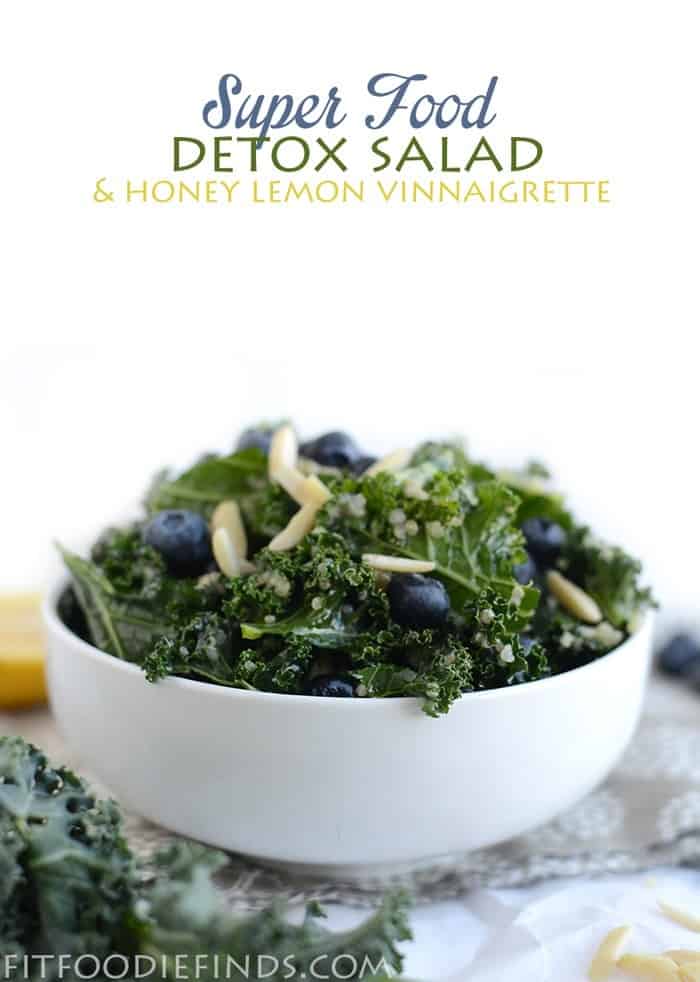 Super Food Detox Salad
Prep Time:

10 mins

Total Time:

10 mins

Yield:

2
Ingredients
-4 stalks of kale, raw
-1/2 cup blueberries
-1/2 cup cooked quinoa
-1/4 cup slivered almonds
-1 teaspoon poppy seeds
-1 large lemon, juiced
-1 tablespoon EVOO
-1/2 tablespoon honey
Instructions
First, prepare honey lemon vinaigrette. Juice 1 lemon into a small bowl. Then add in EVOO and honey and whisk with a fork. Set aside.
Next, thoroughly wash raw kale and then pat dry with a paper towel. Using a sharp knife, cut the kale leaves off of the hard center. Then chop into bite size pieces.
Place kale, 1/2 cup of blueberries, 1/2 cup of cooked quinoa, and 1/4 cup of slivered almonds in a large bowl or tupperware.
Then, pour vinaigrette on top of salad and toss, making sure to coat everything. Finally, add in poppy seeds and toss one final time.
Greens- raw or wilted (GROSSS)?