Mexican Quinoa and Sweet Potato Casserole with Chipotle Yogurt Sauce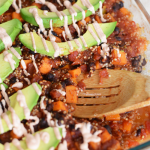 Prep Time:

10 minutes

Cook Time:

1 hour 15 minutes

Total Time:

1 hour 25 minutes
Ingredients
For the Casserole
-1 cup quinoa, uncooked and risnsed
-1 cup vegetable broth (or chicken)
-2 cans black beans, rinsed (15 oz each)
-2 cans diced tomatoes + juices (15 oz each)
-1.5 cups salsa (I used mild)
-1 tablespoon chili powder (for less spicy cut in half)
-1 teaspoon onion powder
-1 teaspoon cayenne (for less spicy cut in half)
-2 large sweet potatoes, diced
For the Chipotle Yogurt Sauce
-1/2 cup Greek yogurt, I used 0% fat plain
-1 teaspoon chipotle powder
-2 teaspoons sriracha
Instructions
For the Casserole
Preheat oven to 350F. Then, spray a large baking dish with nonstick cooking spray and place all ingredients into dish. Mix until everything is evenly combined. Bake, covered with tin-foil, for about 75 minutes or until sweet potatoes are tender and quinoa is cooked (you should be able to tell).
For the Chipotle Yogurt Sauce
Mix together all ingredients until combined.