This post is sponsored by Gold'n Plump Chicken. I was compensated and all opinions are my own.
I am so excited to introduce a new Fit Foodie Finds partnership with a brand oh so close to home…Gold'n Plump Chicken! I'm sure you've seen this brand's chicken at your local grocery store or large retailer because they are all over the United States. They are an all natural chicken brand based just north of the Twin Cities in St. Cloud, MN. Boneless Skinless Chicken Breast Portions (the product I'm featuring in today's recipe) carry the Gold'n Plump "all natural" label and contain no artificial ingredients, preservatives or added hormones. Can I get a whoop whoop!?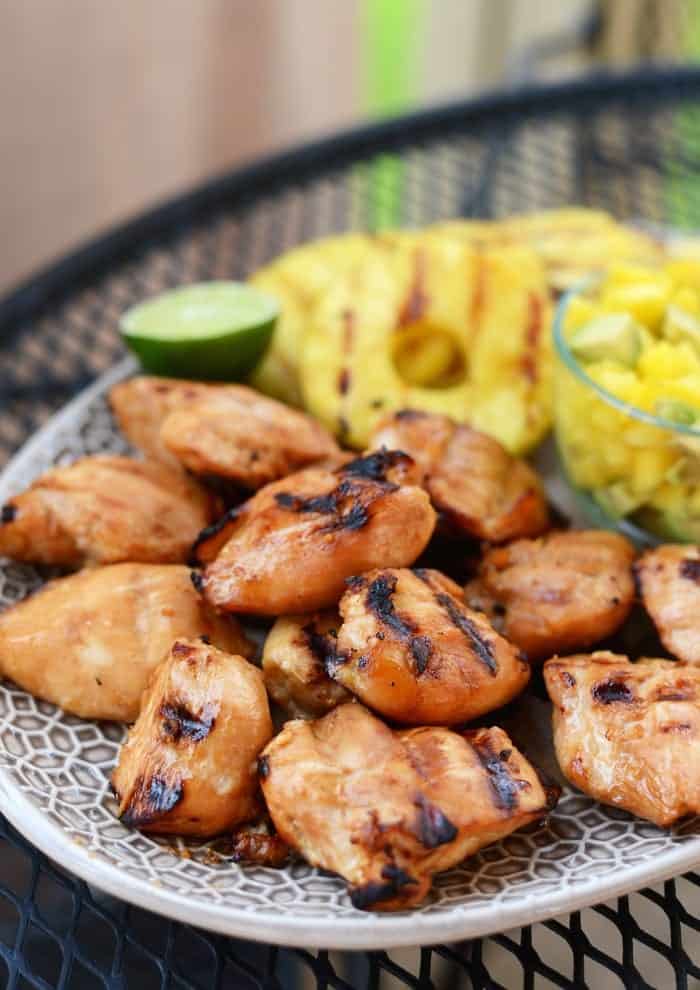 Did you face plant into the screen too?!
These were the juiciest, most tender, most flavorful grilled chicken breasts I've ever made! I love that they are cut into smaller portions because I am the type that likes to eat lots of different things for dinner and usually don't end up eating an entire chicken breast.
And this pineapple. YOU GUYS. This pineapple.
---
---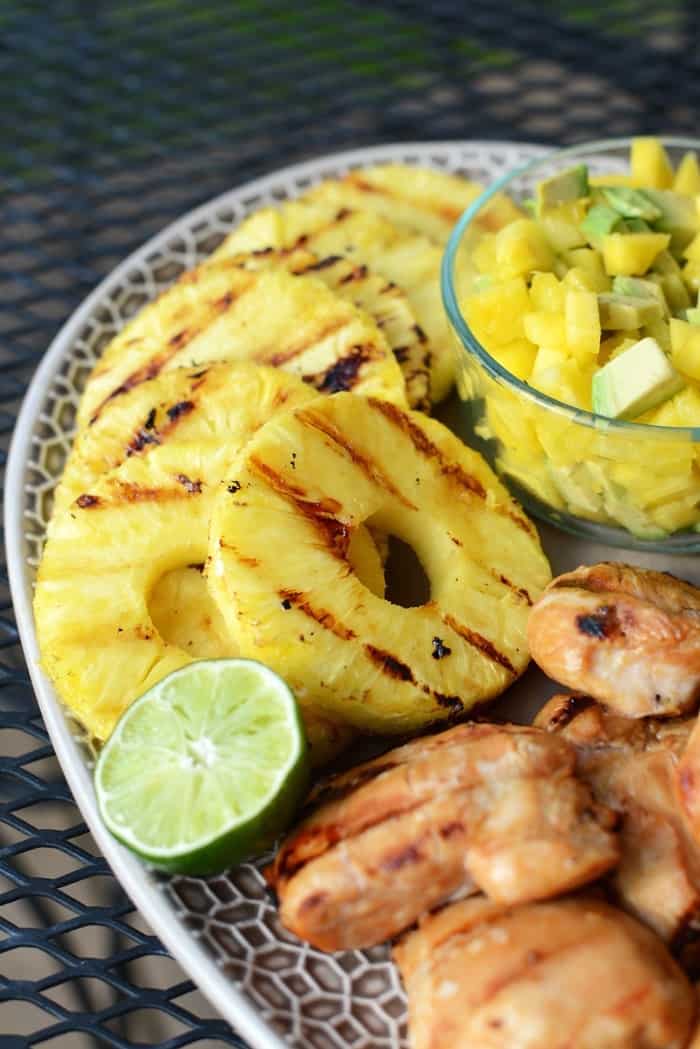 The marinade I made calls for super simple ingredients that you most likely already have at home!
My secret ingredient is a splash of pineapple juice. Can't go wrong!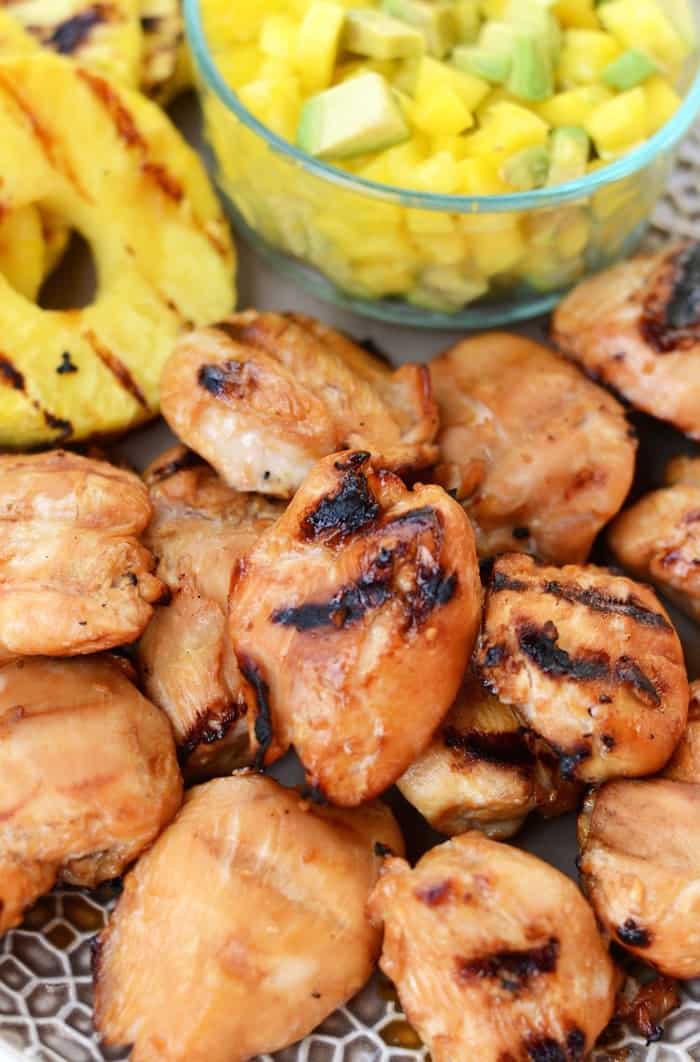 I used 2 packages of Boneless Skinless Chicken Breast Portions. Love that there are no added hormones in these guys. The chicken breasts next to these at the store were like 4 times the size, but that's because they are pumped with who knows what.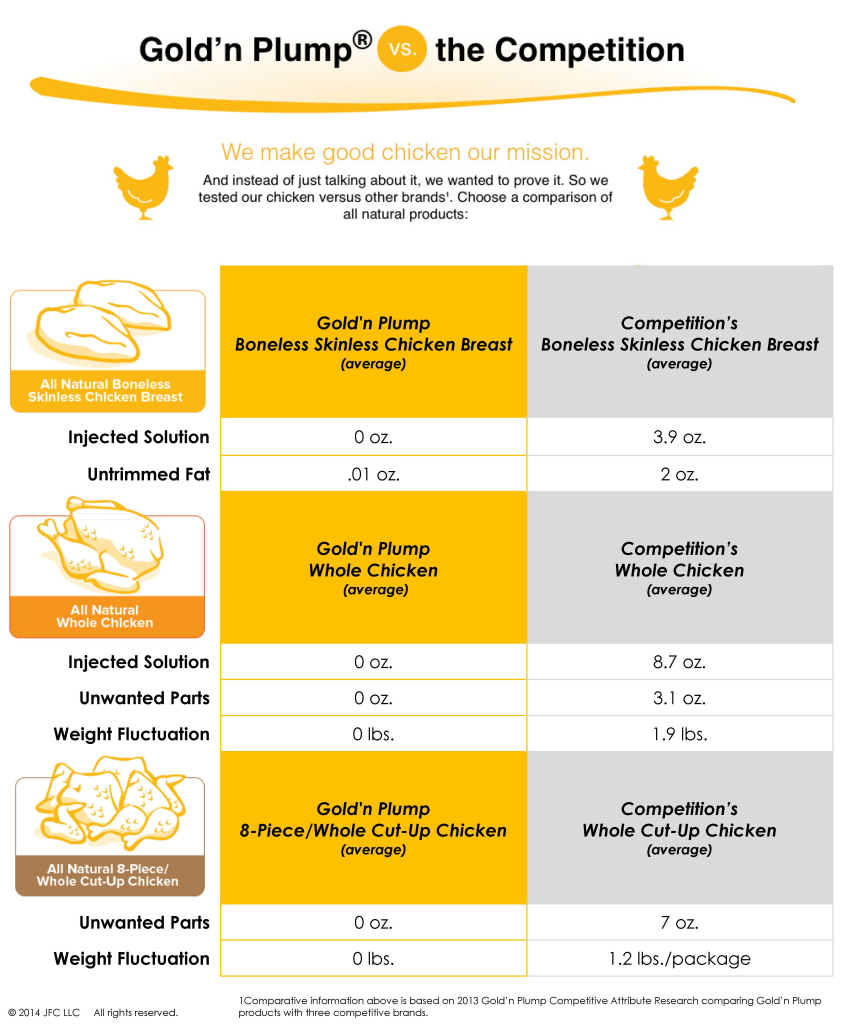 Read more about how amazing Gold'n Plump and their initiatives are here —> Chicken Difference.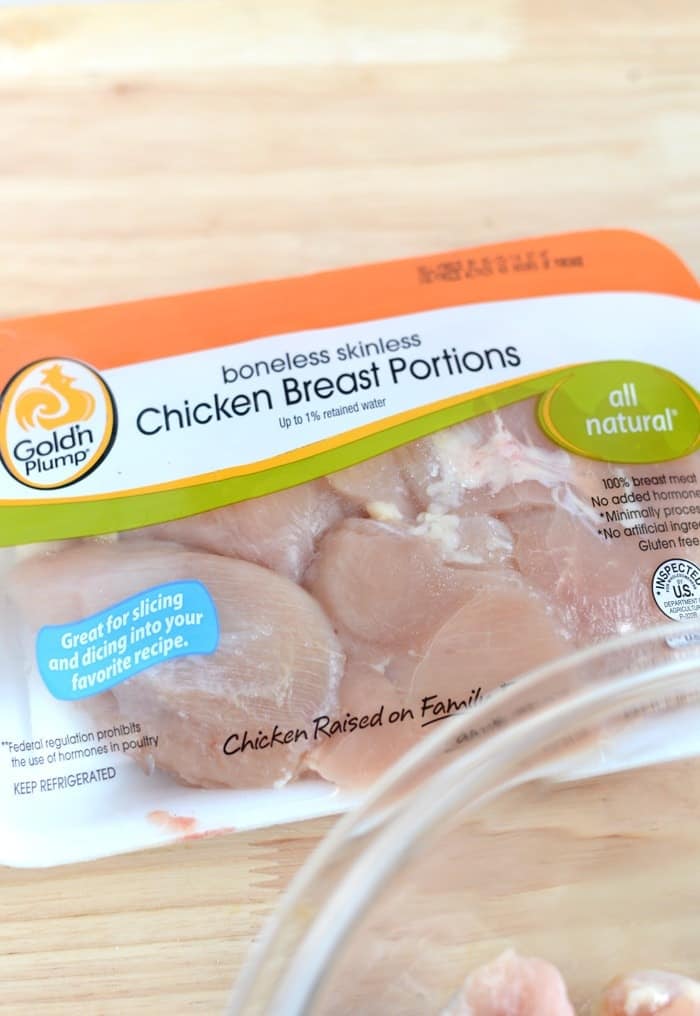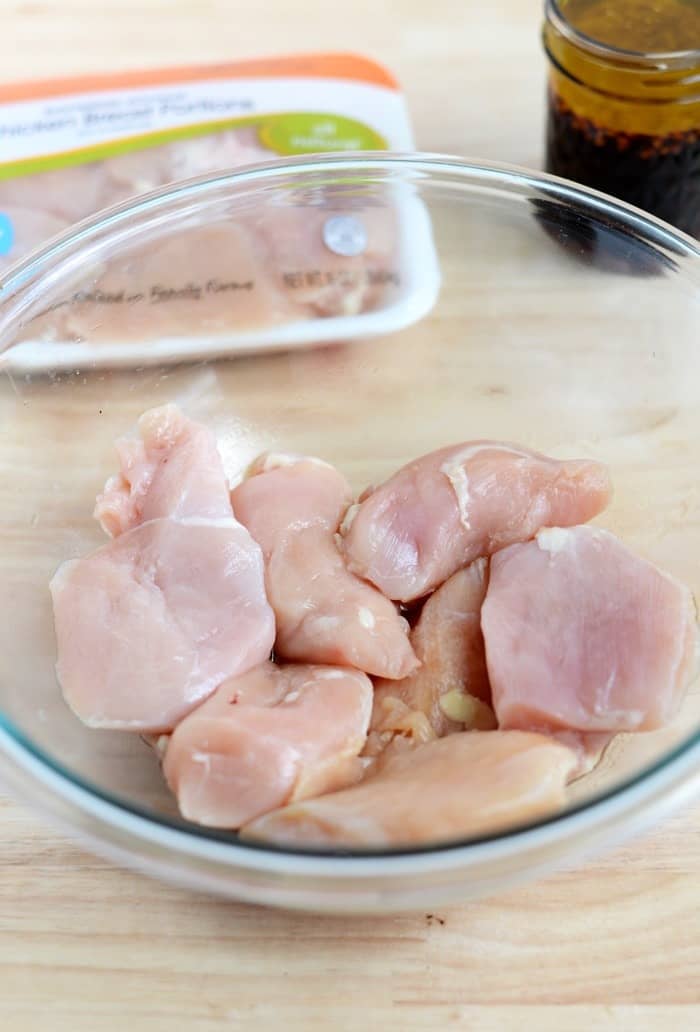 Back to the marinade. You'll need:
Teriyaki sauce/marinade
EVOO
Lime juice
Garlic
Pineapple juice
A little brown sugar
I let things sit for about 4-5 hours. My secret is to take a fork and poke each piece a few times so the marinade really soaks in!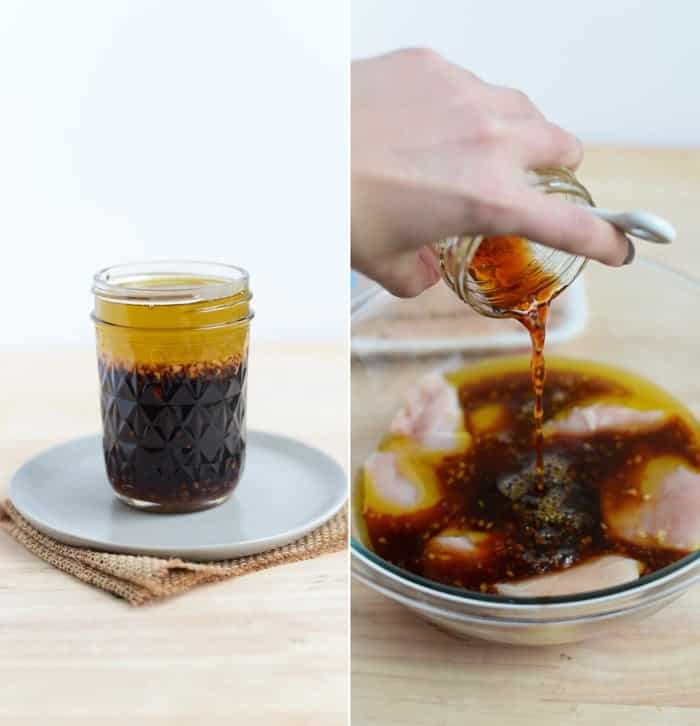 Now the fun part.
GRILL TIME!
To get amazing grill marks, you'll want to heat your grill to about 375°F. I let the chicken cook on each side for about 7 minutes, watching verrrry closely.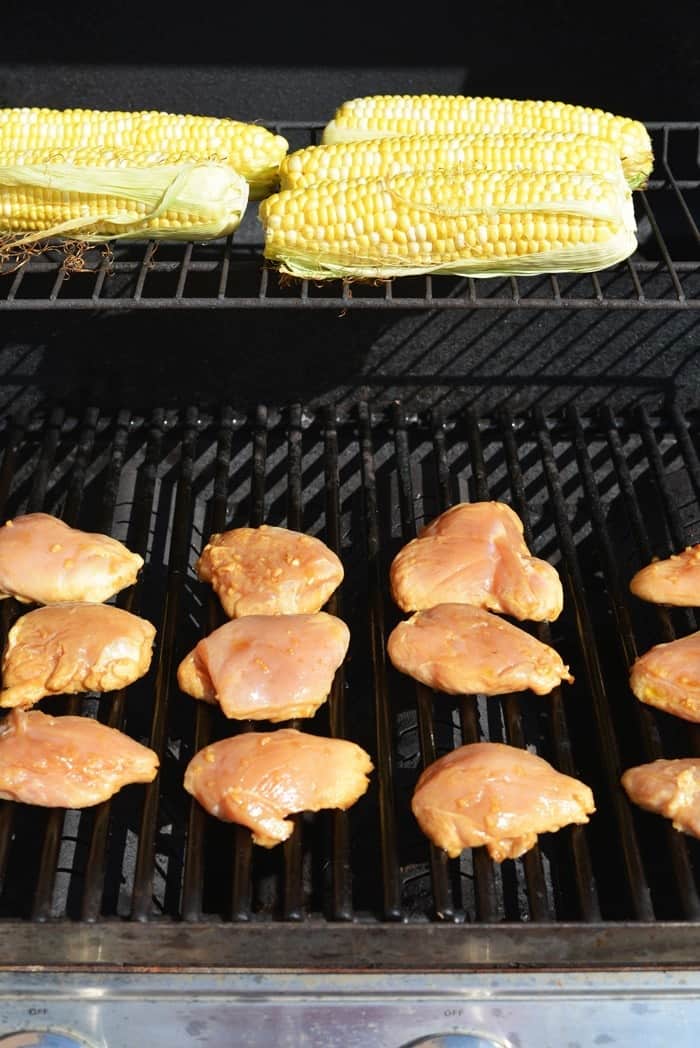 I do want to note that this grilling was ALL ME. Usually I make Blakester do all of the grilling for the blog because, well, he's the grill master. This time- I did it…under his supervision of course.
I put the pineapple on about half way through. Those took about 2-3 minutes on each side.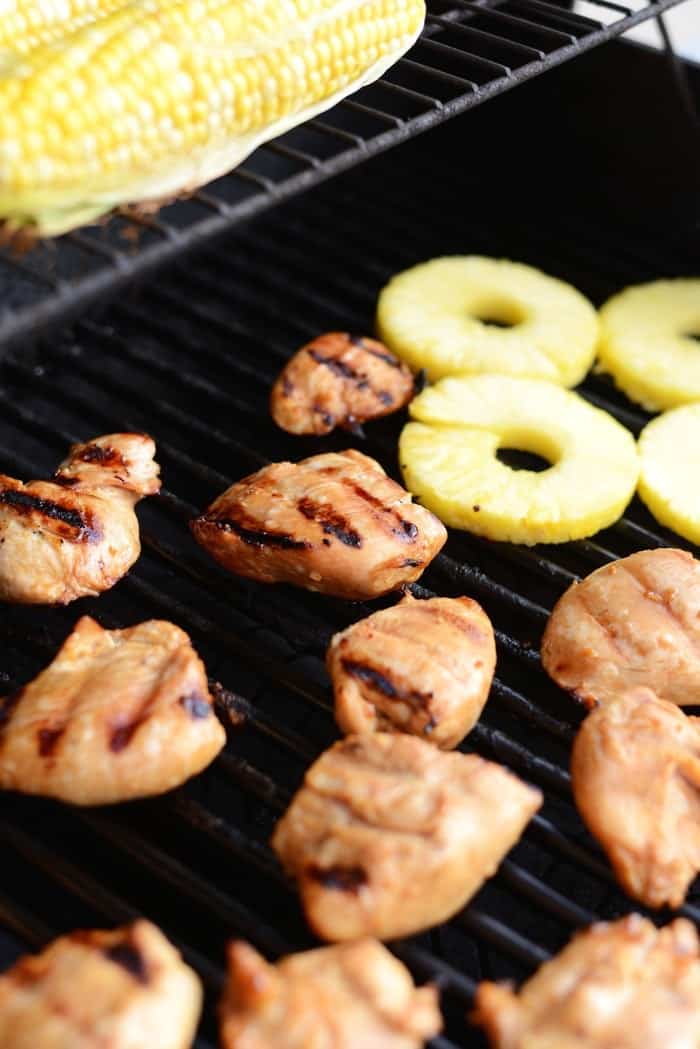 I also cut up some mango and avocado for a little side dish. I put it right on top of my chicken and it was divine.
All of these tropical flavors made me feel like I was in the Caribbean! 😀
Kinda sorta, minus the fact that it was like 55 degrees out as I was photographing. 😀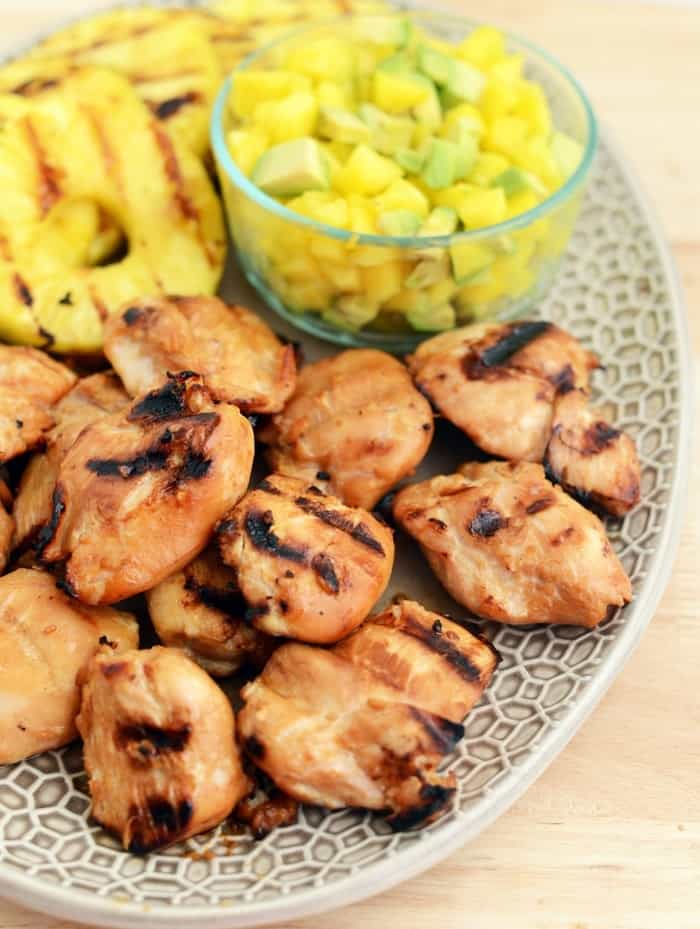 Tropical Teriyaki Chicken Breasts with Grilled Pineapple
Prep Time:

4 hours

Cook Time:

20 minutes

Total Time:

4 hours 20 minutes

Yield:

4-6 servings
Ingredients
2 packages of Gold n' Plump Boneless Skinless Chicken Breast Portions
1/2 cup teriyaki sauce/marinade
2 tablespoons light brown sugar
1 tablespoon garlic, minced
2 tablespoons EVOO
2 Tablespoons pineapple juice
1/2 lime, juiced
1 pineapple, cored and sliced
Instructions
Begin by prepping marinade. Mix together teriyaki sauce, brown sugar, garlic, EVOO, pineapple juice, and lime juice. Then, place chicken portions in a large tupperware or glass bowl and pour marinade on top. Pierce chicken breasts with a fork a few times so that the marinade really soaks in. Place in refrigerator, covered, for 4-5 hours.
Once the chicken breasts are marinaded, preheat grill to about 375F. Spray grill with nonstick cooking spray, and place chicken breasts on top.
Let cook for 5-7 minutes on each side, watching closely.
To grill pineapple, place on preheated grill (375F) and cook for about 2-3 minutes on each side.
Would you rather eat- small amounts of lots of things or large amounts of a few things?
Favorite way to cook chicken breasts?