It's no secret that I eat meat. A lot of it.
I've always been a meat eater, but ever since Blake and I moved in together, I eat it almost once a day (if not twice!). Lately we've been grilling up a storm. Steaks, chicken breasts, chops…you name it!
I decided to get a little creative and make a caveman treat…with MEAT.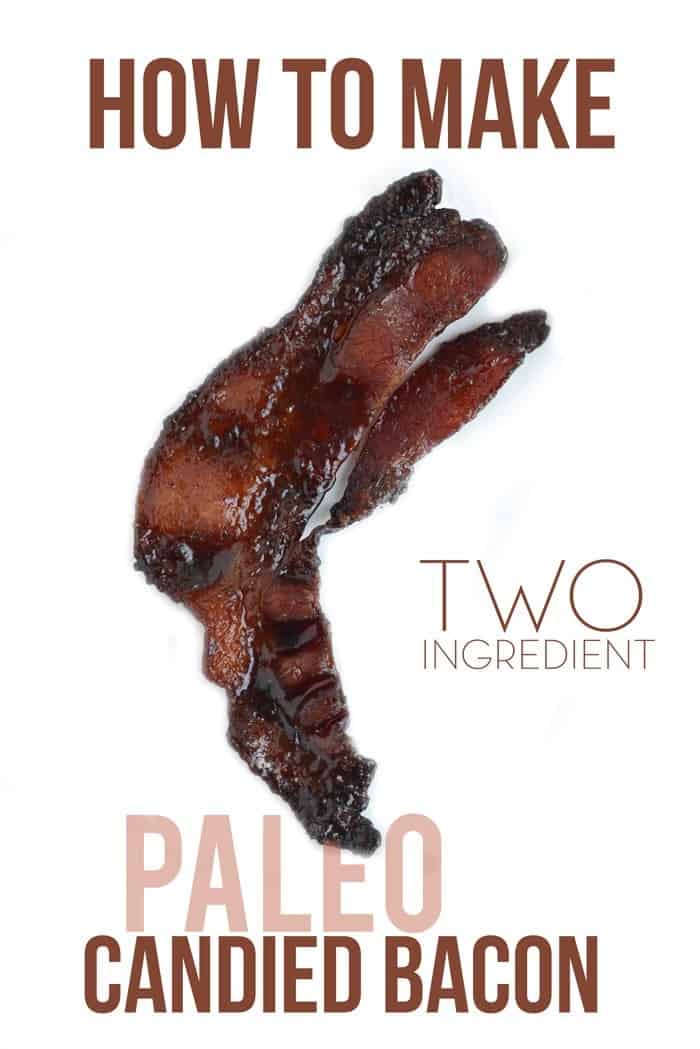 I posted the below photo on Instagram (with no text), and 3 people said it looked like a cat.
I just don't see it!
---
---
Then- I felt like a total nerd, because the reason they said cat…was because I said "Can anyone guess what's happening in my kitchen right meow."
I see a dinosaur. But not a cat.
So yes. All you need are 2 simple ingredients to make these crunchy delicious treats:
Bacon ( I used medium thickness)
Coconut Palm Sugar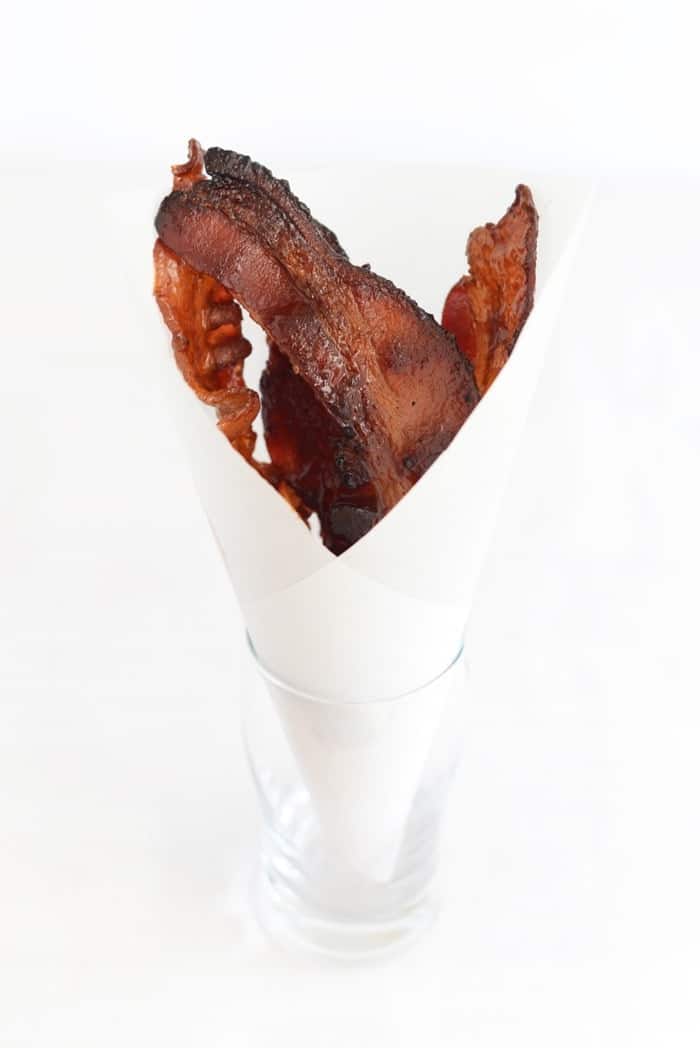 It doesn't take a Top Chef to be able to make these.
Roll the bacon around in the coconut sugar…making sure it's all covered.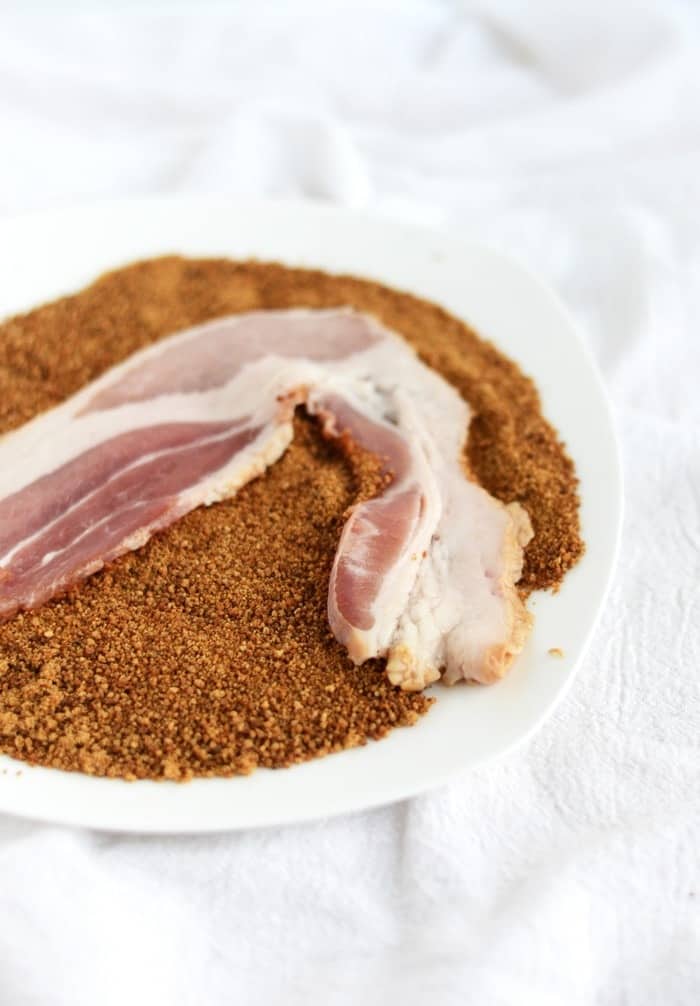 Then, place on a baking sheet lined with parchment paper (EXTREMELY IMPORTANT).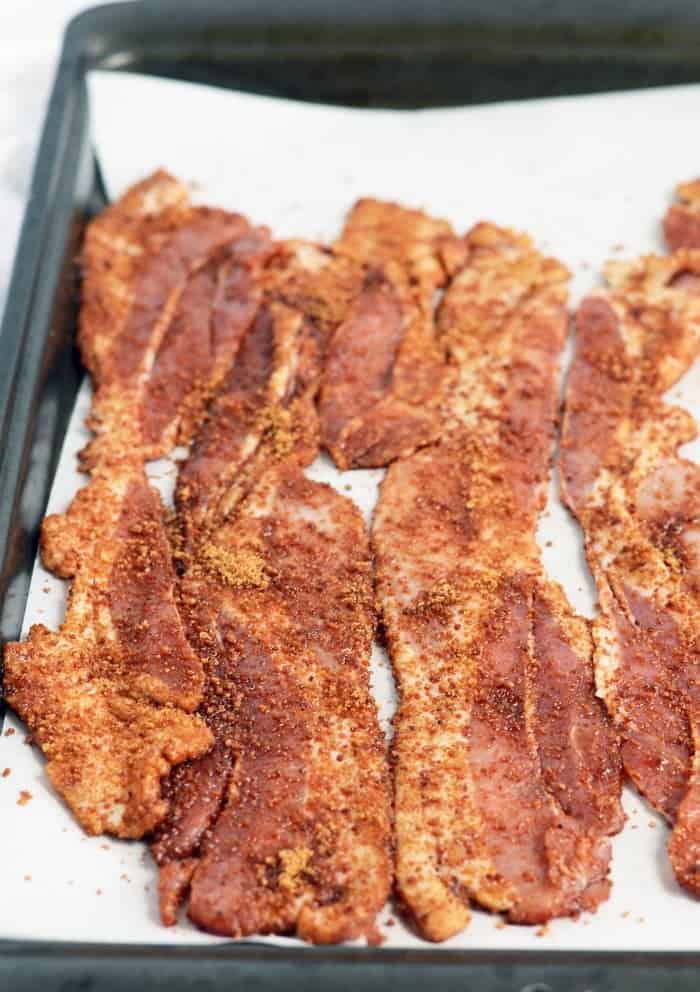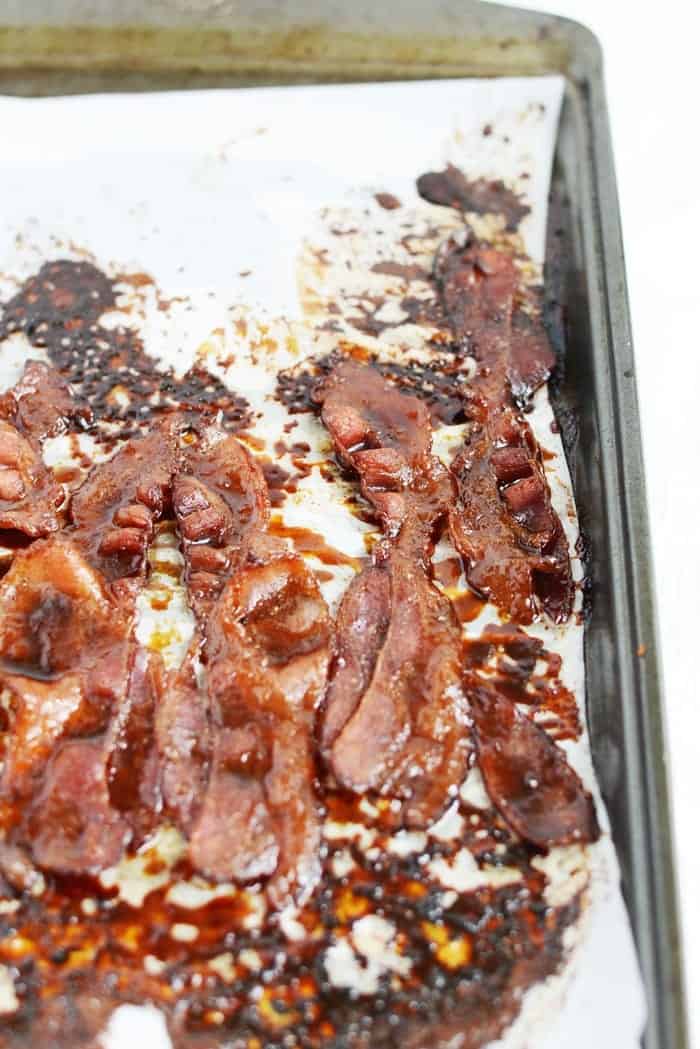 And BAM. You've got yourself some delicious, crunchy, candied bacon!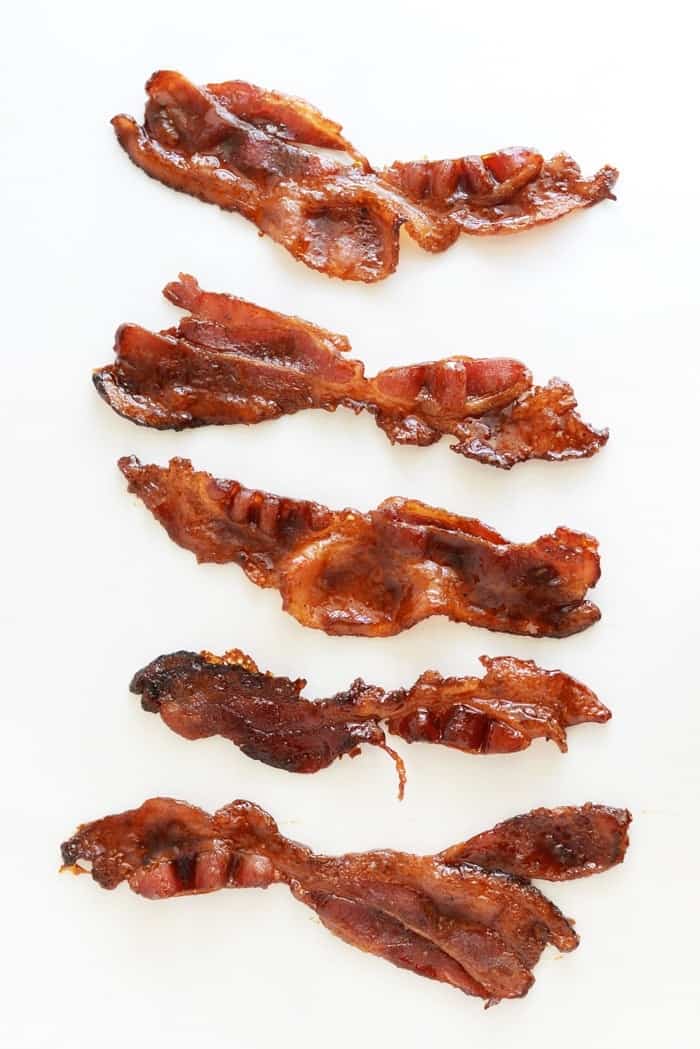 I should rename this recipe to…
Dude Candy.
HEY! Or how about…. Strong Chick Candy.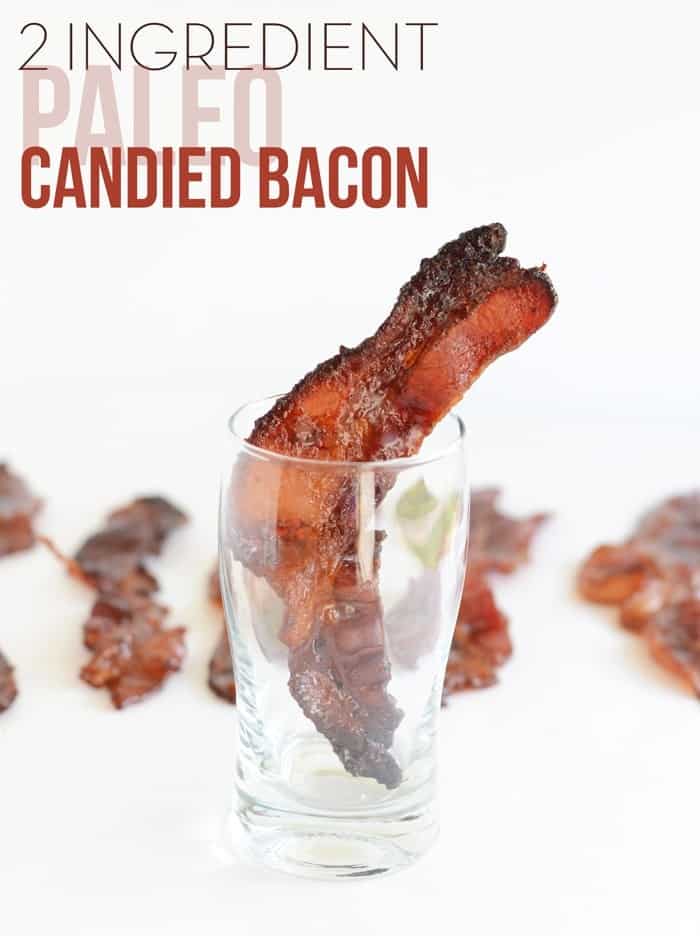 How to Make Paleo Candied Bacon
Prep Time:

5 minutes

Cook Time:

30 minutes

Total Time:

35 minutes
Ingredients
1 pound of uncured hickory smoked bacon (no added sugar)
~1/2 cup – 3/4 cup coconut palm sugar
Instructions
First, preheat oven to 350F and line 2 baking sheets with parchment paper. Set aside.
Next, place coconut palm sugar on a large plate. Then, rub each piece of bacon in the sugar, making sure they are fully coated.
Place bacon on baking sheet. Then sprinkle a little more coconut palm sugar on top if need be (you will most likely have leftover sugar).
Place in oven at 35 and cook for 25-30 minutes or until desired tenderness.
Let cook for a few minutes and then remove bacon. Make sure you remove bacon before completely cooled, or you will have lots of extra sugar stuck to it!
PIN FOR LATER 😀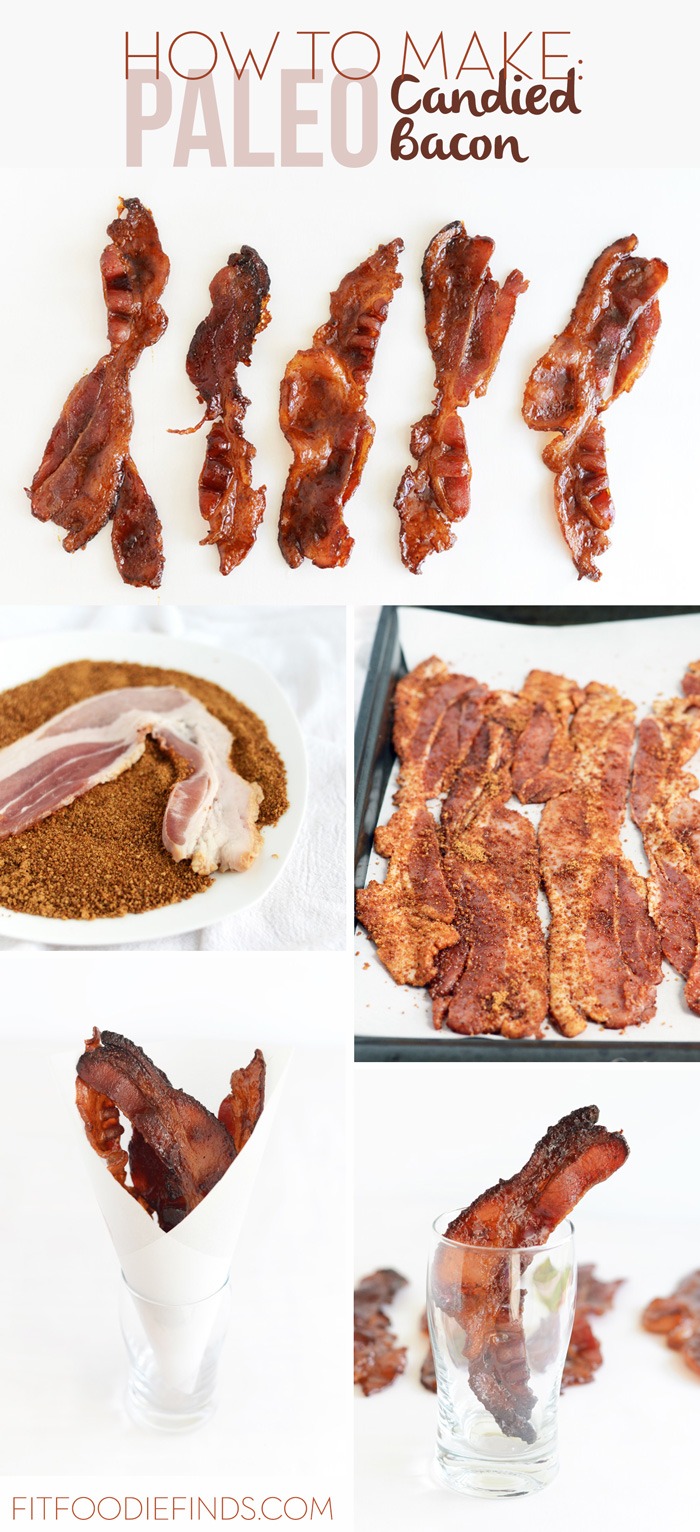 HAPPY MONDAY!