This healthy, superfood-packed dinner only requires 1 dish and 60 minutes of your time. No need to pre-cook the quinoa or sauté any veggies!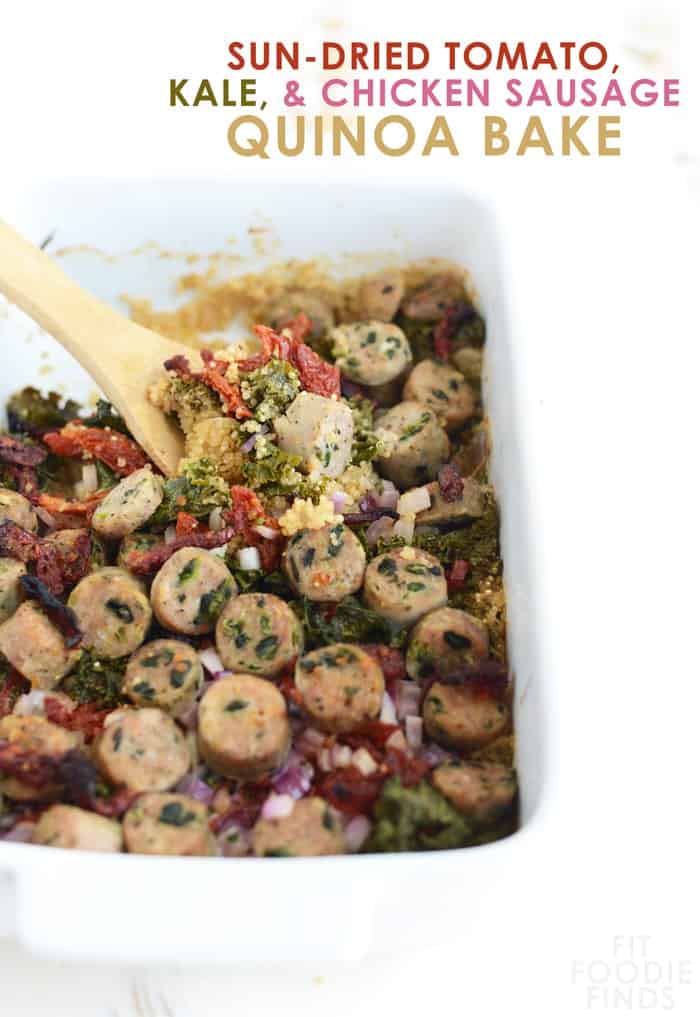 Have you ever randomly stumbled upon a blog via Pinterest and found yourself completely consumed in everything it has to offer? I officially have a blog crush on Kristina from Love and Zest. Major swoon. I think I went through at least a years worth of recipes and pinned them all 😀 #oops
L&Z is actually who inspired me to make this dish. She made a Sun-Dried Tomato, Kale, and Chicken Sausage Pasta Bake and I knew that's what I wanted for dinner. I made a bunch of substitutions like quinoa instead of pasta, no cheese or mushrooms, and a different kind of sauce. She still deserves the credit for sparking my interest in these flavor combos.
FREAKING DELISH.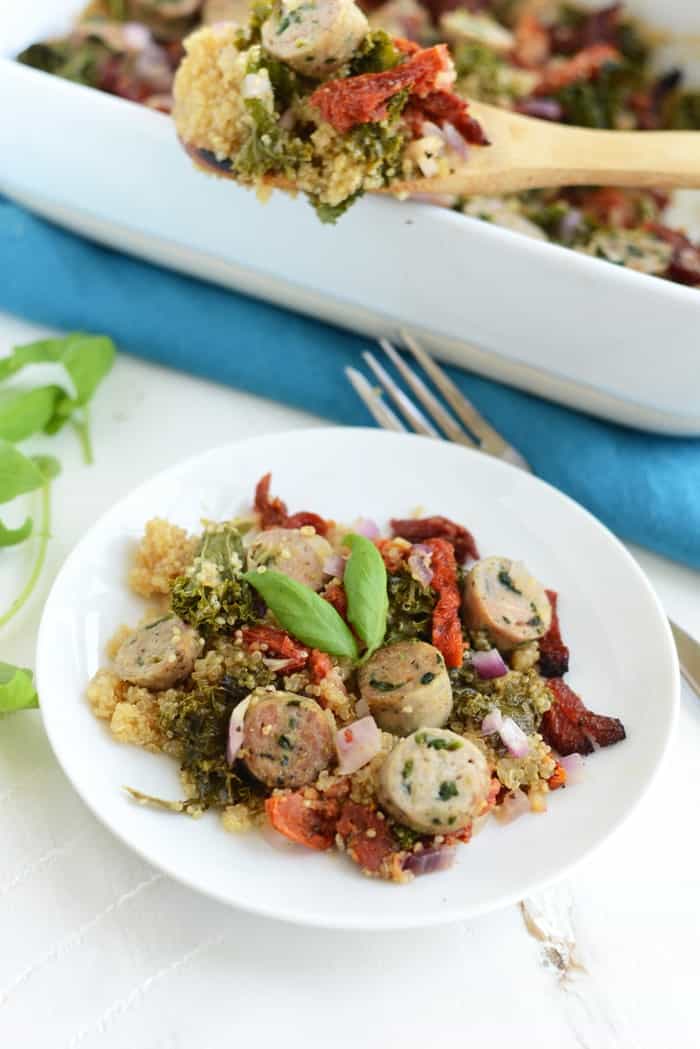 ---
---
Since I've been a full-time food blogger for almost a year now, I do everything in my power to dirty one less dish. Let me tell you, the dishes can PILE UP QUICKLY.
My favorite kind of recipes are those that only use 1 pot/dish. This recipe for instance, literally uses 1 dish. No pot or pans involved. All you do, is throw everything into a casserole dish, stick it in the oven, and cross your fingers things taste good.
I did go back and forth if I should use precooked chicken sausages or uncooked. I went precooked because that's what's most readily available and convenient. I used the Target Archer Farm's Brand, but I know Gold n' Plump makes some stellar ones as well (I believe those are uncooked).
Here's what the bake looked like uncooked (on the left) and cooked (on the right).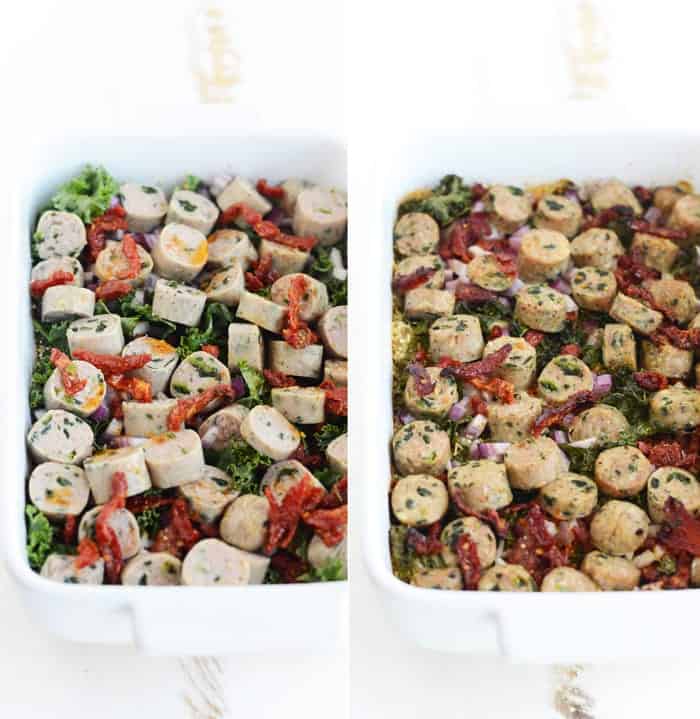 I was a little worried the kale was going to turn into kale chips, but they wilted down nicely. Also- if you know me, you know I HATE COOKED GREENS. I actually didn't mind this AT ALL. #imabigkidnow
Sun Dried Tomato, Kale, and Chicken Sausage Quinoa Bake
Ingredients
1 cup quinoa, soaked and rinsed, uncooked
2 cups chicken broth
1/2 cup sun-dried tomatoes, julienne cut
1 tablespoon olive oil (I used the olive oil from the sun-dried tomato jar)
2 stalks of kale, de-stalked and chopped into bite-sized pieces
5 chicken sausages, fully cooked and sliced into bit-sized pieces
1/4 cup red onion, diced
salt and pepper to taste
1 teaspoon garlic salt
fresh basil, to taste
Instructions
First, preheat oven to 350ºF. Then, place quinoa and chicken broth at the bottom of a large casserole dish.
Prep kale, by de-stalking and chopping into bite-sized pieces. Evenly spread on top of quinoa.
Then, sprinkle on about 1/2 cup sun-dried tomatoes (I used the julienne cut kind) and 1/4 cup chopped red onion on top of kale. Then, drizzle on 1 tablespoon of olive oil (I used the olive oil straight from the sun-dried tomato jar).
Season with salt and pepper to taste and about 1 teaspoon of garlic salt.
Finally, chop 5 fully cooked chicken sausages into bite-sized pieces and spread evenly on top of bake.
Place in oven at 350ºF for about 60 minutes or until the quinoa is fully cooked.
Let cook for 5-10 minutes and serve with fresh basil.
If you are a cheese lover, I suggest mozzarella. I opted no cheese because I love how the colors look in this bake and I didn't want to hide them under a mound of cheese.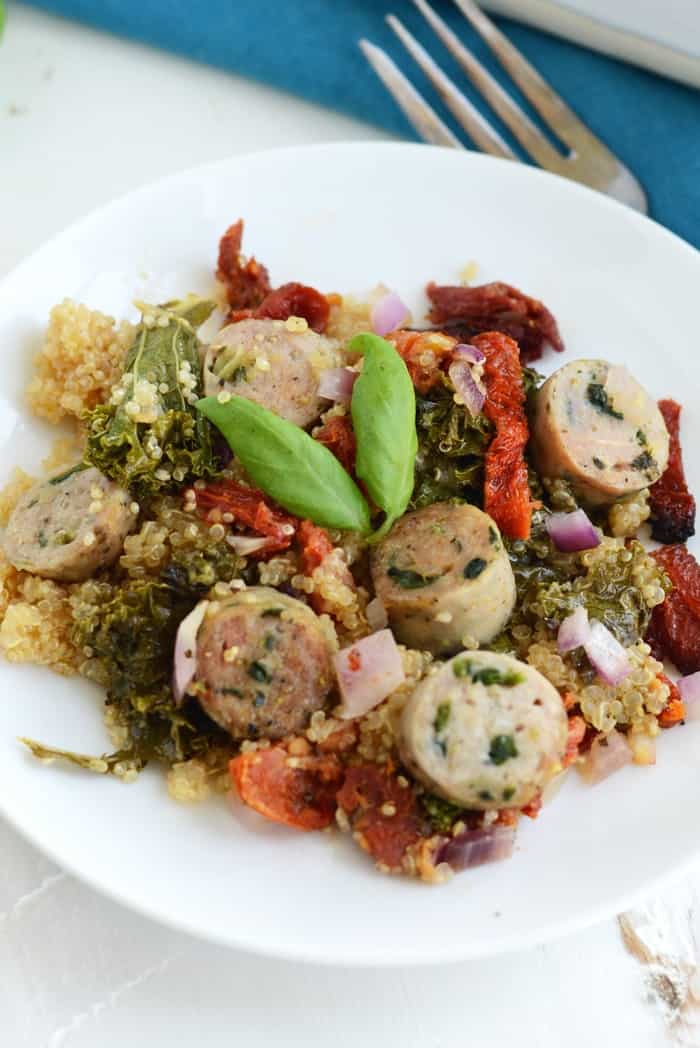 Seriously, I could eat this all day erry day. These flavors are my jam. I especially loved the sun-dried tomatoes. It was my first time making anything with them and Mmmmm did they add some fabulous flavor. If you are having a hard time finding sun-dried tomatoes, you can usually find them in the produce section. I purchased my julienne sliced and jarred in olive oil.
Hubba hubba.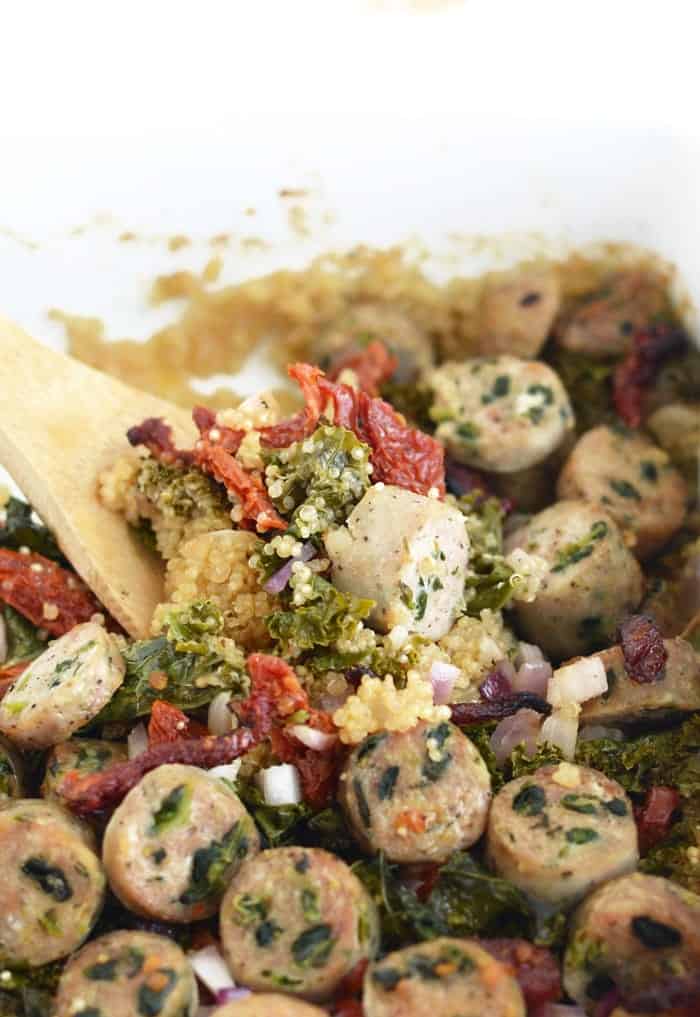 Who are your major blog crushes as of late?
Where do you get most of your recipe inspiration from? Blogs? Magazines? Pinterest?