This post is sponsored by Ancient Harvest in participating in their Modern Meal Cook-Off. I was compensated, but all opinions are 100% my own!
This Jalapeño Bacon Quinoa Mac n Cheese is a delicious twist on a classic. It combines your favorite mac n' cheese flavor with jalapeño and bacon and uses quinoa instead of noodles for a gluten free, healthier alternative!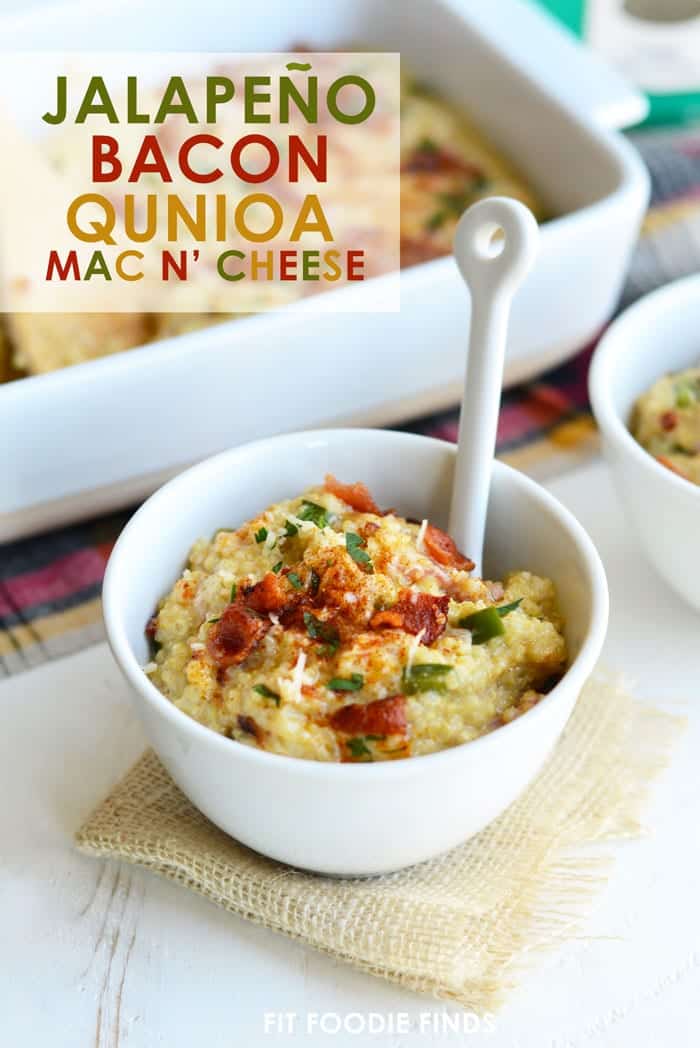 I am excited to be participating in Ancient Harvest's Modern Meal Cooker-Off! You guys know my love for quinoa is real, so this cook-off is my jam! I was given the opportunity to use pretty much any of their products including their pastas, flakes, flour, and classic quinoa grains.
I thought about going outside my comfort zone and using the quinoa flour or flakes, but went with my gut. Classic quinoa grains it is!
This recipe is the epitome of DELICIOUS.
---
---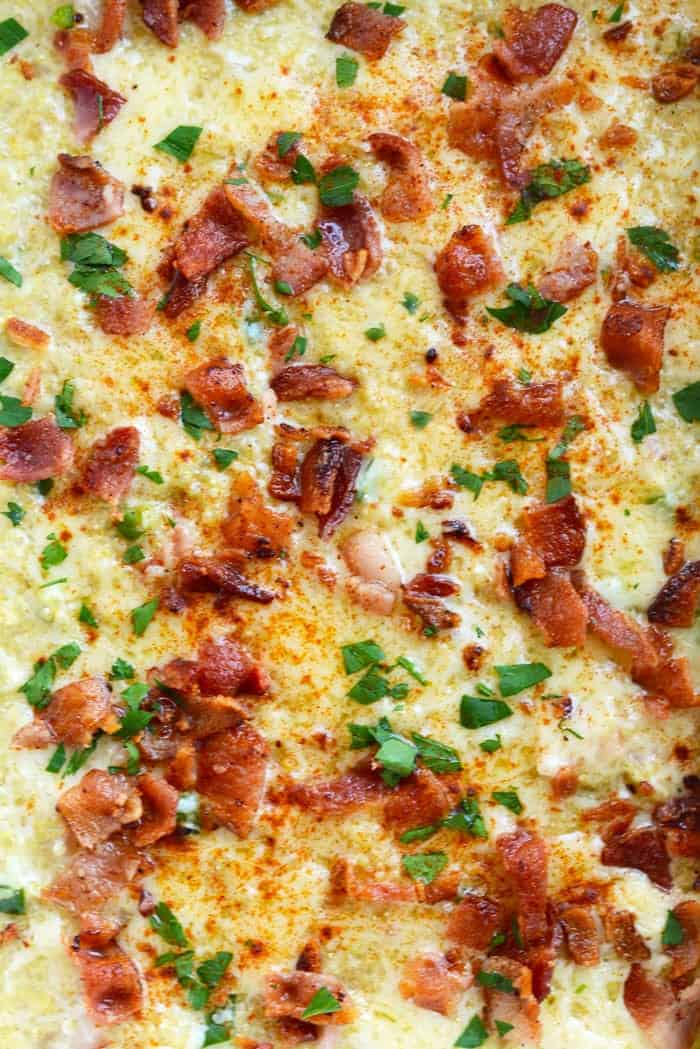 I decided to mix classic mac flavors with jalapeño, bacon (NOM), and use quinoa instead of noodles.
I love love love the texture of this dish! The creaminess of the cheese was right on par and the bacon and jalapeño bits gave it such great flavor and a little spice.
You could totally serve this as a main dish, or even a side!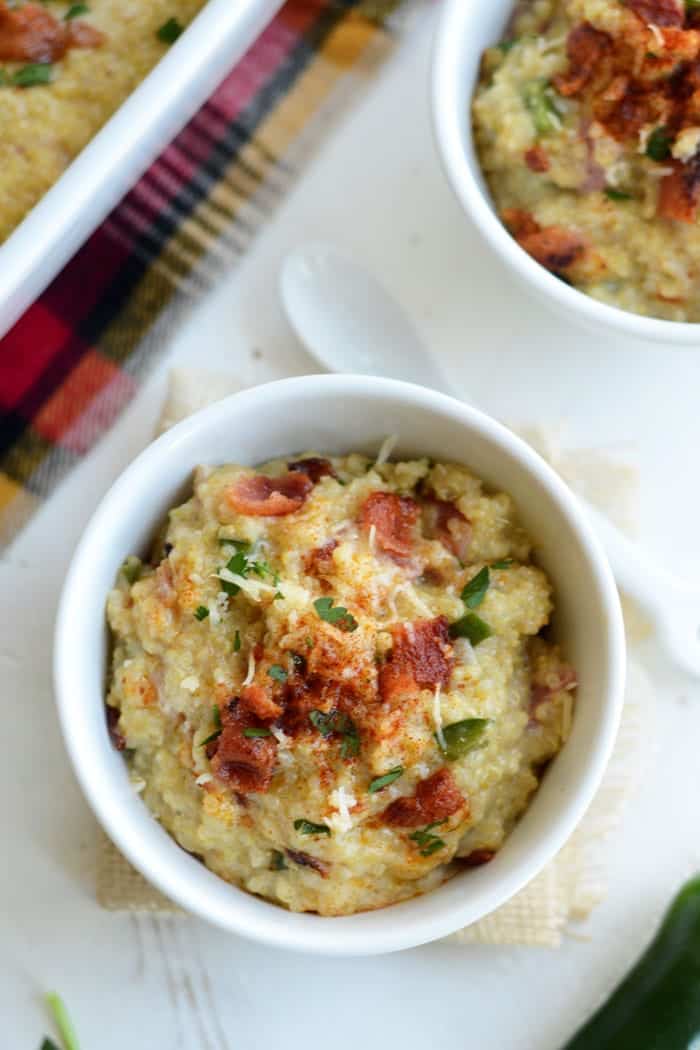 I finished off the dish with a little sprinkle of paprika and more bacon.
It's a must!
There are 4 other bloggers participating in the cook-off and the winner gets $500.00 Whole Foods gift card. That is like THE ULTIMATE gift card in this Fit Foodie world 😀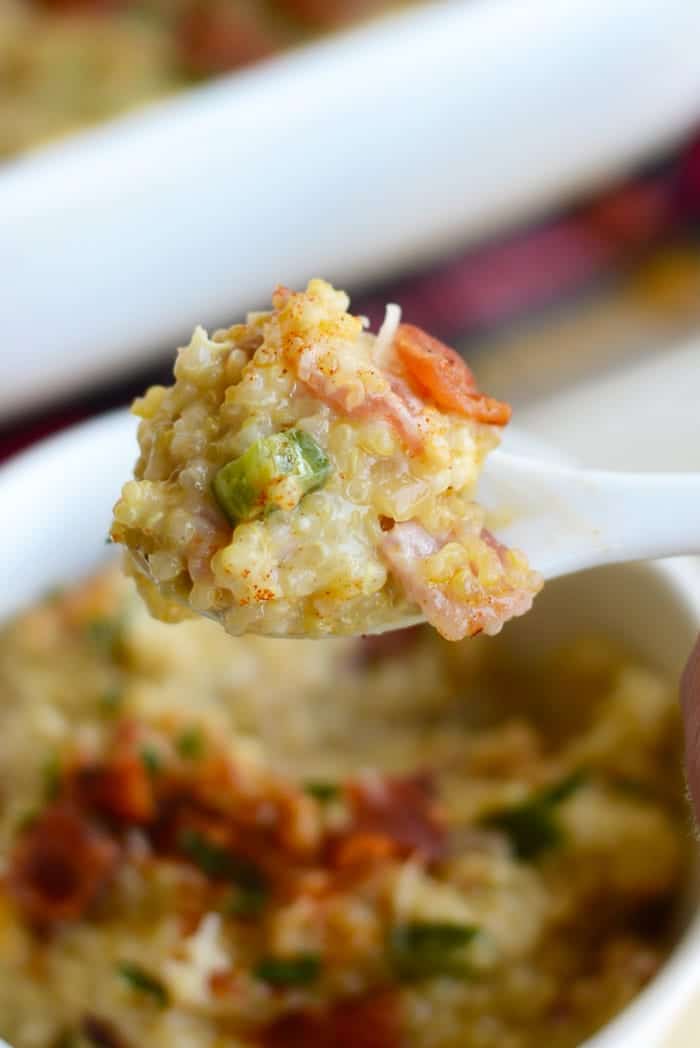 Jalapeño Bacon Quinoa Mac n' Cheese
Prep Time:

30 minutes

Cook Time:

30 minutes

Total Time:

1 hour

Yield:

4-6 servings
Ingredients
1.5 cups quinoa, rinsed and uncooked
3 cups chicken broth/vegetable broth
2 cups 1% milk (or any kind of milk)
2 tablespoons tapioca starch or corn starch
4 jalapeños, diced
1 medium onion, diced
1 pound of bacon (~ 10 strips)
1 tablespoon garlic, minced
1/2 teaspoon paprika (for sprinkling)
1/2 pound of white cheddar cheese, shredded (about 3 cups)
salt and pepper, to taste
Instructions
First, preheat oven to 350ºF and spray a casserole dish with nonstick cooking spray.
Next, in a medium-size pot bring 1.5 cups of quinoa and 3 cups of chicken broth to a rolling boil. Then, reduce heat to low and cover. Let cook for about 15 minutes or until all liquid is dissolved, set aside.
While the quinoa is cooking, prep veggies. Dice jalapeños and onion. Set aside.
In a large frying pan, cook bacon (I did it in 2 separate batches). Turn burner to medium/high heat and cook each side for 3-4 minutes. Transfer to a paper towel-lined plate and dab the grease off. Let cool for about 5 minutes before chopping into small pieces. Set aside.
Once you are done cooking the bacon, transfer the grease into a mason jar. Then, using the same pan, sauté onion, jalapeños, and garlic in the leftover bacon grease on medium/high for about 3-5 minutes. Set aside.
Prepare cheese sauce by placing 2 cups of 1% milk (or any kind of milk) in a medium-size pot. Add in 2 tablespoons of tapioca starch, stir, and bring to a boil. Turn down to medium and let cook for about 8 minutes, or until the milk starts to thicken (make sure you stir often!). Add in shredded cheese and mix until smooth.
Transfer quinoa, veggies, and bacon (Leave some out to sprinkle on top) into the sauce. Mix. Transfer into casserole dish and sprinkle additional cheese and diced bacon on top. Place in the oven for 10 minutes to let the cheese melt.
Let cool for about 10 minutes. Serve with a sprinkle of paprika.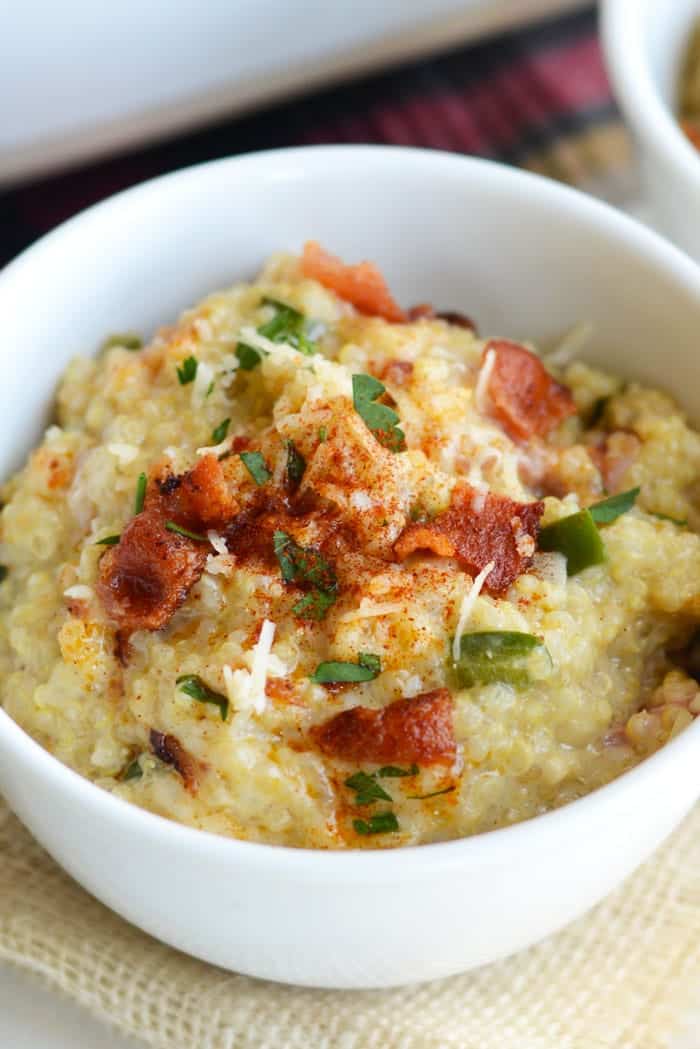 Pin for later!

Because you would be my bestest friend forever…VOTE FOR MY RECIPE in Ancient Harvest's Modern Meal Cook-Off HERE. Plus- you can check out all the other quinoa recipes that were entered and get some great recipe ideas!
Cheers!