This clean-eating, paleo coleslaw is made with homemade mayo, a mixture of delicious and colorful vegetables and a pop of pineapple for sweetness!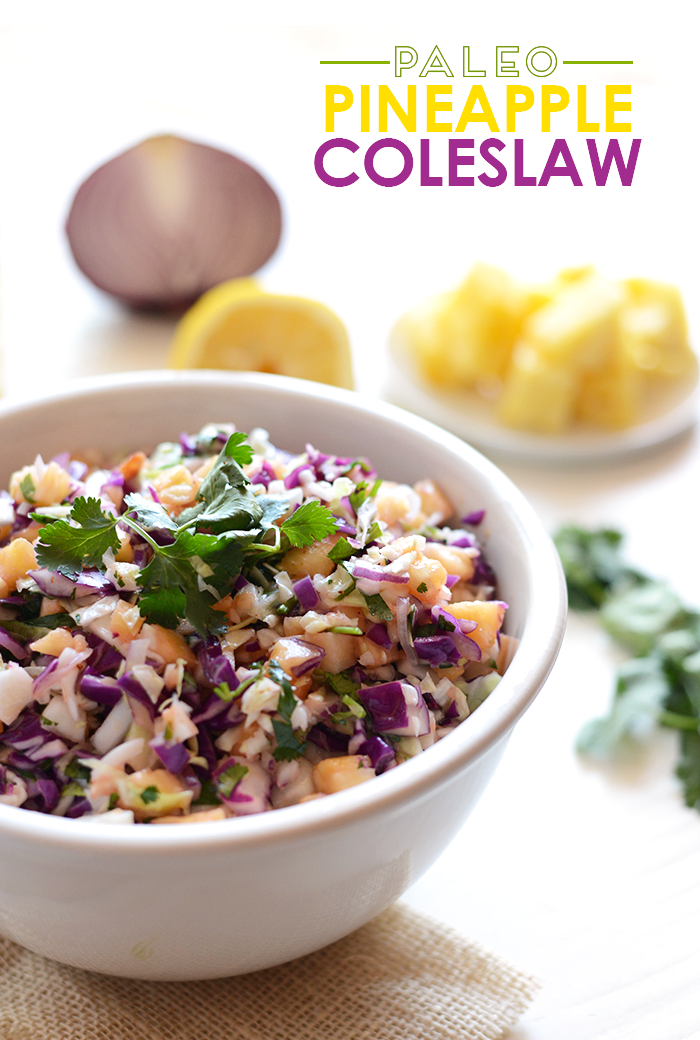 You guys.
This coleslaw is SO GOOD and SO CLEAN!
Before we jump into my recipe. Let's take a looksi at the rest of em', first!
---
---
This watermelon salad is packed with the perfect warm weather flavors! Sweet watermelon drizzled with delicious olive oil, garnished with toasted almonds, bacon, mint, sliced red onion, and a sweet Basil Ginger Dressing, this will be a BBQ hit all summer long!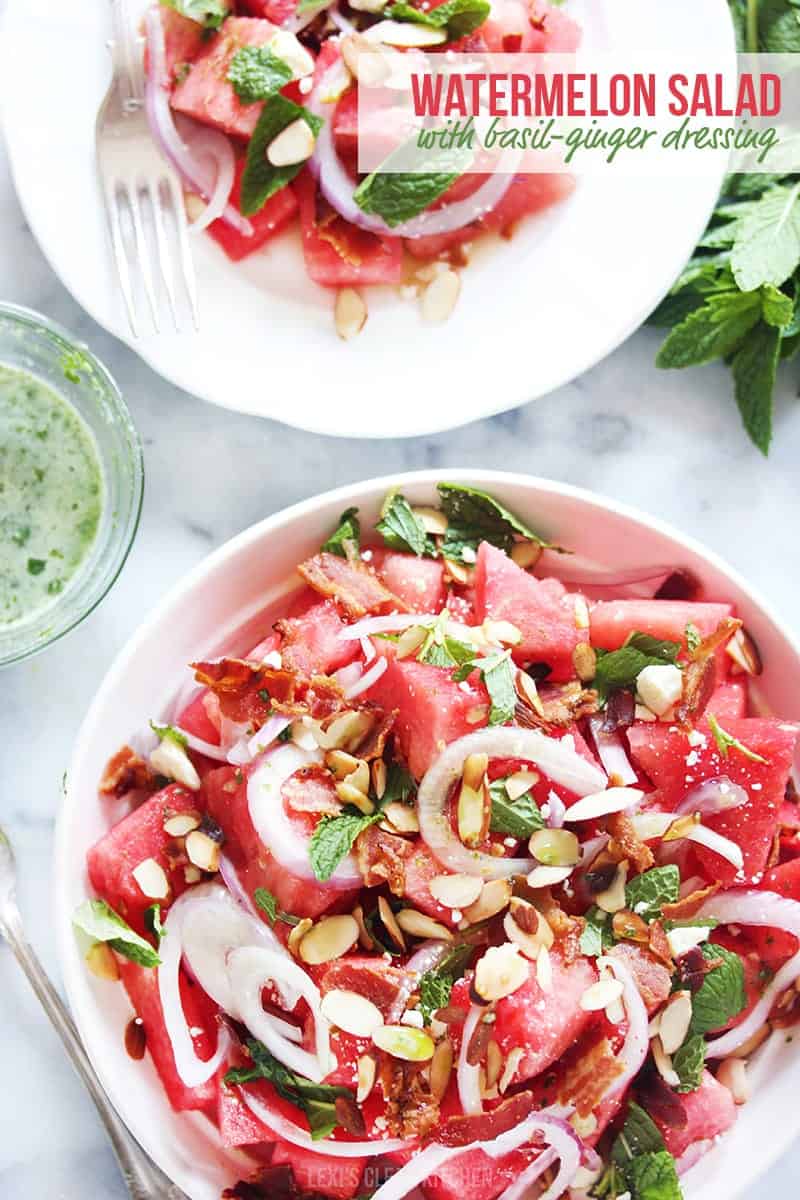 This paleo sweet potato salad is mixed with creamy, basil avocado pesto, bacon and eggs for a healthy side dish that is so easy and always a crowd pleaser!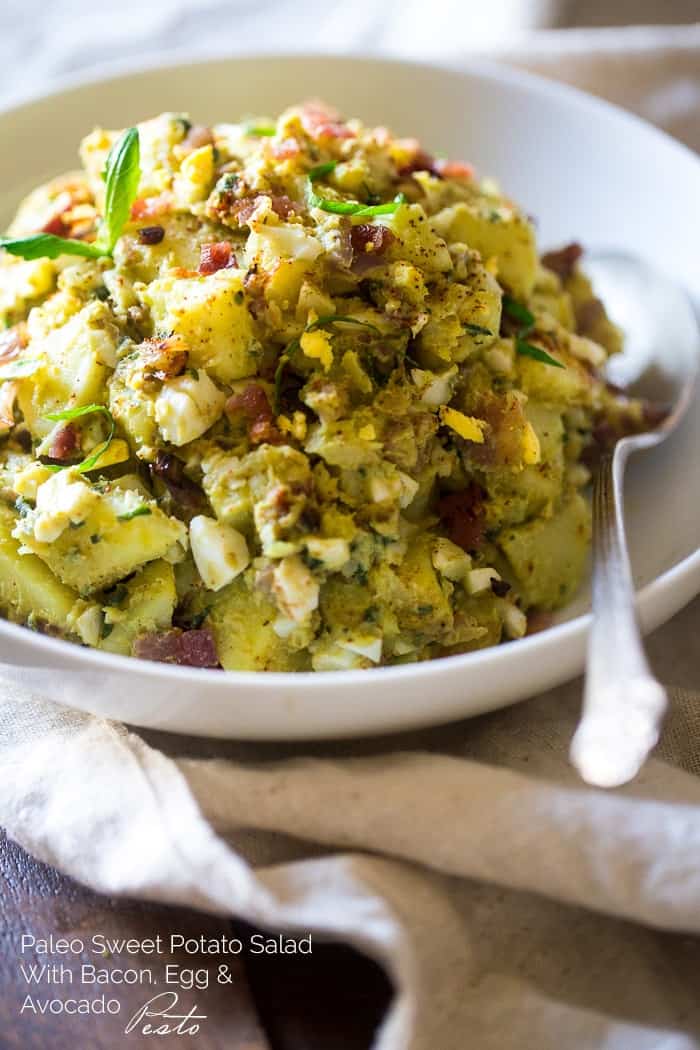 Get in your greens with this Healthy Asian Snap Pea Salad. It's super simple to make and coated with a light sesame-ginger dressing. You'll definitely be going back for seconds!
Coconut oil roasted sweet potatoes tossed with chopped spinach, creamy avocado chunks, red onion and dried cranberries make for a healthy, easy and delicious salad that's perfect for spring picnics and summer BBQs.
Blake and I do Friday night dinners with our best friends Jeff and Abbie (and their little kiddos) every week. Abbie inspired me to post this recipe as she made something very similar the other week. Abbie is the type of person who never measures anything, but her food ALWAYS turns out amazing. We always joke that she'd have the worst food blog ever because of this 😛 But seriously, this is a spin off of her pineapple coleslaw that's made paleotized (<— needs to be a word).
I decided I was going to make my own "paleo mayo." I based it off of Paleoleap's recipe. It's really a base of egg yolks, coconut oil, and EVOO. It takes a lot of elbow power because you GOTTA KEEP WHISKING. Also- mine turned out really yellow due to the GORGEOUS farm eggs I got from Blake's dad's farm!
BOOM.
If you don't care about paleotizing your recipe, feel free to just use regular mayo! That's what Abbie uses in her and it tastes GREAT.
I suggest using fresh pineapple over canned because, uh, it's way better.
Feel free to add in some nuts or seeds to this recipe. I kept it simple, but some crunch would have been nice.
I take that back.
I added bacon at the last minute.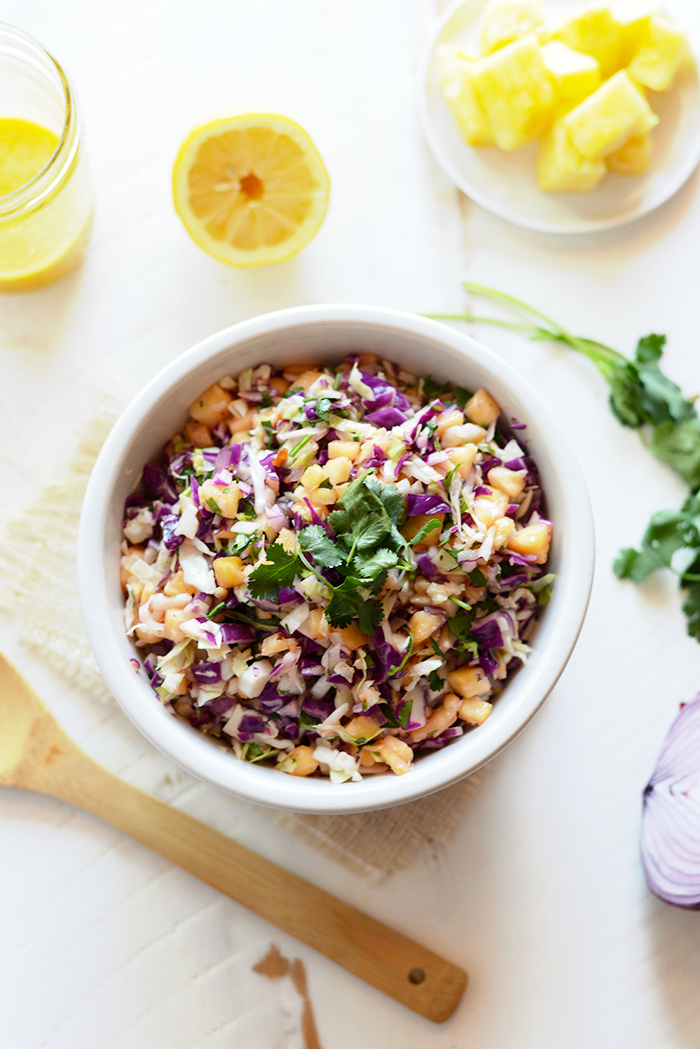 Paleo-Friendly Pineapple Coleslaw + BBQ Sides
Prep Time:

20 mins

Total Time:

20 mins

Author:

Lee Hersh

Yield:

8 servings
Ingredients
For the Coleslaw
1/4 red cabbage, diced
1/4 regular cabbage, diced
1/2 cup red onion, thinly sliced
1/2 cup fresh cilantro, minced
2 cups pineapple chunks, finely diced
1 lime, juiced
1/4 cup paleo mayo
Optional: Bacon Bits
For the Paleo Mayo
2 egg yolks
1 teaspoon salt
1/2 cup coconut oil, melted
1 teaspoon vinegar
1/2 cup olive oil
1 teaspoon apple cider vinegar
1/2 cup olive oil
1 teaspoon mustard
3 teaspoons lemon juice
1 teaspoon coconut sugar
Instructions
For the Paleo Mayo
I used the above recipe (varied from Paleo Leap), but followed the steps from this recipe to actually make it.
For the Coleslaw
It's super simple. Just mix all of the ingredients together in a large bowl and serve cold!