Make this quinoa pasta salad with seasonal veggies, homemade Italian dressing, and tons of spices for a delicious summertime salad that doubles as dinner!
One of my favorite summer dishes is a big ol, chunky pasta salad made with tons of veggies and a delicious Italian Dressing. I thought I'd throw in a little extra protein to make this into a hearty meal that the whole family will love!
In this recipe, I went for all the classic flavors, but feel free to use whatever veggies are in season or in the garden!
---
---
Who else finds it really hard to eat some sort of raw veggie every single day? I find I snack on raw fruit much more than veggies, which is what made me so happy about this recipe. All the veggies used in it are 100% raw, crunchy, and delicious. Yes please.
Check out this rainbow of deliciousness…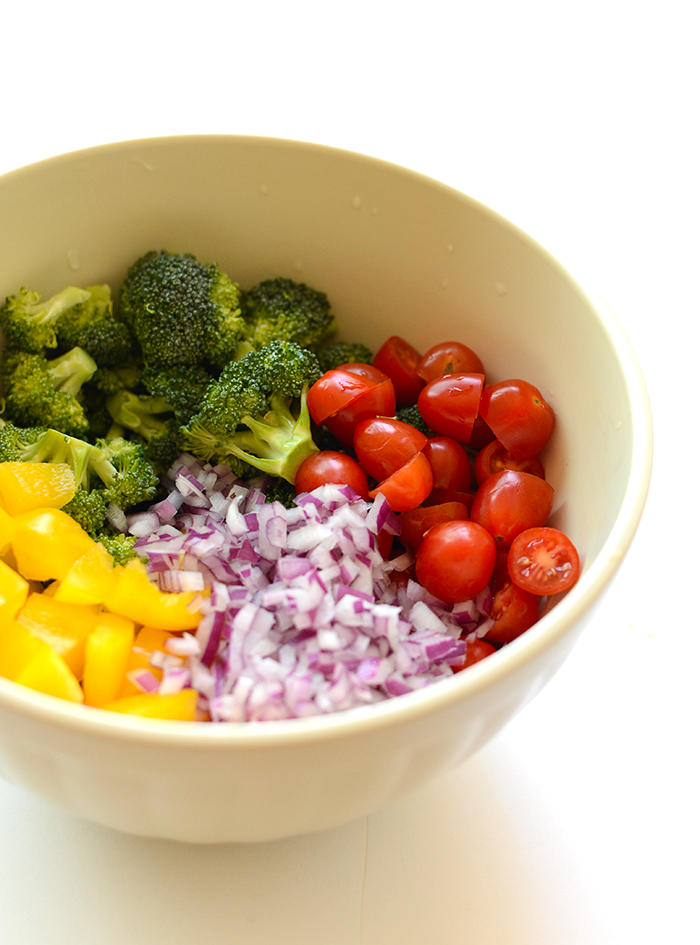 I kept things gluten-free by using Ancient Harvest Lentil and Quinoa Supergrain Pasta. It doubles as a noodle and a protein boost because of all the good stuff it's made with. Check out the ingredient list here.
The one tip I have with this pasta is DO NOT OVER COOK IT! That goes for any pasta 🙂
Quinoa Pasta Salad with Chicken Sausage
Prep Time:

10 mins

Cook Time:

15 mins

Total Time:

25 minutes

Author:

Lee Hersh

Yield:

4
Ingredients
1 cup cherry tomatoes, sliced in half
1/2 cup red onion, diced
2 cups broccoli, sliced into small pieces
1 yellow pepper, diced
3 chicken sausages (cooked), thinly sliced
2/3 cup Italian dressing
Instructions
First, cook your noodles by following the directions on the back of the box. Once your noodles are done, refrigerate for at least 2 hours so that the noodles can fully chill.
When you are ready to make the salad, slice veggies and chicken sausage (I used leftover grilled chicken sausage because I liked the grilled taste) and place in a large bowl. Add in noodles and Italian dressing and mix.
Serve cold.
This post is sponsored by Ancient Harvest. I was compensated and all opinions are my own. Thanks for supporting Fit Foodie Finds!