Chicken breasts are my go-to protein when it comes to meat. I love that chicken breasts are lower in calories and high in protein, the perfect thing after a tough workout!
A lot of people think that eating healthy means eating really bland food. FALSE! In my opinion, healthy food tastes better. It just needs a bit of elbow grease to concoct the perfect flavor. Today I am partnering with Gold'n Plump Chicken to share some tips on how to get the most flavor out of your chicken breasts.
Going through all of the recipes on FFF made me realize how much I love chicken breasts! I almost always have a pack or two of frozen chicken breasts in the freezer for emergencies. Check out below my top 8 ways to get the most flavor out of chicken breasts.

Dry Rub
Whether you love making your own homemade dry rubs, or using a pre-made mix, spices are an excellent way to season your chicken breasts! I always keep a number of pre-made mixes on hand for last minute usage. Some of my favorites include: Tuscan Sunset, Peppercorn Ranch, Lemon Pepper, and All-Purpose. If you're baking or grilling chicken to put on top of a salad, then dry rubs are the way to go!
Check out this FFF recipe for one of my favorite homemade dry rubs!
MY OTHER VIDEOS
Marinades
Marinating your chicken breasts for a few hours before you bake or grill them is a great way to infuse them with tons of flavor. I also find that if you marinade chicken breasts, they are more likely to come out juicy and perfectly flavored instead of dry and dull!
Often times, I will buy the family pack-size of chicken breasts, like Gold'n Plump Family Packs, and separate them out into twos and then into gallon-sized bags. Buying in bulk is a great way to save money and allows me to have lots of leftovers. From there, I pour in my favorite marinade, shake them up a bit, write the flavor and date on the bag and into the freezer they go! That way, when I need a last minute dinner, I can just defrost them and voila- you've got yourself some flavorful chicken!
Here are some of my favorite FFF chicken breast marinades- Pesto, Orange Sesame, and Tropical Teriyaki.
Stuffed
Fear not! Stuffed chicken breast is a lot easier to make than one might think. All you need is chicken breast, a meat tenderizer, some string, and filling. When I want to impress someone with a flavorful meal that's equally as beautiful, I always make stuffed chicken breast. I like to bake mine, but there's something about grilling them that makes me swoon. Overall, stuffed chicken breasts are one of my favorite dinners and ways to make chicken breast.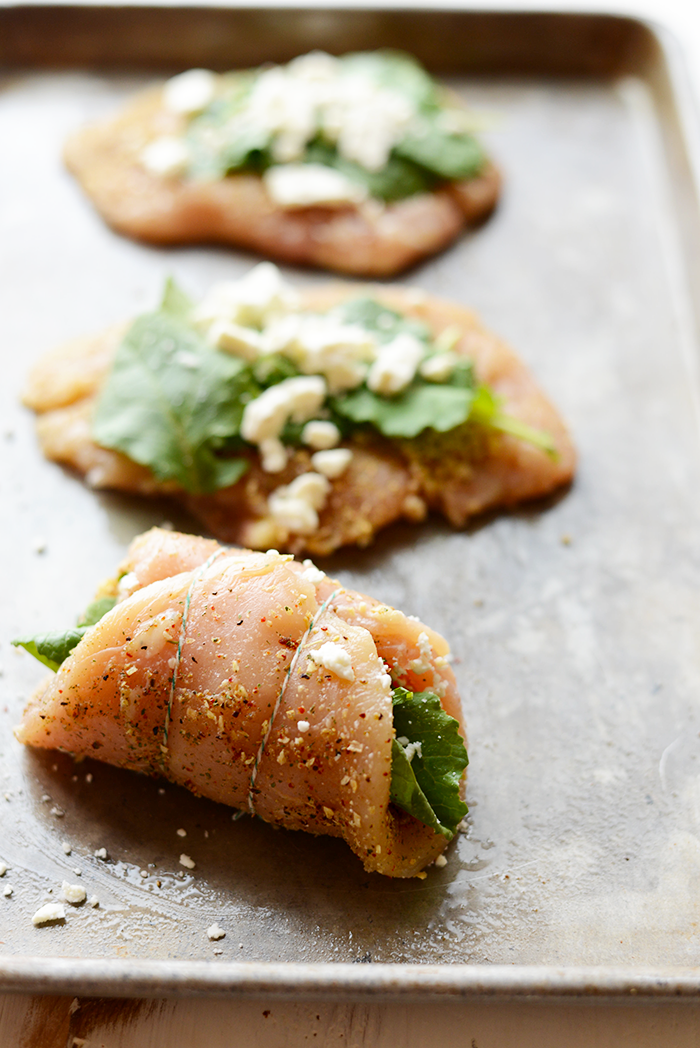 Here are some of my go-to stuffed chicken breast recipes- Prosciutto Asparagus and Caprese.
Casseroles
I think it's clear from the recipes I post on FFF, that I LOVE casseroles and one-pot dishes. The fact that you can throw a whole bunch of things in one pot and bake it makes for an easy-to-clean up meal that will feed the whole family! In my opinion, a casserole is not a casserole unless you have a grain, a veggie, and a meat. Most of the ones I have on FFF actually feature chicken breasts. Duh, it's my fav.
Casseroles are a great way to make sure your chicken breast soak in all of that flavor, too! Slow-cooked in the oven, casseroles are easy to clean up and great for leftovers!
Some of my favorite chicken casserole recipes include- Southwestern Chicken Casserole, Cashew Chicken Casserole, Tuscan Chicken Casserole, and Healthy Chicken Burrito Bowl Casserole (featuring Gold'n Plump Ground Chicken).
Crock-Pot
A close relative to casseroles, crock-pot meals are probably the BEST way to flavor chicken breasts. Slow-cooking not only makes the chicken breasts extremely flavorful, but oh-so tender. One of the great things about crock-pot meals is that all you need to do is throw everything in the pot and then set it and forget it. 8 hours later, you've got yourself a meal and most likely lots of leftovers, too!
Here are some of my favorite crock-pot chicken recipes from FFF – Clean Eating Crock-Pot Chicken Tacos, Crock-Pot Sesame Chicken, and Crock-Pot Chicken Chili.
Stir-Fried
Chicken stir-fry might actually be my favorite dinner! It's one of my favorite ways to cook chicken, that's for sure! I remember back in high school when I got really into cooking, this was my go-to meal! I was inspired by a local Chinese restaurant and would try and recreate their dishes for my family. Some things never change.
Stir-frying chicken is really simple and a quick way to whip up dinner. Lately I've been stir-frying both my chicken breasts and veggies in coconut oil. Love the flavor! I like to add in Asian flavors such as tamari, garlic, ginger, hoisin, and sesame. So good and so flavorful!
Here are some of my favorite chicken stir fry recipes from FFF- Chicken and Broccoli Stir Fry and Kung Pao Chicken.
Salad Topper
When I take the time to meal prep at the beginning of the week I am so thankful when hanger (hungry + anger) sets in! One of my favorite ways to eat chicken is on top of a salad. You can either flavor your chicken with a dry rub or marinade, or just plain old salt and pepper. I like to mix and match my salads throughout the week adding leftovers, fresh fruits/veggies, goat/blue cheese, and a delicious vinaigrette.
Chicken salads never really get old!
Some of my favorite salad recipes topped with chicken —> Chopped Chicken Salad and Sriracha Chicken Salad.
BBQed
When in doubt, BBQ! That's my motto when it comes to chicken breasts. If you've got yourself some delicious chicken and you can't figure out what to do with them, throw em on the grill. Girls- don't be afraid! Grilling is actually so much easier than you might think. Plus, those grill marks, though. If you haven't tried them yet, check out Gold'n Plump Boneless Skinless Chicken Breast Portions – they worked perfectly for my Tropical Teriyaki Chicken Breasts With Grilled Pineapple.
What I like to do is grill 4 or 5 chicken breasts at once so that I can have a protein salad topper all week! If I don't want to use them on top of a salad, I'll make one of my infamous superfood bowls like this one or this one.
What is your favorite way to get the most flavor out of chicken breast?
This post is sponsored by Gold'n Plump Chicken. I was compensated and all opinions are my own. Thanks for supporting Fit Foodie Finds!