Balsamic Sea Salt Roasted Brussels Sprouts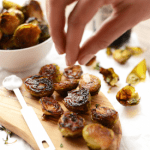 Prep Time:

5 mins

Cook Time:

25 mins

Total Time:

30 minutes

Author:

Lee Hersh

Yield:

4 servings
Ingredients
1 pound brussels sprouts, halved
2-3 tablespoons EVOO
1 tablespoon minced garlic
2 tablespoons aged balsamic vinegar
1/2 teaspoon sea salt
Instructions
First, preheat oven to 375ºF.
Then, prep Brussels sprouts by washing and patting dry. Slice off the end and then slice in half. Place on a large baking sheet.
Drizzle with a generous amount of EVOO and sprinkle on minced garlic, balsamic vinegar, and sea salt.
Using your hands, toss Brussels to make sure that everything is evenly coated and spiced.
Place in oven for 23-27 minutes.