Make these delicious clean eating blueberry truffles for a sweet treat made with dried fruit and dark chocolate!
HAPPPPPPY VALENTINE'S DAY.
Ironic…that I am posting a chocolatey recipe today because I literally just put two and two together as I'm writing this post (It's Thursday). I can guarantee you that I'm drinking wine and eating chocolate today!
So the basis of this recipe actually comes from my other half —> THE HEALTHY MAVEN. If you follow me on Snapchat, you know that I eat her Blueberry Muffin Energy Balls like they're going out of style. They're date-based, vegan, and paleo-friendly. WEEE! But really- they TASTE SO GOOD. Hence why I eat them every week.
I tweaked her recipe a bit, but it's pretty much identical. I'm a thief, I know (and so does she). Throw everything in your NINJA and whirl away until pulverized.
---
---
Things should be verrrrrrry sticky once combined. Yah really need to make sure you have a high-powered food processor for this or you're doomed.
Nothing like a bad food processor. AMIRIGHT?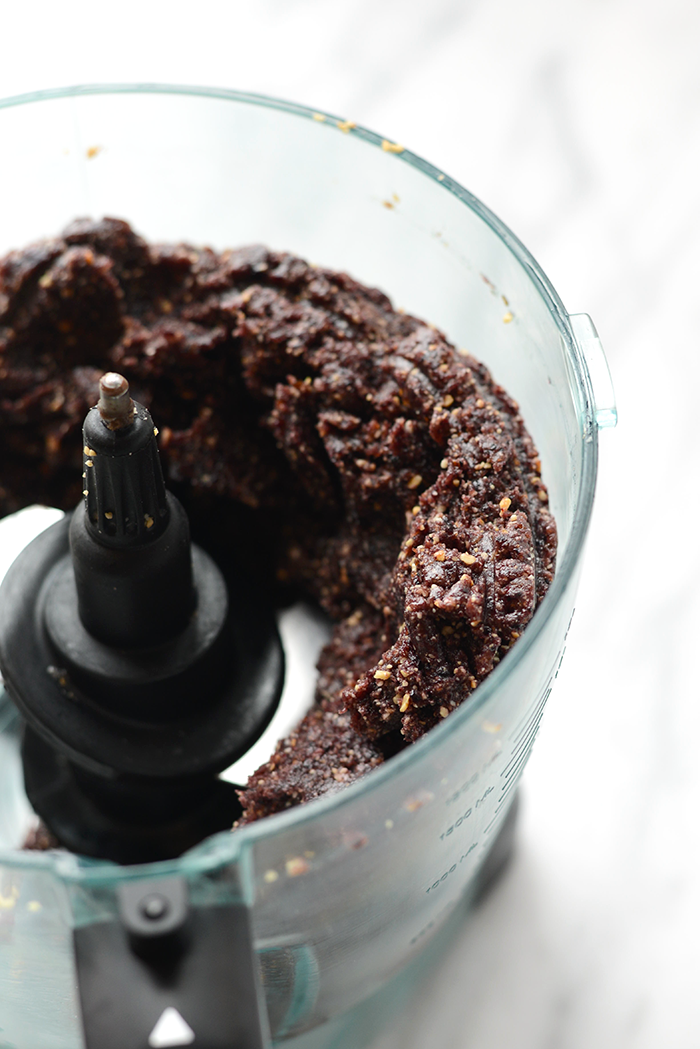 Blueberry Truffles
Prep Time:

15 mins

Total Time:

15 mins

Author:

Lee Hersh

Yield:

20-25
Instructions
First, line a cookie sheet with parchment paper and set aside. Then, place cashews in food processor and mix until you've created a fine meal.
Add in pitted dates, dried blueberries, salt, vanilla extract, and water and process for 2-3 minutes. You will likely need to stop a few times to scrape the sides. Depending on how soft your dates are, you might need to add a teaspoon or two more of water in order to get your dough to loosen up a bit. It should be sticky my malleable.
Using a tablespoon scoop, scoop out dough and roll between the palms of your hands to form a ball. Repeat.
Place chocolate in a microwave safe bowl and melt. Then using two forks, dip each blueberry ball into the chocolate and fully coat it. Set on a parchment-lined cookie sheet. Repeat to all balls and then place cookie sheet into the freezer for at least 1 hour.
Happy V-Day!!