Cook up some healthy blueberry waffles with 100% whole grain flours and no refined sugar or butter. Don't forget to make extra so you can eat waffles all week!
TBT to that one time I got two waffle makers for Christmas. That was the best day ever.
If you looked in my pantry you would think amount of kitchen gadgets and gizmos I own is a bit absurd. From the spiralizers (yes, plural), to the waffle makers, to the blenders- I've got myself a pretty hefty collection of small kitchen appliances. I look at it like collecting Pokemon cards. Once you start…you just can't stop.
---
---
….until the teacher takes them away because you're selling your Charizard for Double Bubble.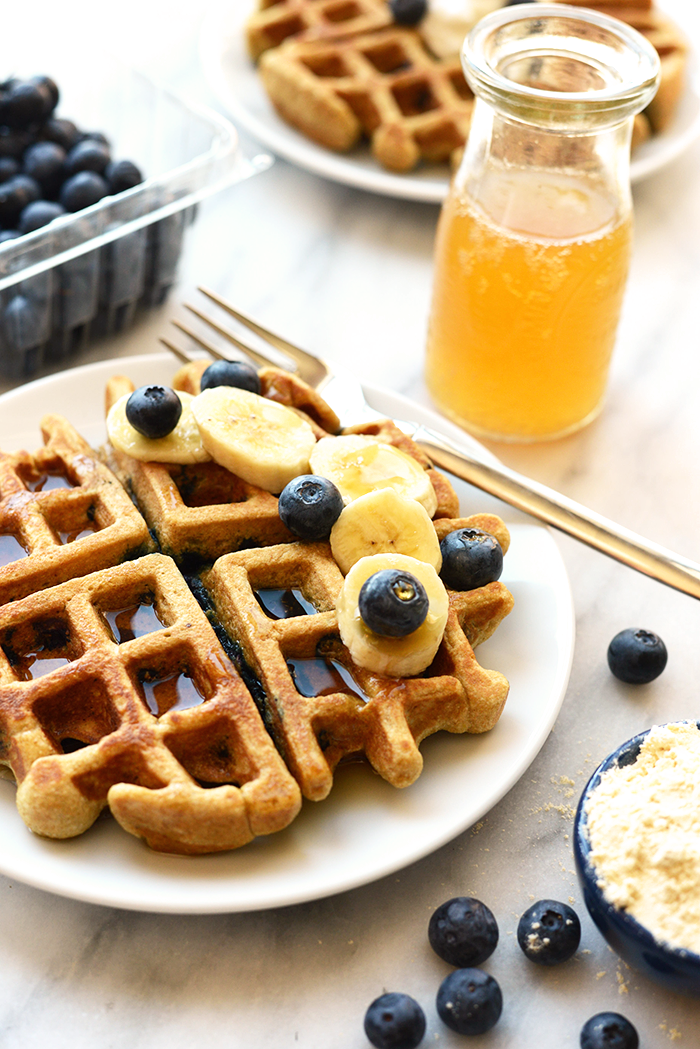 Don't you try and tell me that you didn't have Pokemon cards. I KNOW YOU DID.
What else did I collect when I was young? Surprisingly enough- NOT BARBIES. I was never really into dolls. I was however into collecting roley polly bugs and worms (when it rained). Seriously- I remember going out with a giant tupperware after it rained to collect bugs that collected in the street. DA FUQ? Yup- that was me…a b-ball short, oversized tee wearing tom boy.
Speaking of when I was young. Who was obsessed with Eggo waffles for breakfast before school? My sister and I would eat those often! Want to know something kind of odd? Instead of popping them in the toaster, we actually preferred to microwave them so that they were soft. Soft, plain Eggo waffles + Aunt Jemima Syrup. Oh, the good ol' days.
Thankfully I learned how to make my own waffles with 100% whole grains, honey, coconut oil, and fruit! I also prefer the real kind of syrup compared to Auntie J. Who woulda thunk?
Healthy Blueberry Waffles
Prep Time:

10 mins

Cook Time:

10 mins

Total Time:

20 minutes

Author:

Lee Hersh

Yield:

4
Ingredients
Dry
1 cup white whole wheat flour
1/2 cup garbanzo bean flour*
1 cup blueberries, fresh
1/2 teaspoon baking powder
1/2 teaspoon baking soda
⅛ teaspoon salt
Wet
2 eggs, large
1 teaspoon vanilla extract
1/4 cup honey
2 tablespoons coconut oil, room temperature
3/4 – 1 cup unsweetened almond milk**
Instructions
First, preheat your waffle iron to medium heat.
In a large bowl, mix together all dry ingredients.Then add wet ingredients, minus the coconut oil.
Partially melt the coconut oil and add that to the batter. I microwave my coconut oil for about 20 seconds. Mix until smooth.
Spray waffle iron with coconut oil cooking spray on both sides. Then, scoop in about 2/3 cup of batter. Close the waffle iron, flip, and let cool for about 1 minute and 30 seconds.
Notes
*Option to sub out garbanzo bean flour for another half cup of white whole wheat flour (or any other flour).
**The batter should be a little thicker than pancake batter, but not too thick! Start with 3/4 cup of almond milk and add a tablespoon at a time if it's too thick. If you're using garbanzo bean flour, you will likely need the full cup because of its density.
***To make pancakes: add about 1/4 cup to 1/3 cup more almond milk to thin the batter out a little bit. Cook over medium heat for about 1.5 minutes per side.
Nutrition
Serving Size:

1/4

Calories:

353

Sugar:

23

Fat:

11

Carbohydrates:

56

Fiber:

8

Protein:

11
Hope you guys had an AMAZING 4th of July!!!!