These are the ultimate 3-ingredient appetizer perfect for the holidays! —> Bacon-Wrapped Goat Cheese-Stuffed dates.
Bacon-Wrapped Goat Cheese-Stuffed dates." width="700″ height="1049″>
This past weekend was really fun. On top of Mark being in town, so were my parents! We did what we always do together…laugh until we pee, eat delicious food, drink good beer and wine, and watch college football. This time, it wasn't the Gophers we were watchin'…it was the BADGERS, our arch nemesis. Can I just say that I've never seen crazier fans than fans from Wisconsin. Both the University of Wisconsin Madison and The Packers have the most INSANE fans. They scream, they grunt, they pound, and they cheer. Truth is, Minnesota we've got some WERK to do.
With my family in town, it really got me excited for the holidays. This year I am heading to my parent's new house in the Chicago-area for Thanksgiving. While we eat relatively healthy when I am with my family, I always like to bring a healthier app to share when I go to holiday parties so that I know at least one thing there is good for me 🙂
Today I am excited to be partnering with DOLE for these Bacon-Wrapped Dates Stuffed with Goat Cheese…an excellent healthy appetizer to bring to share this holiday season!
Bacon-Wrapped Goat Cheese-Stuffed dates." width="700″ height="1048″>
---
---
Bacon-Wrapped Dates Stuffed with Goat Cheese…
Will you marry me?
In all honesty these are the most perfect bites of heaven you will ever sink your teeth into. I love Dole Whole Pitted Dates because 1. they are pitted aka Dole does the dirty work for you! 2. There's no added sugar 3. They are naturally sweet 4. They taste amazing wrapped in bacon and stuffed with goat cheese. In case you are wondering- these dates were still squishy when I opened the bag! This is key for an app like this.
This recipe is pretty simple. The main ingredients are:
Dole Whole Pitted Dates
Goat Cheese
Bacon
You're more than welcome to get a flavored goat cheese and/or bacon. These would taste fabulous with applewood smoked bacon, BTW. Roll those little guys up, stick a toothpick in, and pop them in the oven! Such a great app to share on game day…or heck, even for a meal prep snack!
Bacon-Wrapped Goat Cheese-Stuffed dates." width="700″ height="1049″>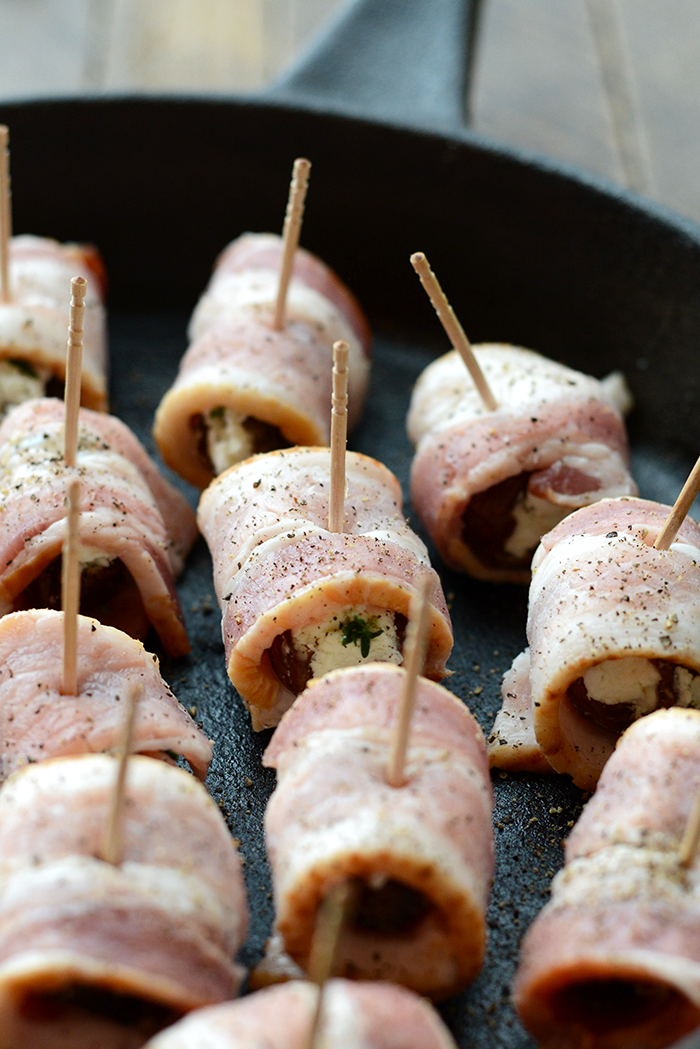 3 Ingredient Appetizer- Bacon Wrapped Dates Stuffed with Goat Cheese
Prep Time:

10 mins

Cook Time:

30 mins

Total Time:

40 minutes

Author:

Lee Hersh

Yield:

20
Ingredients
20 Dole California Whole Pitted Dates
2-3 oz. Goat Cheese
10 strips of bacon
fresh thyme, to taste
pepper, to taste
Instructions
First, preheat oven to 400ºF.
Then, spread open each date and stuff with 1/2 to 1 teaspoon of goat cheese. Then, sprinkle with fresh thyme.
Cut 10 strips of bacon in half. And roll each date inside of the bacon. Seal with a toothpick. Season with pepper, to taste.
Bake at 400ºF for 25-30 minutes depending on how thick your bacon is.
Storage
Let cool and then remove the toothpicks. Place in a glass pyrex
and into the fridge for up to 3-4 days.
This post is sponsored by Dole. I was compensated and all opinions are my own. Thank you for supporting Fit Foodie Finds and making this website possible!