OMGOMGOMGOMG.
1. HAPPY NEW YEAR
2. I can not contain my excitement right now. I've dropped about a million and one hints about the launch of the Healthy Glow Collective and I am so beyond proud to announce that it officially launches TODAY along with our very first guide. I have the same jittery feelings today as when I graduated college. You know when you work for months and months on a certain something and then when you finally complete it, you're just so happy and excited? You can take a step back and just admire your beautiful piece of work and feel so satisfied and proud.
Ever since the launch of our first Sweat Series (2.5 years ago!), Monique and I have been trying to figure out a way to attach our brands together in a more official manner. I take that back, we've been dreaming of this day since the day we met back in 2013 when we realized we were long lost soulmates (Ambitious Kitchen and Fit Foodie Finds are pretty much related because we use all the same ingredients and have such a similar philosophy on wellness). Monique and I have similar stories when it comes to food and exercise obsession, but in general we share a love for food, fitness, and BALANCE. I capitalized he word balance, because so many people in the health industry are so stringent about following certain food plans and workouts. Well, Monique and I understand what it's like to have these obsessive habits that consume your every thought and decided it was time for a change. I am so excited for all of you to spend some time on Healthy Glow Co, a brand we've worked so hard to create for women of all walks of life!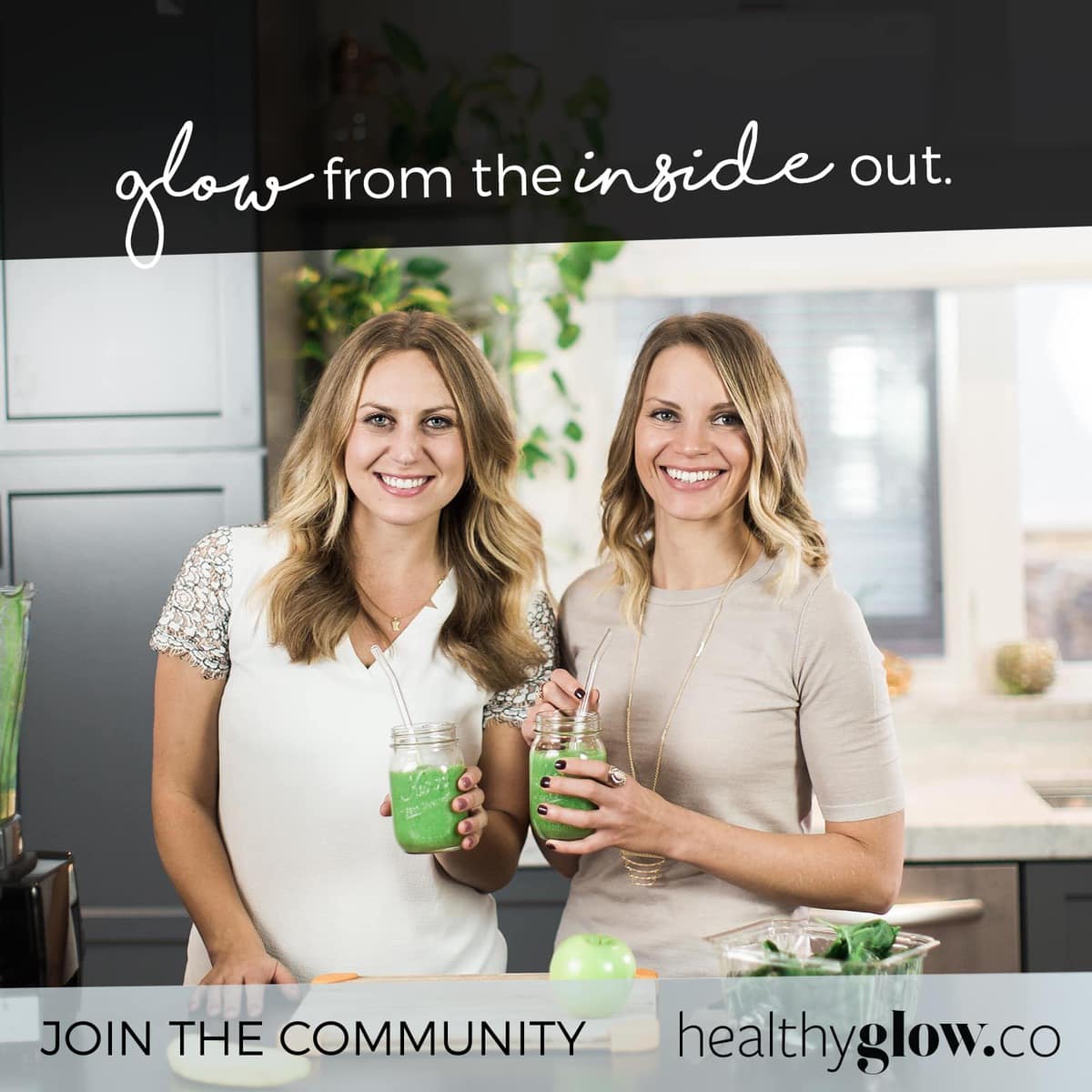 The Healthy Glow Collective
It's our mission to help you develop a trusting relationship with your body, find joy in food and fitness, break free from guilt or restriction and connect with like-minded women over shared experiences.
---
---
Our food and fitness philosophy is all about balance. It's about learning the tools to meal plan and prep so you have protein and veggie-packed meals ready to go, trying new workouts and taking care of your body. It's about being more flexible and getting rid of the guilt associated with enjoying homemade treats, taking a rest day or going out with friends. It's about feeling more free in social situations whether it's a restaurant, work event or traveling because you realize there is no "all or nothing" when it comes to a healthy mind and body.
We know that so many women struggle in silence while trying to find a balance between fitness, food and health because we've been there too. That's why we focus on what to add to your life rather than take away. We advocate for deliciously satisfying meals made from everyday ingredients, occasional treats made to help you feel as good as they taste, staying active in ways you enjoy, and finding time to take care of YOU because you want to, not because you think you have to.
The Healthy Glow Collective is a mindset and a lifestyle designed to help you look and feel your best on your own terms. We can't wait for you to explore all that's available to you within this supportive community.
Healthy Glow Collective Launch Video from Healthy Glow Co. on Vimeo.
A 6-week balanced food and fitness plan dedicated to providing you with the tools you need to feel and look incredible. We combined take-anywhere workouts with deliciously satisfying recipes to bring you the last plan you'll ever need – one that's flexible to meet the demands of your unique lifestyle and customizable to your personal preferences.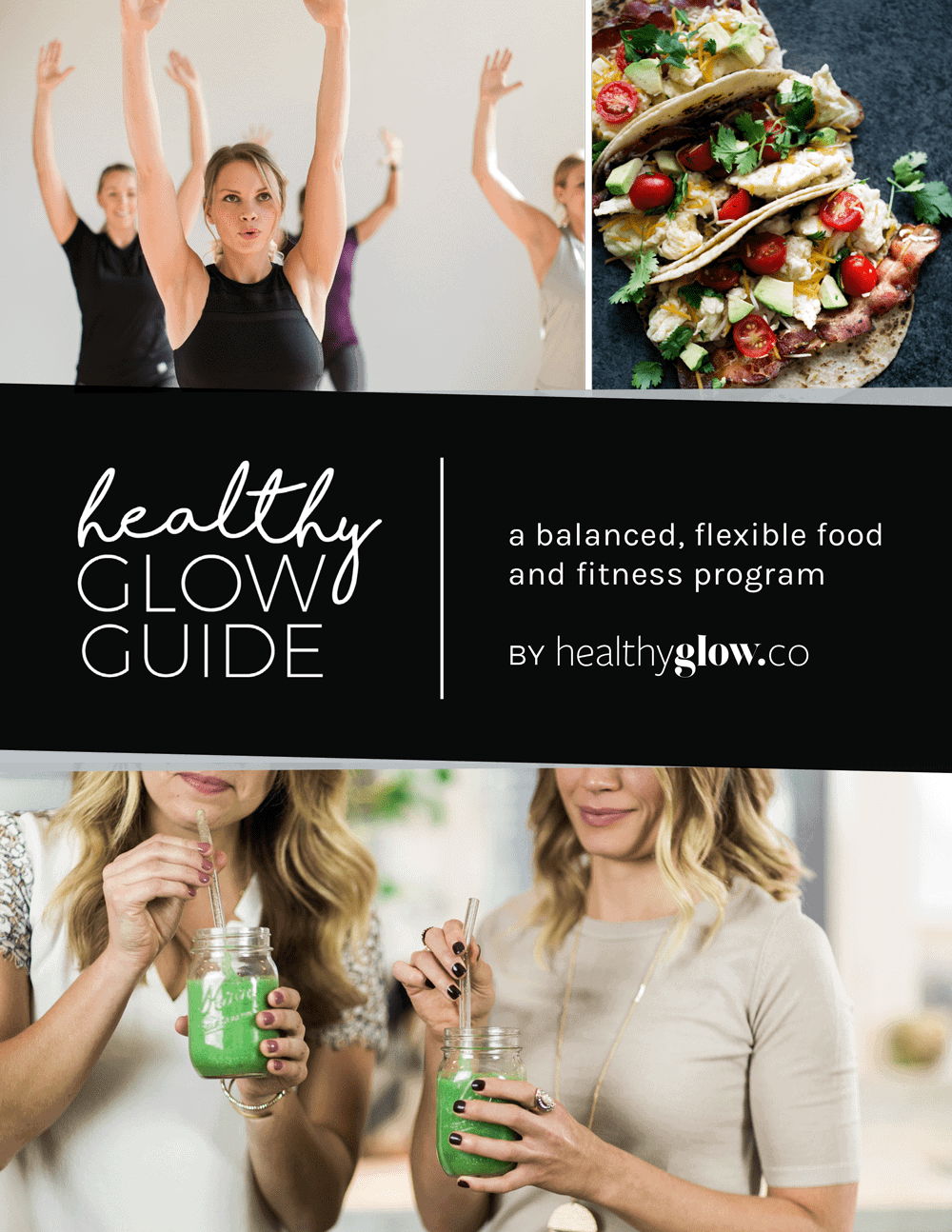 What's Included
6 weeks of deliciously satisfying, nutritionally balanced meal plans (with daily treats!)
Weekly grocery list organized by recipe
16, 30-minute workouts and weekly workout schedule
All content developed in partnership with a registered dietitian and certified personal trainer
Video demonstrations of each move
Photo demonstrations of each move that can be saved to your phone and taken with you
Private Facebook group to connect with our team and other women completing the program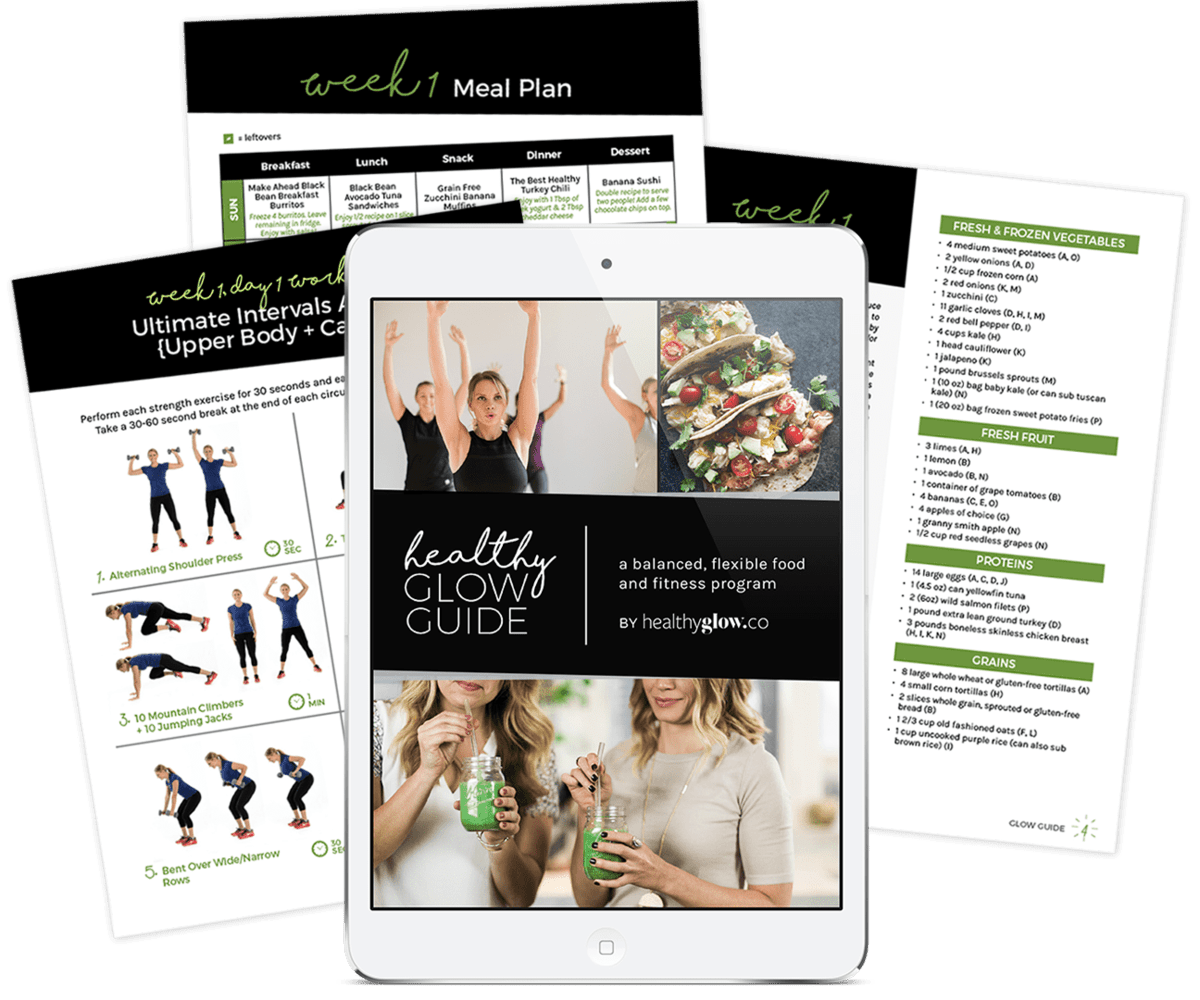 BONUS!!!!!!
Because this is the official launch of the Healthy Glow Guide…we've got an amazing bonus offer just for you!
4 bonus workouts, including yoga, to add into the rotation.

A full video library of all 18 workouts in the Healthy Glow Guide, as well as the bonus workouts.
We will be starting the Healthy Glow Guide as a group on January 8th. Yup, Team Fit Foodie is doing it too! We'll utilize the HGC Community Facebook group as a resource and support.