Happy Sunday mis amigos! I'm back with another recap of the Healthy Glow Guide. If you missed week 1, you can read my recap HERE. Today is all about week 2! Like I mentioned last week, I am doing a modified version of the HGG so that I can be mindful of the amount of food that's being wasted during the times that I am recipe testing…which happened to be last week (and next week, too!).
BUT FIRST —
If you haven't purchased the Healthy Glow Guide, TODAY is a great time to do it! Anyone who has purchased a copy of the Healthy Glow Guide by MIDNIGHT CST TONIGHT will be entered to win a box of RXBARS, and you have ten chances! If you haven't downloaded (or started) your free 2-Day Preview it's the perfect opportunity to do so over the weekend and still qualify by tonight
That's right! We also release a free 2 day preview of the HGG. We can't wait for you to join in 🙂
Okay, now lets get started!
Week 2 Eats
Week 2 recipes were THE BOMB. Some of my favorite FFF and new favorite AK recipes were on the menu. I feel like the Whole30 has been popping up left and right and can I just say that I am SO THANKFUL I am not doing that. The Healthy Glow Guide is about what you CAN eat…not what you can't and that's all I feel like Whole30 people talk about…the foods they want to eat when they are done with it. I really love the wholesome, satiating meals that we have in the HGG because every time I eat, I feel satisfied and overjoyed with flavor. And yes, this includes dessert…because dessert is the way of life 😀 What did I make this week?
Maple Walnut Granola
Banana Chocolate Chip Muffins
Roasted Sweet Potato and Kale Salad
Sweet Potato Green Curry Quinoa Casserole
Egg in a Frame
Greek Yogurt Breakfast Bowls
The best thing I ate all week? AK's Skinny Banana Chocolate Chip Muffins. Between Lin, Mark, and I…we ate the whole pan in nearly 2 days! Oops.
---
---
PS: the majority of the time…my food photos suck like everyone else's 😀
Week 2 Workouts
In week 2 I was able to get in 5 solid workouts + 1 day of skiing and 1 off day! Just the way I like it.
Sunday: Active Rest Day – Skiing
Monday: Rest Day
Tuesday: Switch Circuit
Wednesday: HGG Week 2 Workout 1
Thursday: HGG Week 2 Workout 2
Friday: Switch Circuit
Saturday: Switch Circuit
I ended up with a really bad cold this week and man am I glad for reliable workout buds. I felt fine mentally/physically, I just had/have a horrible sore throat. My Switch workouts were all modified to make them easier (less jumping). Workout 1 was my favorite out of the HGG workouts this week. I loved me a timed workout! I find that I try harder when something is timed instead of reps. Anyone else? Loved the upper body + plyometric combination…and Lin loved it to (especially since she tweaked her knee skiing and couldn't really do lower body).
Whelp that's my recap! I'm already excited to shop for week 3…which will be VERY modified (again). I am heading to Colorado on Thursday to ski- so I'll likely only workout Sun, Mon, Tues, and Wed and only make a few of the recipes…especially since Mark is not in town anymore and we're testing recipes! Yay yay yay! Happy Sunday!
———————————————
The Healthy Glow Guide is a 6-week balanced food and fitness plan dedicated to providing you with the tools you need to feel and look incredible. We combined take-anywhere workouts with deliciously satisfying recipes to bring you the last plan you'll ever need – one that's flexible to meet the demands of your unique lifestyle and customizable to your personal preferences. At $64, this lifestyle program is a STEAL and a game changer for creating healthy habits in 2017!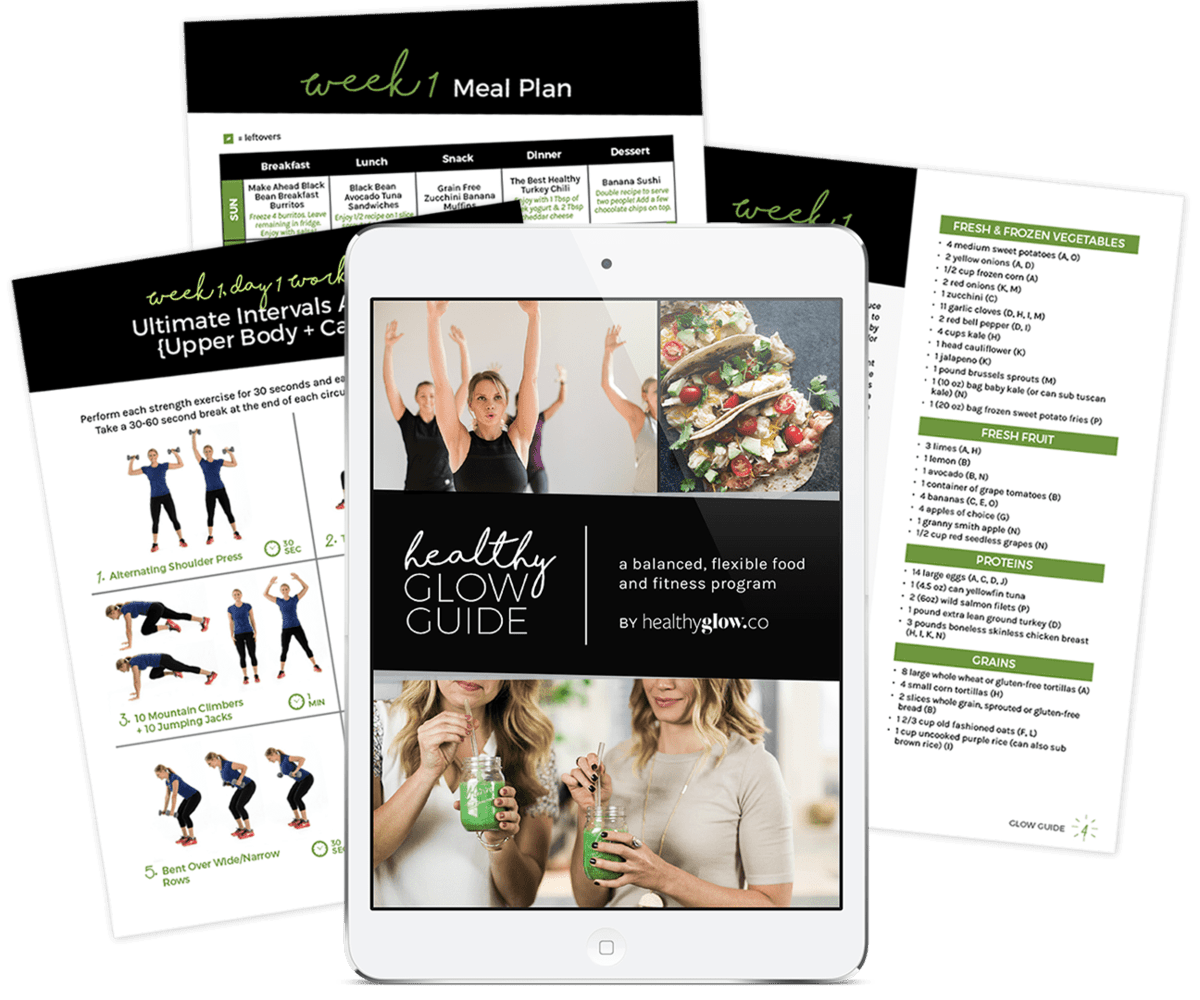 The Healthy Glow Guide includes…
6 weeks of deliciously satisfying, nutritionally balanced meal plans (with daily treats!)
Weekly grocery list organized by recipe
16, 30-minute workouts and weekly workout schedule
All content developed in partnership with a registered dietitian and certified personal trainer
Video demonstrations of each move
Photo demonstrations of each move that can be saved to your phone and taken with you
Private Facebook group to connect with our team and other women completing the program
BONUS: 4 bonus workouts, including yoga, to add into the rotation.
BONUS: A full video library of all 18 workouts in the Healthy Glow Guide, as well as the bonus workouts