Happy Sunday! I am still skiing in the UP, but wanted to give you my Healthy Glow Guide Week 1 Recap like I promised! We all have different lives and schedules and mine just so happens to involve food…a lot of it! I of course had to modify the meal plan a bit to incorporate some recipes I was testing this week and I also took an unexpected day off from working out due to sore muscles (my left butt cheek was literally on fire for 3 days because of Workout1).
CHECK IT—
Week 1 Workouts
Thought I would just give you guys a play by play of my workouts this week! The amazing thing about the workout plan inside of the Healthy Glow Guide is that it's completely adaptable to the workouts you are already doing. We've provided 2 different workout calendars: one for 4 days/week and another for 6 days/week. I'd say that I try and shoot for 5 days per week, but sometimes it's 4 and sometimes it's 6. This week it's 5!
Sunday: HGG Week 1, Workout 2 (Coming Down the Ladder Lower Body + Plyos) + 1 mile run
Monday: Switch Row (45 minutes)
---
---
Tuesday: Switch Circuit Workout (60 minutes)
Wednesday: Off
Thursday: HGG Week 1, Workout 3 (Bodyweight Total Body Pyramid)
Friday: Switch Circuit Workout (60 minutes)
Saturday: Off – Skiing
All of the Healthy Glow Guide workouts are right around the 30 minute mark. Sometimes if I have extra time, I will tack on a mile warm-up and other times I just do as prescribed! You have to have the mindset going into it that you're going to give it everything you've got for all 30 minutes. I don't even think I can pick a favorite from week 1 because I really liked them all. If you forced me I'd have to say Workout #2 – Coming Down the Ladder) because I was sore for literally 3 days…my right butt cheek to be exact. I don't know if I went deeper in my lunges on the left side, but holy hell it hurt to pee. Such a good hurt, though 😛
Like I mentioned above, I am skiing until Monday this week. I'm calling those 2 days off days because it's not really organized exercise! Who knows- maybe I'll be so sore that I'll have to take off Tuesday too, we will just have to see how crazy I get on the slopes 😛
Week 1 Eats
As you know, I am a full time food blogger so I've got a steady flow of food in mi casa at all times! I did a really great job this past week of integrating mostly HGC recipes with the recipes that I am currently testing/shooting. I was able to easily do this because the grocery list is labeled by letter so you know which ingredients go with which recipes!
My favorites?
Slow Cooker Thai Peanut Chicken with Quinoa
Slow Cooker Chicken Tortilla Soup with Kale
Cashew Butter Brownies
Pumpkin Yogurt Dip
Cranberry Pecan Overnight Oats
A lot of the questions that we have gotten are about modifications with recipes in case you have a food allergy or just don't like something. This is why we have the HGC Facebook Group! If you ask inside of the group you will likely get a response within a few minutes from another member, but Monique and I monitor these questions and respond as needed!
Overall I'd say I had a pretty successful week. Every time I wanted to go for a scoop of ice cream, I had a bite of a cashew butter brownie instead. I ate more vegetables than normal, which is a HUGE win in my book. ALLTHECARBS My body felt challenged and sore from the workouts I did, which is one of the best feelings ever! I am really excited for next week because 1. I will be home and 2. Mark will be with me so I can actually do the meal plan as prescribed (for 2 people). I'm also not testing nearly as many recipes! Yippie!
——————————————————
The Healthy Glow Guide is a 6-week balanced food and fitness plan dedicated to providing you with the tools you need to feel and look incredible. We combined take-anywhere workouts with deliciously satisfying recipes to bring you the last plan you'll ever need – one that's flexible to meet the demands of your unique lifestyle and customizable to your personal preferences. At $64, this lifestyle program is a STEAL and a game changer for creating healthy habits in 2017!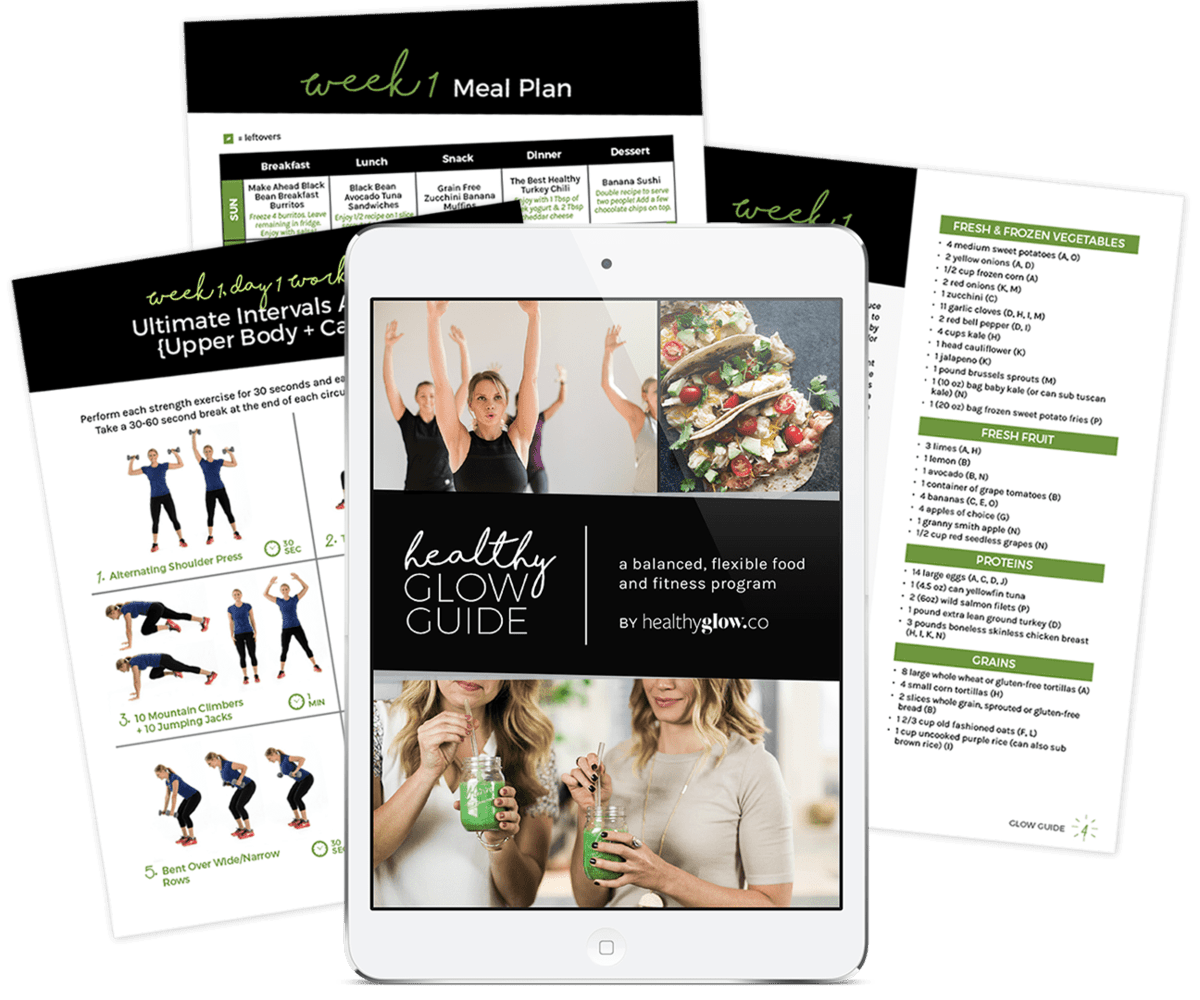 The Healthy Glow Guide includes…
6 weeks of deliciously satisfying, nutritionally balanced meal plans (with daily treats!)
Weekly grocery list organized by recipe
16, 30-minute workouts and weekly workout schedule
All content developed in partnership with a registered dietitian and certified personal trainer
Video demonstrations of each move
Photo demonstrations of each move that can be saved to your phone and taken with you
Private Facebook group to connect with our team and other women completing the program
BONUS: 4 bonus workouts, including yoga, to add into the rotation.
BONUS: A full video library of all 18 workouts in the Healthy Glow Guide, as well as the bonus workouts
Join us for a January 8th start as we go through the guide together for the very first time inside of the Healthy Glow Collective Community on Facebook!