These Make Ahead Freezer Breakfast Burritos are the perfect grab-n-go breakfast choice for your busy mornings! They are packed with veggies and protein to keep your energy up all day.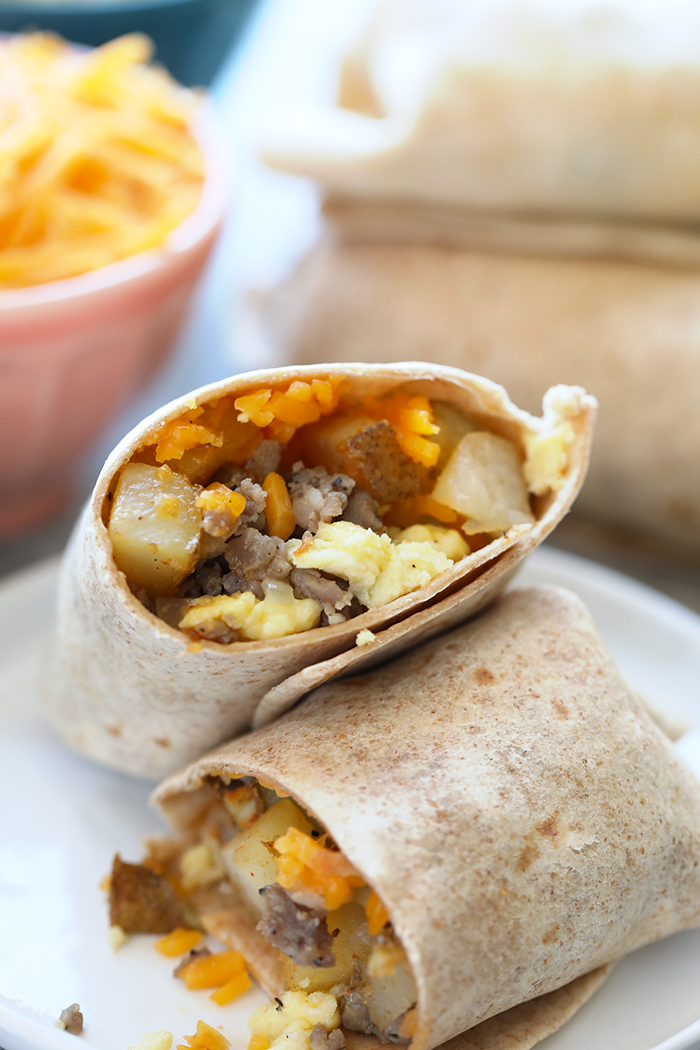 I say breakfast, you say burritos. Breakfast….BURRITOS. Breakfast…BURRITOS.
Hey guys, it's Linley here. I am writing this post singing chants to myself that Lee and I would be chanting together, but she is in California on one of the best vacations ever. Lee and I have had totally opposite summer vacation schedule this year, so we have been working solo more often than usual. Sometimes it's nice to have alone time. I love cozying up at a coffee shop or testing recipes while listening to the Dixie Chicks as loud as possible. However, what makes our job amazing is the chemistry we have on Team Fit Foodie. All recipe testing and day-to-day activities together are 100% better when Lee, Emily, and I are all together! For example, these breakfast burritos. TEAM EFFORT.
These Make Ahead Freezer Breakfast Burritos were inspired by burritos that Lee, Emily, and I had on our trip to Moab (check out more details HERE of all the food we enjoyed in Utah). We had our first big hike and needed to eat a breakfast that would sustain us until lunch. We went to Love Muffin Cafe and ordered the breakfast burritos. [OMG] The combo of chorizo, potatoes, egg, and cheese blew us away. It sounds simple, but the proportions were ON POINT.
MY OTHER VIDEOS
Though our breakfast burritos are not as ginormous as Love Muffin's, we stuck to what we liked and went with pretty similar ingredients. Please, feel free to add your favorite veggies or a different cheese. Our breakfast burrito fixings are just what we like, but make it your own and TAKE A PICTURE and let us know what you did!
The other goal we had with these burritos was to make them a grab-n-go breakfast! I am all about the savory breakfast, so I am always down with a quick breakfast burrito in the morning. Prep them at the beginning of the week and stick them in the freezer. When you get up in the morning, grab a burrito, unwrap, stick one in the microwave or oven while you're brushing your teeth, and BOOM. It's ready for you to devour quick before you leave or travel with you to work.
We do love burritos on Team Fit Foodie, so be sure to check out Meal Prep Vegetarian Black Bean Breakfast Burritos  and Protein Packed Breakfast Burritos.
VIDEO: Freezer Breakfast Burritos Made in 30 Minutes!
Author:

Lee Hersh

Yield:

10-12
Ingredients
Scrambled Eggs
8 eggs, large
2 tablespoons almond milk, unsweetened
salt and pepper, to taste
1/2 tablespoon of olive oil or nonstick cooking spray
Roasted Potatoes
2 large Idaho potatoes, cubed
1 tablespoon olive oil
1/4 teaspoon paprika
2 teaspoons garlic powder
salt and pepper, to taste
Breakfast Sausage
1/2 tablespoon olive oil
1/2 tablespoon garlic, minced
1/2 white onion, finely diced
1 lb. breakfast sausage (pork or chicken or chorizo)
Other
10 8-inch tortillas, plain or whole wheat
1 cup cheddar cheese, shredded
Instructions
Scrambled Eggs
Heat a large skillet to medium/high heat. Then grease with olive oil or cooking spray.
Crack 8 eggs into a medium size bowl and then add 2 tablespoons of almond milk, and season with salt and pepper. Whisk until combined.
Pour eggs onto heated pan and use a spatula to scramble until fully cooked. Set aside.
Roasted Potatoes
First, preheat oven to 400ºF and place a piece of tin foil on a baking sheet.
Prep potatoes by cubing into small chunks. Then place on baking sheet.
Drizzle on 1-2 tablespoons of olive oil and season with paprika, garlic powder, and salt and pepper.
Use hands to toss to make sure everything is evenly coated.
Roast for 30 minutes at 400ºF. Toss half way through. Set aside.
Breakfast Sausage
Heat 1/2 tablespoon of olive oil in a large skillet to medium/high heat.
Then, finely dice 1/2 a white onion and add to skillet along with 1/2 tablespoon minced garlic. Sauté for about a minute before adding breakfast sausage.
Use a spatula to sauté until fully cooked. Set aside.
Burritos
First, heat tortillas for a few seconds in the microwave (this will help with the folding process).
Then, get building! Add scrambled eggs, roasted potatoes, breakfast sausage, and a sprinkle of cheese on top of your tortilla. You should make around 10-12 burritos.
Make your burritos by folding two sides in and then rolling.
Tightly wrap each burrito in tin foil, making sure there are no pockets of air. Then, write the name and date on each burrito for later!
Nutrition
Serving Size:

1/10

Calories:

299

Sugar:

4

Fat:

11

Carbohydrates:

40

Fiber:

4

Protein:

14