Team Fit Foodie loves gift giving so we put together a gift guide with all of you in mind! There is a little something for everybody in this 2018 Holiday Gift Guide including fun gift ideas for her, gifts for him, tech, and more!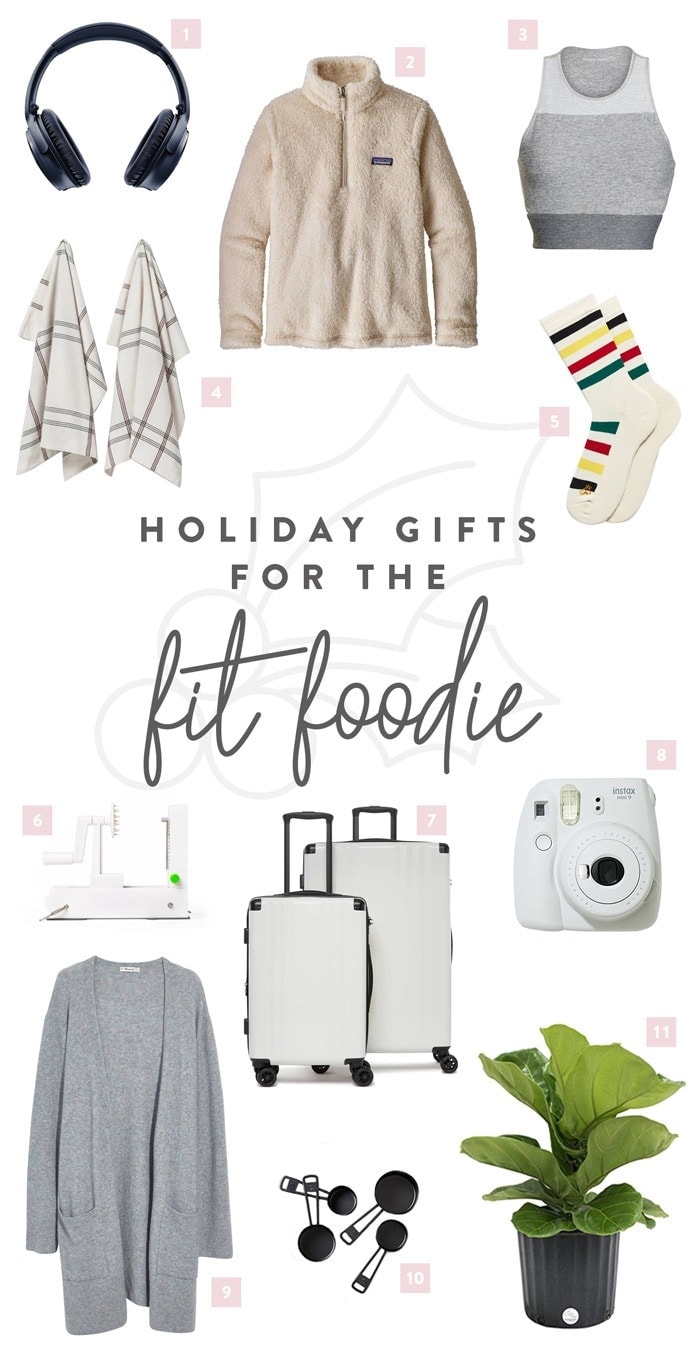 Holiday Gifts for the Fit Foodie
It is officially the holiday season and we couldn't be more excited about it! No matter what holidays you celebrate, it is always fun to get a thoughtful gift for those you love. If you're not into giving gifts to others, but you are into getting yourself a nice gift or two around this time of year, we totally get it. There are some amazing deals out there around this time of year, and we highly recommend stocking up on basics or even just treating yourself.
Gift-giving is one of my love languages. I don't need to receive gifts to feel loved, but one of the ways I show love is giving gifts to others. Over here at Fit Foodie Finds, we LOVE something called experience gifts, where we give the gift of spending time together. For example, last year Emily bought the three of us a wall hanging class where we learned how to weave our own macrame. How FUN! I love experience gifts and I absolutely love finding just the right gift for people I love. It's not about the money, it's about knowing the person you're gifting to and getting them something you know will put a smile on their face. So, here is to those of you with the love language of gift-giving and here is to all of you who need some good gift ideas!
Check out our 2018 Gift Guide below!
Current Sitewide Sales (as of Monday 11/19)
Kitchen Must-Haves 
Buy your person a gift that will keep on giving, and INSTANT POT! Meal time will be made easy with an Instant Pot, meal prep containers, or any of these kitchen must-haves!

Athleisure
Who doesn't love getting a pair of high-waisted leggings from your favorite athleisure store? Whether you live in athleisure or hang in athleisure on the weekend, these are some of our favorites!

Home Goods
Have you seen Fit Foodie's new HQ? We loved finding just the right pieces to make our at home office just the way we wanted! Get your person something fun for their favorite room!

Plants + Plant Stuff
Plants, plants, PLANTS. We are obsessed! Our new plant wall is full of fun pots and plants that we have grown to love! Gift your people a plant off Amazon, a fun pot, or a fun book on everything PLANTS.

Clean Beauty
We have been working on finding our favorite clean beauty products and our favorite beauty accessories that will last forever! We are loving everything Kristin Ess from Target and anything from Herbivore! They all make great stocking stuffers!

All the Best Tech
Who doesn't need a good pair of headphones or an Alexa to help them start the day off right? Gift people in your life some of the newest tech out there!

Traveler 
Are you officially an adult when you own a luggage set? I think so! If you know someone who travels, they will appreciate anything on this travelers gift guide!

For Her
Get your favorite ladies a new pair of socks, a cute down jacket from Uniqulo, or anything from this For Her gift guide!

For Him
We all need a new pair of socks, am I right? Get your man a new shave set or a new pair of vans! Tis the season.