It's breakfast time and we're serving up a handful of our favorite breakfast casserole recipes. We love breakfast casseroles because they're perfect for serving a crowd and the best for leftovers! Check out some of the best on the internet!

Just in time for Christmas we've rounded up all of our fav breakfast casserole recipes from Fit Foodie Finds. I'm sure you're like, girl I eat breakfast casseroles year round and I'm like…girl so do I! However, I Feel like the holidays are known for making meals to serve a crowd!
One of my favorite parts about having Christmas at Mark's parent's house is when his mom makes 2 different breakfast casseroles on Christmas morning — one sweet and one savory. I'm totally the type of person who will take one helping of savory and 2 of sweet…because I've got myself a sweet tooth in the morning!
Reasons to Make a Breakfast Casserole
You guys obviously know we're HUGE fans of breakfast casseroles. Well, I'm here to lay out exactly why we love them so much!
They serve a crowd! Having people over for breakfast or brunch? Easy! Make a breakfast casserole that serves 8+ people.
Easy cooking! For most breakfast casserole recipes, you can put everything in your casserole dish raw and then cook it up on the oven with little to no effort. Some breakfast casseroles are even instructed to prepare the recipe the night before so you can literally just wake up and throw it in the oven!
Leftovers galore! Not looking to serve a crowd but have leftovers for days? Girl, then you need to make a breakfast casserole! Averaging 6-8 servings per recipe, you're going to have leftovers galore with any of these breakfast casserole recipes!
Breakfast Casseroles Q&A
Can you freeze breakfast casseroles?
Absolutely, yes you can freeze a breakfast casserole! If you're looking to freeze either an egg-based casserole, oatmeal, or French toast casserole, I suggest letting your casserole cool completely. Then, cover it with a layer of saran wrap making sure as much air gets pushed out as possible. Finally, cover it with a layer of tin foil. I like to write the name and date on the tin foil for easy access later on.
Reheating Directions: For reheating, let your casserole fully thaw overnight in the fridge. Then, set your oven to 350ºF and bake for around 30 minutes or until completely heated!
How do you make an easy breakfast casserole?
Most breakfast casseroles are super simple to make and include directions on how to make it ahead, the night before for easy cooking in the morning! Here are two of the easiest breakfast casserole recipes I've ever made: Peanut Butter Banana Oatmeal Bake and Denver Omelet Egg Bake. Both of these can be prepared the night before and are made with minimal ingredients.
What should I serve for Christmas brunch?
EASY. For Christmas brunch (or any brunch for that matter), you should serve Fit Foodie Finds' Maple Pecan Overnight Sourdough French Toast Bake! It's made with chunks of fresh sourdough, eggs, and a homemade crumble topping.
How do you make breakfast sausage egg casseroles?
Our favorite sausage egg casserole is our Spicy Italian Breakfast Casserole! This casserole is super simple and can be made overhead. Start by cooking your sausage and veggies. Then spread them into a casserole dish along with some sourdough chunks. Crack on your eggs and bake! You can get the full recipe and directions HERE.
And now it's time to feast your eyes on some of the best breakfast casseroles on the internet! We're sharing both sweet and savory options below!
Sweet Breakfast Casseroles
Sweet breakfast casserole recipes — think overnight French toast bakes, baked oatmeal, and pancake casseroles! Here you'll find some of my favorite breakfast casseroles made with sweeter ingredients that are still healthy!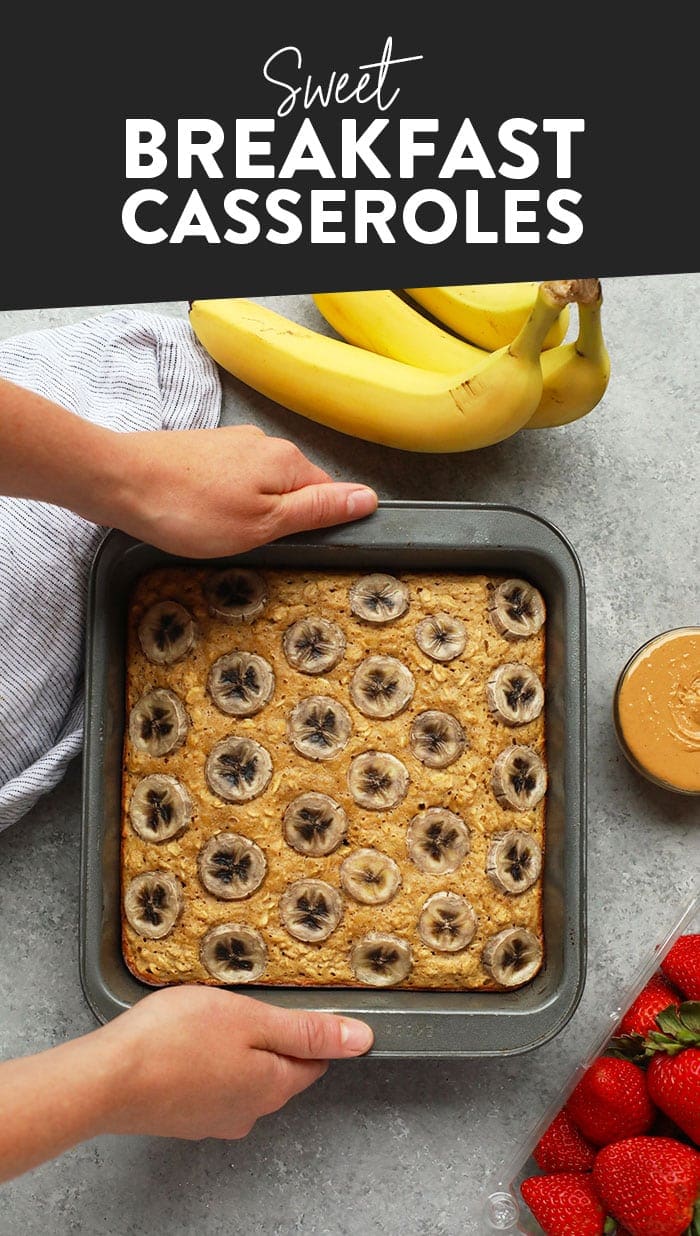 Savory Breakfast Casseroles
Savory breakfast casseroles — these crowd-serving breakfasts are are savory meals perfect for serving a bunch or for leftovers. Here you'll find egg bakes, frittatas, and lots of breakfast casseroles with hashbrowns.