Chili season is upon us! Don't know what to do with leftover chili? Don't let it go to waste! Try one of these leftover chili recipes. Each of these leftover chili ideas will take you less than 30 minutes to prepare, and they're healthy.
Big fans of chili over here on Fit Foodie Finds. From this green chili to this quinoa chili to this vegetarian beer chili, you really can't go wrong! Plus, we'll hook you up with all the leftover chili recipes you'll ever need.

Endless Reasons to Love Chili
Chili for sure makes my top 5 favorite meals in all the land. It's something I've been making for myself since college because it's so amazing for so many reasons:
Cheap
Great for meal-prep
Leftovers for days
Ready in 30 minutes
Super flavorful
Usually, chili recipes serve 6 to 8, which can be a little daunting if you're feeding just 1 or 2 people. That's why at Fit Foodie HQ, we like to mix things up on days 2 and 3 with leftover chili. We do this with most meals that we cook, so that the food we eat doesn't get super repetitive, but is still time-conscious and easy peasy.
Today, we're sharing 4 leftover chili recipes so you don't get bored and also so you don't waste all of that delicious chili you made! Plus, it makes you feel like you're eating something totally different than the day before, even when it's all derived from the same recipe. Double win.
But first, check out a very basic chili recipe (+ a few of our other fave chili recipes) that would go PERFECT with any of these 4 leftover chili recipes.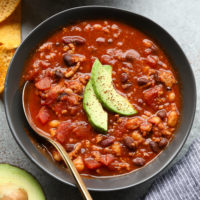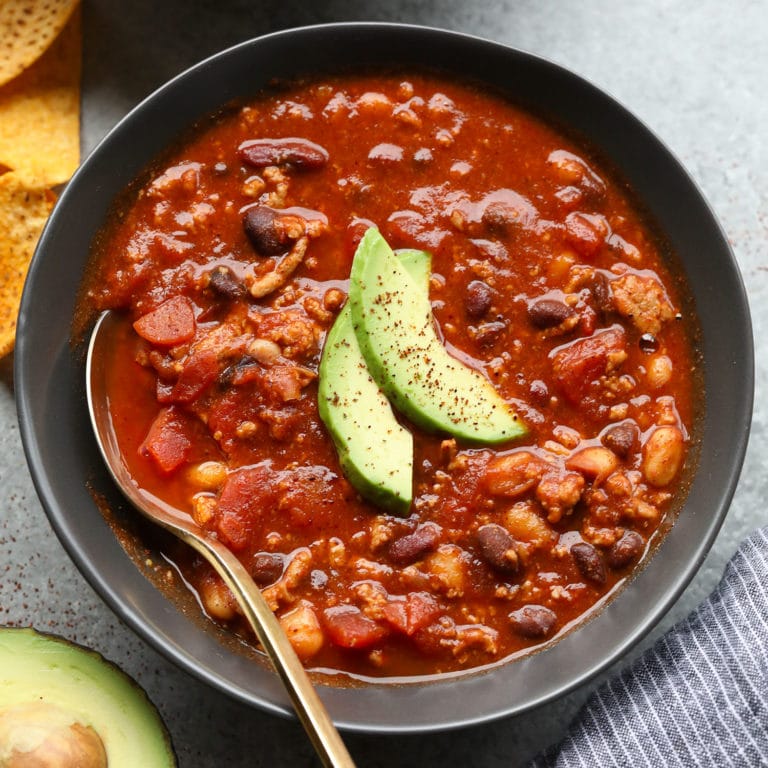 Best Easy Chili Recipe
Looking for the best easy chili recipe out there? You'll love this recipe because it's made in less than 30 minutes and healthy! The best part is that you'll probably have leftovers so that you can make of the delicious leftover chili recipes from this post!
Ingredients
1

lb.

ground meat

any kind (OR omit for vegetarian)

2

teaspoons

olive oil

2

15-oz.

cans of beans

any kind, drained and rinsed

1

28-oz.

can diced tomatoes

1

15-oz.

can tomato sauce

3

tablespoons

chili powder

2

teaspoons

ground cumin

2

teaspoons

garlic powder

1/2

teaspoon

paprika

1/2

teaspoon

ground blacm pepper

1/2

teaspoon

salt

1/2

cup

broth

any kind (or water)
Instructions
For the slow cooker:
Place all ingredients into a slow cooker and mix.

Cover and let cook on high for 3-4 hours or on low for 6-8.
For the stove top:
Place olive oil in a large pot and turn to medium/high heat.

Then, add in ground meat and saute until fully cooked.

Add in the rest of the ingredients and bring to a boil.

Reduce heat to low and let simmer for 10-15 minutes.
Tips & Notes
Homemade chili seasoning: option to replace all spices with 1/4 cup of homemade chili seasoning.
Nutrition information includes 1 lb. ground turkey, 2 cans of black beans, and is for 8 servings.
Nutrition facts
Calories:
251
kcal
Carbohydrates:
30
g
Protein:
20
g
Fat:
7
g
Fiber:
10
g
Sugar:
6
g
Baked Potatoes Stuffed with Chili
For this leftover chili recipe, roast up some russet or sweet potatoes and stuff them with chili and cheese. Your family will think you worked EXTRA hard on this meal when you really made it in a cinch!
Pro tip: Wrap your potatoes in tin foil, poke holes in them with a fork, and roast them at 425ºF for 45-60 minutes or until they are easily pierced with a fork. Then stuff them with leftover chili, top with shredded cheese, and put them back in the oven til the cheese is melty, and voila! Dinner is served.
Chili Cheese Dip
We've got a famous Chili Cheese Dip on Fit Foodie Finds that everyone loves! Instead of following that recipe to a tee all you need is YOUR leftover chili, Greek yogurt, and shredded cheese!
Add about 1/2 cup of Greek yogurt and 2/3 cup of shredded cheddar cheese to 4-6 cups of leftover chili. Mix and bake at 400ºF for 20 minutes or until the chili begins to bubble.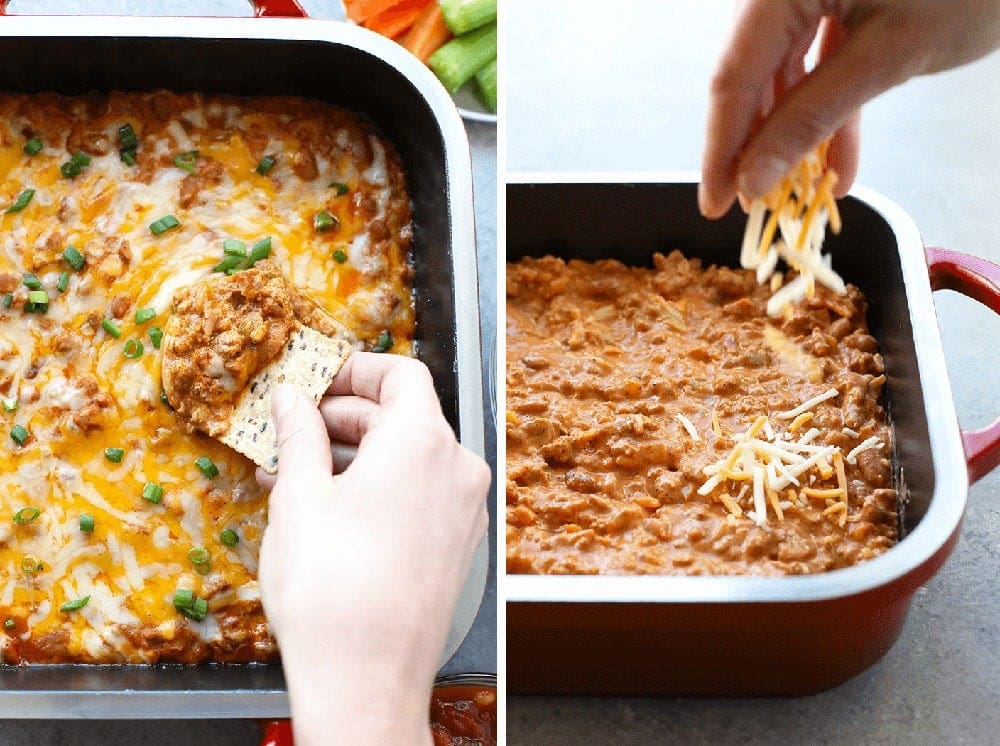 Leftover Chili Shakshuka
Never had chili for breakfast? Here's your chance! All you need to do is place about 1-2 cups of leftover (cold) chili on the bottom of a small baking dish, crack some eggs on top and bake at 350ºF for 45-50 minutes or until your eggs have cooked to desired texture.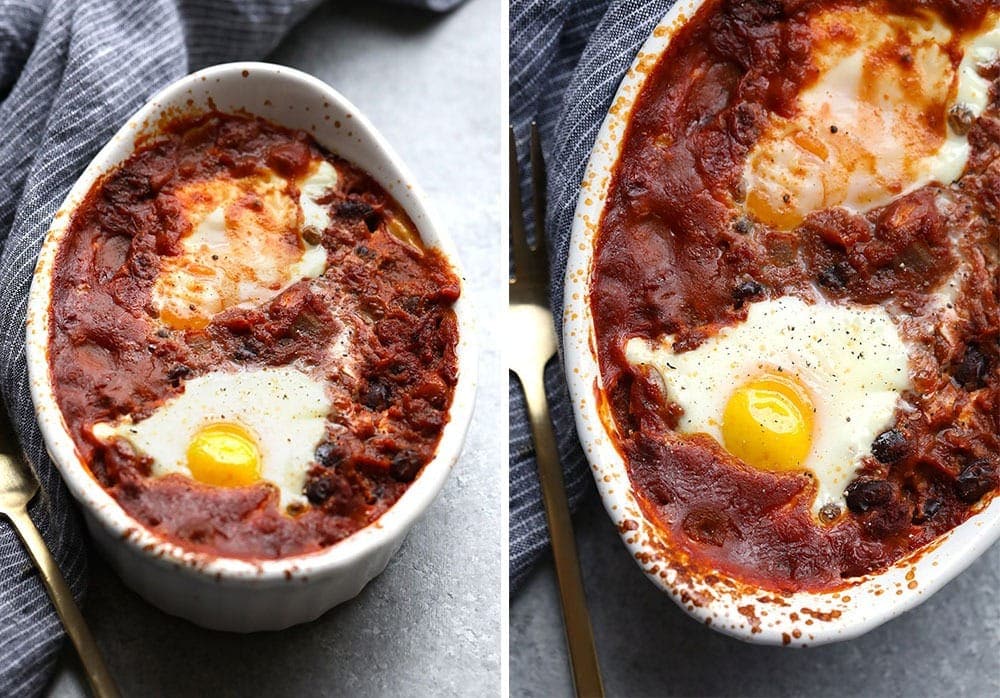 Leftover Chili Nachos
How can your resist chili nachos? It really is the best! Top your favorite tortilla chips (ours are Way Better Snacks Nacho Cheese and Garden of Eatin' Red Hot Blues) with leftover chili, cheese, and any other toppings your heart desires!
Pro tip: Make a family-sized batch of nachos on a baking sheet. Bake at 350ºF for about 15-20 minutes.
Chili lovers! We want to know what you do with leftover chili. Share share share please and thank you 🙂