Raise your hand if you crave salads when spring rolls around! We do! Here are 5 of our most favorite healthy spring salad recipes. Make any of these salads for a healthy meal prep lunch or for a healthy weeknight dinner.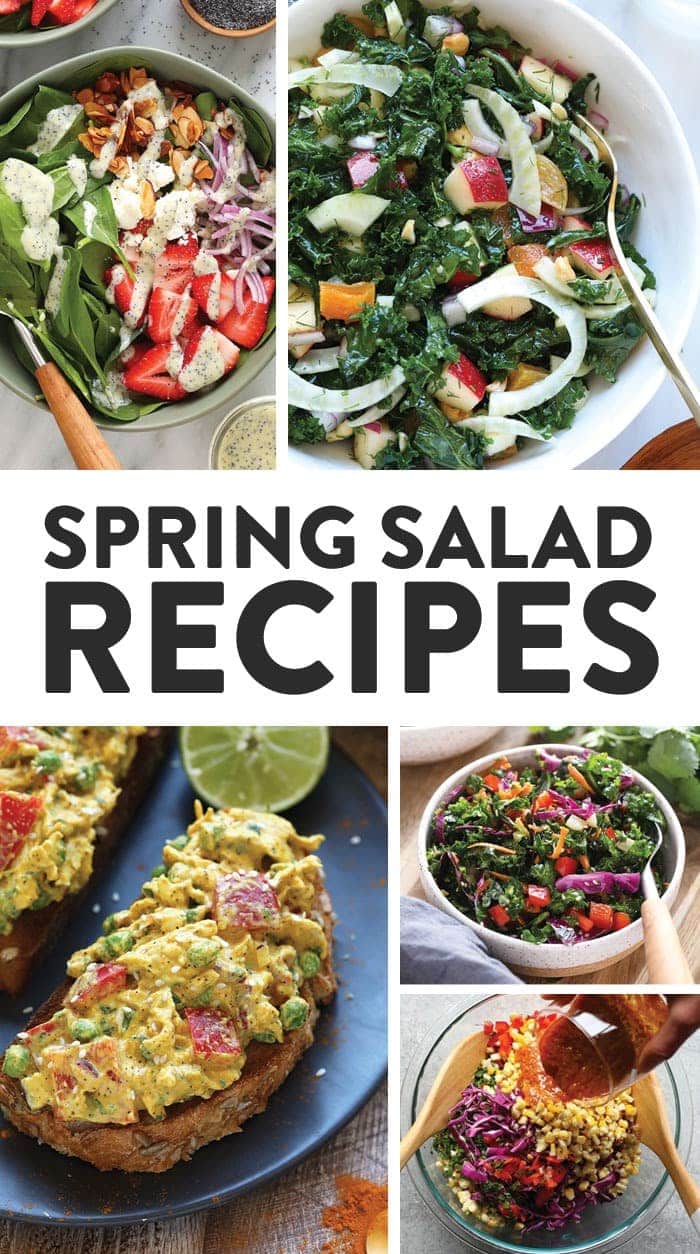 Healthy Spring Salad Recipes- All the Colors!
When the sun comes out and the snow starts to melt we generally have salads on the brain! We set our favorite casserole recipes and soup recipes aside and we trade them in for big crunchy salads. Spring always feels like a good time for shredding things in your life that you don't need and filling your life with some new healthy habits. Part of our spring healthy habits are adding more salads to the menu.
Many people think of salads and say, "no way do i want a bowl of wilty greens with onion, tomatoes, and canned black olives", I get it. I feel like salads have gotten a bad rap in the past, but in the last couple years, they have made a come back with the realization that salads can be delicious and complex just like any meal! If salads and salad mixins can be a bit overwhelming for you, we understand. We have put together a list of our top 5 favorite spring salad recipes to get you started. These salads are colorful, packed with protein, veggies, and amazing flavor.
One thing that tends to get people a little more excited about salads are the salad dressings! Before we share our favorite spring salads I wanted to introduce you to some of our favorite salad dressings and know that with any of the salad recipes below, you can always switch of the dressings for one of the delicious salad dressing recipes below!
Healthy Salad Dressing Recipes
Don't be scared and just jump right in and add one of these healthy spring salads to the menu this week and feel free to mix and match our salads with our healthy salad dressings. First up, KALE SALADS.
Kale Salad Recipe 
We are all about kale salads right now on Fit Foodie Finds. We have so many delicious healthy fall kale salad recipes, but don't forget that kale is a great green for springtime, too! Have you massaged your kale yet? Check out our most recent How to Massage Kale post for an easy step-by-step on how to prepare your kale. Though there are many ways to add kale into your spring salad meal prep, this Massaged Kale and Fennel Salad is our favorite!
This massaged fennel and kale salad with lemon vinaigrette is the absolute perfect salad. All you have to do is massage your kale, chop your ingredients, and toss it with your vinegarette! It is a great salad for meal-prep throughout the week. Trust me, you'll never look at kale the same way again!
More Kale Salad Recipes
Spinach Salad Recipe
You know those friends you can go to whenever you need something and you'll know they will always be there for you? That's what spinach is for me in the world of greens. Spinach is a go-to green and a great base for any salad. Spinach is packed with vitamins and minerals and is good in smoothies, cold salads, warm salads, and tossed into pasta. As we head into spring, our favorite spinach salad is this strawberry spinach salad recipe!
Take lunch up a notch with this strawberry spinach salad! It is the perfect mixture of sweet and savory and you won't regret meal prepping it for every day of the week. Though the strawberries are the all-star of this salad, the poppyseed dressing is crazy delicious and easy to make!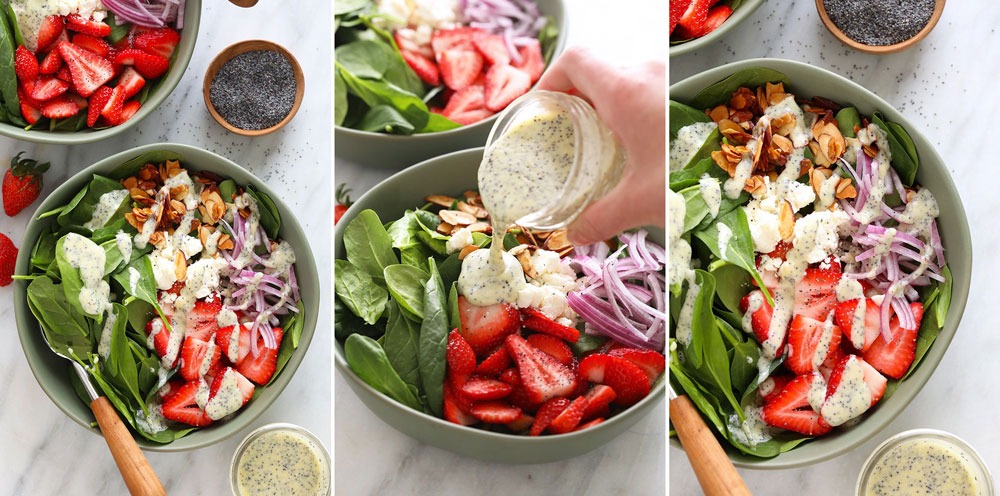 Best Chicken Salad Recipe
If you are a carnivore, then you have to have a favorite chicken salad recipe. I grew up on the classic shredded chicken salad, grapes, cashews salad that was covered mayo. Don't get me wrong, I wouldn't turn down that chicken salad if someone offered it to me right now, but we have some amazing healthy chicken salad recipes on FFF right now.
The beauty of chicken salad recipes is that you can prepare your chicken in the oven or the Instant Pot (see our Basic Instant Pot Chicken Breast Recipe) and make a bulk amount of chicken to make healthy chicken salad for the week. It's just a no brainer. Though we have so many tasty chicken breast recipes, our favorite chicken salad recipe right now is this Thai Green Curry Chicken Salad!
This Thai Green Curry Chicken Salad is a healthy chicken salad recipe that the whole family will love! It's packed with flavor and protein and is a great meal-prep for lunch or for a busy weeknight meal. Give this easy chicken salad recipe a try today.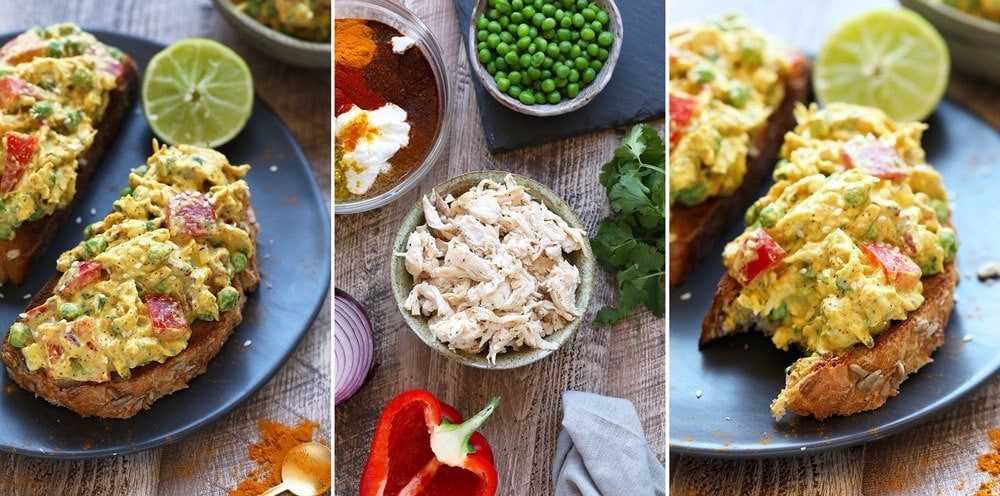 Healthy Chicken Salad Recipes
Corn Salad Recipe 
It took me a while to realize that a "salad" didn't always have to be made with a leafy green. I know, mind blown right? In the summer I love testing out pasta salad recipes or veggie salad recipes as a tasty side for any spring or summer main dish. We have been obsessed with summer corn recipes in the last couple years and this Thai Chili Corn Salad recipe is one of our new favorites!
This Thai Chili Corn Salad is the perfect side dish for any time of year! It is a healthy side dish that is packed with flavor. You can prep your corn on the grill or on the stove and add it to the rest of the veggie-packed salad. You just can't beat the Thai chili kick and all the veggies. Make a big bowl for dinner this week.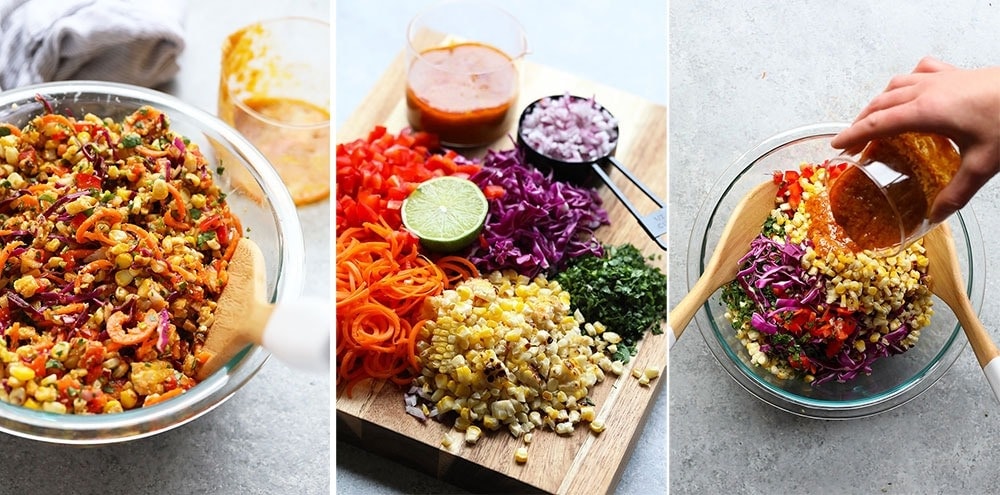 Healthy Corn Recipes
Asian Salad Recipe
If there is one thing we love on FFF it is developing Asian inspired recipes. We love the flavors, tastes, and textures. Give us all the chili sauces, ginger, and fish sauce. This Simple Asian Salad recipe is one of our new favorite salads to serve alongside our Instant Pot Korean Beef recipe. You guys, the combination is out of this world!
Looking to pair one of your favorite Asian dishes with a simple Asian salad? We've got you covered with this colorful Asian salad recipe dressed with a yummy Asian salad dressing.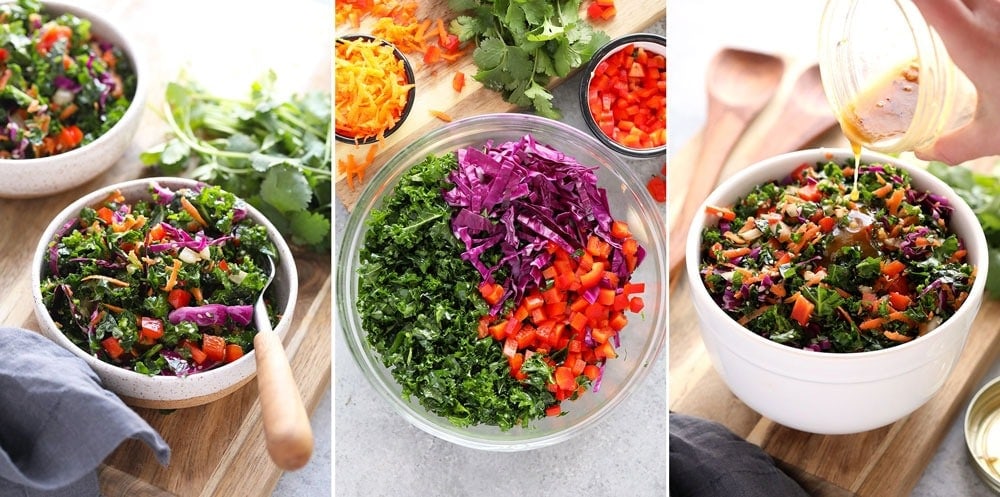 Healthy Asian Salad Recipe