Bring on the crunchy leaves, cozy sweaters, PSLs, and everything fall. With all of the things we love about fall comes the start of school, new projects at work, and the holidays. Here are 50 Healthy Meal Prep Recipes for Fall that will ensure that you are eating healthy during the busyness of the fall season!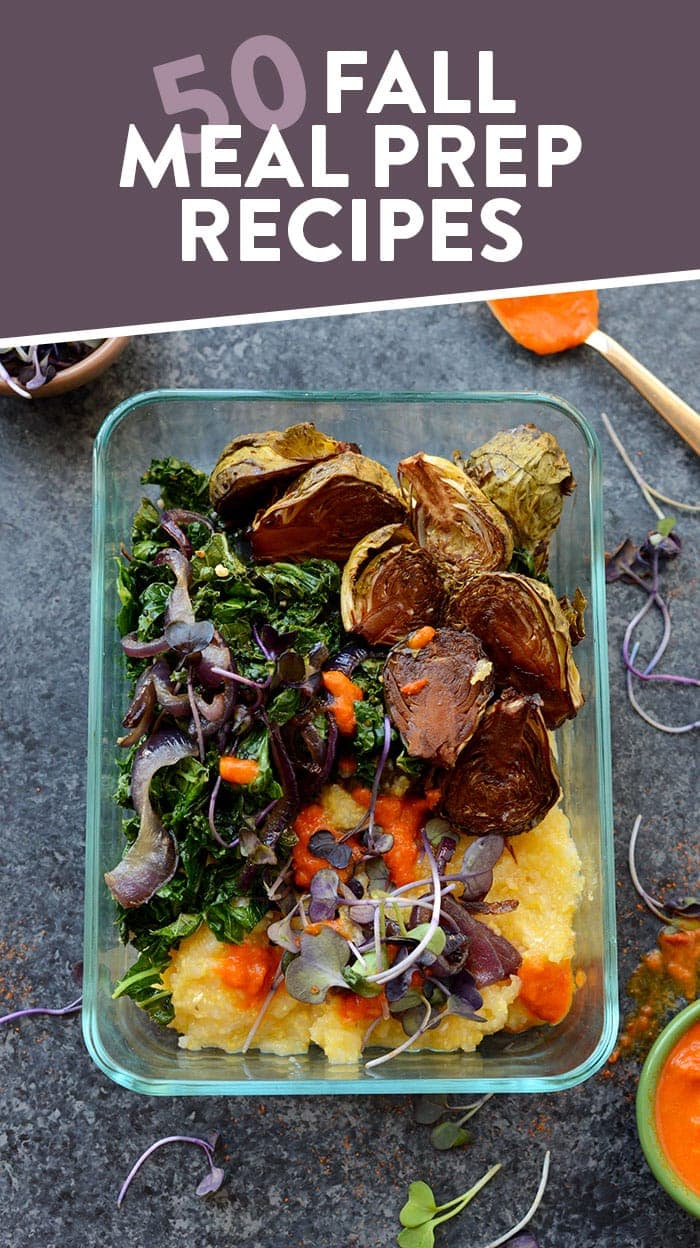 We cherish the sunshine and summer heat in Minnesota. Lee and I (this is Linley btw) have had a wonderful summer of travel, Fridays off, and lots of walks around the lake. If you live in Minneapolis you know that when the sun comes out, so do all the people! That doesn't change just because the scent of fall is in the air. It's already been a bit chilly in the evenings here in MN which means I've already tapped into my favorite fall sweaters.
If you ask Lee how she feels about summer coming to an end, you better be ready with a box of tissues. Lee loves summer. Me? Bring on the crunchy leaves, flannel shirts, and Redwing boots. I am a chilly weather girl, through and through. Summer has treated us well, but it's time for a pumpkin spice latte.
I do recognize that "real life" starts again in the fall. Kids start school again, projects at work become more intense, no more Friday's off, and on and on. It's like the world lets you take a couple months in the summer to goof off and enjoy family. As much as I love fall, there does seem to be a restart of life going into the fall and the holiday season.
Something that really helps Lee and I stay organized going into the fall season is having our pantry ready with fall staples so that fall meal prep is a breeze! Whether you do a weekly meal prep plan at the beginning of the week or just like to be prepared when you're ready to cook, these healthy fall meal prep recipes are for you. Personally, we like to have ingredients for chili, curry, baked goods, and all of our favorite things stocked and ready.
What pantry staples should you stock up on for this fall? I put together a list of helpful fall pantry staples and 50 Healthy Meal Prep Recipes for Fall to help you stay organized and eat healthy all at the same time! Want more fall recipes? Check out all of our favorite fall recipes on Fit Foodie Finds
Fall Recipe Pantry Staples
Meal Prep Breakfast
You can make any meal prep recipe a fall recipe by adding a little pumpkin spice. We love adding warm spice combinations to healthy waffles, pancakes, or an easy breakfast hash. Here are a few of our favorite healthy fall recipes.

Meal Prep Snacks
Don't just throw a granola bar in your bag for an afternoon snack. Meal prep a healthy hummus made with sweet potato or a delicious meal prep recipe like energy balls. Sweet potatoes make a hummus a fall recipe, for sure! It gives you a tasty snack to look forward to all week.

Meal Prep Lunch + Meal Prep Dinner
Bring on all of the healthy chili recipes, healthy soup recipes, and everything in between! Fall is the season of warm flavors and we thrive on those here at Fit Foodie Finds. Get out your slow cooker and make some soup in the crockpot or use your Instant Pot to make Instant Pot chicken that will make meal prep recipes a breeze all week!

Meal Prep Dessert
Are you a pumpkin spice latte kind of person when your sweet tooth comes a'calling? We love healthy pumpkin muffins or healthy pumpkin peanut butter cups for a fall treat!