Bring on the crunchy leaves, cozy sweaters, PSLs, and everything fall. With all of the things we love about fall comes the start of school, new projects at work, and the holidays. Here are 50 of the Tastiest Meal Prep Recipes for Fall that will ensure that you are eating healthy during the busyness of the fall season!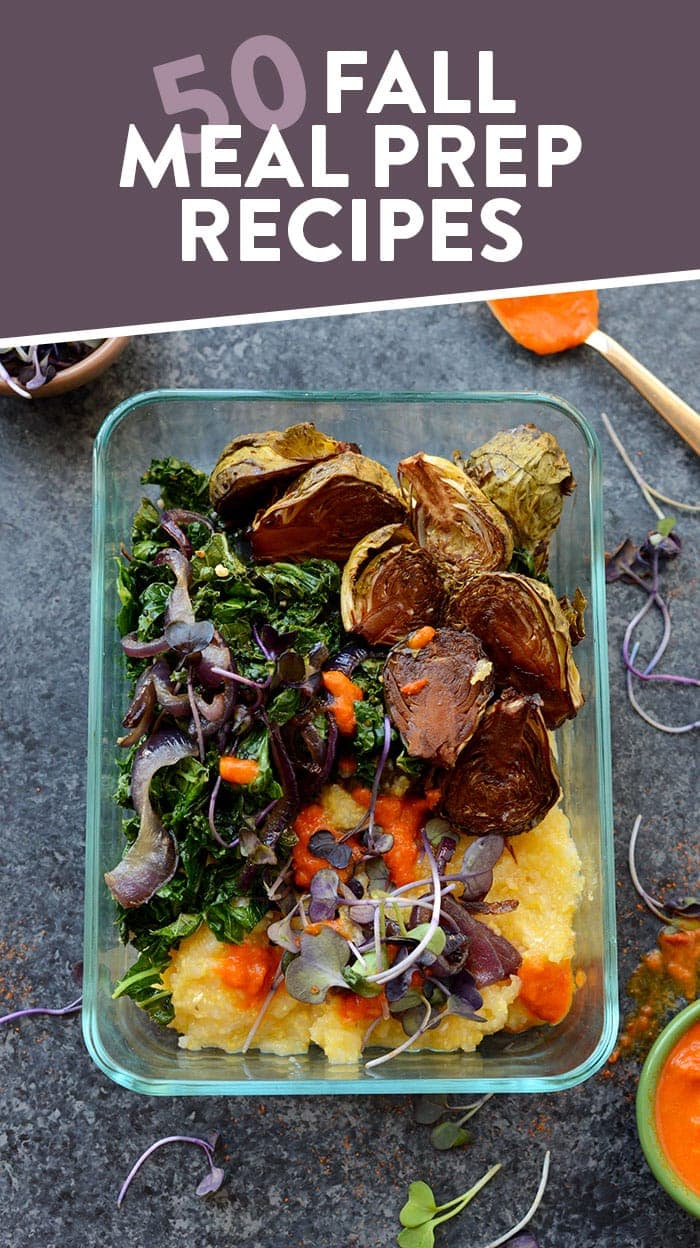 We cherish the sunshine and summer heat in Minnesota. Lee and I (this is Linley btw) have had a wonderful summer of travel, Fridays off, and lots of walks around the lake. If you live in Minneapolis you know that when the sun comes out, so do all the people! That doesn't change just because the scent of fall is in the air. It's already been a bit chilly in the evenings here in MN which means I've already tapped into my favorite fall sweaters.
If you ask Lee how she feels about summer coming to an end, you better be ready with a box of tissues. Lee loves summer. Me? Bring on the crunchy leaves, flannel shirts, and redwing boots. I am a chilly weather girl, through and through. Summer has treated us well, but it's time for a pumpkin spice latte.
---
---
I do recognize that "real life" starts again in the fall. Kids start school again, projects at work become more intense, no more Friday's off, and on and on. It's like the world let's you take a couple months in the summer to goof off and enjoy family. As much as I love fall, there does seem to be restart of life going into the fall and the holiday season. Something that really helps Lee and I stay organized going into the fall season is having our pantry ready with fall staples so that fall meal prep is a breeze! We like to have ingredients for chili, curry, baked goods, and all of our favorite things stocked and ready.
What pantry staples should you stock up on for this fall? I put together a list of helpful fall pantry staples and 50 of the Tastiest Meal Prep Recipes for Fall to help you stay organized and eat healthy all at the same time!
Pantry Staples
Breakfast

Crock Pot Maple Cinnamon Steel Cut Oatmeal by Fit Foodie Finds// Pumpkin Pie Slow Cooker Oatmeal by Fit Foodie Finds// Crock Pot Samoa Steel Cut Oatmeal by Fit Foodie Finds// Healthy Caramel Apple Cinnamon Waffles by Fit Foodie Finds//Chocolate Chip Pumpkin Breakfast Cake by Fit Foodie Finds//Whole Wheat Corn Meal Pancakes by Fit Foodie Finds//Apple Pistachio Granola by Fit Foodie Finds//Pumpkin Chocolate Chip French Toast Cups by Fit Foodie Finds// Paleo Pumpkin Pancakes by Fit Foodie Finds//Sweet Potato Power Pancakes by Fit Foodie Finds//Meal Prep Vegetarian Black Bean Breakfast Burritos by Fit Foodie Finds//Carrot Cake Overnight Oats by Fit Foodie Finds//Sweet Potato Kale Hash by Fit Foodie Finds//Cottage Cheese Banana Oatmeal Protein Pancakes by Ambitious Kitchen
Snacks

Whole Wheat Peanut Butter Apple Streusel Bread by Fit Foodie Finds//Apple Chai Energy Bites by Fit Foodie Finds//Chai Apple Chips by Fit Foodie Finds//Crock Pot Cinnamon Apple Sauce by Fit Foodie Finds//The Easiest Pumpkin Yogurt Dip by Fit Foodie Finds//Sweet Potato Hummus by Fit Foodie Finds//Oil Free Chocolate Pumpkin Muffins by Fit Foodie Finds//Healthy Banana Muffins with Turmeric by Food Faith Fitness//Whole Grain Chewy Oatmeal Cookies by Fit Foodie Finds//Power Flax Chocolate Chip Banana Oatmeal Muffins by Ambitious Kitchen//
Lunch/Dinner

Slow Cooker Coconut Curry Chicken by Fit Foodie Finds// 5-Ingredient Honey Sriracha Slow Cooker Chicken by Fit Foodie Finds// Vegetarian Roasted Brussels Sprout Polenta Bowls by Fit Foodie Finds//Crock Pot Chicken Tortilla Soup with Kale by Fit Foodie Finds//Whole Wheat Sun Dried Tomato Pasta by Fit Foodie Finds//The Worlds Easiest White Chicken Chili by Fit Foodie Finds//Vegetarian Beer Chili by Fit Foodie Finds//Lightened Up Broccoli Soup by Fit Foodie Finds//20-Minute Healthy Tomato Bisque by Fit Foodie Finds//Potato and Kale Soup with Andouille Sausage by Healthy Seasonal Recipes// Crock Pot Sweet Potato Crock Pot Chili by Cotter Crunch// Thai Chicken Noodle Soup by Joyful Healthy Eats//Honey Mustard Slow Cooker Pork Loin and Rice by Food Faith Fitness// Skinny Vegetable Rueben by Healthy Seasonal Recipes// Supreme Pizza Stuffed Spaghetti Squash by Joyful Healthy Eats//Homemade Roasted Tomato Soup by Ambitious Kitchen//
Dessert
Lightened Up Carrot Cake by Fit Foodie Finds//Healthy Salted Caramel Cups by Fit Foodie Finds//Healthy Pumpkin Spice Rice Pudding by Fit Foodie Finds//Grain-Free Pumpkin Brownies by Fit Foodie Finds//Whole Grain Carrot Cake Muffins with Walnuts by Fit Foodie Finds//Healthy Three Ingredient Guilt Free Brownies by Fit Foodie Finds//Grain Free Salted Chocolate Chip Pecan Blondies by Ambitious Kitchen// Carmel Apple Upside Down Honey Cake by Lexis Clean Kitchen//Grain Free Double Chocolate Banana Bread by Little Bits Of//Vegan Pumpkin Spice Latte Truffles by Fit Mitten Kitchen// Healthy Peanut Butter Fudge by Minimalist Baker