Make your next camping trip a breeze with these 9 epic camping hacks! From eggs in a water bottle to our sleeping bag heater trick, we've got some simple ways for you to have the best camping trip ever.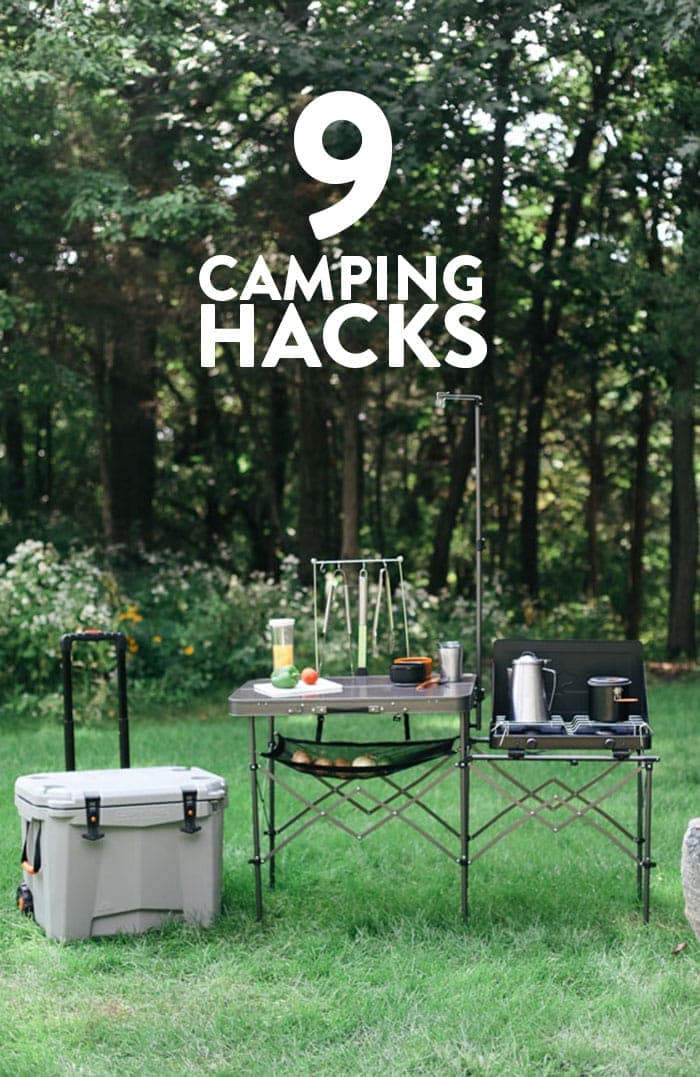 Hello friends! We are so excited to be partnering with our friends at Walmart today to not only bring you 9 camping hacks, but share some of our top picks from their Ozark Trail line.
If you're an outdoor girl like me, then you know how essential great gear is. There's nothing worse than drinking out of a water bottle that drips or using a stove that doesn't light…am I right?! I'm always on the hunt for quality products that are reasonably priced, and every product in the Ozark Trail line is a steal! How about a stainless steel tumbler for less than $6 that you can drink hot or cold out of? YAS. Or a camp stove for under $30 that also doubles as the best compact tailgate stove EVER. GIMME. While there are hundreds of products in the Ozark Trail line, available only at Walmart, I've got 4 favorites that I can't live without!
Whether you're camping or tailgating at a football game, this camp kitchen table is such a great piece of gear to add to your collection. It sets up and takes down easily and folds into its own case. This table is perfect for chopping or food-prepping and even has a spot for a stove. I love all of the little compartments and that there's a place to hang all of your kitchen utensils! At $59, the Ozark Trail Portable Deluxe Camp Kitchen Table is a no-brainer!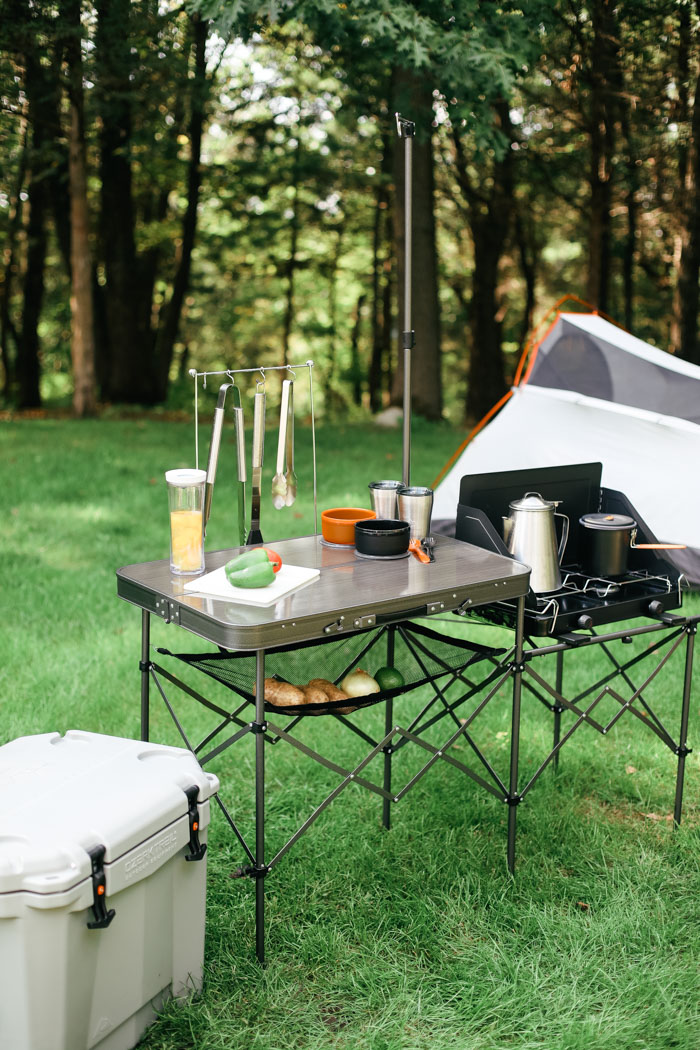 This is the cooler of all coolers – you can keep your ice frozen for up to 8 days. 8 DAYS. The Ozark Trail 60 Qt. Cooler makes a weekend camping trip so great because it keeps all of your perishables cool enough to last. Features include drink holders, a basket, handles, and my favorite, WHEELS! There's nothing worse than a heavy cooler without wheels! Snag it for less than $200.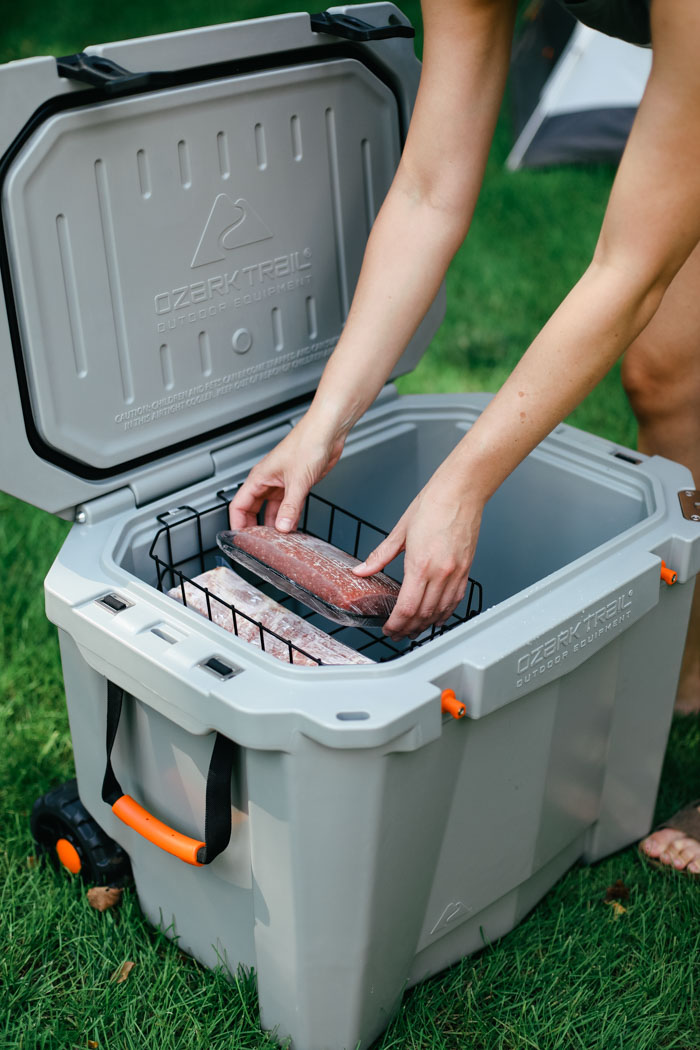 If you're a coffee drinker, tea drinker, lemonade drinker, or water drinker, you're going to love these stainless steel tumblers! They come in 6 different colors and are not only perfect for camping, but everyday drinking! I love bringing a hot cup of coffee along with me to my workout in the morning in one of these tumblers!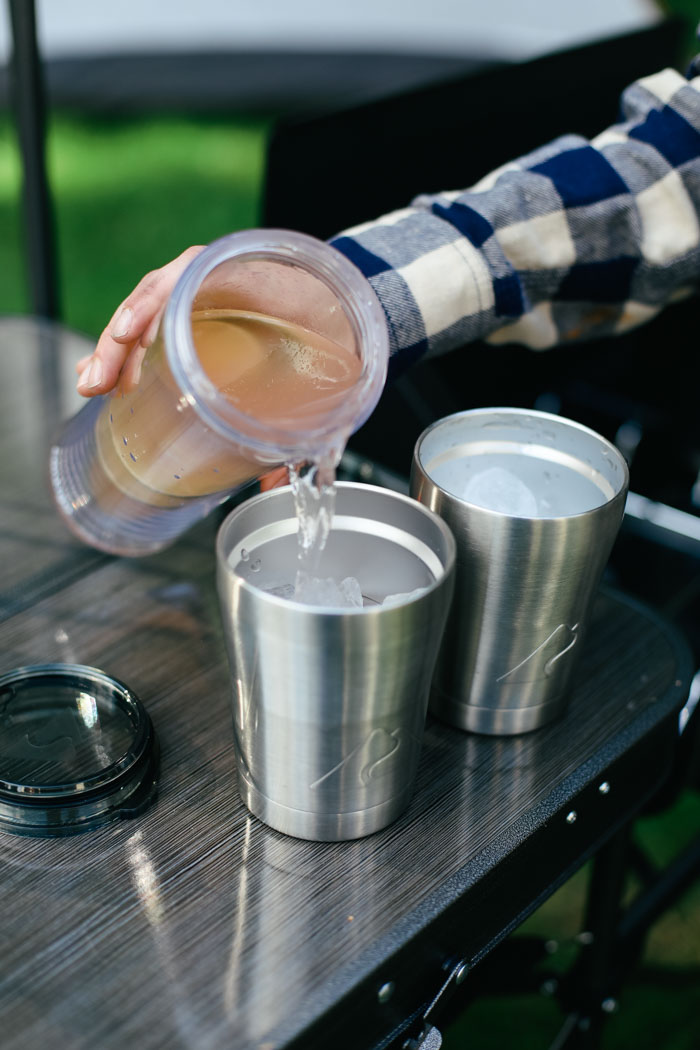 This lightweight camp stove is such a great thing to have if you're camping without electricity because it's fueled by propane. It has built-in wind guards to keep the flame strong, even during bad weather conditions. There are 2 stainless steel burners which are ideal for serving a crowd and guess what? It fits perfectly on the Ozark Trail Camp Kitchen Table. Together these two make a killer combo for camping or tailgating!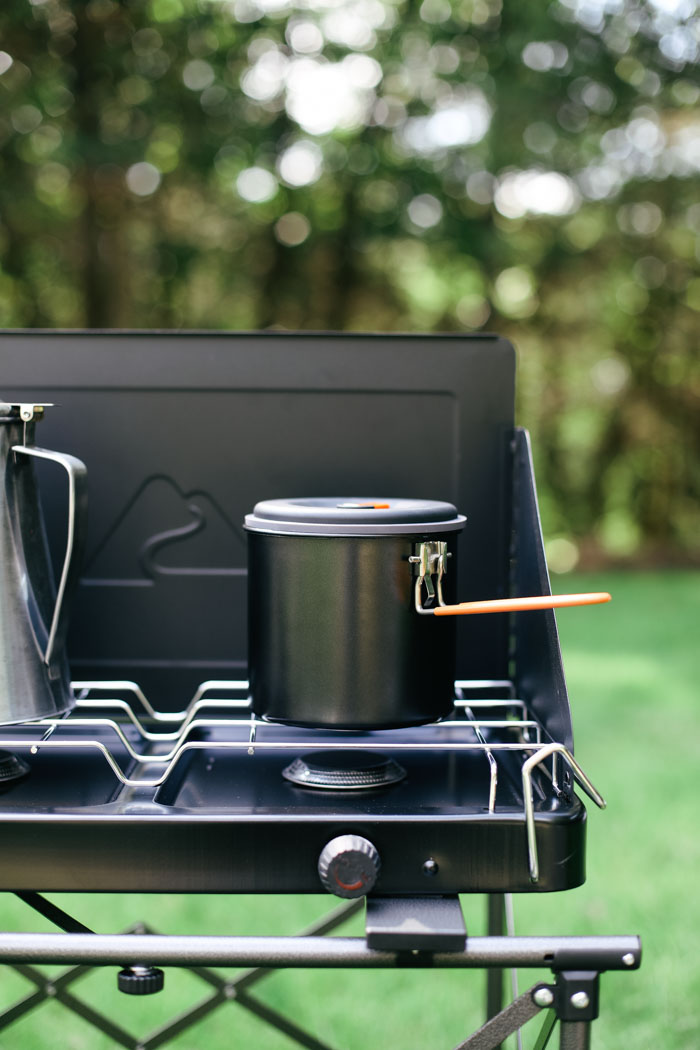 9 Camping Hacks You Can't Live Without
Now, check out 9 of our best camping hacks that we take with us during every camping trip. If you've got any hacks up your sleeve, feel free to leave a comment below!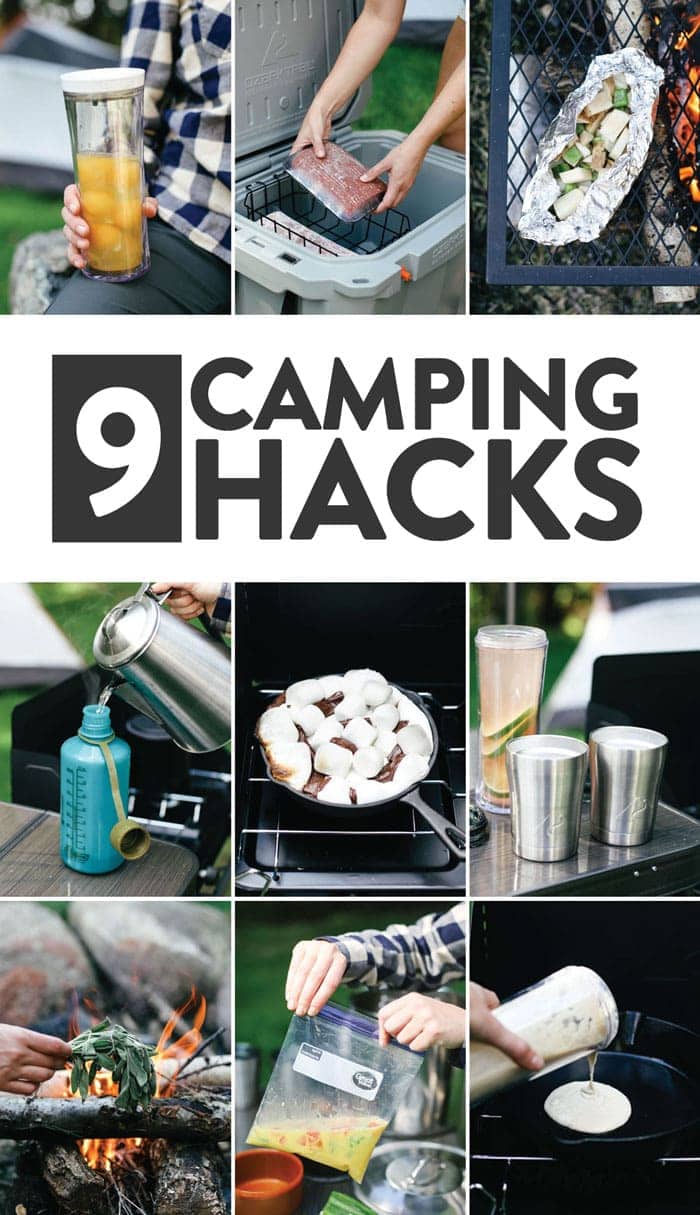 1. Eggs in Water Bottle
There is nothing like making eggs over the fire when you're camping because you just can't beat the smokey flavor of eggs cooked over a campfire. This camping hack makes it easy to bring your favorite breakfast food with you when you camp. All you have to do is crack your eggs into a water bottle for an easy way to transport eggs into the wild. You won't have to worry about egg shells breaking as long as you twist your water bottle cap on tight. Make sure you eat your eggs on the first two days of your camping trip and you should be good to go. If you need some recipe inspiration, check out our stuffed breakfast peppers, omelettes, or an easy hash which can all be made on the campfire.
Water bottle recommendations: Ozark Stainless Steel and Contigo Shake-and-Go (pictured)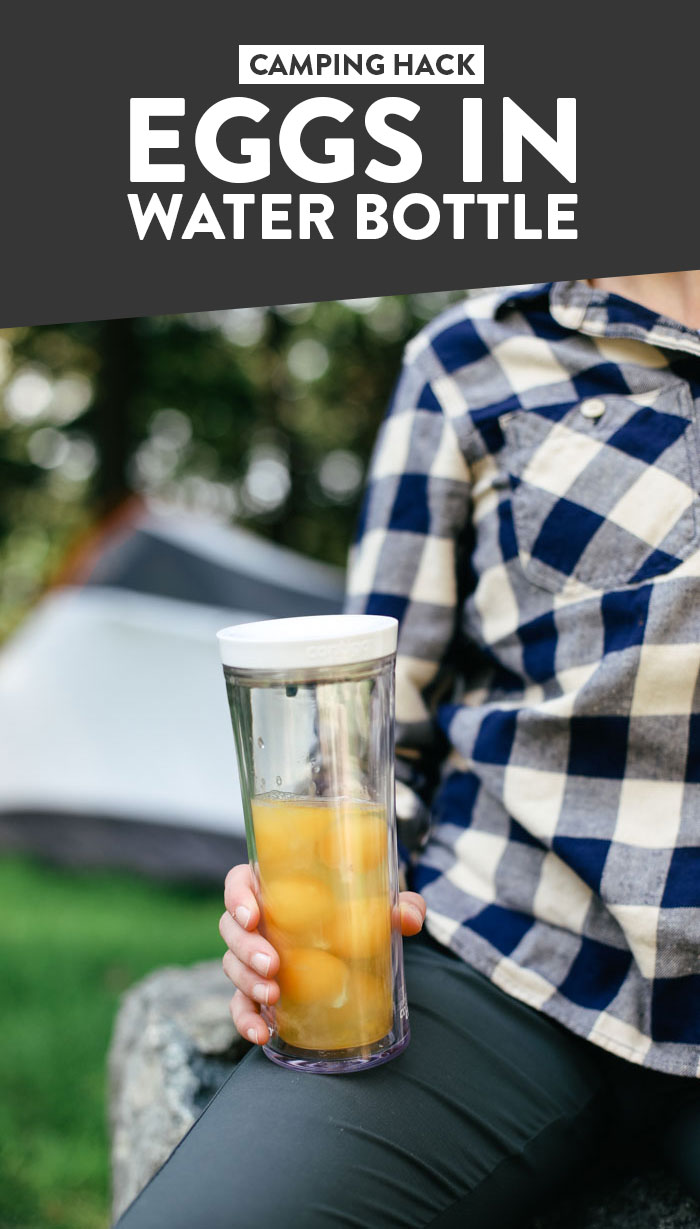 2. Premixed Drinks in Tumbler
Do you want to bring your favorite cocktail or mixed drink with you camping? Well, you're in luck! Pre-mix your favorite mixed drink into a water bottle for a packable and easy drink option for your trip. The best part of this camping hack is that you don't have to bring individual bottles of liquor, bitters, fruit, or mixers. Pull out your water bottle and pour a mixed drink for everyone in their own personal tumblers for a fun camping cocktail hour! Try mixing one of our favorite Fit Foodie cocktails like our Spicy Grapefruit Margaritas, Cucumber Melon Ginger Punch, or Raspberry Ginger Mojitos!
Tumbler recommendation: Ozark 10 oz. Tumbler (pictured)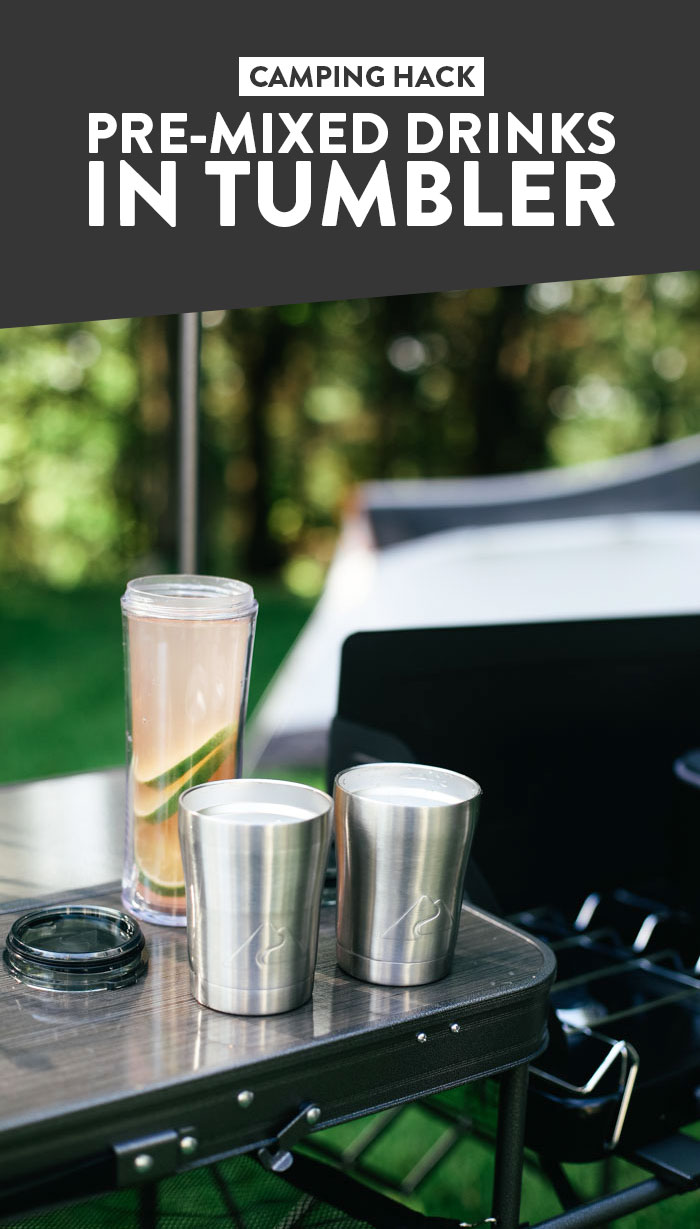 3. Frozen Meat in Cooler
Freeze your favorite meat and bring it with you on your next camping trip! It is a great way to keep any other ingredients you bring with you cold for an extra day while bringing a great source of protein with you camping at the same time. The trick is to plan out your meals so that you can grill your meat the first night you camp. It will be perfectly thawed by the time you set up camp!
Cooler recommendation: Ozark Trail 60 Qt. High Performance Rolling Cooler (pictured)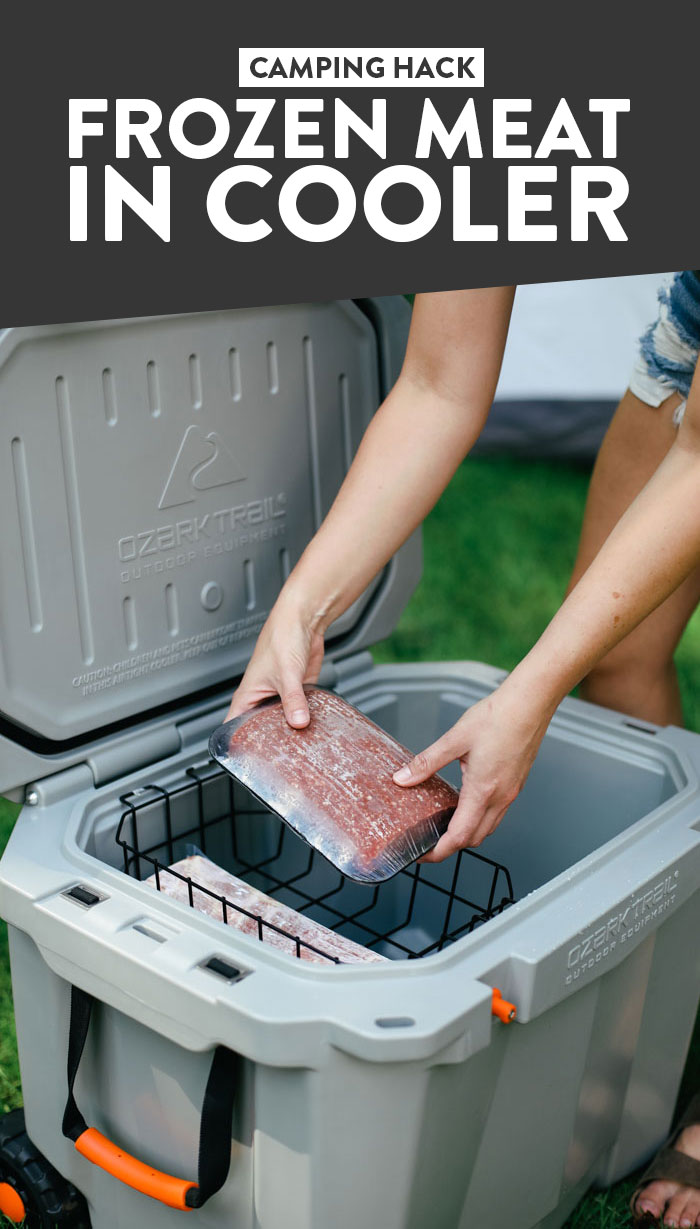 4. Nalgene Sleeping Bag Heater
This camping hack will save your toes next time you camp when it's cold out! Boil a big pot of water (we used our Ozark Camp Coffee Pot) and fill your Nalgene (or any boil-safe water bottle) with boiling water and place your water bottle in the bottom of your sleeping bag. Ideally, you would stick your hot water bottle in your sleeping bag about a half an hour before bed so that when you climb into your sleeping bag, it is warm and cozy by the time you hit the sack! Make sure that you use a water bottle with a tight seal and that can withstand boiling water.
Water bottle recommendation: Nalgene Narrowmouth (pictured)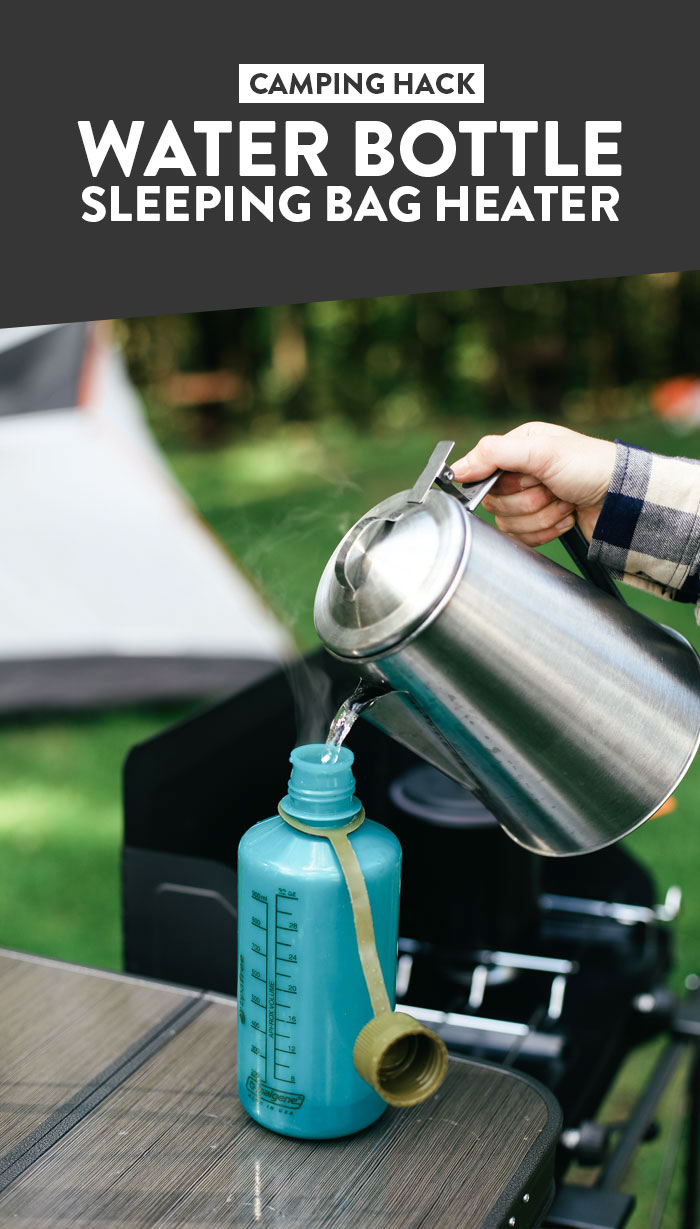 5. Foil Pack Meals
Foil pack meals are a great way to prepare your camp meals ahead of time! Do all of your chopping and slicing before you leave for your trip. Make your foil pack meals and pack them in your cooler and you're ready to go. You can also chop all your ingredients, store them in bags, and prepare your foil packs right before you throw them on the fire. We absolutely adore our Ozark Portable Camp Kitchen Table for meals like this. Give Fit Foodie's Foil Pack Grilled Red Potatoes or Foil Pack Peach Cobbler a try. Otherwise, choose your favorite veggies, meats, cheeses, or you can even try a foil pack dessert!
Camping grate recommendation: Heavy Duty Camp Grill (pictured)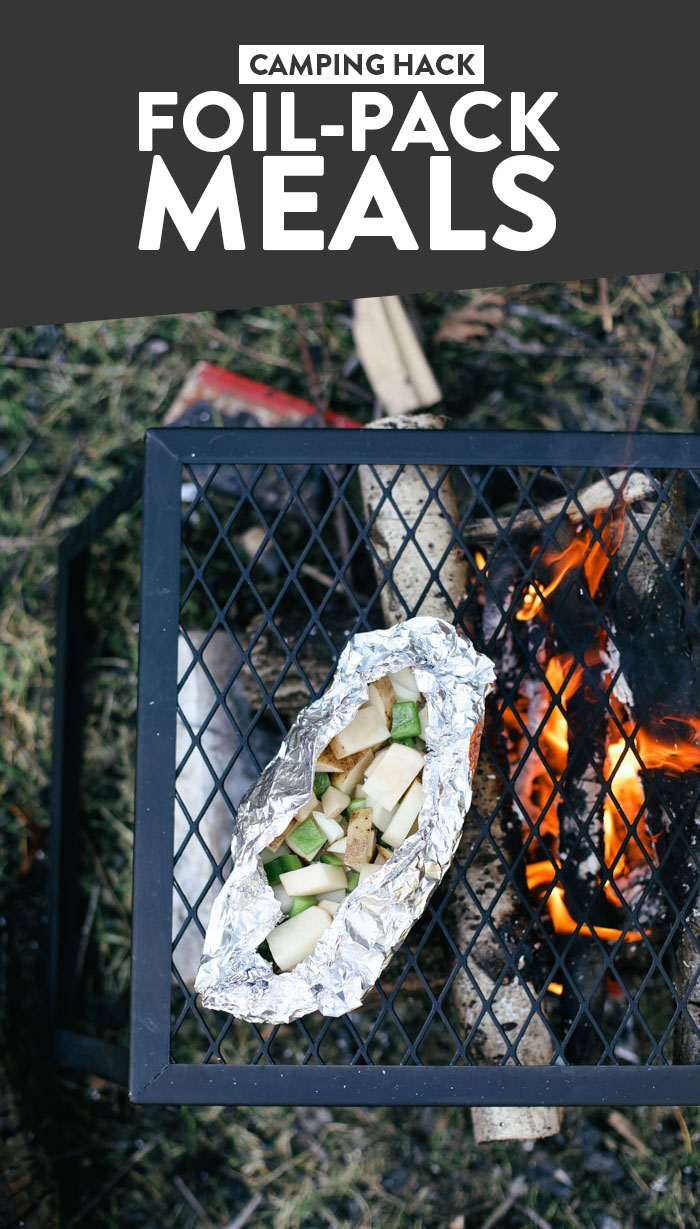 6. Cast Iron Dessert (S'mores Pie)
Up your s'mores game with this delicious campfire dessert! A twist on the traditional s'mores, this s'mores pie allows you to dip graham crackers right in a gooey pie made of marshmallows and chocolate. Line the bottom of your cast iron skillet with marshmallows and then break a chocolate bar (we used dark chocolate) into small chunks and stick them in between the marshmallows. Place over the fire or your camp stove and cook until the marshmallows are gooey and browned. Allow to cool for a few minutes before dipping graham crackers in. Enjoy!
Camp stove recommendation: Ozark 2-Burner Camp Stove and Ozark Trail 3 Piece Seasoned Oil Cast Iron Skillet Set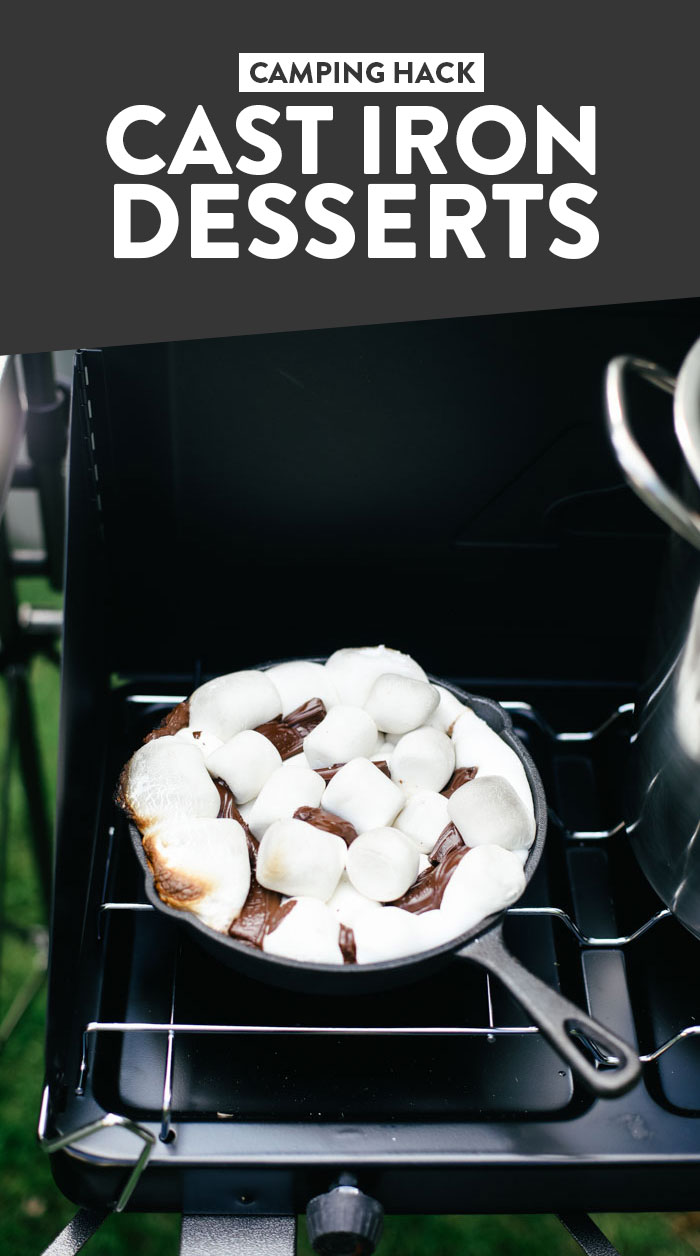 7. Pre-Made Pancake Mix in Tumbler/Water Bottle
Another camping game changer using a water bottle! Bring along a just-add-water pancake mix on your camping trip. When you're ready for a delicious and fun breakfast, measure your dry pancake mix and place it in a water bottle with a tight seal. Add the amount of water it calls for and shake until fully mixed. Then simply pour into your pan or cast iron skillet to whip up these pancakes right at your campsite. This can be done over the fire or using your camp stove.
Product recommendations: Ozark 2-Burner Camp Stove (pictured), Ozark Trail 3 Piece Seasoned Oiled Cast Iron Skillet Set (pictured), and Contigo Shake-and-Go Water Bottle (pictured)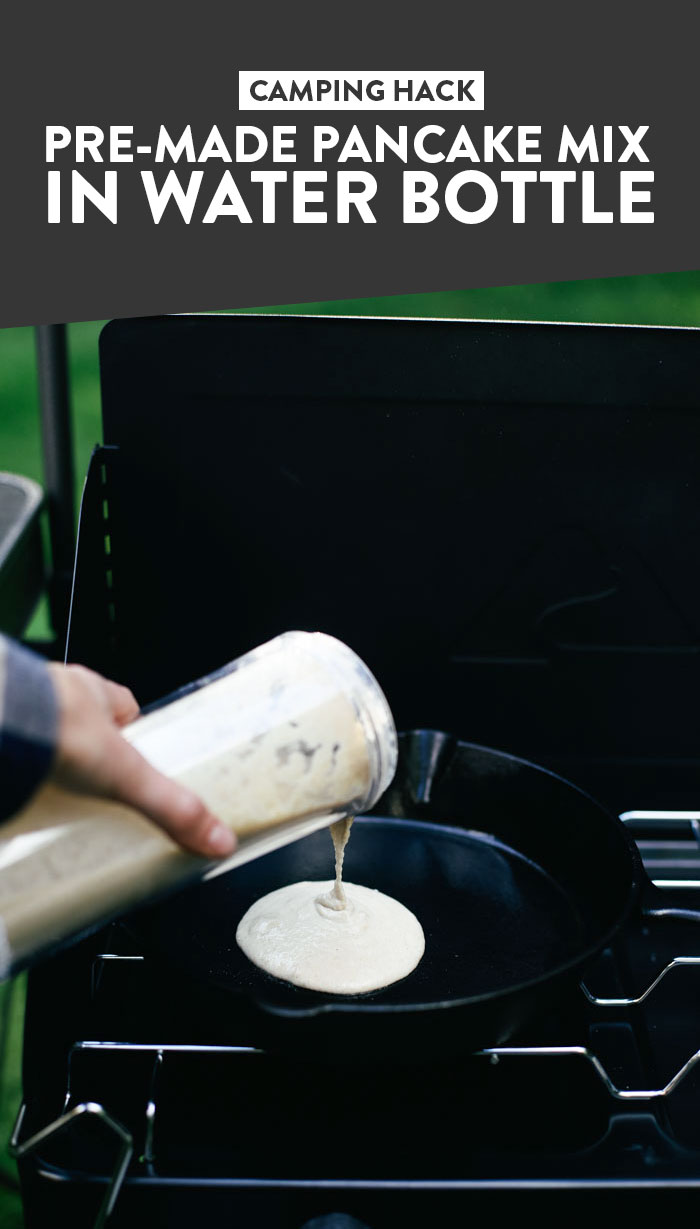 8. Bundle of Sage – All-Natural Mosquito Repellent 
Fresh sage is a natural mosquito repellent and will bring not only a great scent to your campsite, but repel bugs from the general vicinity around your campfire. Simply bundle fresh sage with twine or string and place atop a log on your fire, making sure to keep it out of the coals and direct flame for a slow burn. You can find fresh sage in the herb section of the grocery store and keep it in your cooler until you're ready to bundle and burn it.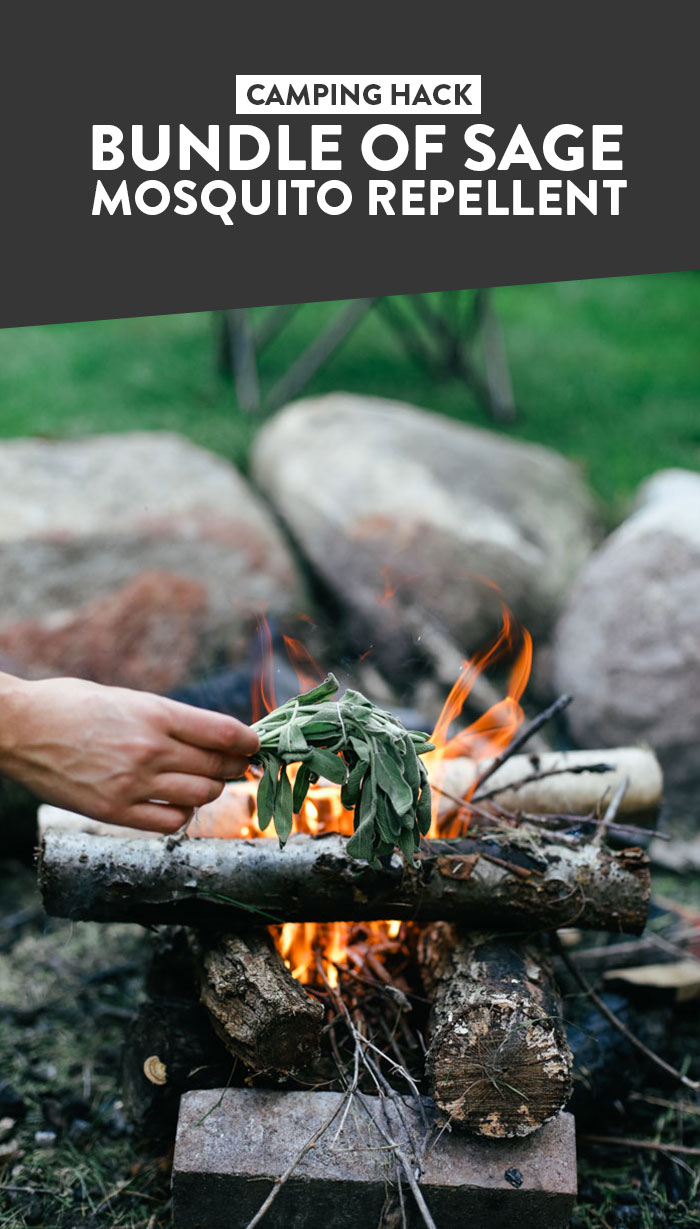 9. Campsite Omelette Bar
Think you can't make a delicious breakfast over the campfire or camp stove? Think again! This campsite omelette bar is one of our favorite camping hacks because it's so delicious and so easy. All you need are your eggs in a water bottle, veggies of your choice, cheese and Ziploc bags. We love prepping all of these ingredients on our Ozark Portable Kitchen Table (it's great for chopping and meal-prepping!). Simply pour raw eggs (we usually do 2 per person) into a plastic bag and add the omelette ingredients of your choice. Write your name on the outside of the bag with a permanent marker to avoid mixing up the omelettes you're making. Next, boil water in a large stockpot over your Ozark Camp Stove and once the water is boiling, turn the heat off. Place omelette baggies into the water, cover, and let cook until the eggs are firm (about 15 minutes). The time will vary depending on how large your omelettes are.
Gear recommendations: Ozark Portable Camp Stove, Ziplock bags, and large stockpot
BONUS: Frozen Gallon of Water
A frozen gallon of water will last so much longer as an ice pack in your cooler than traditional ice packs or ice cubes. Plus, you can drink the water when it's fully melted. A total win for a weekend camping trip where you don't need to carry your cooler too far to get to your site.
This post is sponsored by Walmart and SheKnows Media. I was compensated and all opinions are my own. Thank you for supporting Fit Foodie Finds.