Meal Prep is all about organization and multitasking life, so we have put together a guide to meal prepping in 2018 which includes the meal prep essentials we stock up on for a swift and stress-free meal prep.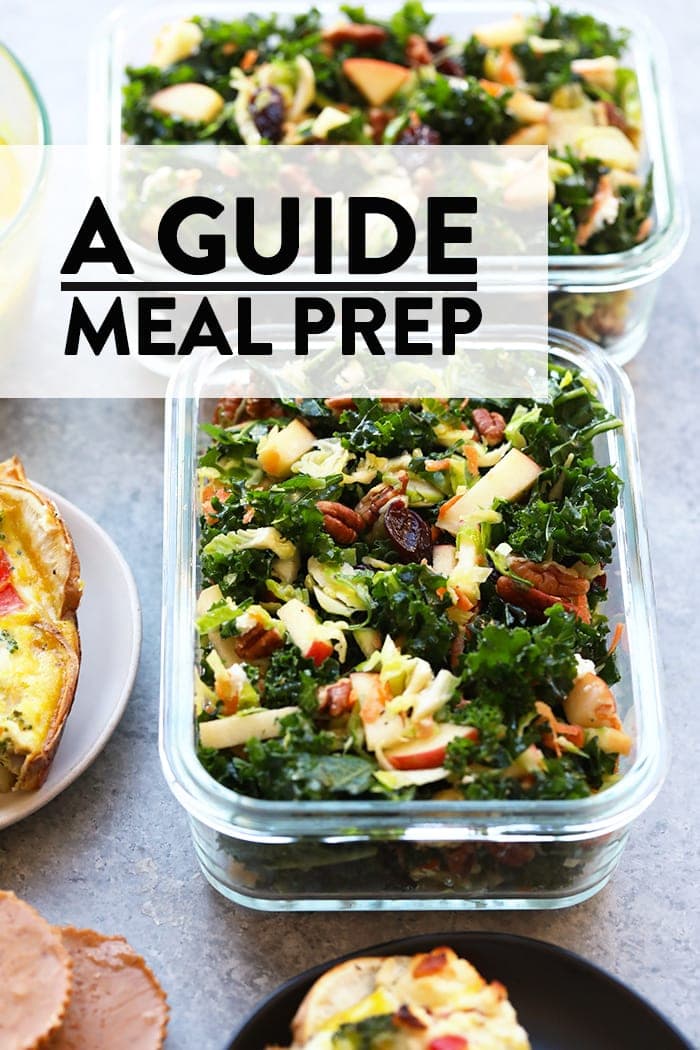 If meal prep is on your list of New Years Resolutions: 1. Woohoo!  2. This post is for you! OR If you are someone that hasn't thought about incorporating meal prep into their life (yet) this guide is also for you and a great place to get that meal prep ball rollin'. I've said it before and I'll say it again,  meal prep is my life saver. Here at Fit Foodie HQ we always have the fridge stocked with meals and snacks that we eat throughout the week. We love to eat out, but after those long work days or when we are craving a little extra something (aka one of our delish ball recipes) between meals, our food/snacks are already prepped and ready to go.
Since we get so many questions about our favorite meal prep essentials, We have put together a guide to meal prepping which includes list of all of our favorite meal prep essentials so you can start the year off meal-prepping like a champion!
Meal Prep Kitchen Essentials
Having the right tools in the kitchen makes cooking easier and more fun. Sometimes I hear talk about how much work it is to meal prep and cook during the week. Well, let me tell you, having an Instant Pot has made pulled meat easier and faster and the same goes for my Ninja. Making soup and smoothies is a breeze. I could go on and on about my favorite kitchen gadgets. Instead, I've rounded up 10 of my favorites!

Instant Pot from Amazon// Hamilton Beach Programmable Slow Cooker from Target // Anova Sous Vide from Amazon // Glass Meal Prepping Containers from Amazon// Cuisinart Hand (Immersion) Blender from Crate and Barrel // 10-Piece Mixing Bowl Set from Crate and Barrel //Le Creuset 10-Qt. Pot from Crate and Barrell// Measuring Cups from Target// Ninja Food Processor from Amazon // Ceramic Knives from Chef's Foundry
If we could choose just one item off that list, we'd have to go with our brand new meal prep containers. We actally just ordered two different sets– a 5-pack of these glass meal-prep containers and a 3-pack of these 3-compartment meal prep containers. So many of you have made these two investments and loving every second of them.
Meal Prep Pantry Essentials
Our pantry is always stocked with staple ingredients that we use multiple times a week. It's always nice to have pantry items on hand if we want to make chili, cookies, casseroles, and everything in between! If your travel schedule is anything like mine, then you know how important pantry essentials can be. We've rounded up our most important pantry items that aren't necessarily perishable, but that we can keep on hand at all times. TIP: Buy in bulk to save money on your staple items! Here's what we always have on hand:
Cheese
Dates
Eggs
Greek Yogurt
There you have it! As you head into 2018, make meal prepping, dinner time, snacks and everything in between easier and more fun! Last, but not least, here are some of FFF's favorite meal prep meal recipes to make 2018 the tastiest you've ever had!