If you are looking for a cute romper or jumpsuit for a special occasion or just for a new piece to add to your closet, look no further! We found three rompers that fit us like a glove. Whether you have a long torso or short legs, we found a jumpsuit for you!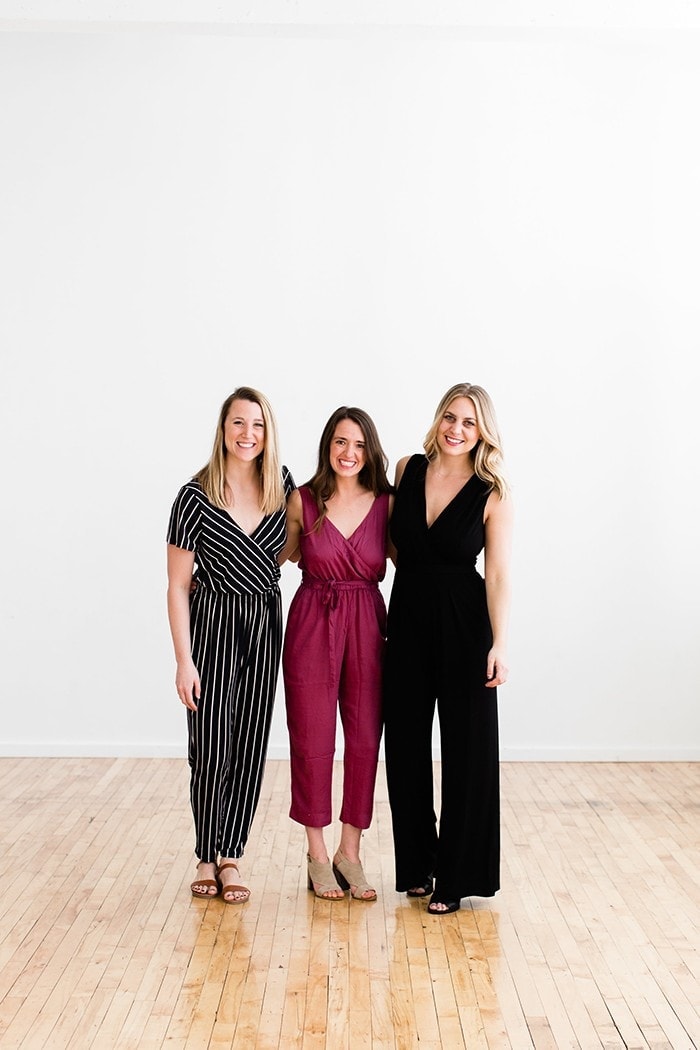 Ok, ladies. Let's talk about rompers and jumpsuits. Our team is made up of women who have slightly different body types. Emily and I are both 5'8″ with super long torsos and Linley is short with longer legs than her torso. Even with different body types, all three of us LOVE a good romper. Why? Becuase it's one a done. You don't have to waste time trying to match a top and bottom when you can just throw on a onesie and walk out the do. So…we set out to find rompers and jumpsuits for all different occasions –> casual, wedding, and just for fun!
We wanted to find the best jumpsuits for all women but realized that because all bodies are different, romper and jumpsuit shopping is a very personal thing. SO, each one of us wrote about our favorite jumpsuit or romper right now. Check out reviews below on why we love it and what our body type is like. Our hope is that you find a jumpsuit or romper that you feel confident in and can rock all year long!
First, I thought we'd share our favorite places to find us a good jumper. Check it.
Best Stores for Rompers
Praise be to the Trunk Club Gods for sending me this gem of a jumpsuit. I am actually OBSESSED. At first, I wasn't sure about the jersey fabric, but man this thing fits me like so perfectly. I got a size medium and absolutely love where it hits me in the waist. I'm 5'8″ish with a VERY LONG TORSO. I've got a giraffe torso and super short legs, so keep that in mind when you're buying for yourself.  So, for those that do have a long toros…YOU NEED THIS. This jumpsuit is so perfect paired with a chunky pair of black leather heels (here's a pair similar to what I'm wearing) and you bet your ass I'll be wearing this to one or two wedding this summer! If you follow me on IG, you know I'm in to the wide leg fit right now and these fit the bill. It dresses up so nicely and FITS MY BOOBS. I'm actually not wearing a bra in this photo (I'm a 34DD) and it's very freeing.
Buy this Faux Wrap Jersey Jumpsuit in either black or navy while it's in stock (it goes quick and they just restocked) for $99!

This. Jumpsuit. Rules. I've had such a hard time jumping on the jumpsuit bandwagon because most are too short in both the torso and the legs. And sizing up always just makes them wider. Anyone else besides Lee and I have this same issue?!
I'm wearing a medium in this
Navy and White Stripe Surplice Jumpsuit from Express
and it's definitely long enough in both the torso and the legs. I'm 5'8'' with a B cup and can wear this without a bra or with a lacy bralette that shows a bit in the back. The fabric is light and comfy and I LOVE the open back.
One thing I would say is that this can definitely be dressed up or down, but looks a little too short on me in the legs with wedges on, so I'm sticking to flats (
here's
the one's I'm wearing!). Add a jean jacket for a cool summer evening and be on your way, my friends! Oh, and
it comes in black
, too 🙂

If I had to choose three words that would describe this jumpsuit it would be comfortable, adorable, and soft like butter. Ok, well that is definitely more than three words and I threw a phrase in there, but really, this jumpsuit is one of my favorite pieces right now! Before I chat more about why I love this jumpsuit let's chat about my body type. I am 5′ 3″, I have a C/D cup, big hips, short legs, and a short torso. When I am shopping for rompers and jumpsuits the issue I usually have is finding jumpsuits that are too long in both the legs and the torso. No one wants a super saggy crotch or pant legs that cover your feet.
One of the main reasons I love this jumpsuit is that I don't have to wear a bra with it! NO, I'm not joking. The wrap of this jumpsuit holds the girls in perfectly. However, if I was going to speed walk in this thing or if I wanted to make sure that a nip slip didn't happen on the dance floor, the straps are perfect for any bra. Other than the fact that this jumper is CRAZY soft, I also love that it isn't too long for me. I ordered a petite and it hits me where it hits normal tall people. Wins all around for this Berry Colored Wrap Jumpsuit from Abercrombie & Fitch. I plan to wear it on many dates this summer AND to a wedding. P.S. It comes in black, too!

Our Favorite Jumpsuits + Rompers
We pulled some of our favorite jumpsuits and rompers that are on our wishlist. Check it!