Cauliflower is the vegetable of 2017! Here are some Amazing Recipes with Cauliflower that you HAVE to make.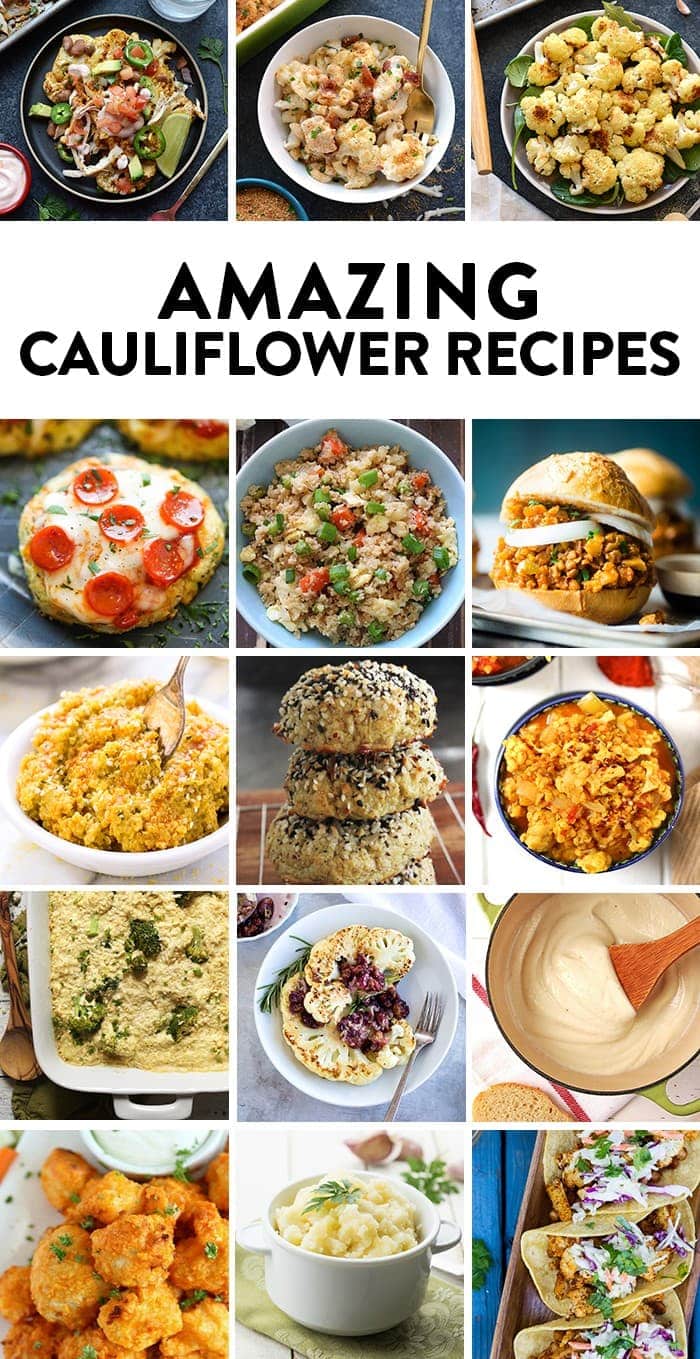 This week is one of my favorite kinds of work weeks. It's a planning week for Team Fit Foodie. I love sitting down, looking at trends, and strategizing recipes and content. It's the best! How are we already talking about spring recipes, though? We have been brainstorming for our third annual Oatmeal Week, Valentine's Day recipes, spring salads, healthy desserts, and everything in between. I have found that planning out recipes months in advance is the best for Fit Foodie Finds. Of course we leave a little room for last minute recipes and travel, but the planning that goes into a content calendar is designed so that we aren't doing everything last minute.
The past couple years we have doneOvernight Oat Week (one of my favorite weeks of the year), where we highlight different ways you can prepare overnight oatmeal—-> 8 Ways to Eat Overnight Oats + Overnight Oats – 6 Ways . This year we are morphing Overnight Oat Week into an all round Oatmeal Week by incorporating different ways to prepare oats in general (in a slow cooker, over the stove, overnight oats, steel cut, old fashion, etc.). Seriously, you've never seen two girls get more excited about oatmeal then when Linley and I were brainstorming recipes for this year. We are looking at the last week in February are even more excited than last because we're partnering with Better Oats. Yippie.
As for February + March + April recipes, we are trying to incorporate more fresh salads, healthy desserts, and travel posts. We LOVE to hear from all of you and what you want to see on FFF, so if there is anything you are dying to see on the site this spring, let us know in the comments of this post. Make sure to keep your eye open for a healthier cupcake, a tasty buffalo chicken salad, mini taco cups, and so much more (including CAULIFLOWER).
That's right. FFF is going to be using a lot more cauliflower this year.
Cauliflower is the vegetable of the 2017, if you ask me. I mean, seriously…watch out kale! This mini white tree is making a come back. It is SHINING as a base as cauliflower rice for Buddha bowls, it's the new tortilla chip when it comes to nachos, and it is simply damn good roasted. It absorbs whatever flavor it's seasoned with and is delicious cooked or raw. Raw cauliflower is a perfect match for any tasty dip, like Fit Foodie's Lemon Garlic Hummus and Roasted Red Pepper Hummus! I mean…this vegetable kicks butt.
Not to mention it has quite a few health benefits. Cauliflower is..
rich in antioxidants
known to fight inflammation
aids in decreasing your risk for heart disease
good for digestion
helpful in balancing hormones
a great low-carb substitute
It is an all star. We are saying hello to 2017 and all of the possibilities there are to use cauliflower this year. There are quite a few delicious cauliflower snacks, lunches, and dinners floating around already, so I thought I'd gather them all in one place. You are welcome. Cheers for cauliflower and ENJOY.