This apple cake recipe goes perfectly with a cup of coffee for breakfast or makes a great healthy dessert! Get out your chai spice, apples, and applesauce and you'll have a delicious healthy apple cake ready to eat all week long.
We know you guys love simple cake recipes because some of our most popular recipes on FFF are our carrot cake recipe and this pumpkin sheet cake.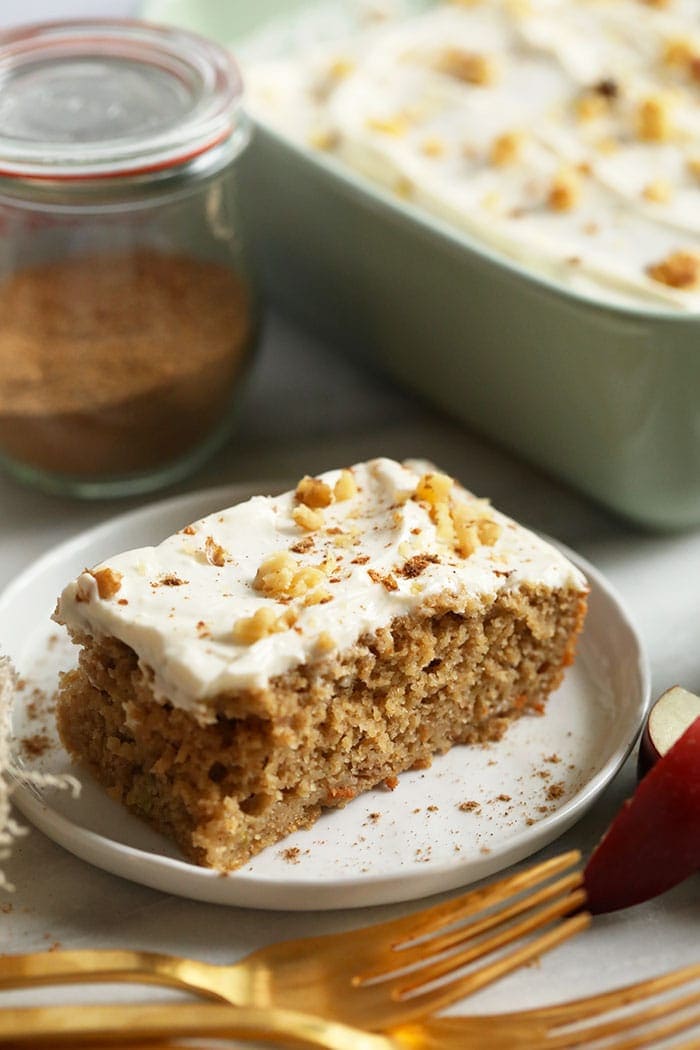 The Secret to the Perfect Cake
The baking world is a crazy world. There are so many different techniques, opinions, and secret ingredients. Here at Fit Foodie Finds, we try to make baking accessible to the everyday person.
That means that our baked goods are generally made with ingredients you have heard of or are in your pantry already. You can also usually mix up all of our baked good recipes in one bowl.
If you are the kind of person who likes to mix their wet and dry ingredients separately and then combine, go for it! Otherwise, usually you can throw all the ingredients for our baked goods in a bowl, mix them up, and they are delicious (and very forgiving).
This apple cake recipe is forgiving, moist, and delicious! The secret to its deliciousness is applesauce and SHREDDED APPLES. We are obsessed with shredded apples in our baked goods.
Why? Because adding shredded apples adds moisture and natural sweet goodness to whatever it's in.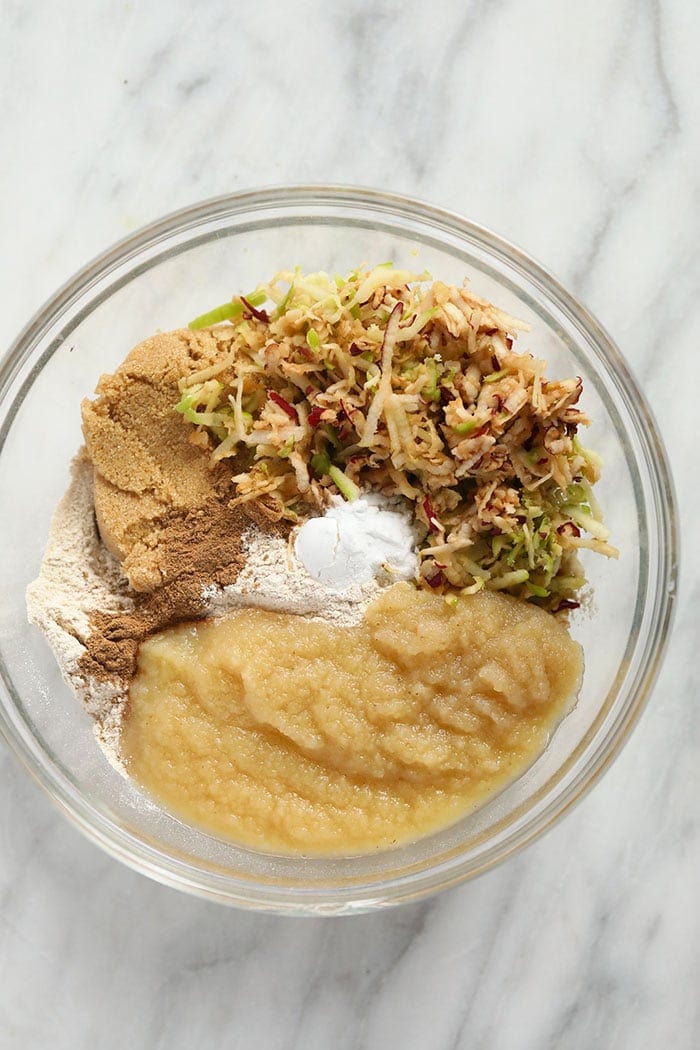 Ingredients You'll Need
We kept it simple and sweet (quite literally) with this apple cake recipe. The goal of this cake was to make it sweet enough so people could make it for a dessert, but not too sweet that you couldn't have it for breakfast.
Here are all of the ingredients for this apple cake.
Apples (we used granny smith apples + )- we used more of a tart apple for this recipe. If you are in a pinch and have a different type of apple, feel free to substitute.
Applesauce- the applesauce in this recipe adds moisture and extra apple flavor.
White Whole Wheat Flour– our favorite brand of white whole wheat is King Arthur Flour. You can use white all purpose flour as a substitute.
Chai Spice– nothing screams fall more than chai spice. We use our homemade chai spice mix to flavor this apple cake. We highly suggest making your own chai spice, but store bought will do, too.
Brown Sugar (or coconut sugar)– we love using brown sugar in cake recipes.
Eggs– be sure to use large eggs for this recipe. If you are looking for an egg alternative, try using a homemade flax egg.
Greek Yogurt– using a little Greek yogurt in a baking recipe adds a bit of protein and reacts with the baking powder and baking soda to make a fluffy cake.
Vanilla– Don't skip the vanilla extract.
Baking powder + baking soda- we use the perfect combination of baking powder and baking soda in this apple cake recipe.
Almond milk- a little bit of almond milk helps to thin out the batter.
Maple Syrup– a bit of maple syrup compliments the apple and the chai spices used in this recipe.
Coconut Oil- the fat or oil in this cake is coconut oil.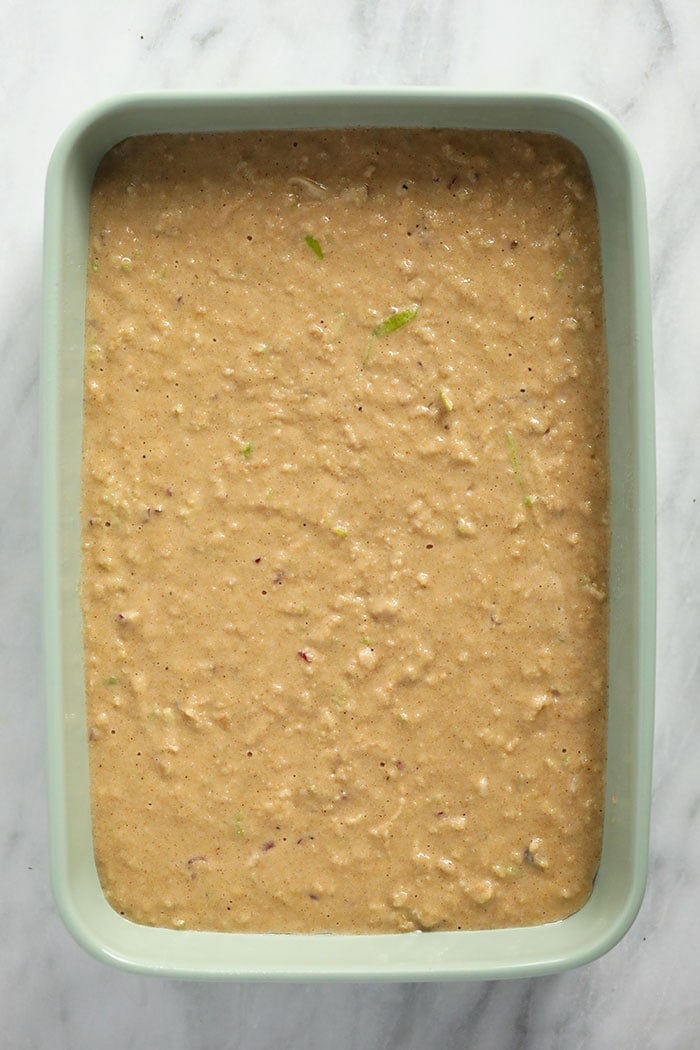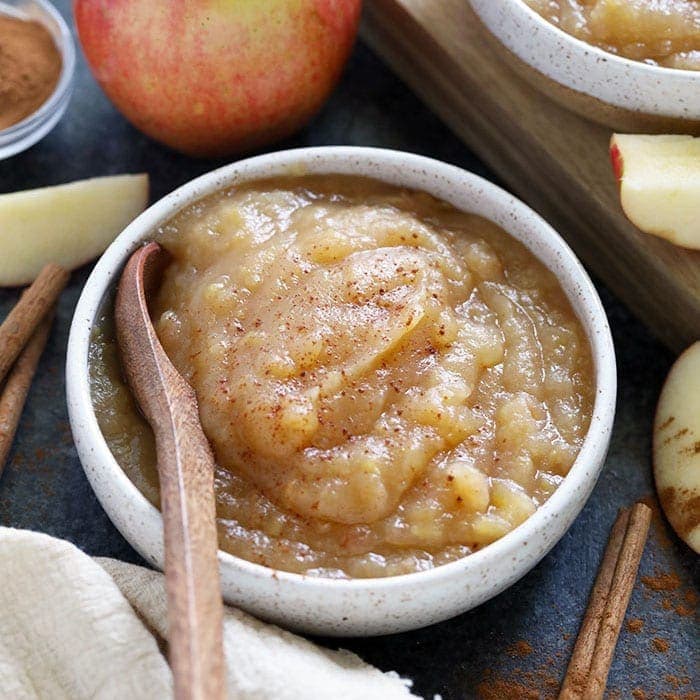 Homemade
Applesauce
Want to make homemade applesauce to use in this apple cake? Go for it! This Instant Pot applesauce is packed with flavor and easy to make.
Make a Batch!
Everything You Need to Know
What is the best apple to use in cake?
The key to a good apple cake is to use a variety of apples. We like to use a combination of tart apples like granny smith and a sweet apple-like gala.
However, if you have apples in the refrigerator, use those. Any variety of apple will do, it will just slightly change the flavor of your cake if you use a different apple every time.
What spices do I use in apple cake?
Whipping up an apple cake is the perfect opportunity to use those spice mixes that are in your cupboard that you don't usually use! We use our DIY Chai Spices in this apple cake and it is amazing! Because it is a chai mix, it does have a spicer flavor because of the ginger!
However, if you have a baking spice mix like pumpkin spice in your cupboard, use it! As long as it has a combination of the spices below, you're golden!
Cinnamon
Cloves
Allspice
Ginger
Cardamom
Nutmeg
How do I know when my apple cake is done?
You will know when your apple cake is done if there is no jiggle when you shake the pan! Or if you do the tride and true toothpick trick. Stick a toothpick in the middle of your cake and if the toothpick comes out clean, the cake is done!
Can you freeze apple sponge cake?
Yes, you can freeze apple sponge cake. Let the cake cool completely before cutting it into pieces and then wrapping those pieces in plastic wrap. Place those pieces in the freezer!
You could also freeze the whole pan of cake if you have room in your freezer. Just be sure to let the cake AND the pan cool completely before covering it with plastic wrap and setting it in the freezer.
Do do not recommend freezing apple cake with the frosting. Make the frosting right before serving after the cake has thawed out.
How long does apple cake keep?
Apple cake can keep for up to 7 days if you store it in an airtight container in a cool and dry place!
What do you top apple cake with?
We top this apple cake with a delicious healthier cream cheese frosting! The cream cheese frosting is a delicious mixture of cream cheese, greek yogurt, and maple syrup!
If you aren't feeling a cream cheese frosting, below are some great alternative toppings for this apple cake recipe!
Whipped cream
Nut butter
melted butter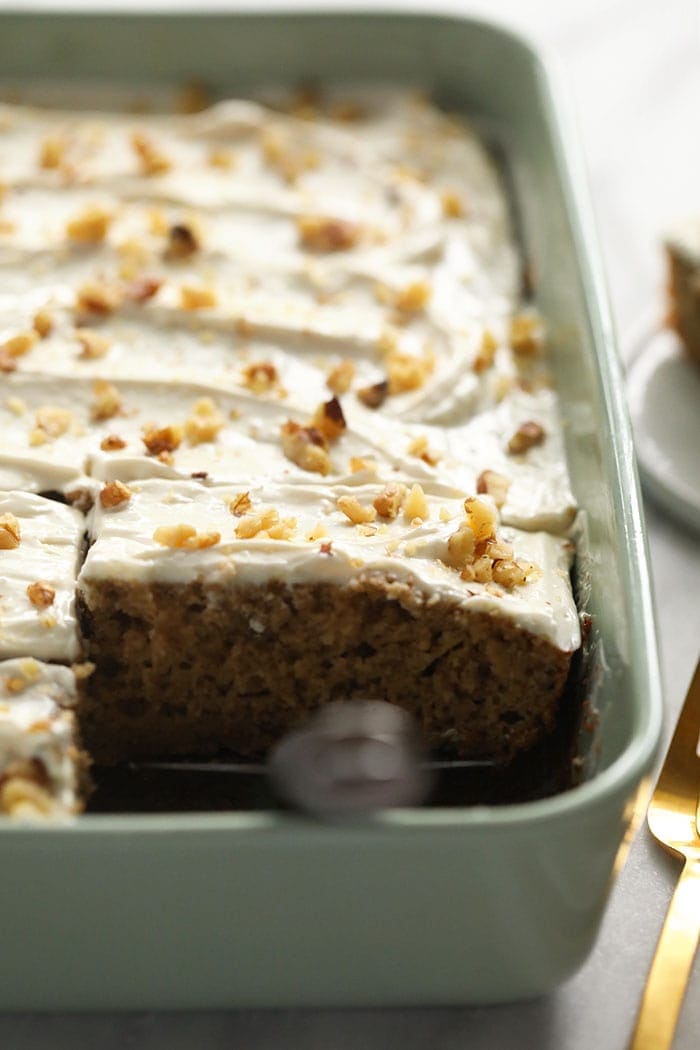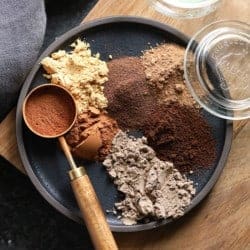 How to Make
Homemade Chai Spice
Make a double batch of these chai spices to add to your favorite u003ca href=u0022https://fitfoodiefinds.com/category/recipe/season/fall-season/u0022u003efall recipesu003c/au003e all season long.
Make It NOW!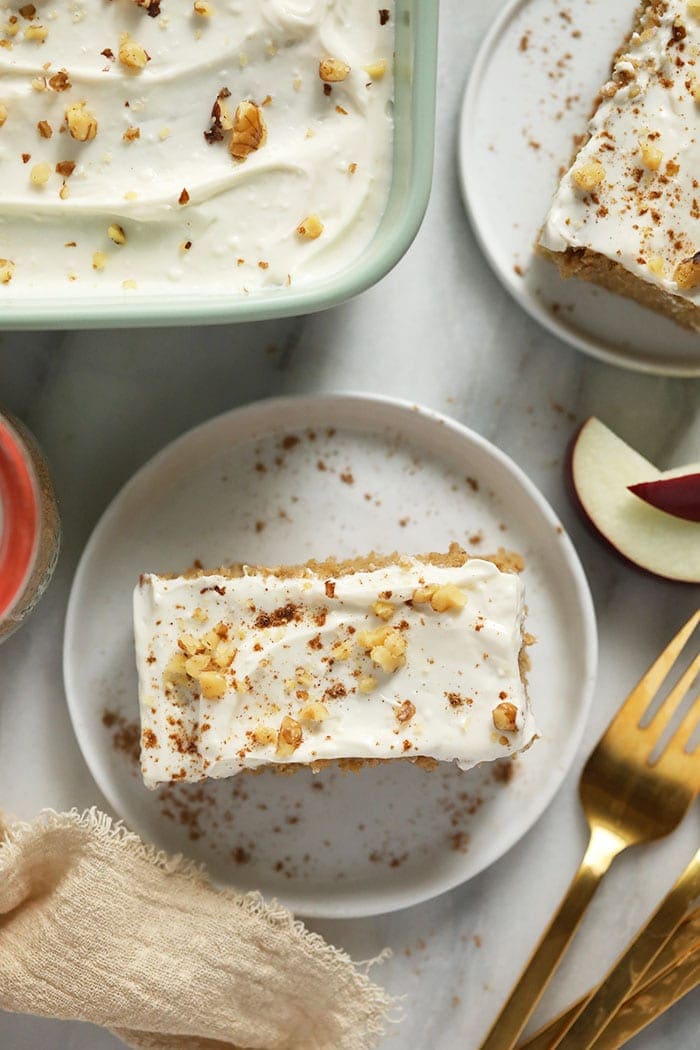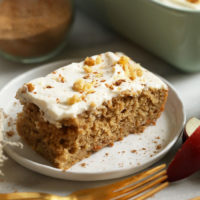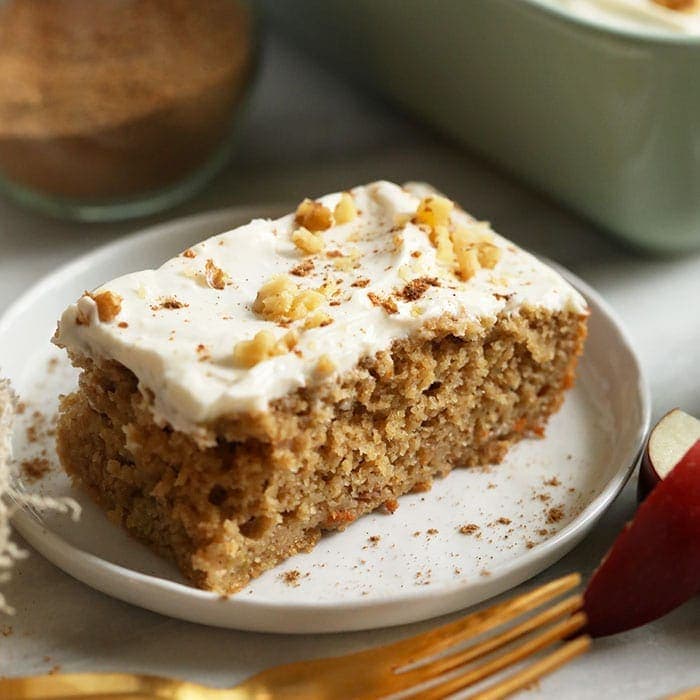 Apple Cake with Cream Cheese Frosting
This apple cake recipe is flavored with homemade chai spices and topped with a creamy cream cheese frosting.
Ingredients
Wet
1

cup

shredded apple

~ 2 small apples, moisture removed

1

cup

unsweetened applesauce

2

large eggs

¼

cup

nonfat Greek yogurt

1

teaspoon

vanilla extract

1/2

cup

unsweetened almond milk

1/2

cup

maple syrup

2

tablespoons

melted coconut oil
Frosting
1/2

cup

fat-free cream cheese

room temperature

1/2

cup

nonfat

plain Greek yogurt, almost room temperature

2

tablespoons

maple syrup
Instructions
Begin by preheating the oven to 350ºF and greasing an 8x12-inch pan.

Next, place all dry ingredients into a large bowl and mix well. Set aside.

Combine all wet ingredients (except for the coconut oil) in a separate mixing bowl. Whisk wet ingredients together until combined and then slowly add dry ingredients to wet ingredients.

Finally, fold the coconut oil into the batter.  Mix until combined but be careful to not over mix.

Pour the batter into the pan and place the apple cake in the oven and bake at 350ºF for 33-37 minutes.

While the cake is baking, place all of the ingredients for the cream cheese frosting into a bowl and use an electric mixer to whip all the ingredients together until the frosting is smooth.

Remove the apple cake from the oven and let it cool completely before frosting the cake.

Sprinkle the cake with your favorite chopped nut and enjoy!
Tips & Notes
pan size: if you use a different size pan, make sure that you adjust bake time! A thinner cake will take less time to bake and a thicker cake will take more time to bake.
Nutrition facts
Calories:
258
kcal
Protein:
10
g
Fat:
7
g
Fiber:
3
g
Sugar:
23
g