If you want to take your casserole game up a notch, try serving this Asian Stuffed Pepper Steak Quinoa Casserole to the family. It's high-protein and loaded with veggies!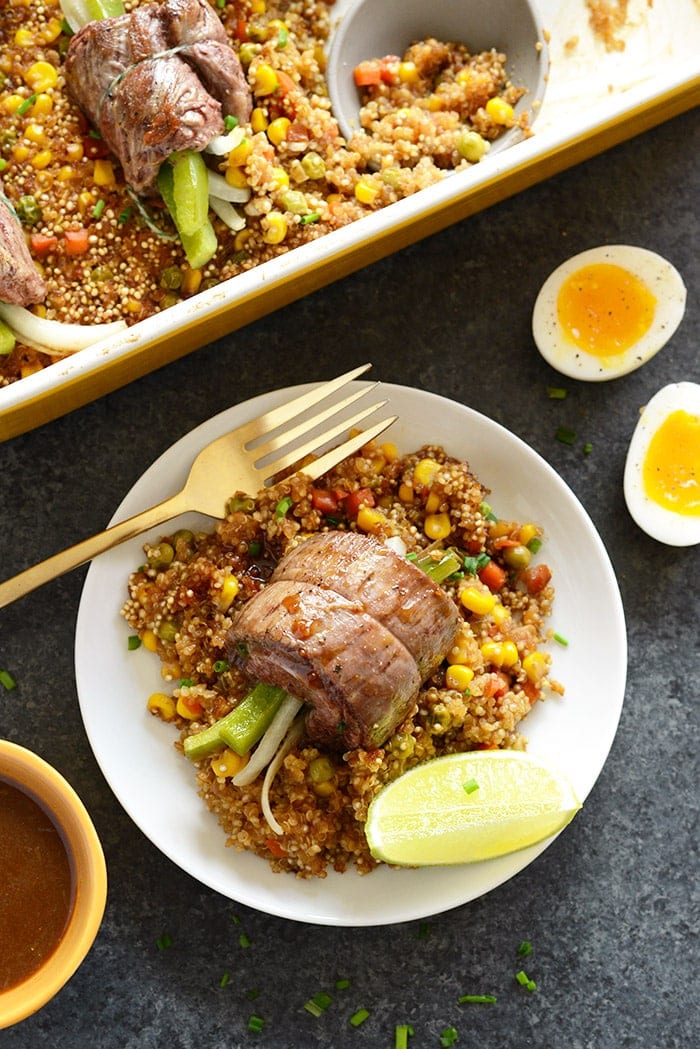 You guys, it's the last day of Casserole Week 2016. Can you believe it? I waited so long for this week to happen and it ended in a flash and let me tell you, we are ending the week with a BANG. This casserole recipe is flippin' amazing…even ask Linley. She offered to test it about 100 times just so she could make it again and again. Before I gush over this casserole, I just have to tell you…Fit Foodie Finds could never do these themed weeks without all of YOU. My favorite part of this job is hearing from you guys, getting photos of recipes that you've tried, and being a part of this crazy community. Themed weeks are fun because its not just me. All of YOU get to participate as well. It started with Overnight Oat Week back in 2015 and early 2016, then ball week with The Healthy Maven, and now casserole week. Who knows what will be next. So, hey…I love you guys and that's just that.
Now, it's Asian Stuffed Pepper Steak Quinoa Casserole time.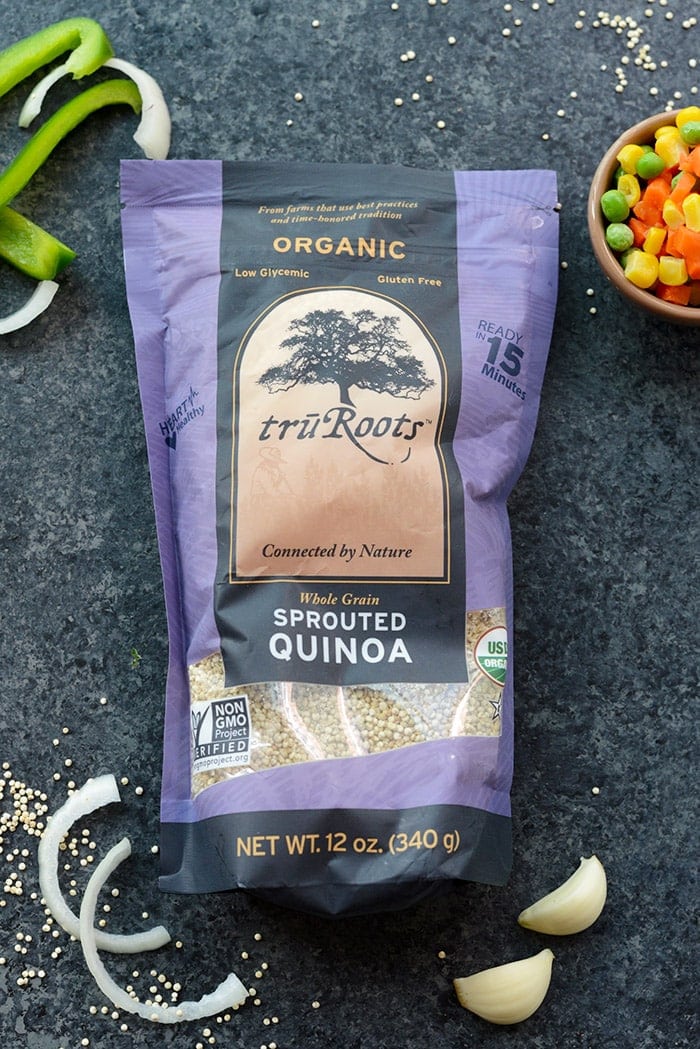 This is one epic casserole. We're talking quinoa "fried" rice on the bottom and delicious stuffed pepper steak on top. Sometimes stir fry can be a pain in the butt because you have to have multiple things going at once. Fried rice on one burner, meat on another, and veggies on another. NOT THIS CASSEROLE. Everything is made in one pan and it's super simple! Don't be intimidated on how beautiful or time intensive this meal looks…it's easy peasy lemon squeezey. Just make sure you have a meat tenderizer
and some
baker's string
. Those are key tools to stuffing your flank steak with sweet bell peppers and onion.
For those that are vegetarian or don't eat red meat…the quinoa "fried" rice is amazing on it's own, so give that a try before you pass this one up! Again we opted for truRoots' sprouted quinoa
 because it's just fabulous and cooks to perfection every time. It's always a draw to whether i'm going to choose quinoa or brown rice for a dish like this. It depends on the mood I'm in and for this I really wanted some good texture and a grain that was going to soak up all that delicious flavor.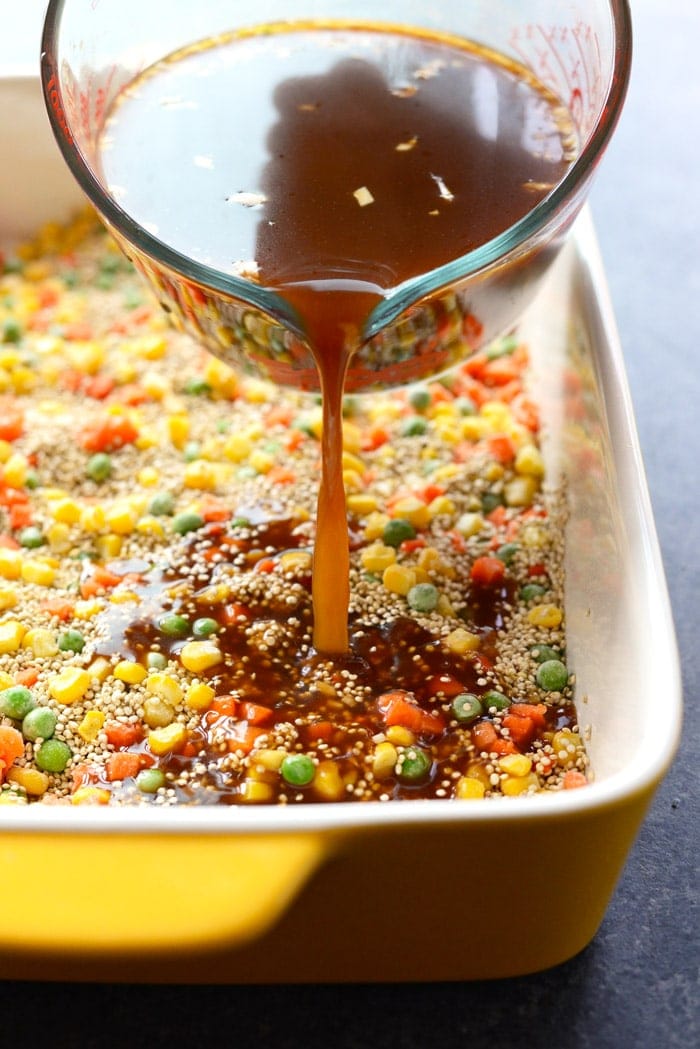 The gist of what you'll need:
truRoots Sprouted Quinoa
frozen veggie mix
flank steak
peppers
onions
spices
sauce
What's great about this recipe is you can make modifications without throwing off the whole recipe. If you like your food a little less salty, substitute the broth with water. If you like your steak well done rather than medium rare, sear the steak a little longer on each side. Make it your own, my casserole party people.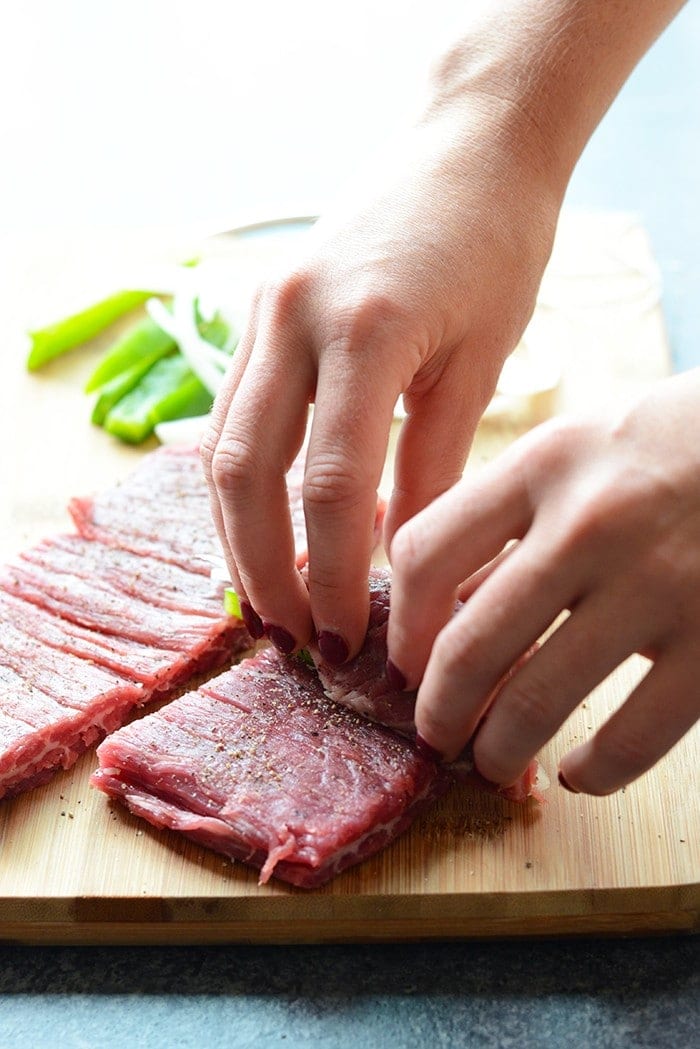 The star of this recipe is definitely the stuffed pepper steak. So, once you mix up the sauce and plop the quinoa and the veggies in the oven for the first 30 minutes, it's going to be time to pound the meat. Sometimes it can be a little intimidating, I get that…just make sure you have some parchment paper to set on top of the meat so your kitchen doesn't end up looking like the scene of a horror flick and then? Pound. It's helpful to have a ruler to measure the thickness of the meat, but as long as it's the same thickness all over (about 1/2 inch to 1 inch thick) and you can roll veggies inside of it, you're golden.
Then, all that is left is searing the steak ever so slightly and throwing them in the oven on top of that asian quinoa mixture (I'm salivating while I'm writing this) and then you wait.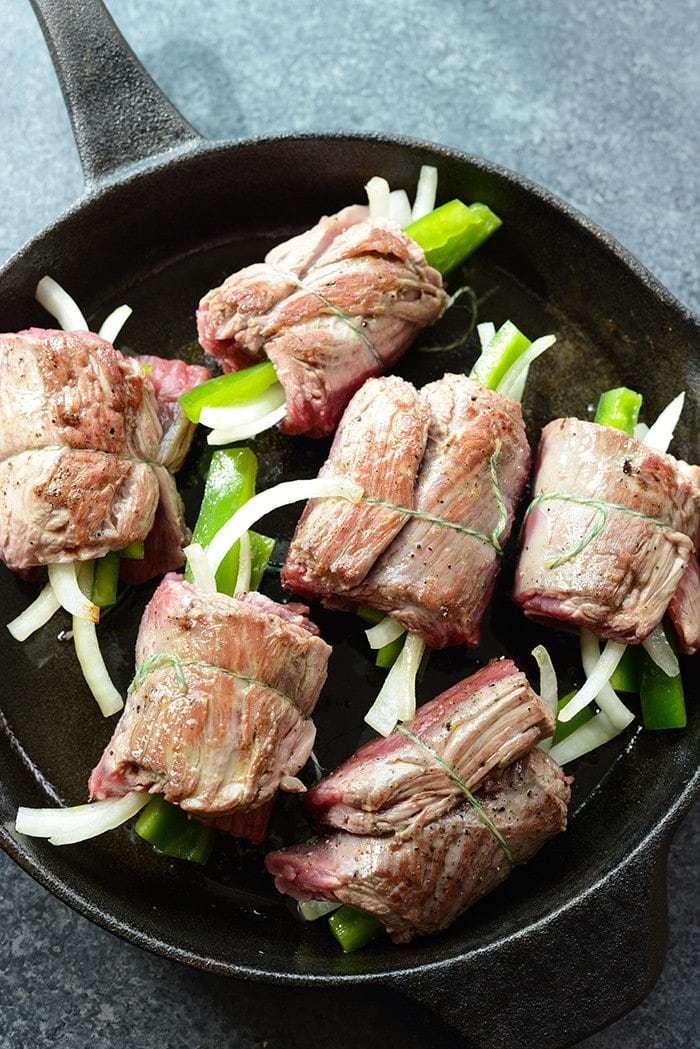 Lin and I tested this recipe on SO MANY PEOPLE. I must say it was the biggest hit with the men in our lives. My brother, Lin's brother, EVERYBODY'S BROTHER will love this dish (as long as they are carnivores, yo). Also, at the very last minute we thought….hey, a soft boiled egg would be very tasty on the side of this bad boy and since we couldn't "fry" an egg into the casserole, it was the cherry on top. Not only did it look good in the photo, but the egg…(if you can stand one more step in this recipe)…is absolutely divine.
Have fun with this recipe, everyone! It's a great one to end this wonderful week. Happy cooking!

STORAGE
Refrigerator: Store in an air tight container, such as a glass pyrex
, for  up to 5 days in the refrigerator.
Freezer: If you plan to freeze, we suggest baking this in a disposable/aluminum casserole dish
. Place a piece of plastic wrap on top of cooked, cooled casserole and press out all of the air. Then, wrap the entire casserole in tin foil and place in the freezer. Write the name and date of casserole on the tin foil. To reheat, take the frozen casserole out of the freezer and let thaw in the fridge over night. Either reheat single servings of the casserole in the microwave, or reheat the entire thing in the oven (we suggest 40 for 20 minutes).
PRODUCT FINDER
Looking for a specific truRoots product? Use their product finder feature on truRoots.com!
Casserole Week 2016 is in partnership with truRoots. I was compensated and all opinions are my own. Thank you so much for supporting Fit Foodie Finds and making this website (and my job!) possible! Don't forget to check out day 1, day 2, day 3, and day 4, and day 5!