With just 8 ingredients and 30 minutes, you can have yourself a delicious vegan dinner ready for the family. Try our avocado mac and cheese recipe for a healthy twist on classic mac.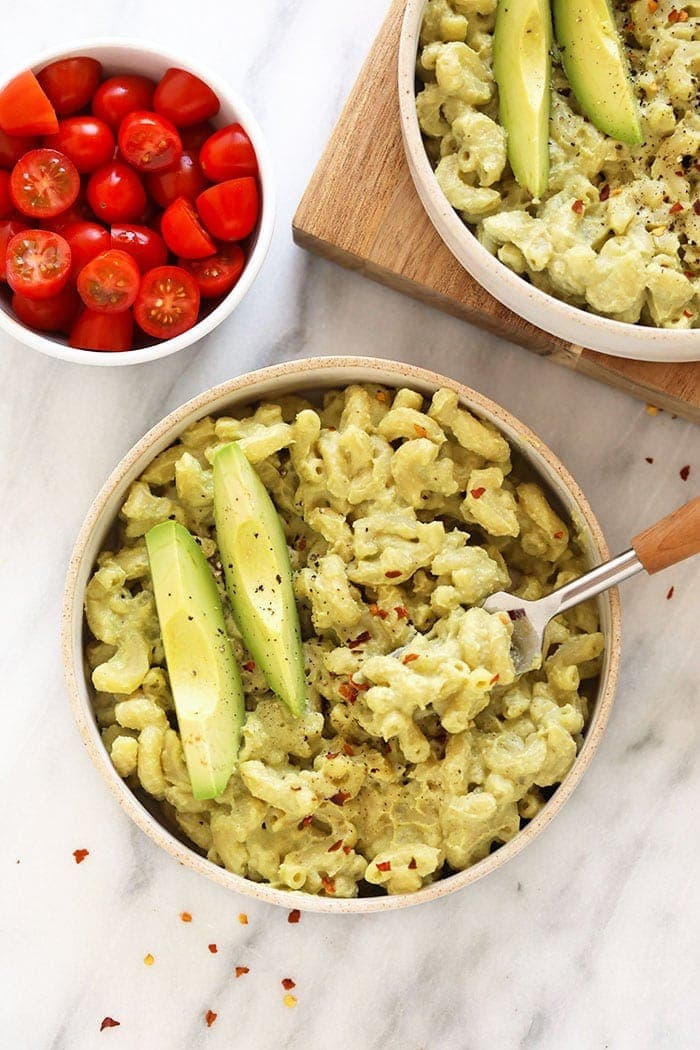 What is Avocado Mac and Cheese?
Who is ready for the ultimate vegan dinner recipe that is loaded with flavor and only requires 8 ingredients?! Squad, you are going to die when this avocado mac and cheese hits your lips. It's like guacamole meets vegan mac and cheese, but better…if it can get any better. Today we're going to walk you through how to make this 30-minute meal and give you some serving suggestions in case you're feeding a crowd!
Nutrition
Avocado mac and cheese is an excellent healthy dinner option for all…even the kiddos! This yummy meal is smooth, creamy, flavorful, and packed with nutrition.
Vegan: the avocado "cheese" sauce is vegan-friendly, made with a cashew base, fresh avocados, and a touch of nutritional yeast to get that cheesy flavor.
Gluten Free: if you choose to use gluten-free noodles then this recipe is a great gluten-free option for those that have to avoid wheat.
Healthy Fats: this recipe is obviously packed with healthy fats from the glorious use of avocados! Make sure to use a ripe avocado so that your sauce is as creamy as can be.
30-Minutes: that's right, all you need is 30 little minutes to whip up this dish. You'll be feasting in no time.
Low Carb Option: want to make this a low carb meal? You can totally ditch the noodles and drench your favorite vegetable in this sauce. I'm thinking cauliflower or broccoli.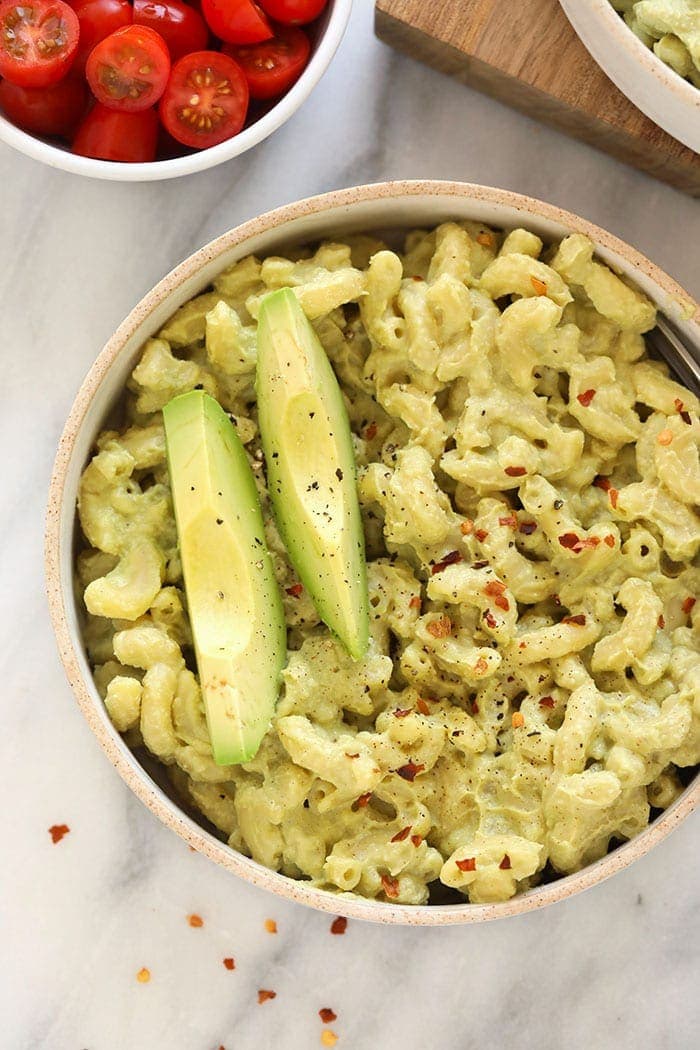 What You Need
In addition to your favorite noodle (yes, any noodle will do), you need 7 ingredients for the avocado "cheese" sauce. Lucky for you, this sauce is vegan, gluten-free, paleo-friendly, and sugar-free. SCOREEEEEE. Let's check out the ingredients below.
raw cashews
ripe avocados
nutritional yeast
garlic powder
apple cider vinegar
vegetable broth
salt
We have not tested this recipe specifically with any other nut, but if you have experience with nut-based sauces, do your thing, girl! Also, if you like spice, we suggest adding a teaspoon or two of your favorite vinegar-based hot sauce for a kick.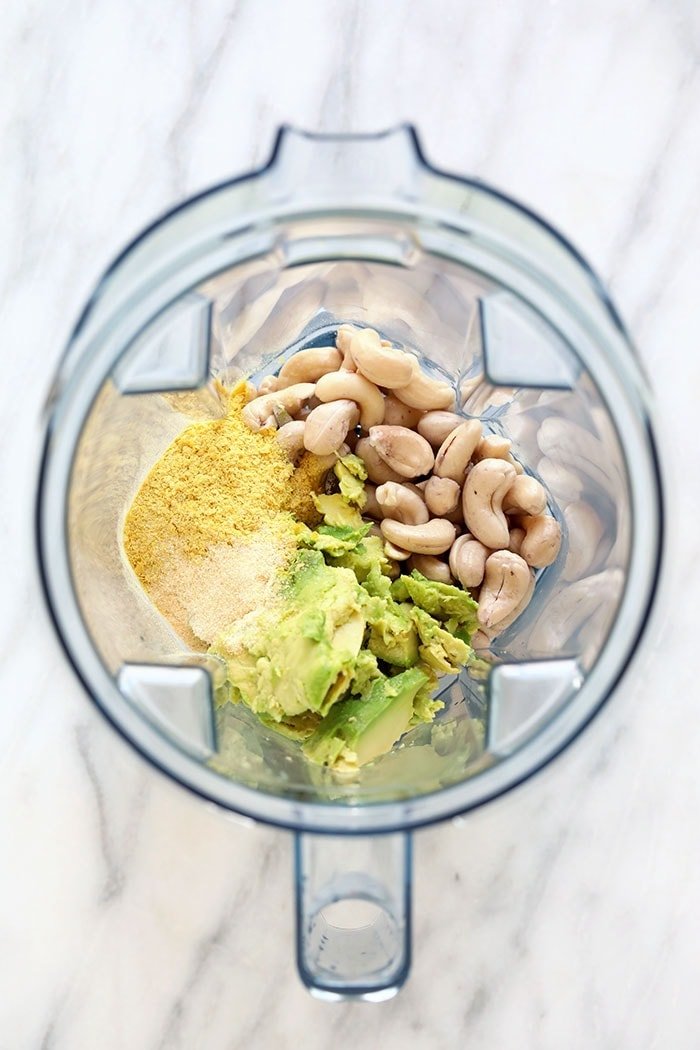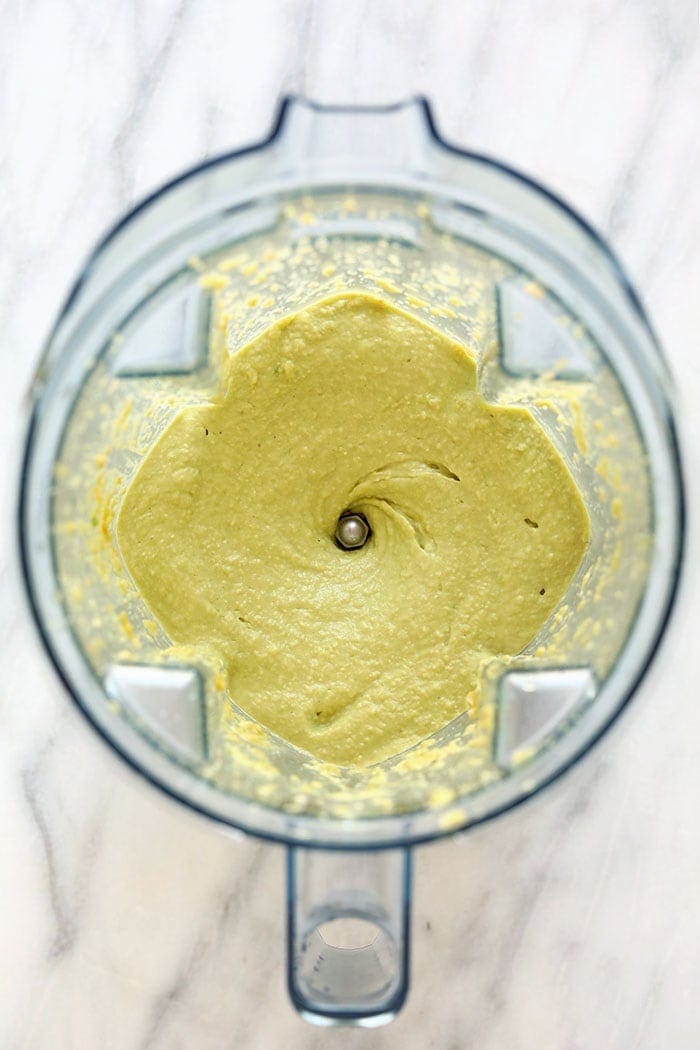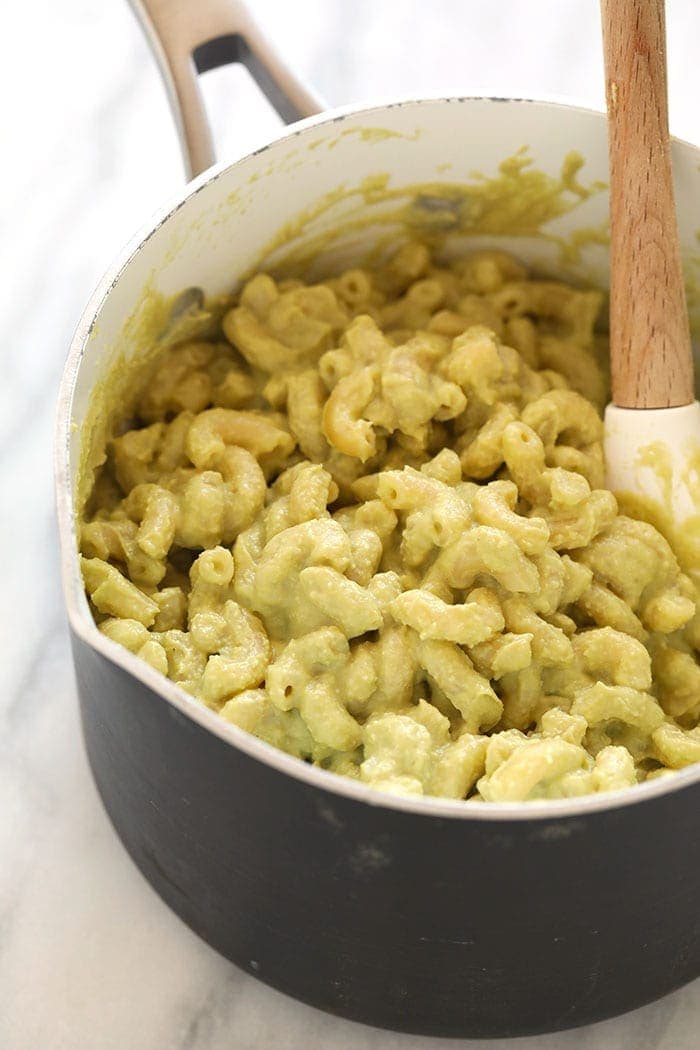 Serving Suggestions
Because this recipe calls for fresh avocados, we recommend eating your completed creation immediately. As you know, avocados begin to brown once they touch oxygen. We did find that if you do have leftovers, you should be good to keep this in the fridge for 1 night, but let's get real, it just better right when you make it. If you're looking to eat this mac as a side, here are a few entree options you could pair with it.
More Mac & Cheese Recipes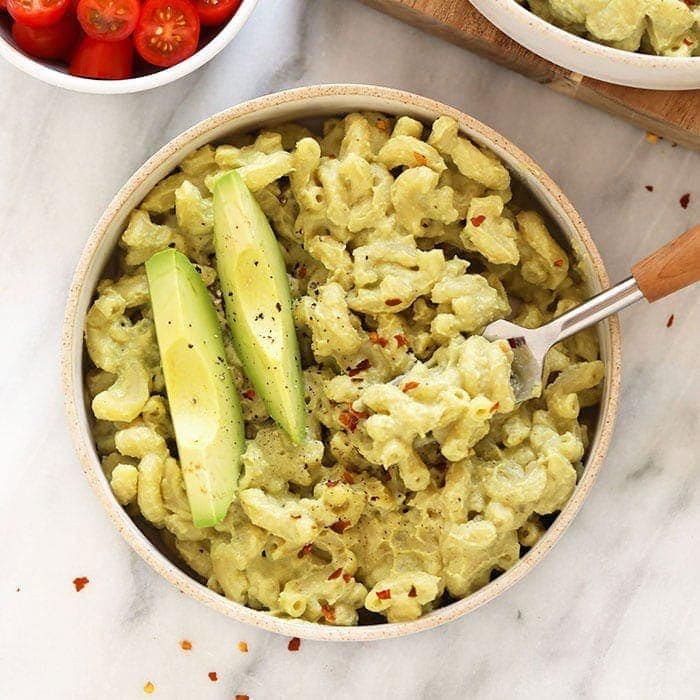 Vegan Avocado Mac and Cheese
With just 8 ingredients and 30 minutes, you can have yourself a delicious vegan dinner ready for the family. Try our avocado mac and cheese recipe for a healthy twist on classic mac.
Instructions
Flash boil cashews by bringing a small pot of water to a boil. Remove from heat and add cashews. Set aside and let cashews soak for at least 15 minutes.

Next, bring a large pot of water to a boil. Add noodles and cook until noodles are al dente. Strain noodles and set aside.

Next, make avocado "cheeze" sauce. Pit avocados and then scoop the flesh of the avocado out of the skin with a spoon. Place into a high-powered blender along with the soaked cashews, nutritional yeast, garlic powder, apple cider vinegar, vegetable broth, and salt. Blend until smooth. Depending on how thick you want your sauce, option to add more vegetable broth.

Finally, place noodles and avocado sauce into a large saucepan and heat over medium heat until warm. Stir frequently until all noodles are covered in sauce.

Top with red pepper flakes and enjoy!
Tips & Notes
Add more broth by the tablespoon until you reach your desired consistency
This recipe was updated and changed on April 26, 2019.
Nutrition facts
Calories:
495
kcal
Carbohydrates:
59
g
Protein:
17
g
Fat:
24
g
Fiber:
12
g
Sugar:
4
g