Sometimes I struggle because Blake is the kind of guy that would rather eat 2 giant steaks instead of having 1 steak and dessert. I'm the type of gal (the only type of gal!?! 😀 ) who would rather skip dinner all together and just eat dessert 😀
He doesn't really like ice cream…and cookies and cake aren't his thing….BUT apparently apricots are!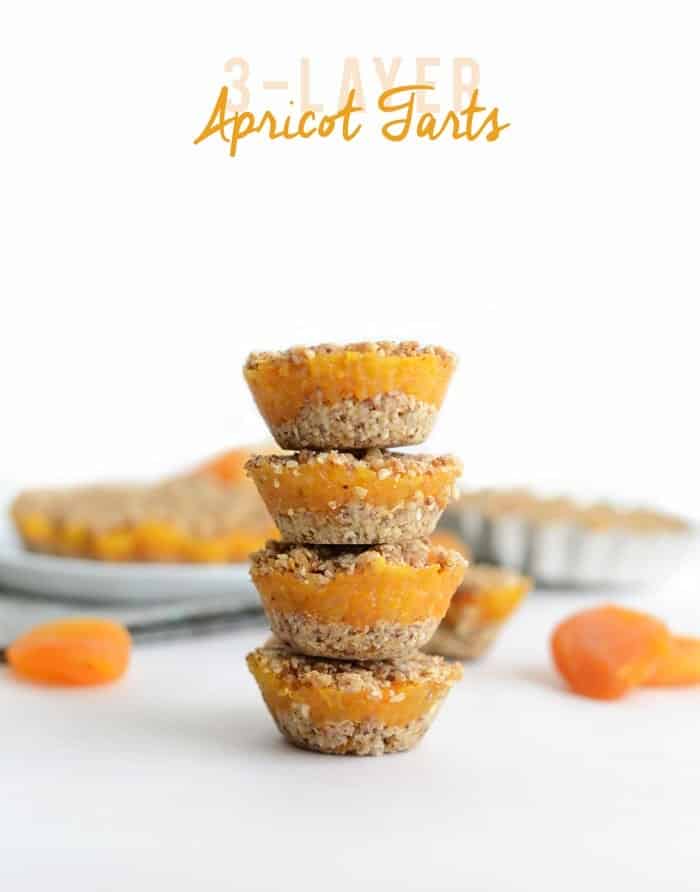 Every once and a while when he really likes what I've made he will say "THIS IS THE BEST THING YOU'VE EVER MADE." That's when I know the recipe actually really rocks or he's just trying to make me feel good??
---
---
These little tarts are made of 3 different layers.
Put em all together and you have about 3 bites of heaven. Just enough sweet to satisfy your craving after dinner 😀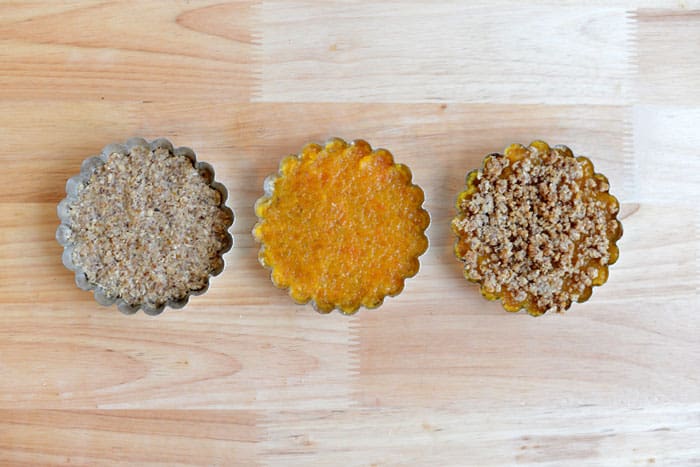 I made this recipe last week and I still have a few left sitting in a Tupperware in my freezer. They are actually much better frozen (even ask Blake!). The apricot layer wont freeze all the way, so it's not rock hard when you bite into it.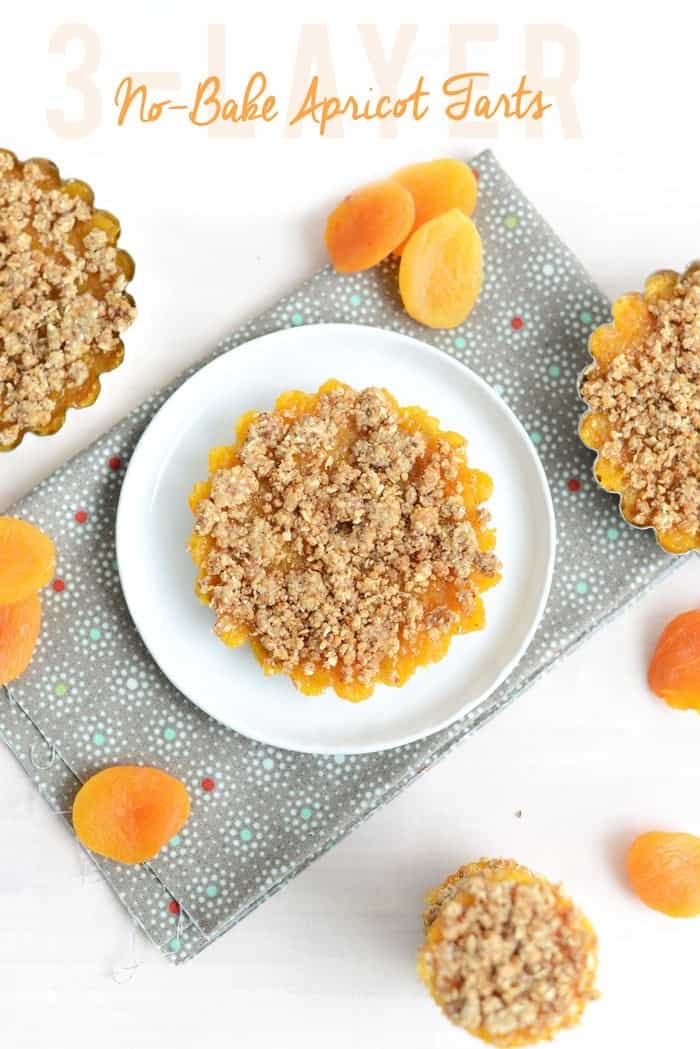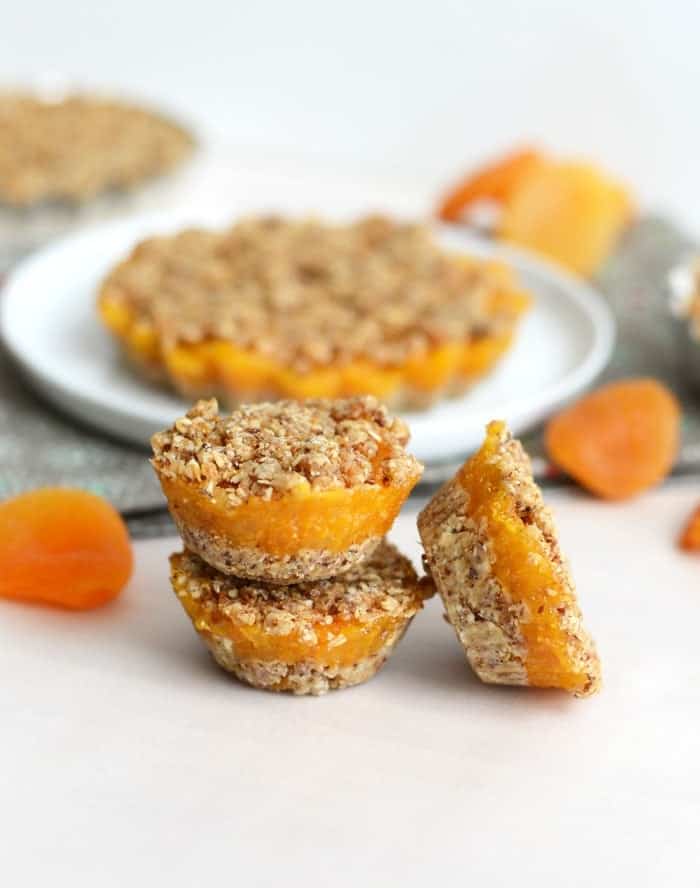 I envision more tarts being made, but next time I want to use dried cherries 😀 😀 😀 😀 and…possibly add in some dark chocolate, because yerp- that's my kind of tart.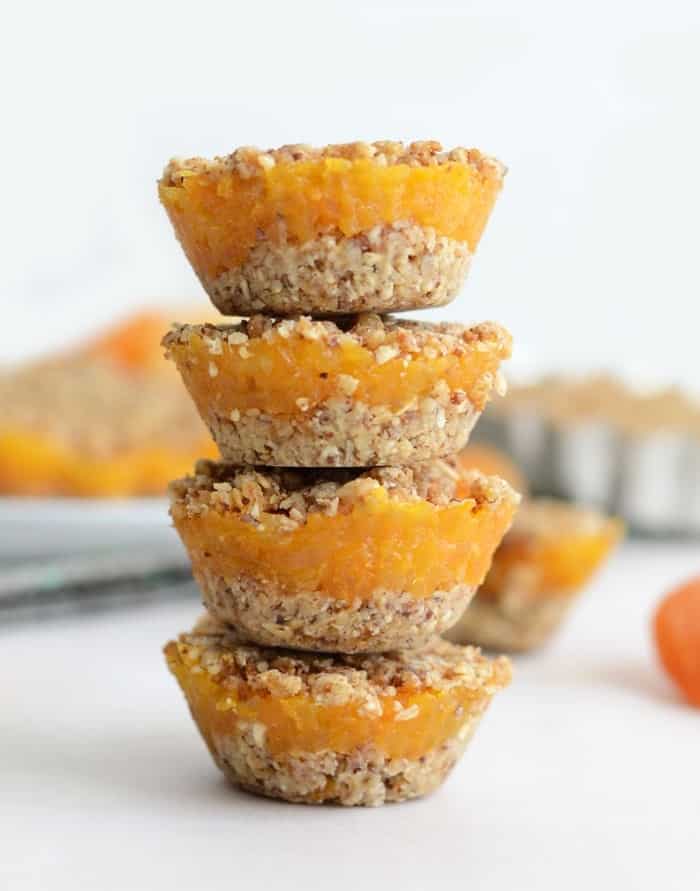 No Bake Apricot Tarts
Ingredients
Crust
-1 cup almond or cashew meal
-1 cup oat flour
-10 dried apricots
-1/4 cup unrefined coconut oil, melted
-1/4 cup raw almond butter
Filling
-30 dried apricots
-1/4 cup water
Crumble Topping
-1/2 cup crust mixture
-1 tablespoon coconut palm sugar
Instructions
Begin by prepping the crust. Place 10 dried apricots in a medium-size food processor, and process until finely chopped. Then, add in coconut oil and almond butter and process again. Finally, add in 1 cup of almond meal and 1 cup of oat flour and pulse until combined. You'll want the mixture to be crumbly instead of doughy. Place mixture into a medium size bowl. Before you make your filling, remove about 1/2 cup of the crust mixture (for the topping) and set aside.
To make the filling, place about 30 dried apricots into your food processor and process until they are finely chopped. Then, add in about 1/4 cup of water and process until the mixture is paste-like and completely combined.
***There are many ways to assemble your raw tarts. You can use an 8×8-inch pan, a mini cupcake tin, special tartlet holders, etc.
To assemble, make sure what ever surface you are using is lightly prepped with non-stick cooking spray (or lined with silicon liners). Then, use your fingers to press crust mixture into your surface about 1/2 inch thick.
Spoon in apricot mixture, and use your spoon to press firmly on top of crust (1/2-inch thick).
Finally, prep crumble topping by adding about 1 tablespoon of your favorite sugar (I used coconut sugar). Sprinkle on crumble topping and lightly press into apricot mixture.
Place tarts into freezer for about an hour or the refrigerator for about 3 hours in order to firm up!
Here are some of my other favorite no-bake treats…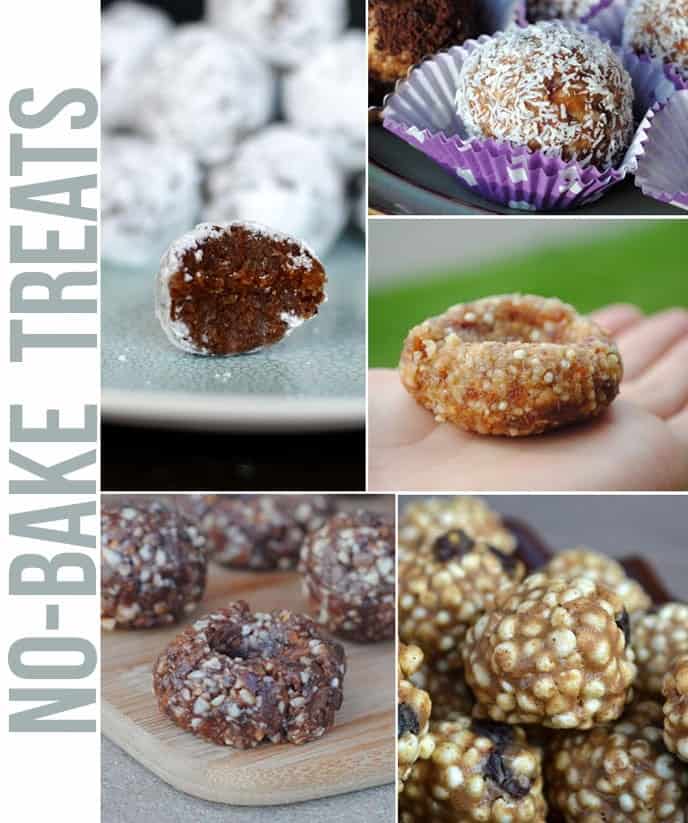 Dessert- love or hate?