Ooooh quinoa. I remember the days when you were $1.99/pound. Now I can't find you for less than $5.99/pound. I knew you were too good to be true when I fell in love with you back in 2010. Just because you are expensive now and everyone wants you, doesn't mean I will stop loving you.
:) #nerdalert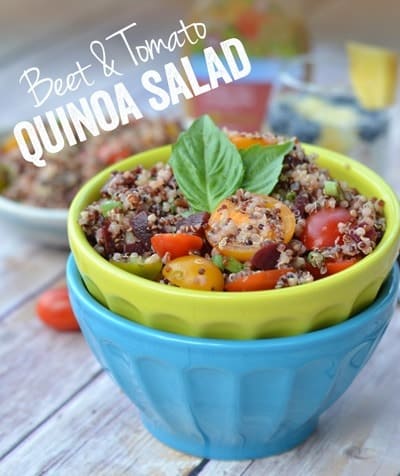 It's been a while since I posted a new quinoa salad recipe! I used to post so many back in the day. I was at Whole Foods after teaching yoga last week and found some tri-colored quinoa in the bulk section! Why yes, I'll take a pound. I'll also take some roasted beets and tri-colored tomatoes. So colorful and so much flavor!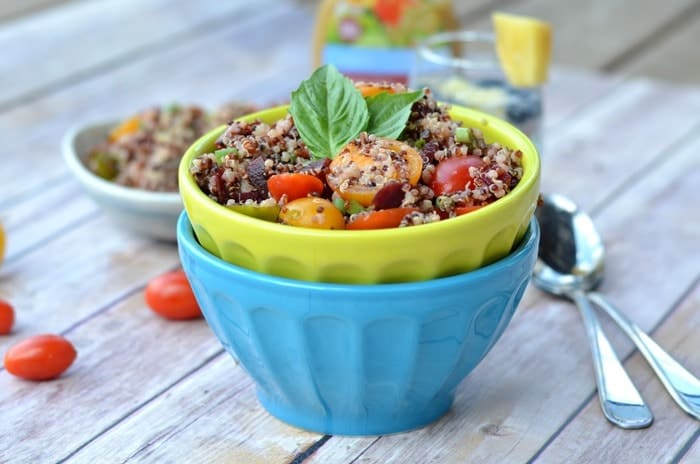 Recipe
Beet and Tomato Quinoa Salad
Prep Time:

5 minutes

Cook Time:

30 minutes

Total Time:

35 minutes
Ingredients
– 1 cup tri-color quinoa, uncooked
– 2 cups water
– 1 carton cherry tomatoes
– 1/4 cup green onions, chopped
– 4 beets, steamed and cubed
– 1/4 cup Ginger Soy Vinaigrette
Instructions
1. Begin by cooking your 1 cup quinoa and 2 cups of water. I used a rice cooker and cook the quinoa on the brown rice setting. If you don't have a rice cooker, in a medium size pot, bring quinoa and water to a boil. Then, reduce heat to low, cover, and let simmer for about 20 minutes or until all of the water is absorbed. Transfer quinoa into a tupperware container, and place in the refrigerator to cool for at least an hour.
2. In the mean time, prepare your veggies. Cut cherry tomatoes in half, chop green onion, and slice (skinless) steamed beats into cubes.
3. Then, mix quinoa and vegetables together in a large bowl and pour in 1/4 cup of Ginger Soy Vinaigrette (you can substitute for a balsamic vinaigrette). Toss.
4. Serve chilled.
Similar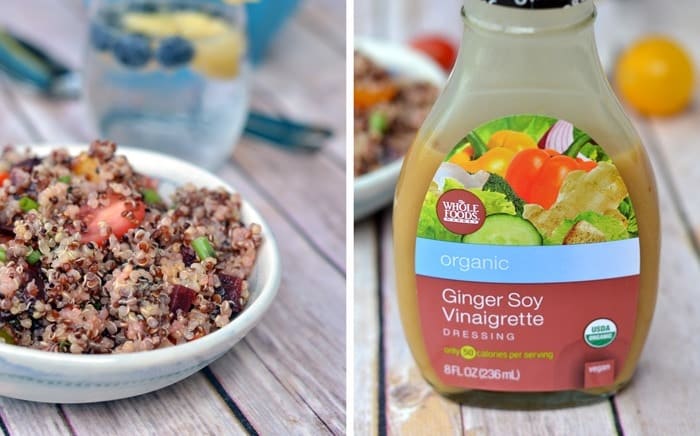 I got this Organic Ginger Soy Vinaigrette dressing from Whole Foods a few weeks ago not know exactly what I was going to use it for, maybe salad? It was THE perfect flavor to mix into this quinoa salad.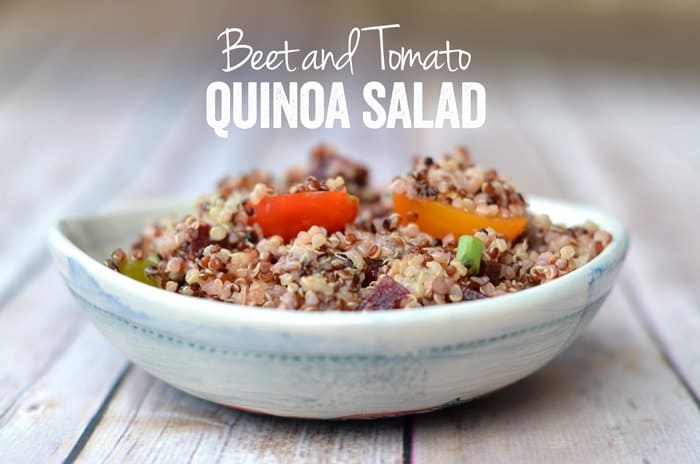 I love this little bowl. I got it on mega sale at Anthropologie a couple weeks ago.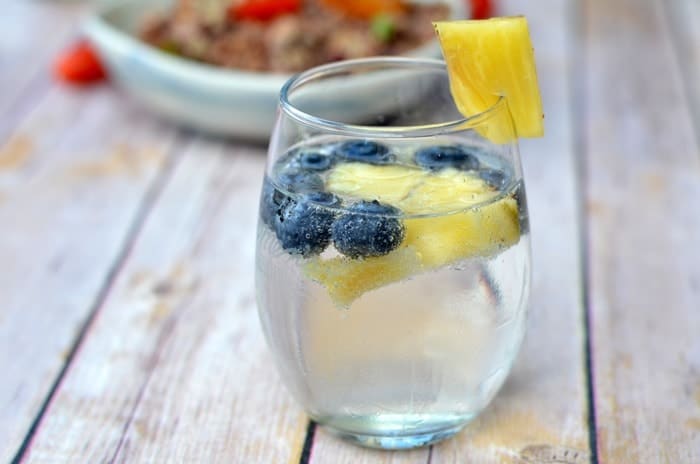 I had this quinoa salad for lunch yesterday and I paired it with some fruity bubbly water. I just mixed a La Croix with some fresh fruit. Yum!!
On Today's Agenda
Create and photograph my last August recipe for Designer Whey

Master the Single Serve Cake
Walk around Lake Harriet with Carly
Teach Yoga Sculpt at 5:00PM
Continue reading The Minimalist Baker's Food Photography E-Course I purchased last night :)
Also…check out some of my other favorite FFF quinoa recipes!