Make this berry green layered smoothie for breakfast or a snack! It's jam packed with fruit and antioxidants and the best part is, you get 2 flavors in one!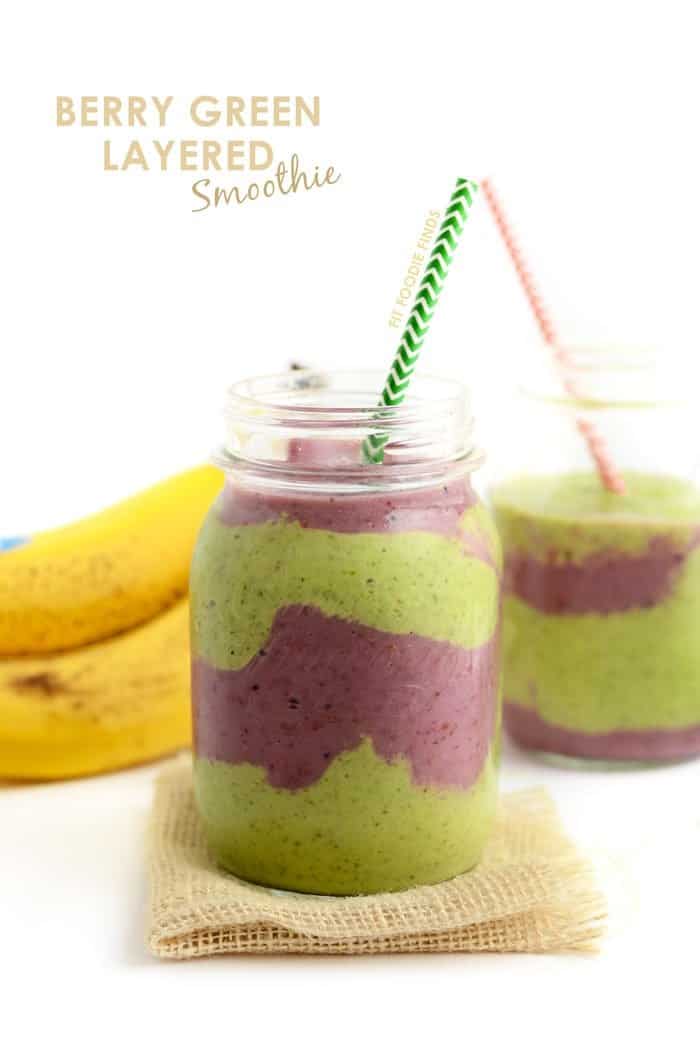 I was looking over the survey question I asked you guys on Monday (what kinds of recipes do you want to see more of in 2015?) and loved all of your answers! …mostly because we are all so similar! You want EASY meals made with just a few ingredients that taste good. BOOM. Here were some of the top answers…
Paleo Recipes (this one was probably the most prominent)
Single-Serve Desserts/Healthy Desserts
Crock-Pot/One-Pot
30 Minute Meals
Low Carb
Easy Snacks
I feel like if I was an FFF reader (I kind of am), those are the exact things I would want to see :D For realz, I've been trying to eat less grains, and by trying I mean I've been doing a terrible job. I've also been trying to eat TONS more veggies, so low carb/paleo is totally the track I'm on. I also LOVE dessert..imagine that, right?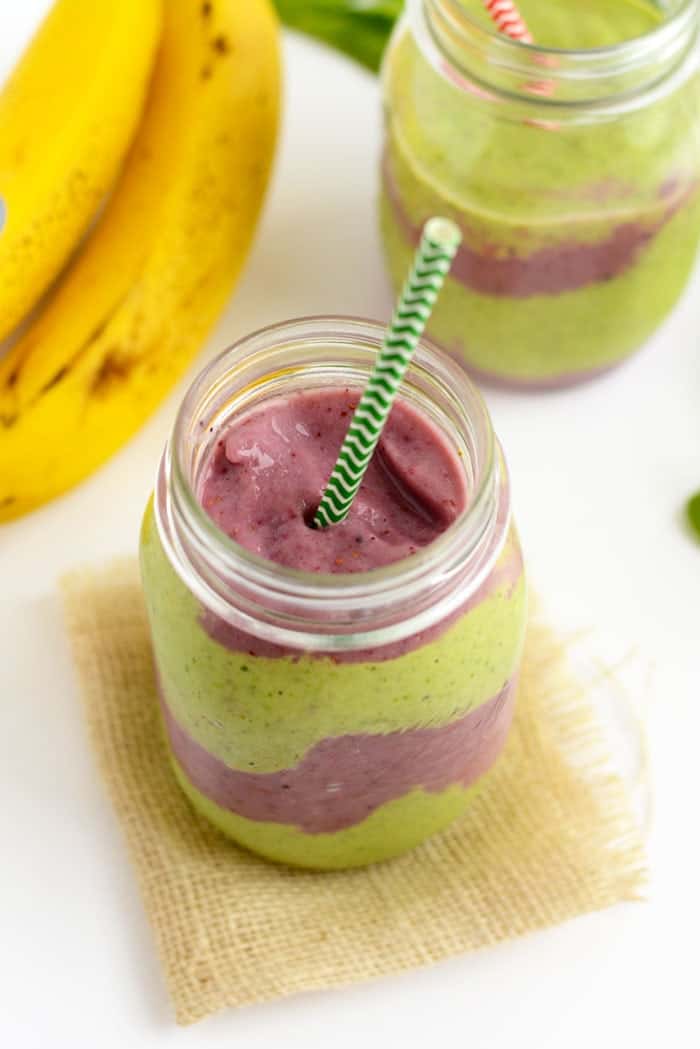 I'm going to be straight up- this was my attempt at a green and red festive holiday smoothie. It turned out more pink and lime green….but hey, at least it tastes good :D
I am a huge fan of laying and swirling flavors together. Why have 1 flavor when you can have 2?!
Really this type of smoothie can work with any 2 recipes (I've already got a few more combos in the works :D). These two both have a base of frozen fruit, which is definitely my preference over ice!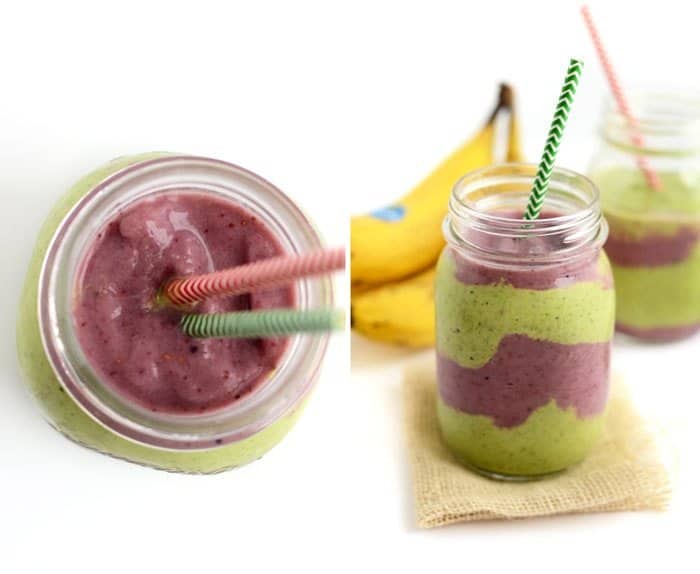 It kind of reminds me of a water melon. #fail
All I know, is that when it comes to smoothies….the thicker the better!
Recipe
Berry Green Layered Smoothie
Prep Time:

5 minutes

Total Time:

5 minutes
Ingredients
For the Green Smoothie
For the Berry Smoothie
1

small banana, frozen

1 cup

red berries, frozen
splash of vanilla extract

1 cup

vanilla almond milk, unsweetened (may more!)
Instructions
For each smoothie, place all ingredients in a magic bullet or blender and mix until smoother. Layer the smoothies in a large cup or mason jar.
Similar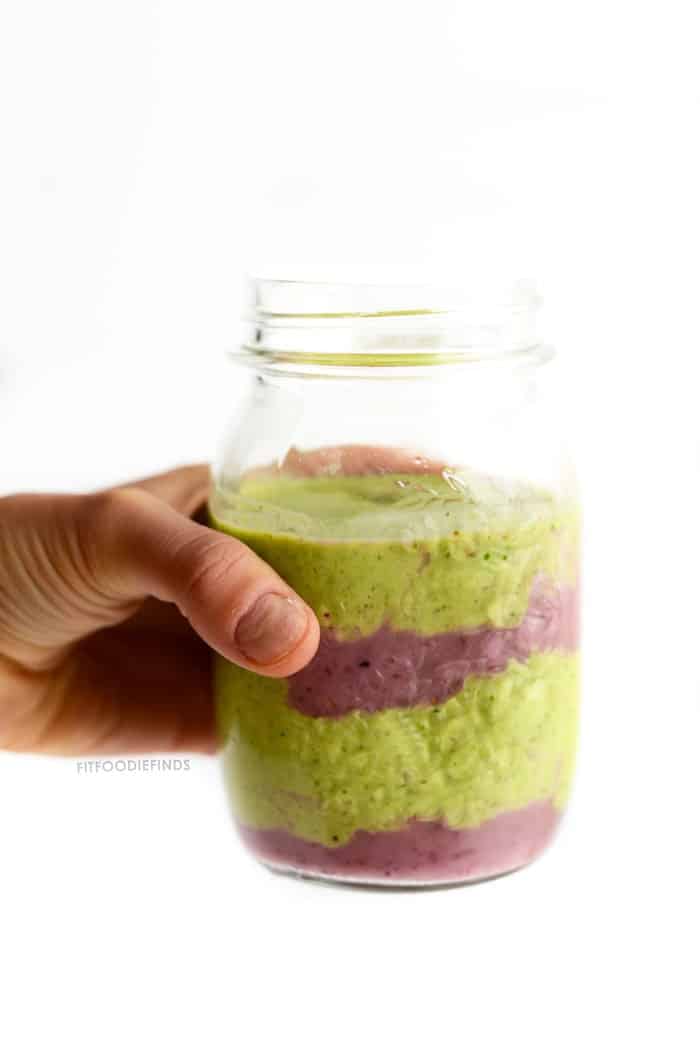 I can't believe that I leave TOMORROW for Kansas! Blake and I are spending the holidays with his fam this year and will be in The Sass for a whole week. You can check out what I'm up to on Instagram…I'll sure I'll have lots to post about. Speaking of Instagram…I changed my name from FitFoodie_Lee to FitFoodieFinds. It should really matter, but if you want to tag me, just make sure you do @FitFoodieFinds :D
Other than that…I have a few posts planned before Christmas…a really TASTY one that involves peanut butter on Sunday :D
Here are some more of my favorite smoothie recipes…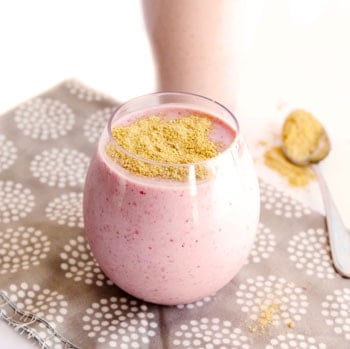 Blueberry Flax Superfood Smoothie