We've rounded up the very best meal prep containers on the Internet and compiled them into a nice little list right here for you. Presenting: the 5 meal prep containers that will make your meal prepping adventures a breeze.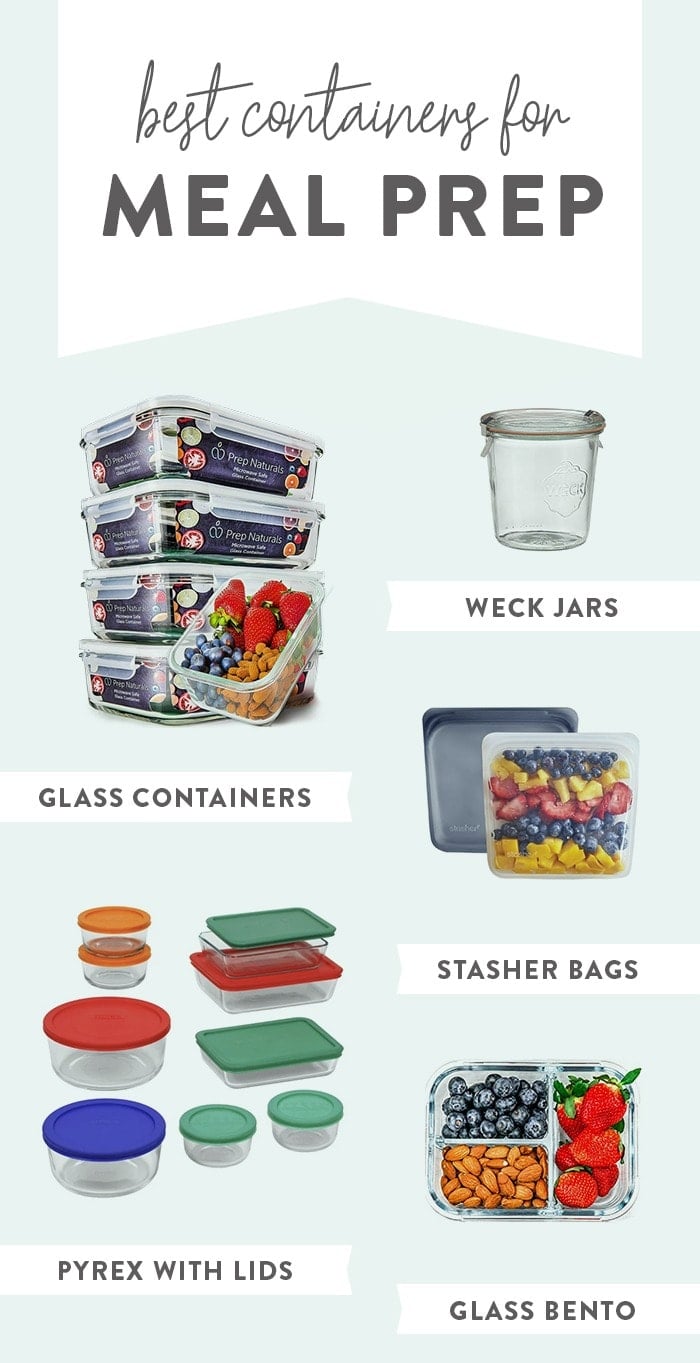 Why We Love Meal Prepping
Meal prep can be a lifesaver for busy weeknights and lunches on the go. But we get it, it can feel intimidating to try and make a week's worth of meals in one fell swoop. That's why we're here with the best meal prep containers to help make your meal prep adventures a breeze. We've found that these meal prep containers allow us to portion out meals for the whole family, organize ingredients so they don't mix together, and reduce the amount of plastic waste leaving our house. And don't worry, you'll also find our very favorite Fit Foodie Finds meal prep recipes when ya scroll on down. Read on, meal prepping queens 😀
Stasher Bags
We're big Stasher Bags fans over here at Fit Foodie HQ. They're made from silicone and have this great self-sealing top, making them not only super leak proof, but plastic-free as well (meaning they're not leeching all those chemicals into your food and then into your body either). We love Stashers for packing snacks and lunches as well as storing leftovers in the fridge. It was also recently brought to our attention that you can use Stasher Bags in the sous vide, which will be a real game-changer for us in the kitchen. We never loved that you had to use a new ziploc bag each time we sous vide anything, and now we're able to eliminate all that waste by using the large half gallon-size Stasher instead.
Pyrex Glass Containers
Pyrex glass containers have been a staple in the Fit Foodie Kitchen since the beginning. We love that these containers can be baked, microwaved or frozen with no issue. We also love that the glass is durable and doesn't leech any chemicals commonly found in plastic meal prep containers. We have this 18-piece set that includes various sizes, all of which come with covers. These allow us to store entire meals in one big container or split portions up into the smaller containers.
Glass Bento Box Containers
These glass bento boxes are the ultimate meal prep containers if you're making something that you want to keep separated in these little bento box containers. These are our go-tos anytime we're meal prepping any sort of bowl recipe that we want to keep the individual elements separate, or when we're adding cut up fruit to round out a meal and don't want to have to take another container or bag. Our mama friends love these for transporting meals and snacks for picky eaters, too, since they keep everything nice and separated 😀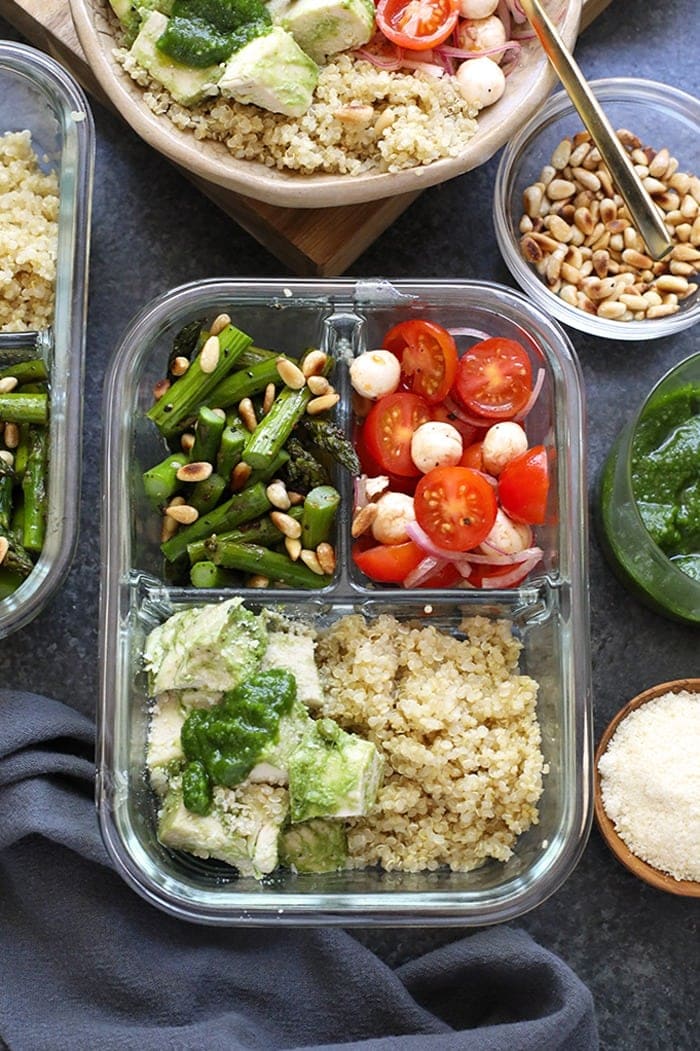 Glass Meal Prep Containers
These glass meal prep containers have snap on lids that keep everything in with a great rubber-lined seal. They also stack really nicely in the fridge or the freezer, when you're meal prepping large batches of delicious lunches and dinners. We love these for meal prep because the size seems to be right on for single servings of meals.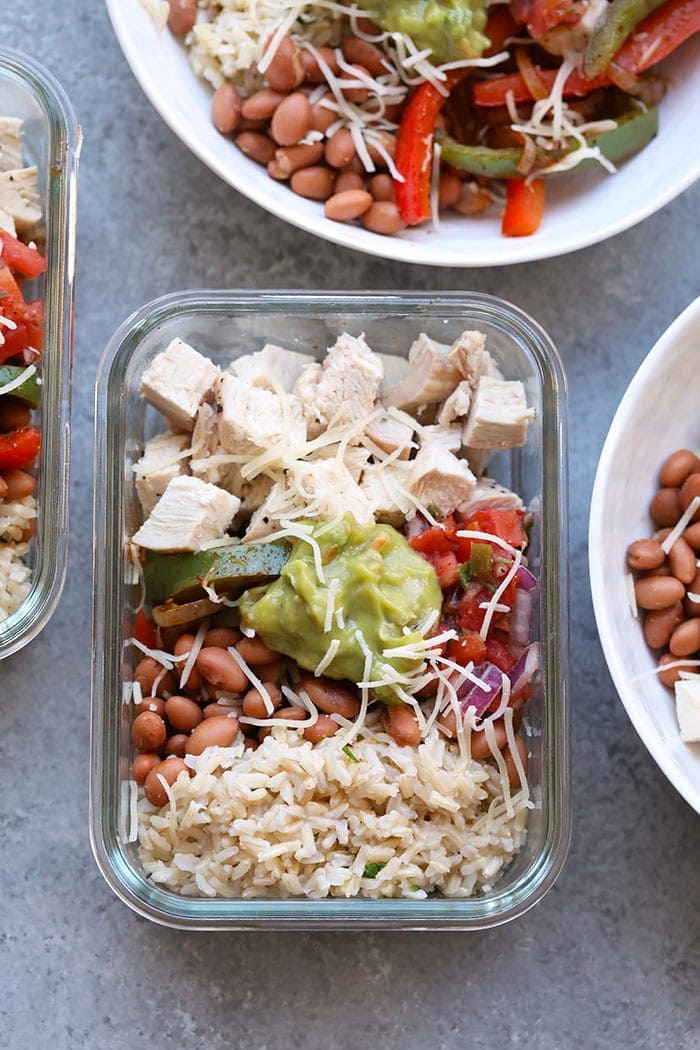 Weck Jars
Weck Jars are our absolute fave for prepping and then transporting overnight oats. The screw on tops are leak proof and make everything look a little fancier. You'll also find us using Weck Jars for salad dressings and soups. They come in so many great sizes and shapes, and some of our favorites include the 10 oz. and 18 oz. jars — perfect for individual servings or batching servings together.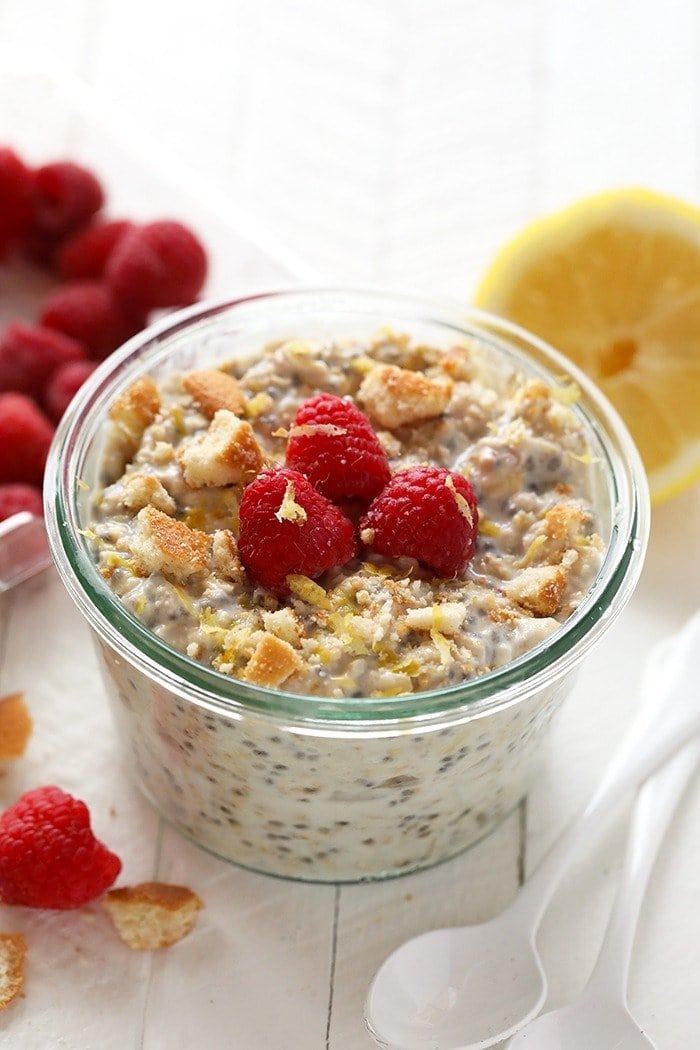 Kitchen Essentials that Make Meal Prep a Breeze
We also have a few go-to kitchen essentials that help to make meal prepping a complete breeze. While you definitely don't need all of these to be a meal prep queen, here are some of our faves that we have in our Fit Foodie kitchen.
Fit Foodie Finds Meal Prep Recipes
Find all of our best meal prep recipes here. Some of our favorites include: