I am a total Google Analytics whore. Ask Davida or Linley. We have weekly meetings where we go over what's trending and why. I love comparing the current month to the same month of the previous year. SOMUCHGROWTH
It's really interesting to see that the longer a recipe has to marinade on the internet, the more views it gets. When looking at the overall 10 most popular recipes on FFF this year, only 2 of them were made in 2015. The rest were made in 2013 and 2014. CRAY. 4 of them were breakfast recipes (surprise, surprise), 3 were desserts, and 3 were 30-minute meals. I think I know what I'm focusing on in 2016!

Most Viewed Recipes in 2015
Taking a look at all things 2015. All I have to say is YEAH OVERNIGHT OAT WEEK! I couldn't be happier with how that campaign played out. I am so happy to know that hundreds of thousands of other people love overnight oats as much as I do. 4 out of the top 10 recipes created in 2015 were from Overnight Oat Week and rightfully so.
Sooooooooooooo, FFF is turning into an oatmeal blog in 2016. JK, but get ready for an epic round 2 of Overnight Oat Week. I'm already planning for that to happen late March.
Digging a little deeper into these 10 recipes. Why did they do so well? Well most of them were picked up by a bigger publication such as Buzzfeed or Huffpost or went viral on facebook thanks to Super Healthy Kids. Summer Sweat Series also helped drive a TON of traffic to the #1 recipe: Healthy Kung Pao Chicken and the #10 recipe: Protein Buckeyes.

Most popular FFF recipes made in 2015
Recipes are like kids. You always secretly have a favorite. JUST KIDDING THAT WAS A HORRIBLE JOKE. But seriously, some recipes that I make I like much better than others. For example, I pretty much make some variation of my Superfood Taco Bowls every single week. If you follow me on Snap…you know that. I've also made my Cherry Pie Energy Balls like 16 times…they never get old. The Banana Breakfast Cake– yup..that's been the base for about 2 other cakes on FFF (cough cough pumpkin and carrot cake). Any kind of quinoa bake or crock-pot recipe is a winner in my mind as well. Throw everything in a casserole dish and bake it. EASY PEASY.
So- if you were a new reader to FFF and asked which recipes you should make first…I would most likely suggest one off of this list because I have personally tested and made all of these like 10 times each.

Team Fit Foodie Favs from 2015 (that weren't already on the list)
Hands down the most rewarding part about what I do is seeing FFF recipes floating around the internets. Sundays are the best because that's when most people are in the kitchen. I LOVE IT when you tag me with a photo of an FFF recipe that you have made at home. It gives me a warm feeling in my tummy! Here are some of my favorite reader creations I pulled from Instagram throughout the last year.
You. guys. are. amazing.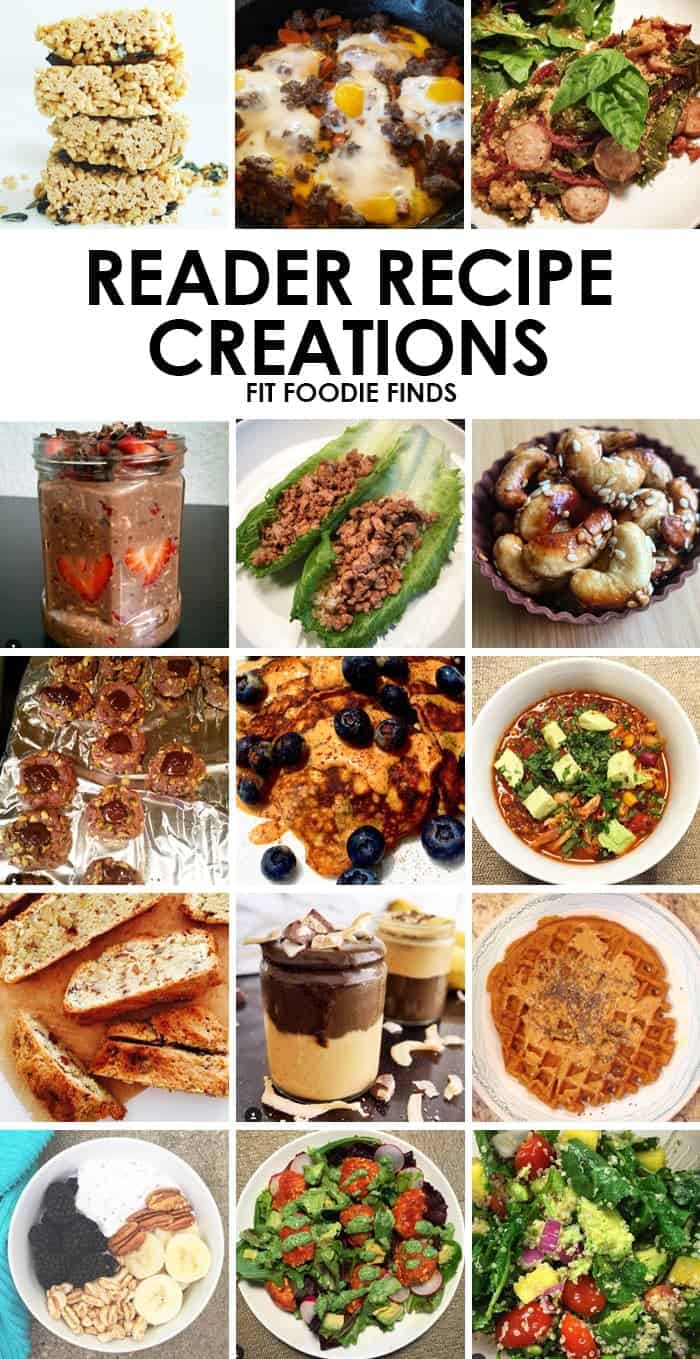 Who is ready to ring in 2016 with more BAD ASS RECIPES?!
PS: If you've got any specific requests for 2016 in what kinds of recipes you want to see more of…leave a comment! It can be as specific down to the dish, certain ingredients, or diets….OR broad like MORE HEALTHY DESSERT RECIPES!