These high protein Brookie Protein Balls are the perfect post-workout snack, or simply a healthy option to munch on throughout the day. They're gluten free and vegan, too!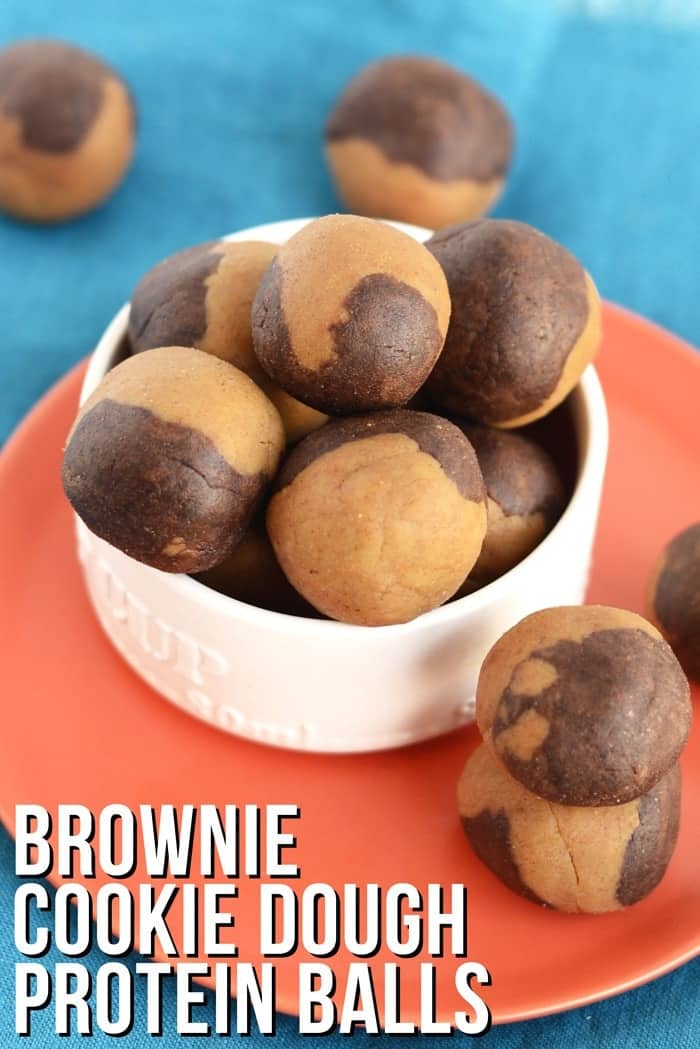 I don't think I've ever renamed a recipe more than I have this one.
Swirl, mash, smash, choconilla, vachocolate (sounds kind of Rated R), balls, bites, zebra, yin yang, black and white.
What evz you want to call it, these balls are delish! I have a new recipe partnership with The Daily Burn coming up over the next few months, and they sent me some of their new protein powder. It's called Fuel-6. It's plant-based, gluten free, and vegan. I'm excited to continue using this product in recipes! WHOOOP
Speaking of new. I started a new series on Netflix…Dexter. AKA I am afraid to sleep at night because I feel like someone is watching me.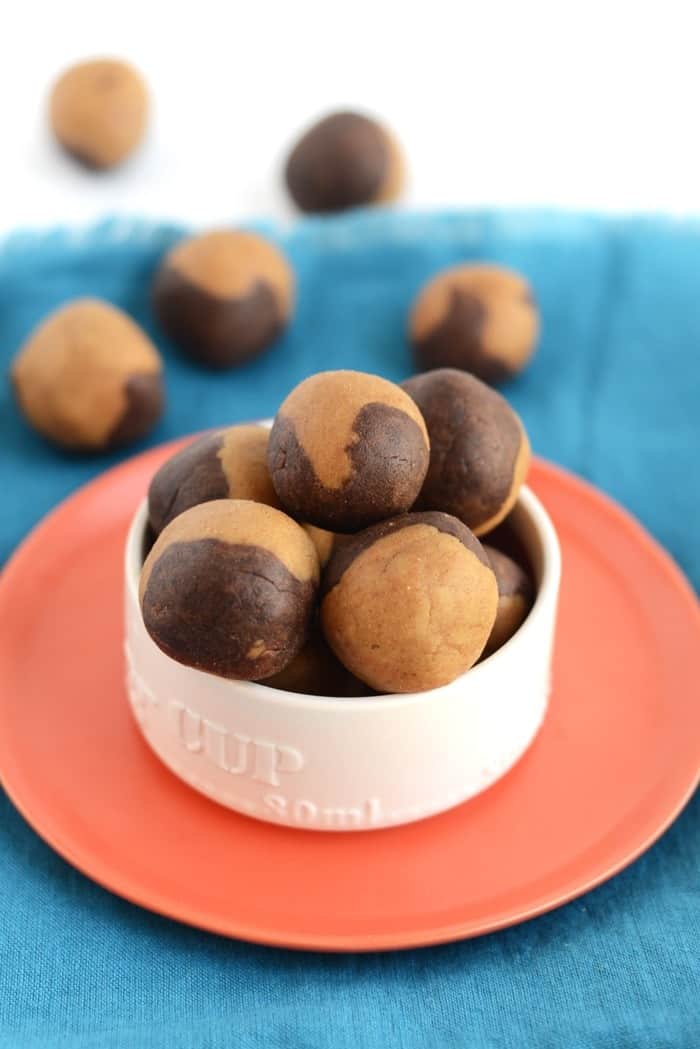 There is no way in hell I would watch an episode without Blake by my side. I am the biggest whimp and hate being scared.
Like hate!
So these balls, yo.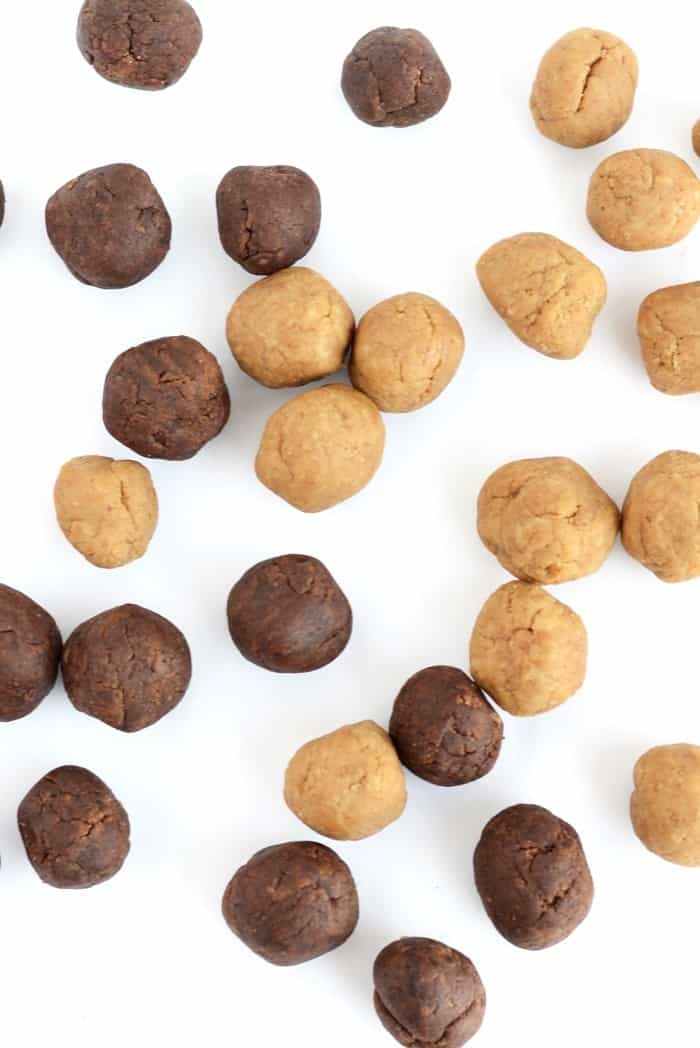 You know when you can't decide between vanilla and chocolate. That's when you mix em together so that you can get the best of both worlds.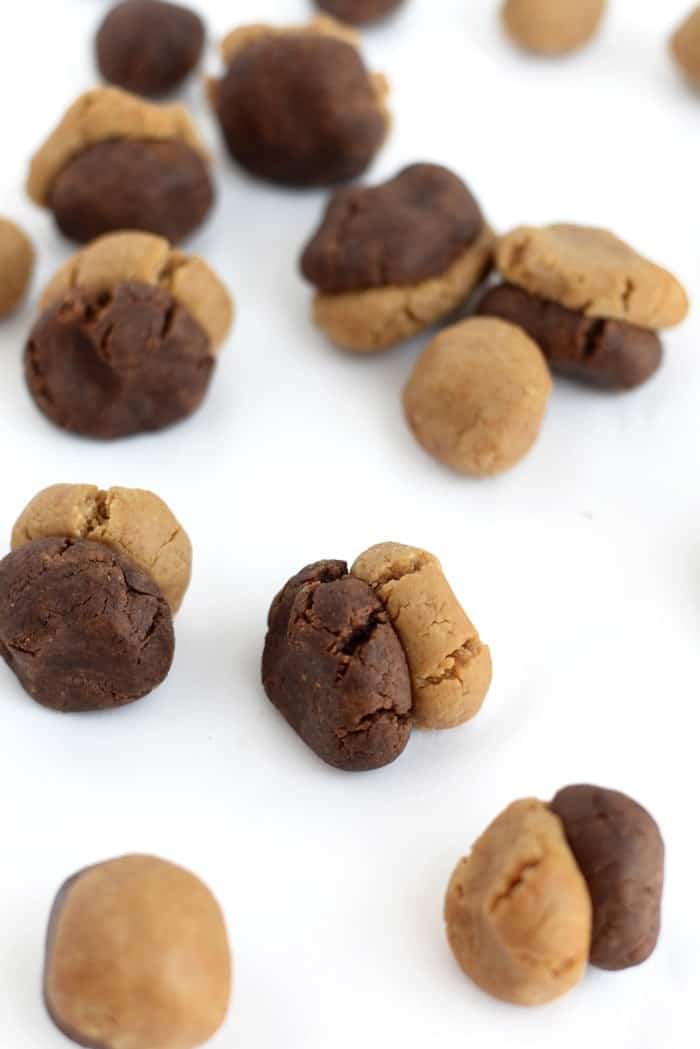 I almost always store my balls in the freezer. I find they keep longer, plus I prefer my balls frozen.
This is the issue with having "balls" be part of a recipe. Every time I try to explain my love for them, I sound like a perv :D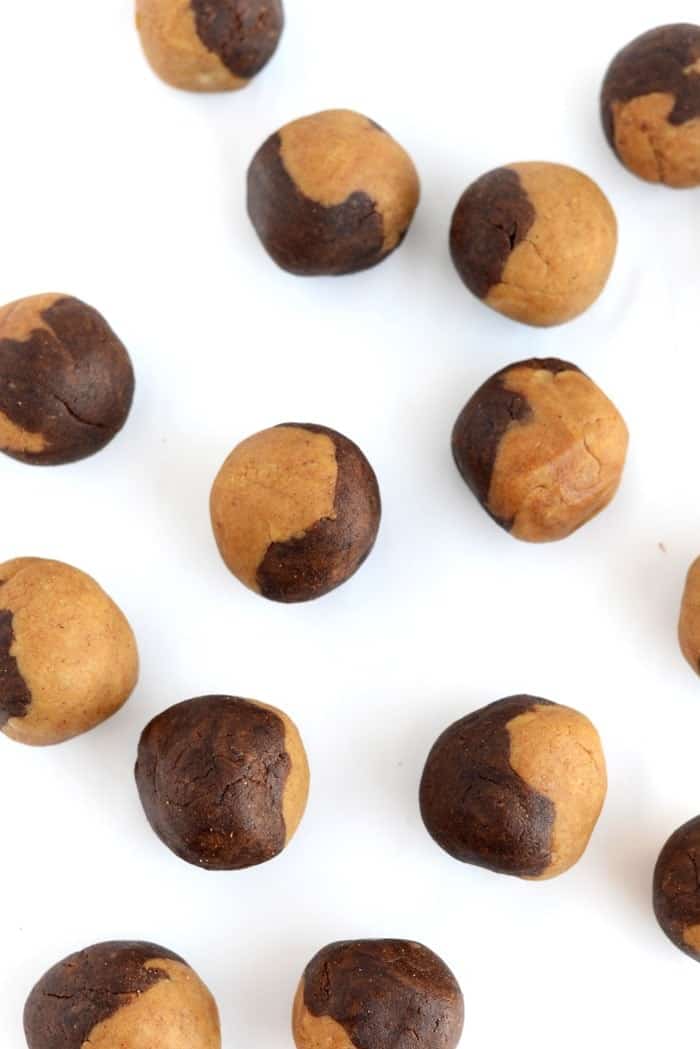 Recipe
Brownie Cookie Dough Swirl Protein Balls
Prep Time:

10 minutes

Total Time:

10 minutes
Ingredients
For the Brownie flavor
1/4 cup chocolate protein powder
1/2 cup oat flour
2 tablespoons cocoa powder
2 tablespoons almond butter
1 tablespoon maple syrup
1/4 cup almond milk
For the Cookie Dough
1/4 cup vanilla protein powder
1/2 cup oat flour
1/2 tablespoon maple syrup
2 tablespoons almond butter
3 tablespoons almond milk
Instructions
In a medium size bowl, mix together all ingredients for the brownie flavor. It should be the consistency of cookie dough. If it's too dry, add a bit more almond milk.
Then, roll the dough into about 1/2 tablespoon balls. Set aside.
Rinse that bowl, then mix together all ingredients for the cookie dough flavor. Again, if it's too dry, add little more almond milk.
Roll the dough into about 1/2 tablespoon balls.
Next, take 1 brownie ball and 1 cookie dough ball and combine them by compressing them together and rolling into a ball. Repeat!
Similar

What shows on Netflix are you watching?
If you had to rename this recipe, what would it be?