This Cherry Garcia Paleo Milkshake is so healthy you could drink this non-dairy bev for breakfast!
And that's a fact!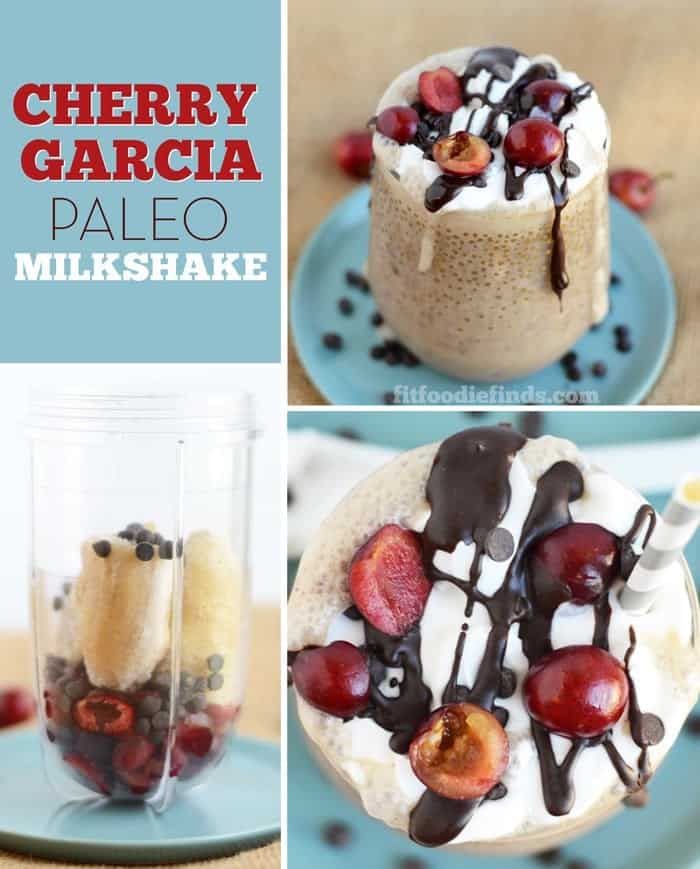 Because I am so excited to launch my Healthy Single Serve Desserts e-book in t minus 23 days, I thought I would share another recipe from inside to get you EXCITED!
WHO ELSE IS PUMPED?!
Guys- I figured out how to make a healthier Magic Hardshell Chocolate sauce for on top of ice cream.
Coconut oil
cocoa powder
honey/agave
That's it! It starts off drippy and ends up crackly.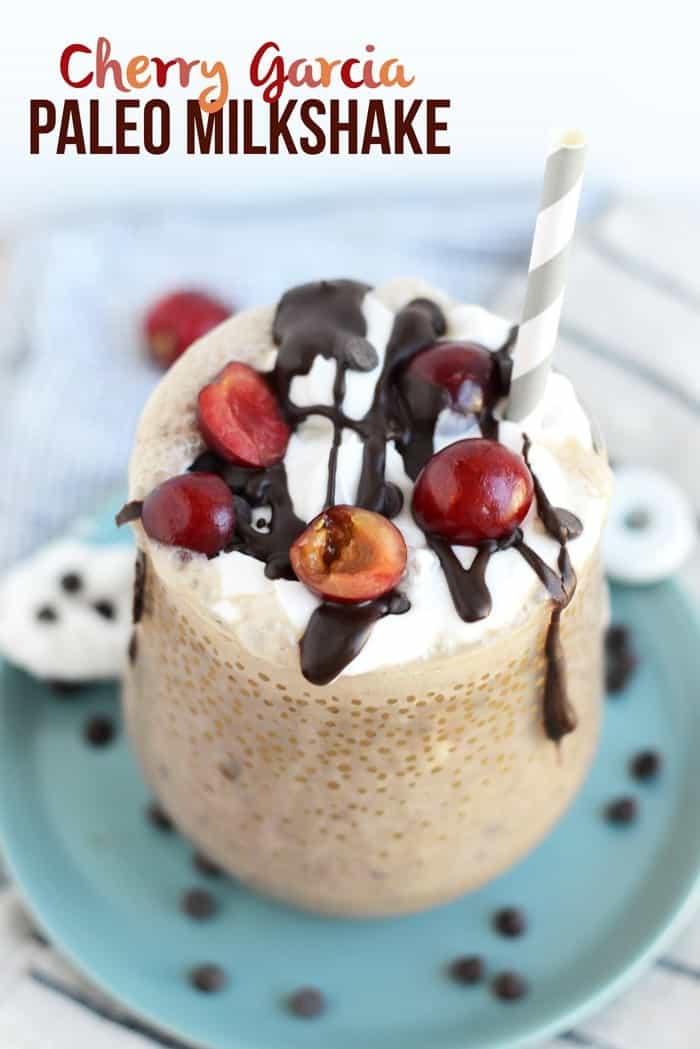 Genius, right?
I used to love that magic shell as a kid. I was and will always be an ice cream/milkshake lover. If I had to chose a favorite dessert, it would hands-down be ice cream :D
That's why inside the book- you'll find 6 different ice cream (and mousse) recipes :D Want to hear the titles?
Cherry Garcia Paleo Milkshake (this recipe)
Healthy Oreo Blizzard
Cashew Chocolate Protein Mousse
Double Chocolate Avocado Milkshake
Raspberry Orange Greek Frozen Yogurt
Vanilla Coconut Dairy Free Ice Cream.
Hot damn.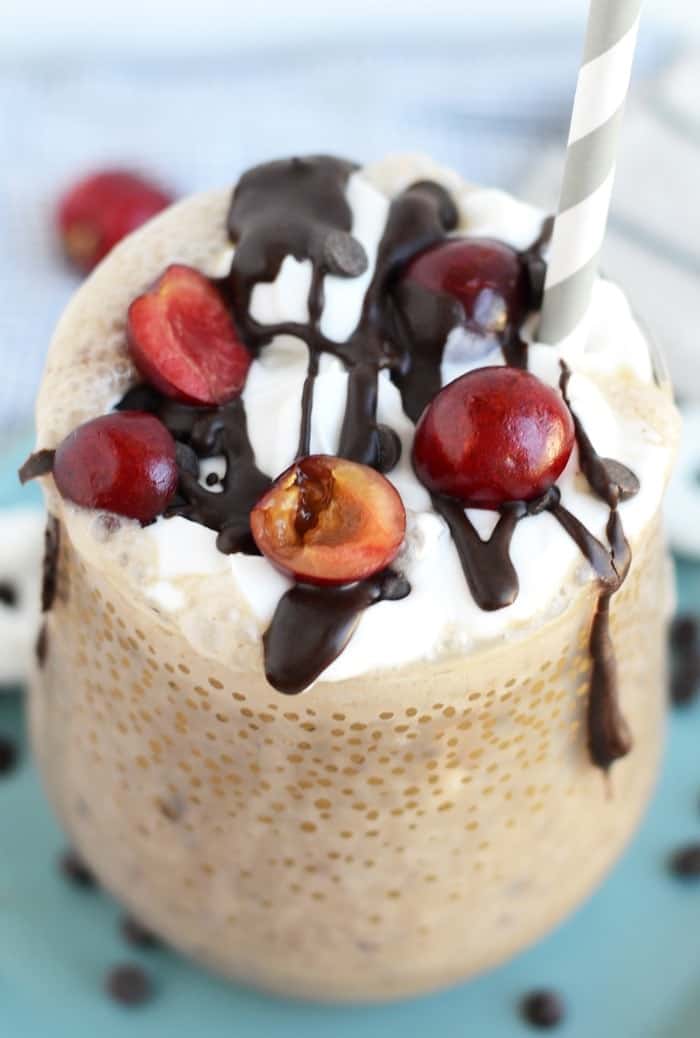 I think I've gone through about 10 cans of full-fat coconut milk in the past few weeks testing recipes :D
#sorrynotsorry
Recipe
Cherry Garcia Paleo Milkshake with DIY Paleo Magic Hardshell
Nutrition Information (for JUST the shake): 252 calories | 46g carb | 8g fat | 4g protein | 30g sugar
Prep Time:

5 minutes

Total Time:

5 minutes
Ingredients
For the Shake
-1 medium size banana, frozen
-1/2 cup cherries, pitted
-splash of vanilla extract
-1 tablespoon non-dairy chocolate chips
-1 cup dairy free milk, I used unsweetened almond milk
For the Whipped Topping
2 Tablespoon

s coconut cream, I used Trader Joe's Brand
For the Magic Hardshell Chocolate Topping
1 teaspoon

coconut oil, melted
-1 teaspoon cocoa powder
-1 teaspoon honey
Instructions
For the Shake
Place all ingredients in a magic bullet or blender and mix until smooth.
For the Whipped Topping
Place the coconut cream in a medium size bowl and whip with a hand mixer for 30 seconds to a minute, or until fluffy.
For the Magic Hardshell Chocolate
First, melt coconut oil, then add in cocoa powder and honey and mix until combined. The mixture should be drippy. When the mixture is poured on top of something cold, it will harden like magic hardshell!
Similar
This recipe is paleo, meaning it's dairy free, gluten free, grain free, and refined sugar free.
So- it's sweetened with frozen banana. I used almond milk for the base and non-dairy chocolate chips.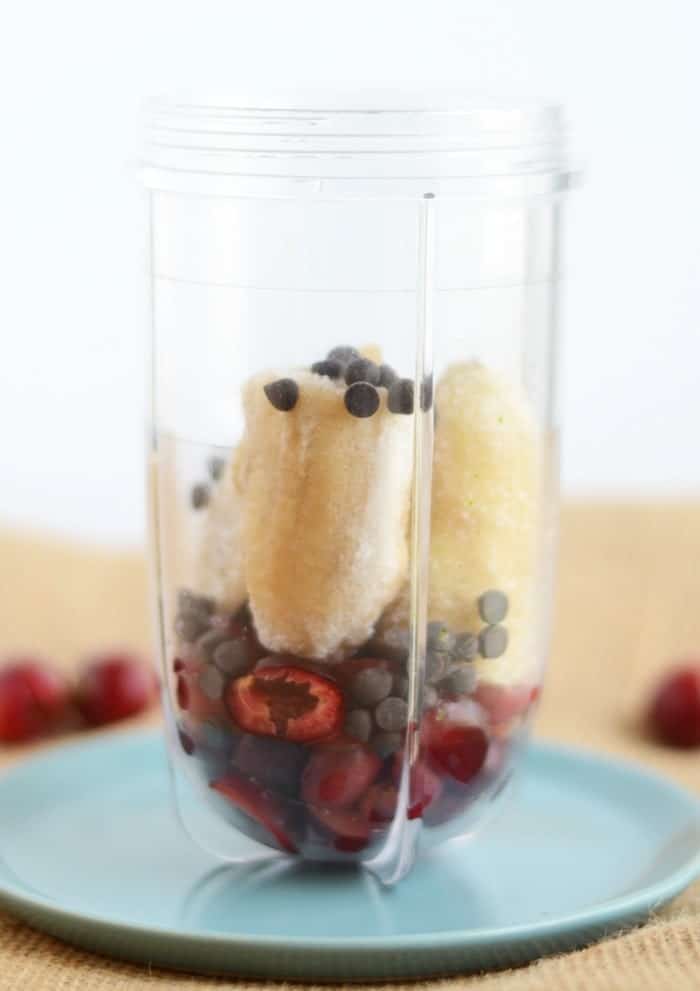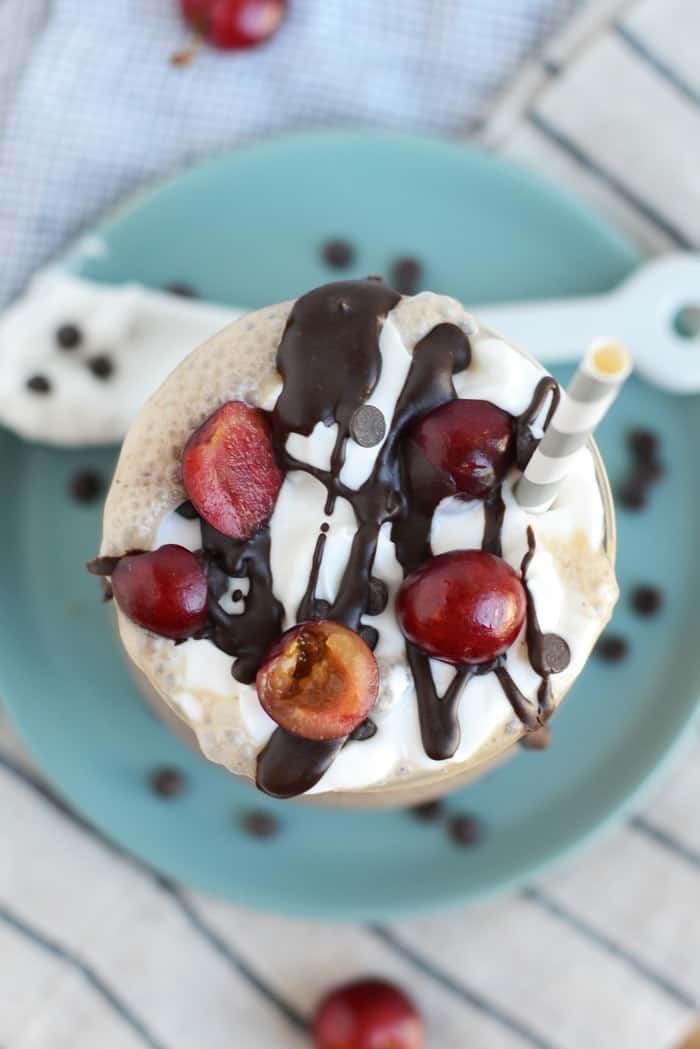 I am hoping within the next few weeks, I will have pre-order for the book available. I haven't nailed down pricing yet, but if you pre-order I will give you a deal, that's for sure :D
What is your favorite ice cream/milkshake flavor?