I'm not paleo, but I've been testing out some paleo recipes because they are all gluten free! I've jumped back on the gluten-free bandwagon for now because I can just tell in my skin (acne) that the gluten is affecting me…more breakouts and much more oily. The past 3 years during the summer (when I was gluten free), I was breakout free all summer long. Not sure whether I should blame this on the gluten consumption or the bizarre Minnesota weather!
Anyways back to paleo. I give props to everyone who bakes paleo. IT'S HARD. I attempted chocolate chip cookies, and I honestly wasn't going to post them (even though they taste delicious), because they are kind of ugly. Then, I posted this first photo on the FFF facebook page and apparently there are a lot of paleo readers & everyone wants this recipe.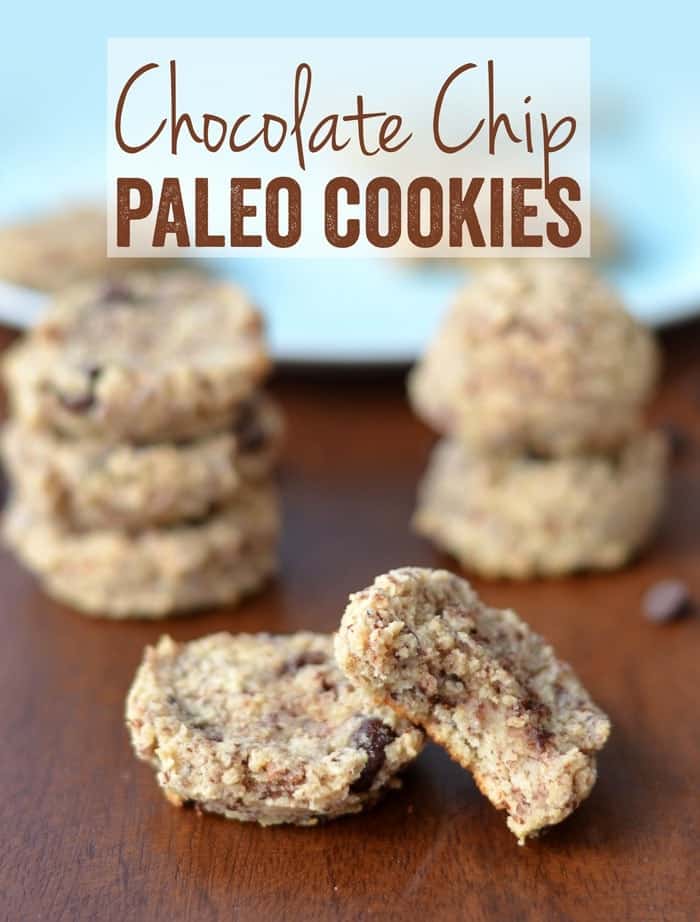 Okay, they aren't that ugly, but they just aren't fluffy like normal chocolate chip cookies. I guess that's what you get for not using any grains. That's right, these cookies are 100% grain free and dairy free. No refined sugars either.
---
---
I'll take that in a cookie any day.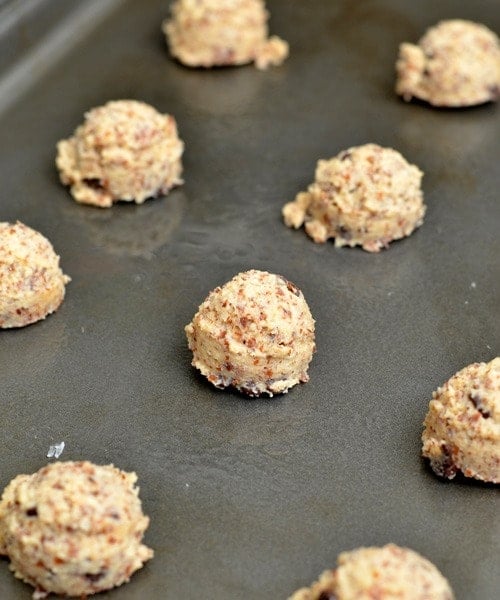 Compared to the first time I used coconut flour, the dough actually turned out pretty okay. I used a lot less compared to the ratio of the almond meal.
Chocolate Chip Paleo Cookies (small batch)
Prep Time:

15

Cook Time:

10

Total Time:

25 minutes

Author:
Yield:

12
Ingredients
-3/4 cup almond meal
-1 tablespoon cocnut flour
-1 large egg
-1 tablespoon honey
-1/2 teaspoon vanilla
-1/2 teaspoon baking powder
-1 tablespoon coconut oil
-2 tablespoons almond milk, unsweetened
-2-3 tablespoons non-dariy chocolate chios (I used dark chocolate..I know it's not paleo!)
Instructions
1. First preheat oven to 350F. Then, spray baking sheet with coconut oil spray or line with parchment paper.
2. In a medium size bowl, mix together almond meal, coconut flour, and baking powder. Then add wet ingredients and mix.
3. Using a small cookie scoop, scoop mixture onto pan. You should get about 12 cookies. At this point, you have the option to use your finger to press the cookie down into the pan to create the traditional cookie shape, or you can leave it.
4. Bake for 8-10 minutes. Then, let cool for at least 5 minutes in order to let the cookies firm up. Enjoy!
Nutrition
Calories:

843

Sugar:

15

Sodium:

49

Fat:

50

Saturated Fat:

14

Unsaturated Fat:

34

Trans Fat:

0

Carbohydrates:

89

Protein:

14

Cholesterol:

95
The blog I had inspiration from was
Lexi's Clean Kitchen
. Found it on Pinterest. I did modify it a bit and I'm wondering if that is what prevented the cookies from expanding like hers. Lexi used 4 tablespoons of coconut oil and no almond milk. That'll teach me…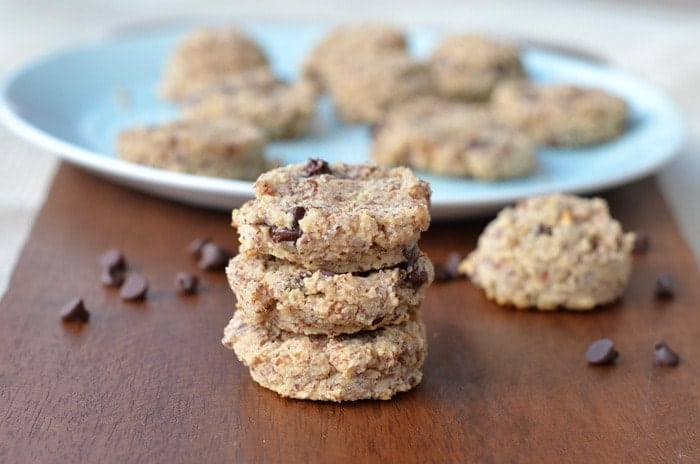 All that matters is what's on the inside, right? I still think these little treats are delish. And- a lot more healthy than your average chocolate chip cookie!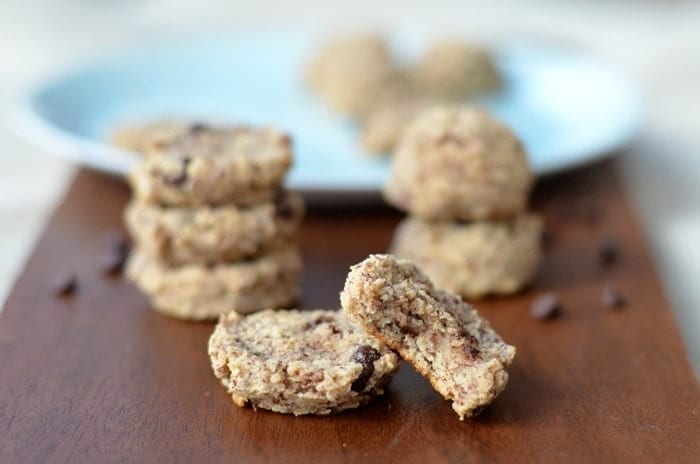 Now that I only work Monday-Wednesdays at Anytime Fitness, I have "off" today…sort of. I taught a 6AM and now I have a few meetings today and a few more Designer Whey recipes to create for August.
Cheers to doing what you love and ugly, but tasty, Chocolate Chip Paleo Cookies!