I am so excited to be back with my lady blogger friends for another collaboration. This time our theme was Mother's Day Brunch. So mom- because I won't be with you on Mama's Day this year, this post is dedicated to you and your love for grapefruits.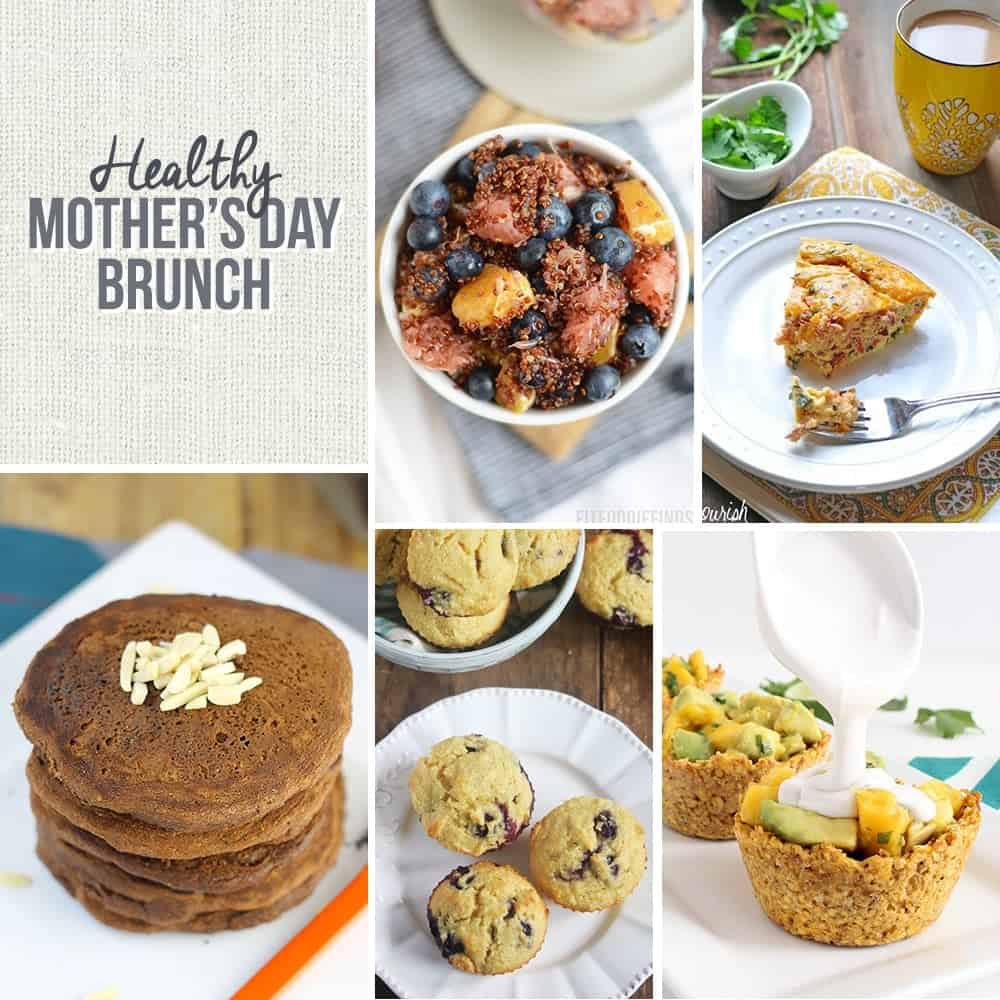 Dayummmm,
Yup- that was my exact same thought after I saw all of these gorgeous looking recipes come together! These ladies are so talented and I am so happy to get to work with them on cool projects like this monthly!
Let's start off with the wonderful Kelly from Nosh and Nourish. She's been exploring her paleo cooking/baking lately and I'm loving it. This Paleo BLT Crustless Quiche looks legit- plus it has bacon in it!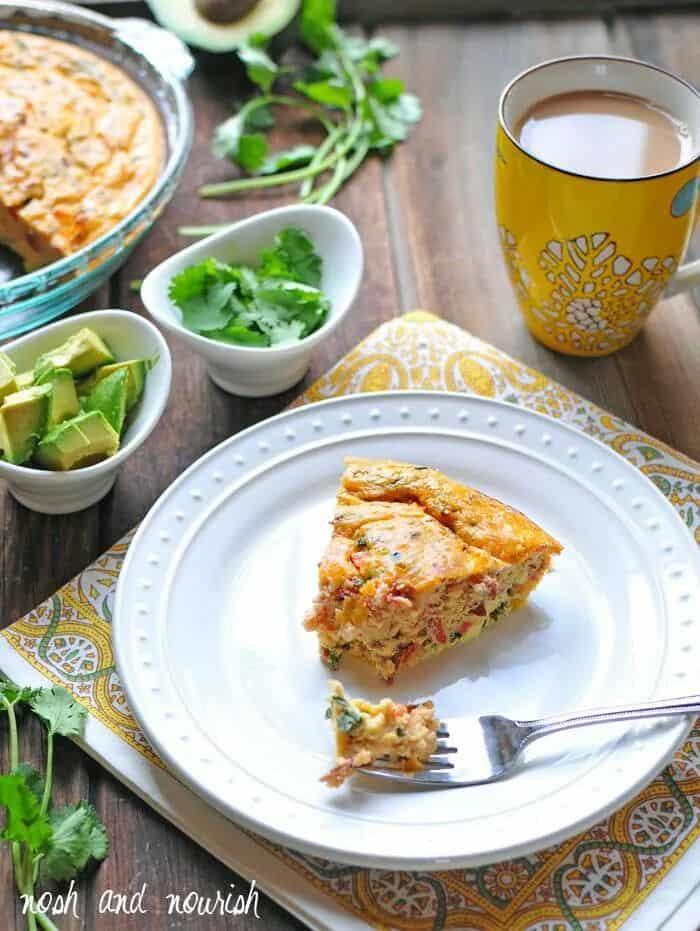 Pancakes are the way to my heart….and I pretty much love Davida, so this recipe is a win-win situation. Paleo Mocha Almond Pancakes….hellz to the yes!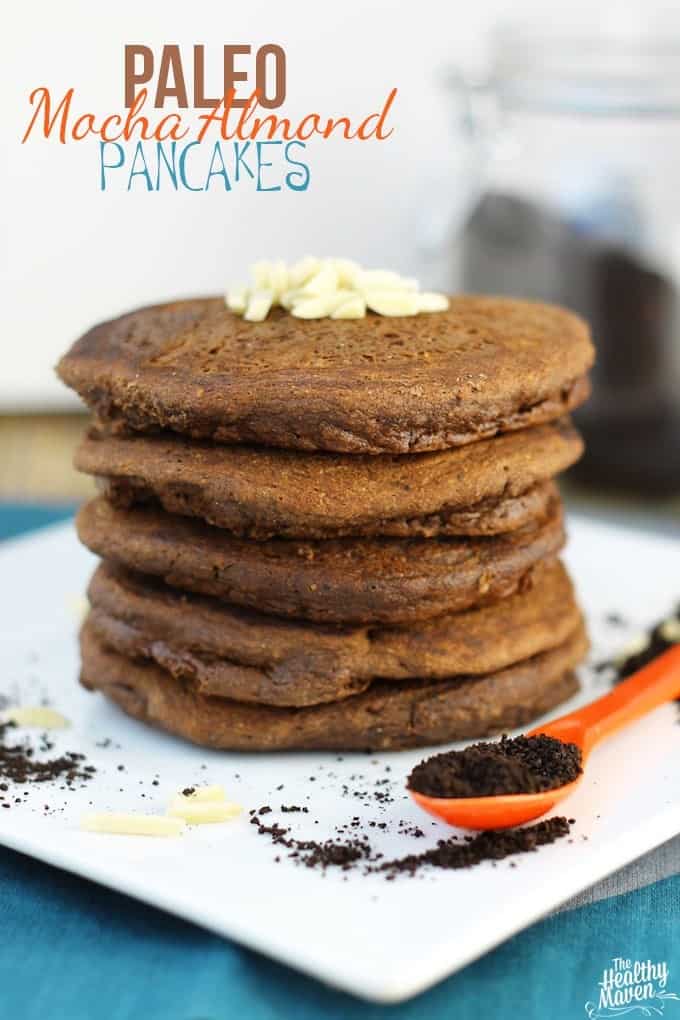 You guys already know this, but Lexi is pretty much the queen of primal baking. No dairy, no grains, no sugar…I don't know how she does it, but it's pure bliss! How nummy do these Paleo Lemon Blueberry Muffins look?!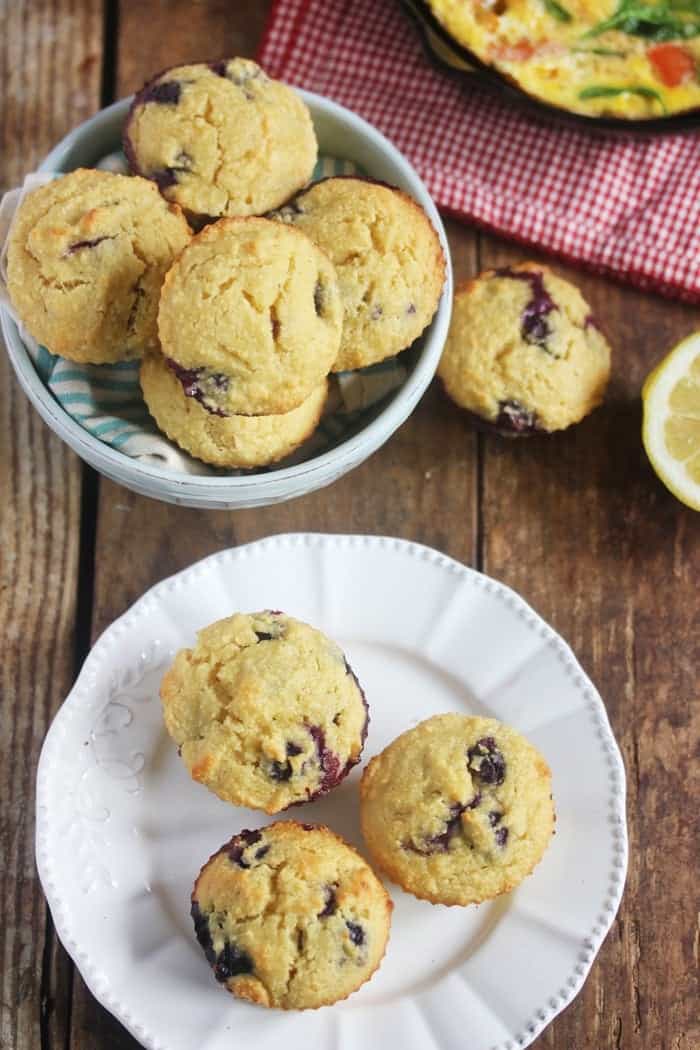 Ali from Inspiralized made Mango-Avocado Plantain Cups with Coconut Whipped Cream. Pretty much want to faceplant in these little guys!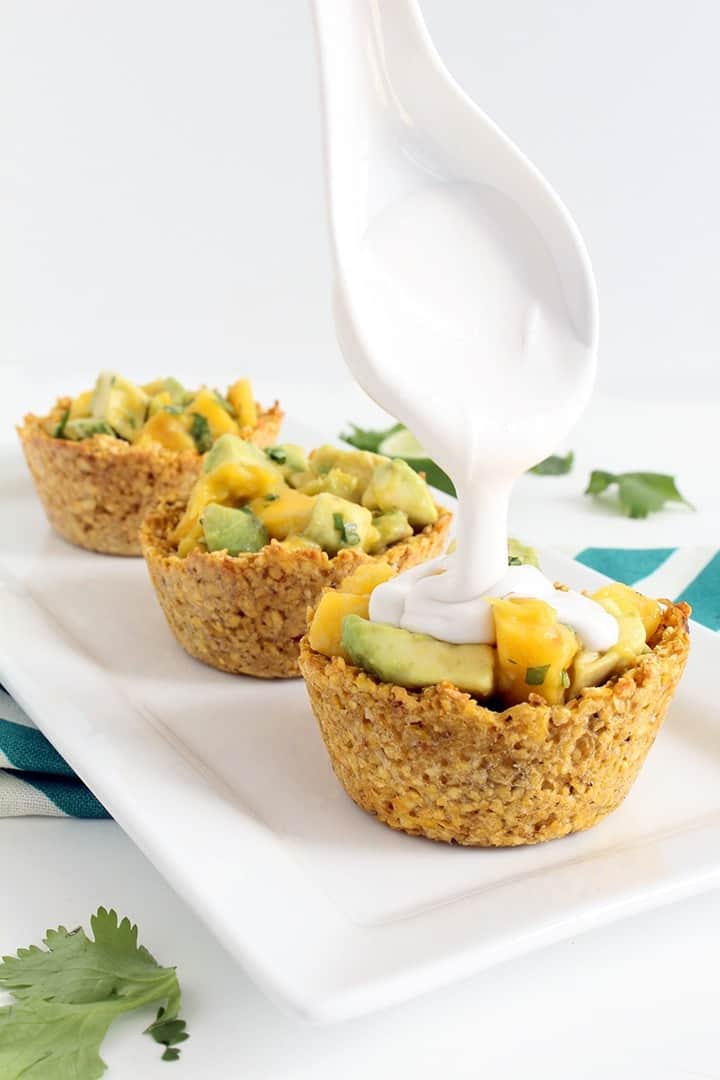 If only I could have all of these recipes in one meal in real life. Why do my best blogger friends have to live all over the country…err….and Canada?!
I guess I'll have to eat my wonderfully delicious, citrusy, quinoay salad all by myself.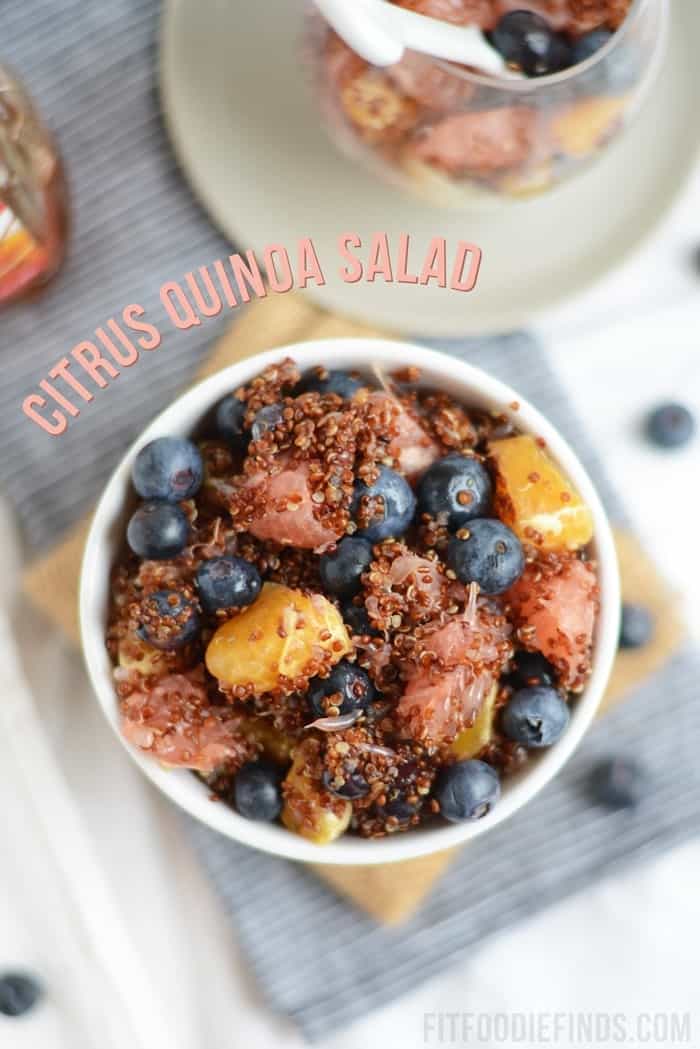 I remember my mom eating grapefruits sprinkled with sugar as a kid…so this citrus fruit always makes me think of her :D
No sugar in this baby! Only natural sweetness from the fruit and a little bit of honey.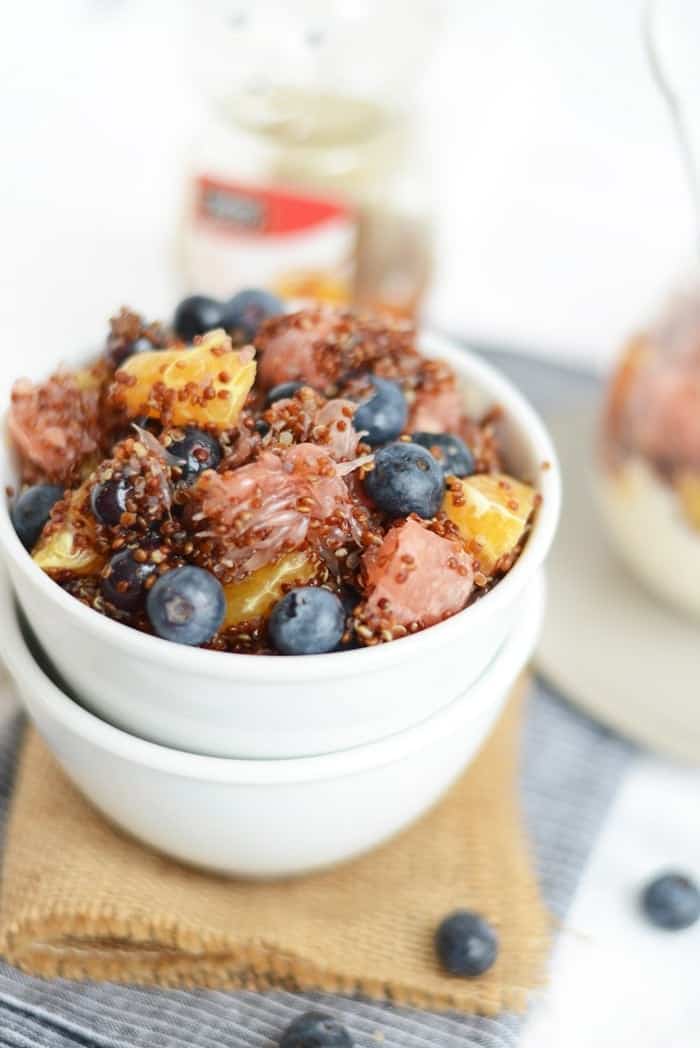 I am glad I opted for the red quinoa. I love the contrast against the fruit. I usually prefer white quinoa because I feel like it has a smoother texture, is less bitter, and cooks better, but the red variation didn't let me down! You just need to be patient while it is cooking. I tend to take things off the stove too early…let it cook!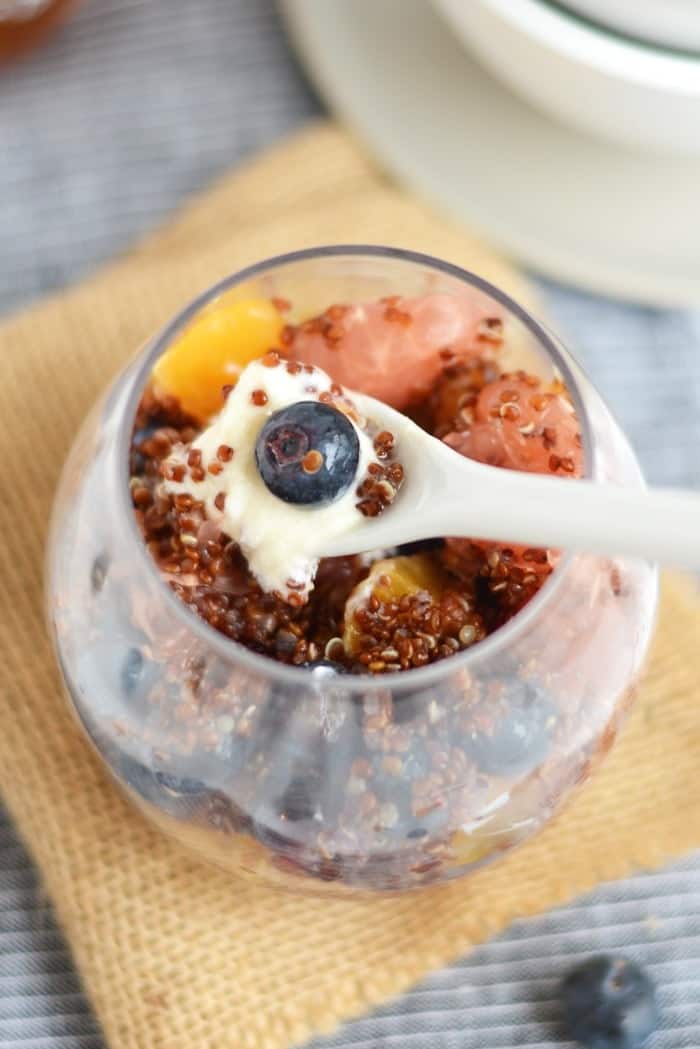 I paired my quinoa salad with some Vanilla Honey Greek Gods Greek Yogurt. GOSH I LOVE THAT STUFF. It made the perfect parfait….an excellent way to finish off a brunch if you ask me!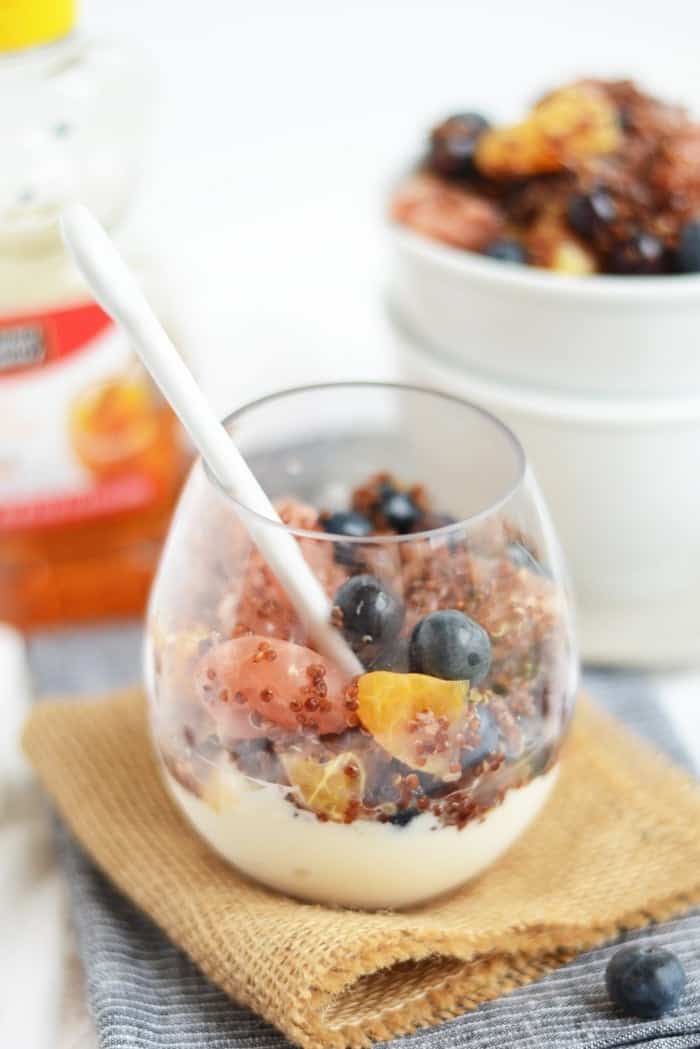 Recipe
Citrus Quinoa Salad
Cook Time:

20 minutes

Total Time:

20 minutes
Ingredients
2/3 cup

red quinoa, rinsed

1

and 1/3 cup water

1

large orange

1

large grapefruit

1 cup

fresh blueberries

2 tablespoon

s honey
Instructions
Bring 2/3 cups of quinoa and 1 and 1/3 cups of water to a rolling boil. Turn down to low and cover. Let simmer for about 15 minutes or until all of the water has been absorbed. Transfer into a tupperware and place in refrigerator to let cool for about an hour.
Prep oranges and grapefruit by peeling and slicing. Make sure you get all of the white rind off, or it will taste bitter. This may take some time.
Mix together cooked quinoa, oranges, grapefruit, and fresh blueberries. Toss in about 2 tablespoons of honey.
Serve cold.
Similar
So Mama Kay, thanks for being the BEST mom in the whole entire world. You deserve more than a day of recognition. I can't wait to see you next week for Sister's graduation! LOVE YOU!