Meal-prep your way into the week with these Copycat Egg McMuffins Made with Egg Muffins! All of the delicious flavors of a breakfast sandwich, without any bread! Homemade sausage patties, easy and fun egg muffins, and your favorite veggies will make up a delicious breakfast sandwich that you can eat all week long! It is the perfect keto breakfast that will hook you!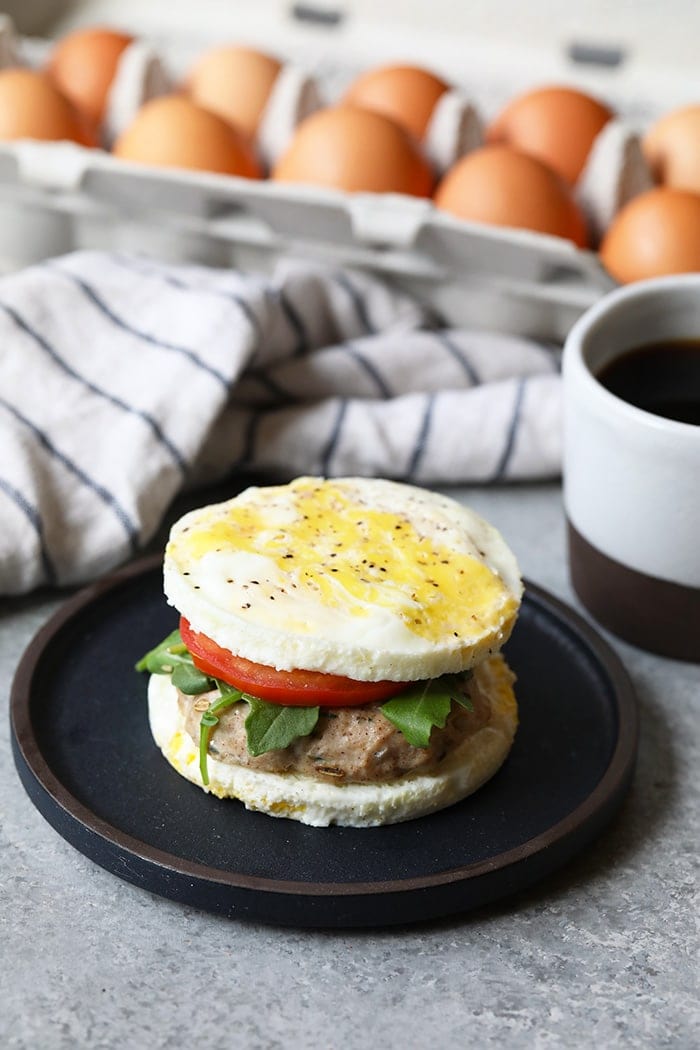 Healthy Breakfast Sandwich- No Bread Needed!
Raise your hands if you are a breakfast sandwich kind of a person?I AM. Specifically, these Copycat Egg McMuffins! You can find me eating breakfast sandwiches most mornings. Whether they are open-faced breakfast sandwiches, English muffin breakfast sandwiches, or these new Copycat Egg McMuffin Breakfast Sandwiches! I just can't get enough.
First off, the homemade sausage in this Egg McMuffin is packed with flavor. I used to be a bit intimidated by homemade sausage, but all you have to do for these patties is mix them up and throw them on a baking sheet and BOOM. All done.
I'd say the most exciting part of this breakfast sandwich are these EGG MUFFINS. The first time I tested out these egg muffins I was so astonished that it actually worked! I had heard of people using custard pans to make egg patties, but we didn't have any at FFF HQ, so a mason jar had to do the trick! It worked! The trick to the egg patties is to make sure you oil your mason jar lids enough so that the eggs don't stick to the lid!
These Copycat Egg McMuffins Made with Egg Muffins are a great healthy option for everyone, but it makes the perfect healthy keto breakfast, too!
All you need to make these egg patties are…
Mason Jar Lids
Frying Pan with a lid
Extra Virgin Olive Oil
Eggs

Healthy Egg Recipes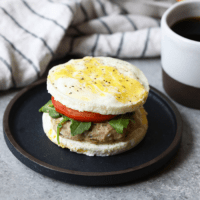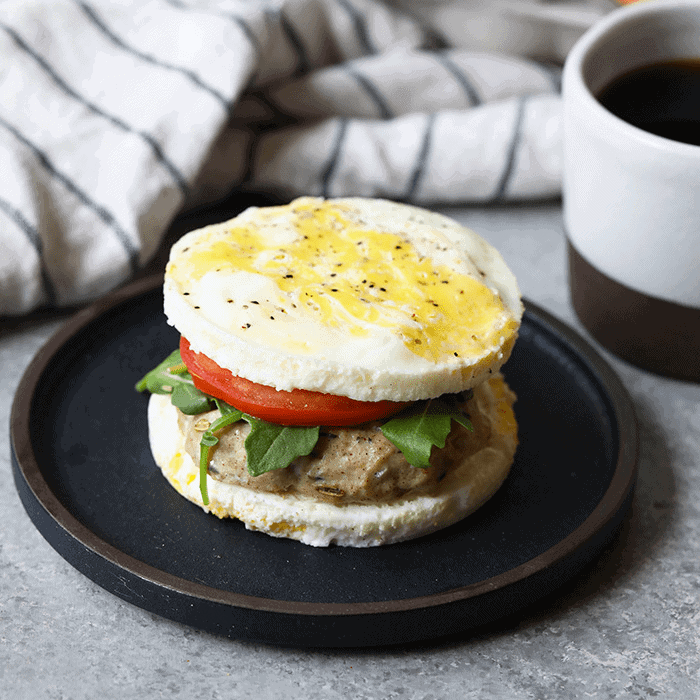 Copycat Healthy Egg McMuffins Made with Egg Muffins
Start your day off with a healthier version of an American Classic! These Copycat Healthy Egg McMuffins are made with "egg buns" and homemade breakfast sausage.
Ingredients
For the sausage
1

pound

ground chicken

1 1/2

tablespoons

dried fennel

1

teaspoon

ground cinnamon

¼

teaspoon

nutmeg

¼

teaspoon

salt

2

tablespoons

avocado oil

½

medium white onion

minced

2

cloves

garlic

minced

2

tablespoons

fresh thyme

minced
For the eggs
12

large eggs

Salt

to taste

Pepper

to taste
For egg sandwich
2

medium tomatoes

sliced into rounds

1

oz.

arugula
Instructions
Preheat oven to 400 degrees F and rub a baking sheet with avocado oil.

Place all ingredients for chicken sausage into a bowl. Mix well.

Divide meat mixture into six equal balls. Mold each ball into a patty (around ½ an inch thick) and place onto baking sheet.

Bake patties for 17-20 minutes, flipping at 10 minutes.

While patties are in the oven, prepare your egg patties by heating a small skillet over medium/high heat.

In a separate bowl, crack two eggs into a bowl and gently whisk.

Next, place two large mason jar tops (about 3.5 inches - we are using these as molds) into the skillet and pour egg mixture evenly into the two mason jar tops. Pour water on the outside of the mason jar tops (fill until the water reaches about halfway up the mason jar lids). Cover the skillet and let cook for 3-5 minutes.

Uncover, remove from heat, and remove egg from mason jar tops. This is one serving of egg, so repeat until you've made your desired amount of servings. Set eggs aside.

When sausage is done, place one sausage, one tomato slice, and a handful of arugula on top of one egg patty. Place other egg patty on the top of arugula. Enjoy!
Tips & Notes
Option to prepare all egg patties at the beginning of the week or the day of.
We recommend serving with sriracha or hot sauce.
Nutrition facts
Calories:
342
kcal
Carbohydrates:
6
g
Protein:
27
g
Fat:
22
g
Fiber:
1
g
Sugar:
3
g