This crunchy peanut butter steel cut oatmeal is made with no refined sugars, in under 30 minutes, and with all my favorite ingredients!
Guys – today is the BEST HOLIDAY OF THE YEAR. 
—> NATIONAL PEANUT DAY <—
Seriously I was born to be a Planter's Peanut ambassador. Why? Because I don't remember the last day I DIDN'T eat peanuts or peanut butter. Double negative? I eat some form of peanut every single day whether it's the actual nut, the nut butter, or even peanut flour! I consider peanuts a food group 😉 Really though, it's my favorite nut for so many reasons. 
BETTER-FOR-YOU – a perfect wholesome snack on-the-go.

PROTEIN – every single 1 oz. serving of dry roasted or oil roasted peanuts delivers 7 grams of protein and 6 essential nutrients!

HEALTHY FATS – More than 80% of the fat found in peanuts is the good kind of fat – mono and polyunsaturated!* 

CRUNCH – I'm all about that texture

FLAVOR – no brainer.
I also have a peanut crush on Mr. Peanut. Almost forgot to add that one.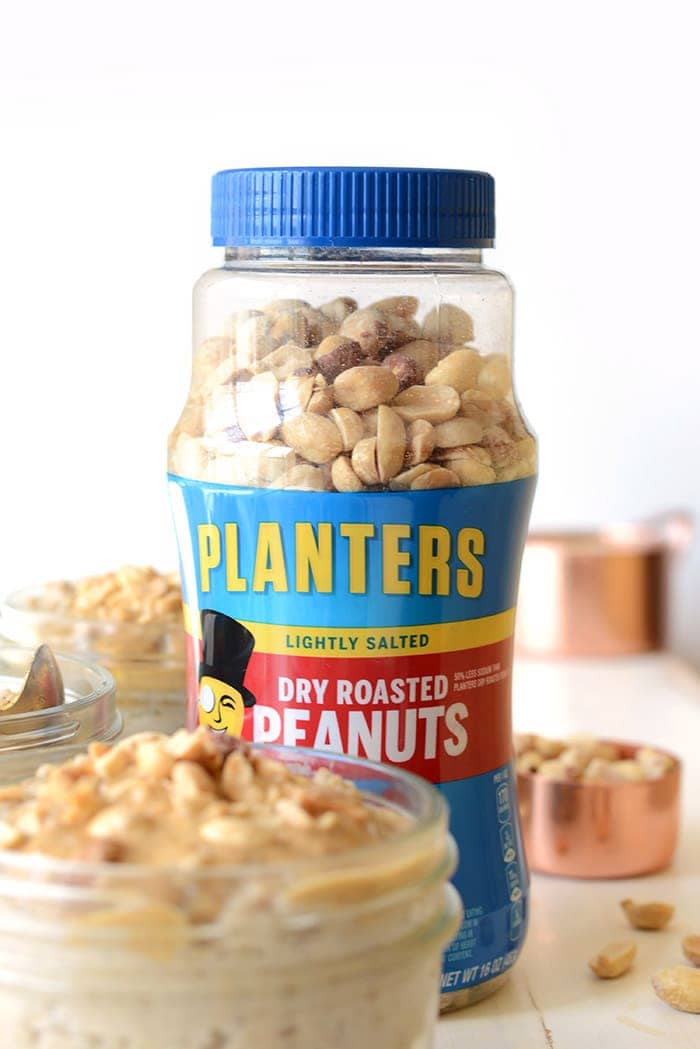 This steel cut oatmeal recipe is the epitome of breakfast. It's made with crunchy peanuts, peanut butter, real vanilla bean paste, mashed banana, and delicious steel cut oatmeal. I know steel cut oats take a bit longer to make on the stove top, but I just absolutely love the texture. It's a bit coarser, but I feel like I stay fuller, longer with steel cut compared to rolled or quick cooking.
This is a great meal-prep recipe. You can easily double this batch and store the extras in a glass container for the days to come. It should stay good for 3-5 days in the refrigerator!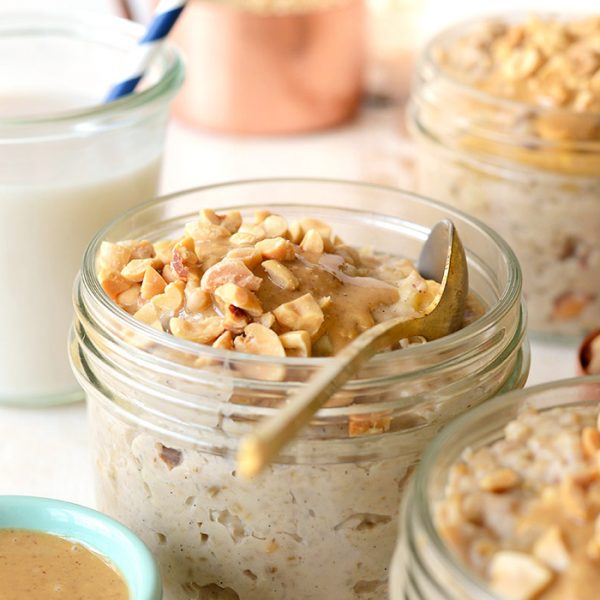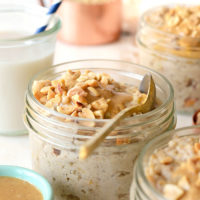 Crunchy Peanut Butter Steel Cut Oatmeal + Happy National Peanut Day!
Cook:
30 mins
Total:
30 minutes
Fat
25
Carbs
46
Protein
22
Ingredients
1/2 cup

Planters Lightly Salted Dry Roasted Peanuts

1 cup

steel cut oatmeal

3 cups

unsweetened almond milk

1

medium banana, mashed

1

vanilla bean (the paste)

1/3 cup

creamy peanut butter
Instructions
Place a medium banana in a medium-size pot and use a fork to mash. Then, add steel cut oatmeal, unsweetened almond milk, and vanilla bean paste.
Turn to high heat and bring to a boil. Reduce heat to low and let simmer for 20-30 minutes until thickened. Stir often.
Finally, add in chopped Planters peanuts and peanut butter and mix until combined.
Nutrition Facts
Serving Size:
1/4 recipe
Calories:
473
Sugar:
7
Fat:
25
Carbohydrates:
46
Fiber:
9
Protein:
22
HOLY PEANUTS. I just did the nutrition calculation for this recipe —> 22 grams of protein! Now that's what I call a breakfast.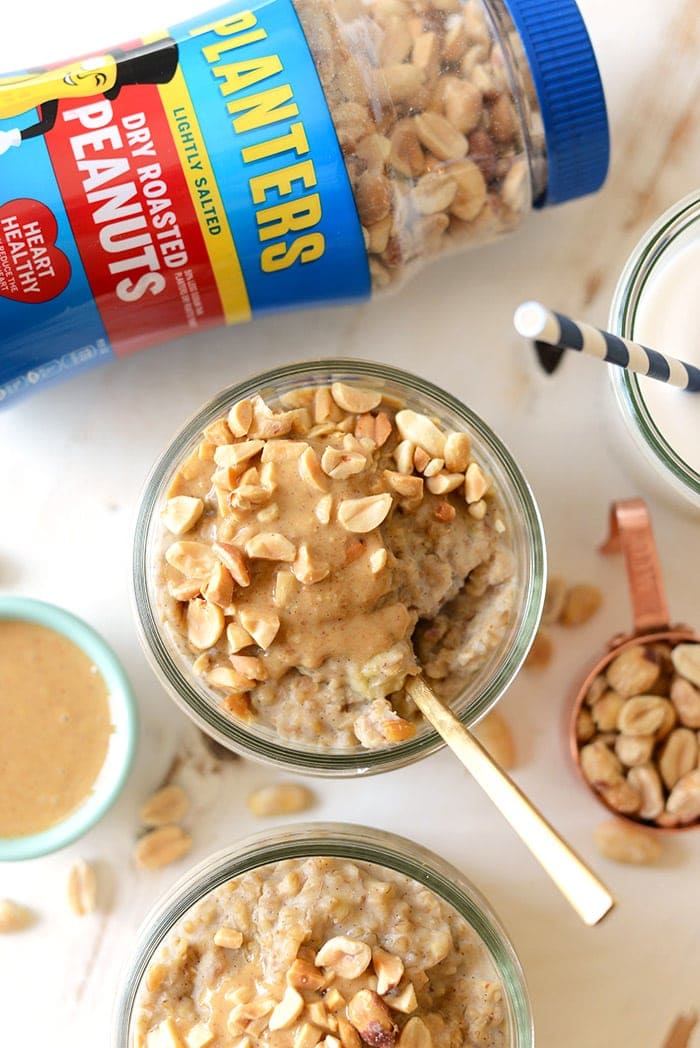 *Scientific evidence suggests, but does not prove, that eating 1.5 ounces per day of most nuts, such as peanuts, as part of a diet low in saturated fat and cholesterol and not resulting in increased caloric intake may reduce the risk of heart disease.
This post is sponsored by Planters Peanuts. Thank you so much for supporting Fit Foodie Finds and my favorite food group 🙂 I was compensated and all opinions are my own.