Ever since KIND sent me some of their product in the mail a few months back, I have been addicted. What I love about KIND is that you can actually see the ingredients inside the bar, so you know they are less processed than most bars.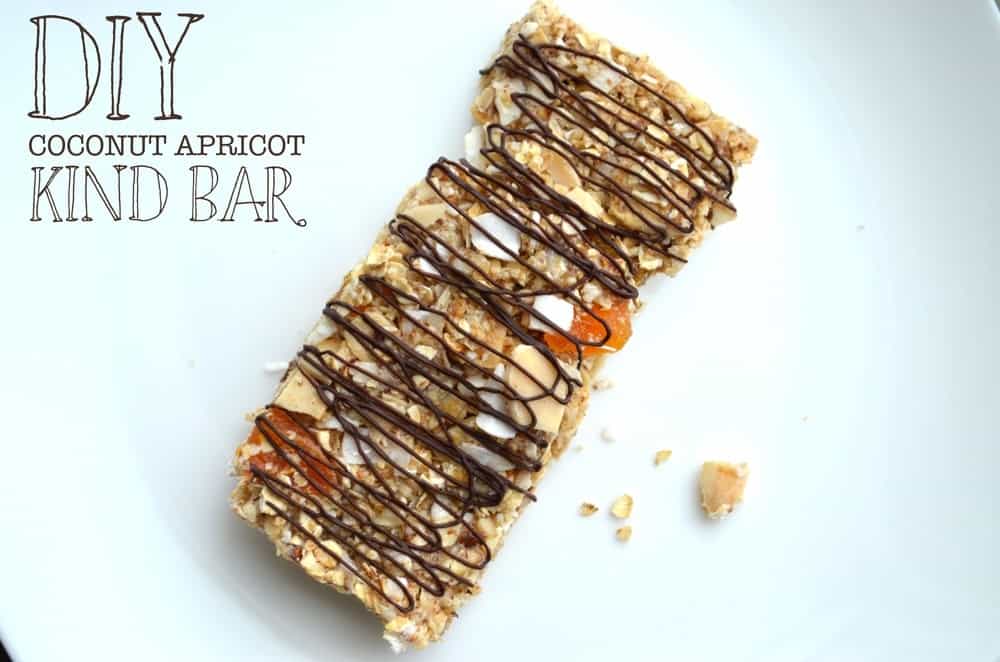 The flavor I decided on was apricot coconut and at the last minute I added some chocolate drizzle :) Why the heck not, right?
DIY Coconut Apricot KIND Bars
Ingredients (Yields ~ 14 – 16 bars)
2 cups oats (rolled or quick cooking), toasted <—I would have used rolled, but I didn't have any on hand
1 cup almonds, slivered
1/4 cup honey
1 cup chopped apricots
1 cup coconut flakes, unsweetened
1/2 cup unsweetened almond butter
1/2 cup brown rice syrup
1/4 cup dark chocolate chips
1 teaspoon salt
Method
1. Begin by toasting oats and almonds. Cover a baking sheet with tin foil and place oats and almonds on top. Then drizzle over 1/4 cup honey and a teaspoon of salt and toss. Bake at 350 for about 5 minutes. Toss and bake again for another 5 minutes or until it starts to turn golden brown. Set aside.
2. In a medium size bowl, mix together honey and almond butter. If your almond butter is not drippy, put it in the microwave for 20-30 seconds to get it to a drippy consistency.
3. Next, add in toasted oats and almonds, chopped apricots, and coconut flakes and mix. You may need to use your hands for this part. Make sure all dry ingredients are generously coated with the wet ingredients.
4. Then, line a baking sheet (I used 9 x 13) with parchment paper and pour mixture on top. Using a spatula or wet hands, press mixture firmly into pan. My bars were about 1/2 inch thick. If you use a smaller baking sheet, then your bars will be thicker, keep that in mind.
5. Place baking sheet into refrigerator for about 30-45 minutes or until things firm up a little bit. Taking a sharp knife, slice into bars. Feel free to slice them into squares or into a traditional granola bar shape (anything works!).
6. Finally, melt dark chocolate chips and transfer into a plastic baggie. Cut the tip of the baggie off and drizzle chocolate over bars to taste. Put bars back into fridge for about 15 minutes to let the chocolate harden and voila!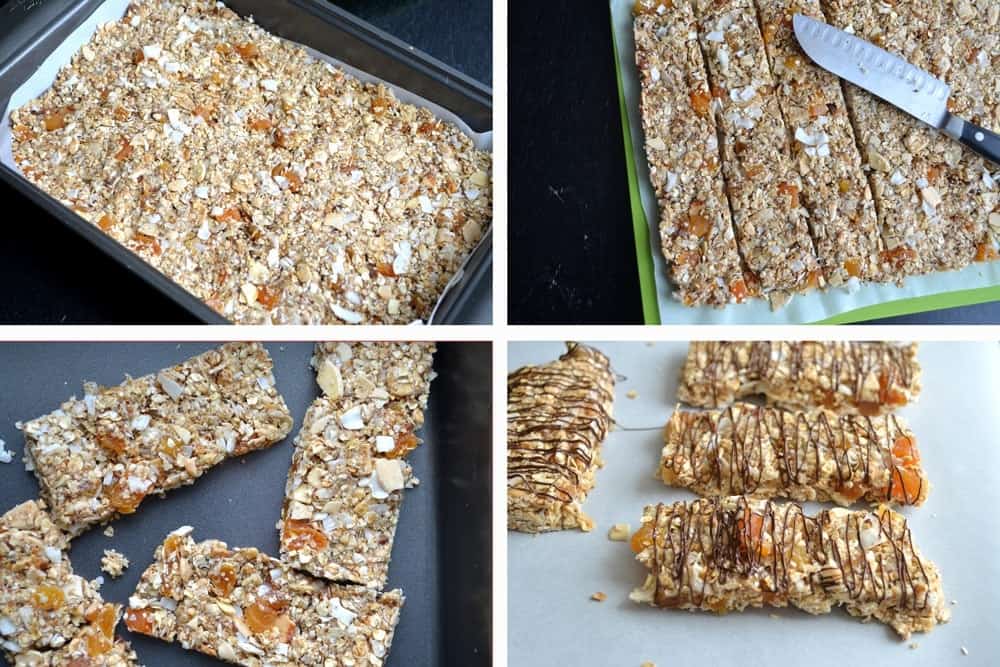 Confession: I only ended up making about half of this recipe into bars and the rest I turned into balls. I didn't do a very good job coating my dry ingredients with the almond butter/brown rice syrup and I had some dry patches. Long story short- I got about 8 bars out of this recipe, which I ended up then cutting in half, making abut 16 squares. The other half of the recipe was turned into balls (which aren't pictured).
Blake gave me the thumbs up to the recipe so I let him take some bars to work for his co-workers. I took the balls to my work. Ball lady strikes again. Win-win situation.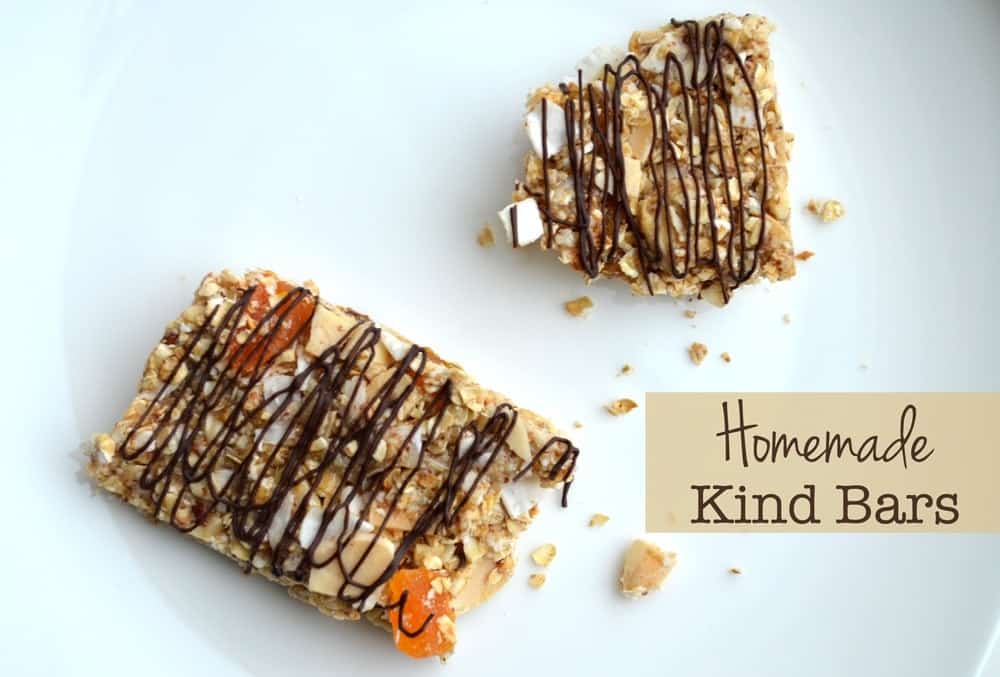 A few random thoughts and things I would change the next time I made this recipe. I LOVE unsweetened almond butter in this because the flavor isn't as overwhelming as my normal peanut butter. I use the Trader Joe's brand of unsweetened almond butter and I would definitely purchase it again for this exact same recipe. Next time I would use whole almonds and chop them up instead of slivered and I would use whole oats instead of quick cooking…just because chunkier is prettier!
Heck yes for the weekend.
What is your favorite kind of bar? (in general, doesn't have to be KIND)